The Spyderco Balance is a truly odd little knife with some ridiculously well thought out, and of course aesthetically pleasing, innovations. It's essentially a triangular, almost perfectly symmetrical shape when closed, and yet even with such a strange shape, this knife is not at all a gimmick!
Spyderco Balance Plain Edge Knife – Amazon / Blade HQ
When you first hold the Balance, it's perfectly normal to be confused and apprehensive with regards to its viability as a real working knife. It does  look somewhat quirky, but after owning it for roughly a year I have to say that this little tyke really has made me question why I usually carry EDC knives with an average of 3 inches or more of blade length. As far as I know, this is the smallest Spyderco with a pocket clip. It truly feels like a regular Spyderco that's been thrown into a magic shrinking machine, and yet somehow managed to retain its impeccable ergonomics.
The overall length of the Spyderco Balance stands at wee 113 mm (4.43 inches). Although this is small, the unique design of the knife allows a grip format that is strikingly similar (in feel, not in looks) to a full-sized folding knife.
Folded it becomes a diminutive 68 mm (2.7 inches) which makes the Spyderco Balance ideal for those of you who want a lot of cutting power in an incredibly discreet package.
The scales of the knife are taped for the pocket clip on both sides, which allows you to mount the Balance in all 4 positions. That being said, the symmetrical design of the knife means the feel of the knife will be the same no matter where the clip is. Choose where you'd like to place the pocket clip based on preferred deployment style.
The VG-10 blade is 49 mm (2 inches) long, but remember that the tang does eat up a significant portion of that. In terms of actual blade, then, what you have is a tiny and yet surprisingly usable 32 mm (1.25 inches) of superbly lean full flat ground goodness.
The Spyderco Balance does come with a lanyard hole, although why you would choose to make a knife designed to be small and discreet more bulky is beyond me, it's an option if that's the way you'd like to go. The unique grip profile allows a strong hold without the need for a lanyard, but blinging out the knife is fully possible.
Ed Schempp's makers mark is very much prominent on the tang of the blade. Hell, if I'd come up with such a brilliantly beautiful, tiny, and yet still usable design, I'd want my name all over it, too!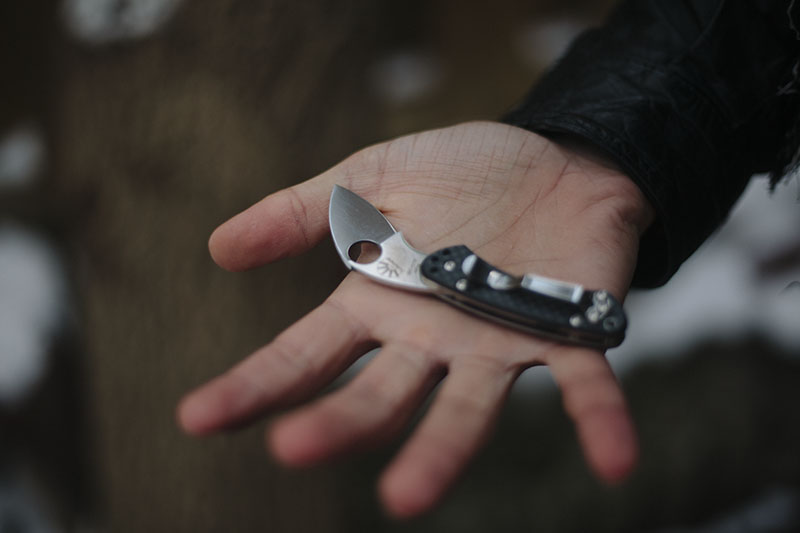 The fit and finish of this knife is second to none. I usually find that Taiwanese Spydercos, like the Sage 1, have the best tolerances, but the Balance, made in Japan, is pretty much perfect with no noticeable defects, so I may have to rethink this bias. Perfect centering with a very nice detent.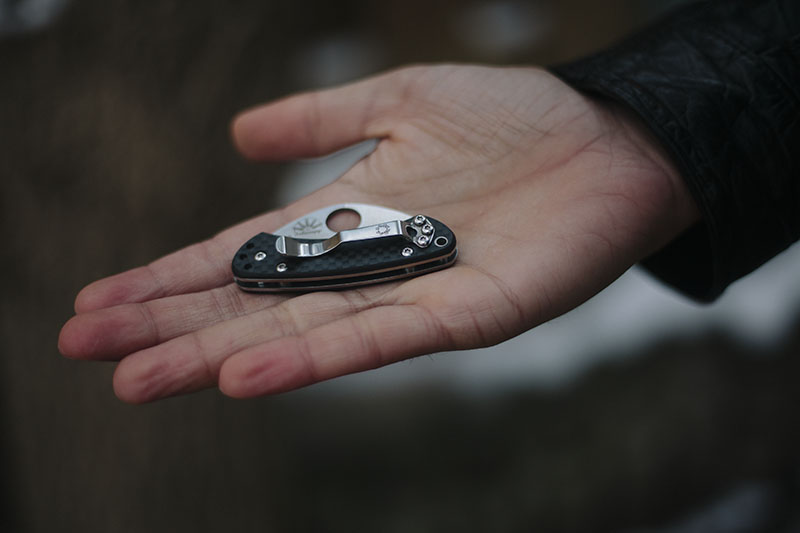 In pocket the Balance is pretty much non-existent. The clip works great, even though it's a teensy bit too showy for my tastes. That being said, if Spyderco chose to incorporate the wire clip it would have clashed with the aesthetics of the knife.
The blade stock is surprisingly stout at 2.5 mm (0.093 inches). Even though the cutting performance is more than adequate, I do feel the Spyderco Balance would have been better served with 1.5 mm or 2 mm blade thickness.
No tricks or gimmicks in the lock: just an old school stainless steel liner lock that engages with intent. I very much doubt it would ever fail – sometimes the traditional way is the best way. I can't say I would like this knife as much as I do if it had one of the newer locking systems, like the ball bearing lock in the Manix 2. A polished steel liner lock just seems dignified and charming, especially coupled with the carbon fiber scales on the version of the Spyderco Balance that I've got.
But as usual, even if the lock does fail (it won't), the substantial (enormous) choil will always be there to protect your digits!
The stainless steel  liners are not skeletonized which reinforces the feeling of the Spyderco Balance being an excellent tool, rather than it being a gimmick. Yes, it is rather small, we all can see that, but it also weighs in at a hefty 41 grams (almost 1.5 oz), which leaves no doubt in your mind that this is a serious knife.
The number one question I get when I show this knife off is how to open it. When I first laid hands on the knife, I had the same concerns, but I assure you the Spyderhole makes the Balance as trivial to deploy as other Spydercos, which you can see below.
The default grip is odd, but after a few days of using it as a sole everyday carry knife, it really becomes an extension of your hands. I would recommend it as a sturdy office knife, almost like a luxury box cutter.
It should also be noted that Tuhan Holloway over at Albo Kali Silat has advocated this knife as being a good defensive blade. While I do see the benefits, and can definitely see why many would find its size and shape ideal for self-defense, personally I'd prefer something with a little more blade for defensive use.
Pinch grip is very comfortable, but at 32 mm (1.25 inches) of edge, it's not ideal. You could field dress with the Spyderco Balance, but I would only try doing so with smaller game like rabbits. The lack of a working edge will become apparent with larger animals.
The symmetrical design of this knife aids in making the ergonomics relatively neutral in nature. As I type this I'm playing with the knife, and no matter how I hold it I can't seem to find a grip that I find truly unworkable. It really is a very versatile design.
The Balance is balanced (hah!) right behind the pivot. However, with a knife this small I don't think I would even notice if the weight was not well distributed. But as it stands, it's a joy to use for extended periods of time.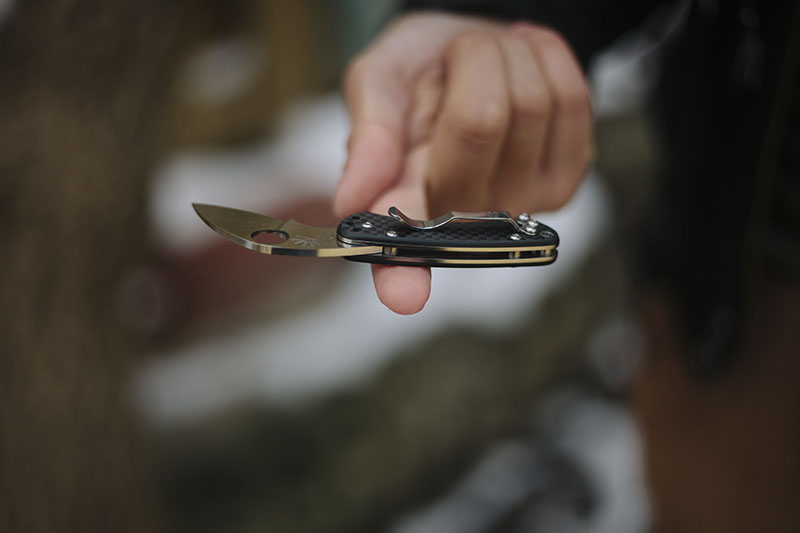 Spyderco was one of the first to really introduce "little big knives" to the market, the idea being having a shorter blade whilst still having large-knife ergonomics. The Spyderco Balance is the perfect example of a little big knife, designed by a master knife designer, and produced by skilled artisans in Japan. Is it worth the money? Objectively, no, but with that said, if I lost mine I would buy another in a heartbeat. The Spyderco Balance is gorgeous, of the highest quality and attention to detail, and just plain charming, making it the perfect collection piece in my opinion.
I wouldn't want to recommend this knife as a good everyday carry knife. It could handle being an EDC of course, but it's just too different a knife for a lot of people to be comfortable using. That being said, the Spyderco Balance is irresistible in quite a different way, and while I usually don't like buying knives that I won't be using much as tools, I'd have to say this knife is one of the few exceptions. If you have the opportunity, I'd suggest finding a store that has one, playing with it, and if like me you find the ergonomics and quirky design irresistible, then take the dive and buy.
Unfortunately, the carbon fiber handle version of the Spyderco Balance, the one I have, has already been discontinued, though you may still be able to snag one on the secondary market if you look hard enough. I've linked instead to the product page of the stainless steel version of the Spyderco Balance, which is identical to my own except for the differing handle material. This knife also seems to be in limited stock, however, as it shows up as "Out of Stock" (Edit 04/05/15: now "Discontinued") on the Spyderco product page, so if you're even the least bit interested in it, you might want to move fast.