Unless you're new here (hell, even if you are new here) in most cases you'll know that Thomas has a little bit of a knife addiction. Calling him obsessed is probably severely under-representing the nature of his relationship with knives; he collects them, uses them religiously, fondles them regularly, is in one of the happiest states known to man when he's sharpening them… To people who just don't get the whole knife aficionado thing, let's just say he looks like a mad man.
But in our time writing on this blog, we've met a heck of a lot of you who seem to be just as crazy over these edged tools as Thomas is, and let me say – it's been a breath of fresh air. Not just for him, but for me as well – since he seems to have passed this knife-obsessed bug of his onto me.
In case you only ever swing by this blog for the knife articles and reviews – and I know the are a lot of you who really are only here for the knives – I've put together this list. I get it, on a blog about survival, prepping, and gear, the subject matter isn't going be your favourite week after week if you're not into all three topics, so hopefully this post will be helpful. In case you've ever wanted to cut through each and every non-knife related article on this blog and find all the guides on edged tools, now you can. And if you ever want to go through just our knife reviews, you can do so by clicking here.
I've split up the knife articles Thomas has written up into different sections to make this post a lot easier to browse through. As we continue to add articles to this blog, I'll continue to update this page with all the new knife-related guides and tutorials we publish. Enjoy!
Core Knife Guides
A Massive List of the Best EDC Knives on the Market
Sorted by the type of knife (sometimes by purpose and sometimes by style/design), Thomas has taken the time to break down what he believes the top EDC knives on the market currently are. For each type of knife, he's chosen 5 knives he thinks are excellent options for that class and explained why he thinks they are the top in the industry. This list is regularly updated, and every so often we've been adding new categories as we think of them, so keep an eye on it and be sure to make requests for new types/classes of knives if you're interested.
Maximizing Bang for Buck: Best Folding Knives by Price Point
This article takes into consideration price before all else: looking at the value of the knife specifically with regards to what you get for the particular price point it's in. If you're in the market for a knife but have a specific budget for it (under $20, $30, $50, $100, $150, $200), and simultaneously want to make sure you've seen the best that can be bought for that price point, be sure to check out this article.
Discount Knife Buying
Knife & Outdoor Gear Stores: Best Sale, Deal, & Clearance Pages to Watch
As I mention within this post, if you're anything like us, chances are there are a lot of knives you'd be happy buying if they happened to be offered at a great price. While we mostly buy our knives from Amazon, every once in a while an online retailer will have sales and clearance items that make it much easier on the pocket to do our shopping there instead. This list is a compilation of as many different sale, discount, promotions, coupons, and deal pages as we could find. Bookmark the page and check back every couple of months (especially at Black Friday/Cyber Monday & Holiday seasons) if you're interested in finding some steep discounts on all sorts of knives.
Specialty Knife Guides
Top American Knives: Best Folders & Fixed Blades Made in the USA
A lot of you guys prefer to buy knives that have been made in your own neck of the woods – and there's absolutely nothing wrong with that! The USA holds legendary status insofar as modern knives go, for very good reason, too. If you're interested in seeing which American knives Thomas believes to be the best representative examples of US-made cutlery, check this article out.
History Buff? 15 Historical Knives Still in Production Today
For those of interested in knives and history, this article is specifically made for you. It's interesting to note that a lot of the knives on this list are sub $30, meaning you can have a small collection of historical knives within your bigger collection of knives for a relatively decent price. I'm sure you know quite a number of knives on this list already (yes, Opinels are on there), but still worth checking out if historical things are your kind of ball game.
UK Legal Knives: Best UK Friendly Folders to EDC in Old Blighty
If you live in the UK and would like to see what folding knives Thomas recommends for EDC-ing that are 100% UK-law friendly, this is where you can go to find those recommendations.
Best Knives for Specific Purposes
What Are the Best Knives for Hikers? Top Lightweight EDC Folders
We already included a lightweight section in the best EDC knives article, but we still kept getting questions about ideal knives for hikers over social media nonetheless. As a result, Thomas decided to throw up a more in-depth article that takes a look, not just at the top 5 lightweight knives that would be great for hikers, but at some other options hikers have that would be perfectly viable in terms of lightweight EDC edged tools. If you're into hiking, check this article out.
Top Knives by Type
Affordable, Accessible, & Discreet: Best Neck Knives You Can EDC
If you happen to like neck knives, take a look at what we believe to be the best ones on the market. Whether you want yours to be good for general EDC, tactical applications, or be good for survival/bushcraft purposes, there's a knife for you on this list. You don't have to EDC a neck knife in your sleep like Thomas did for a neck knife to be a great tool to have around.
Best Knives by Brand
What Are the Best Spyderco Knives?
Into Spydies or sick of them? Steer clear if you're not a Spydie Fanatic, but if you're as obsessed as we are with this brand, take a look through this list. Chances are if you're really into Spydercos, you know each and every one of the knives up here, but there may be a few odd ones you've never seen or heard of before if you're relatively new to the Spydie collection ball game. If you've got a favourite Spyderoc knife, sound off in the comments of this article to let us know what which you think is the best in the Spyderco lineup!
Let's Talk Kershaw: Top EDCs, Flippers, & Fixed Blades by Kershaw Knives
Known for their amazing flippers and their extremely reasonable pricing, if you've liked any of Kershaw's offerings in the past, take a look through this list, as it's definitely for you. If you're in the market for budget folding knives by a reputable brand, you may also want to take a peek.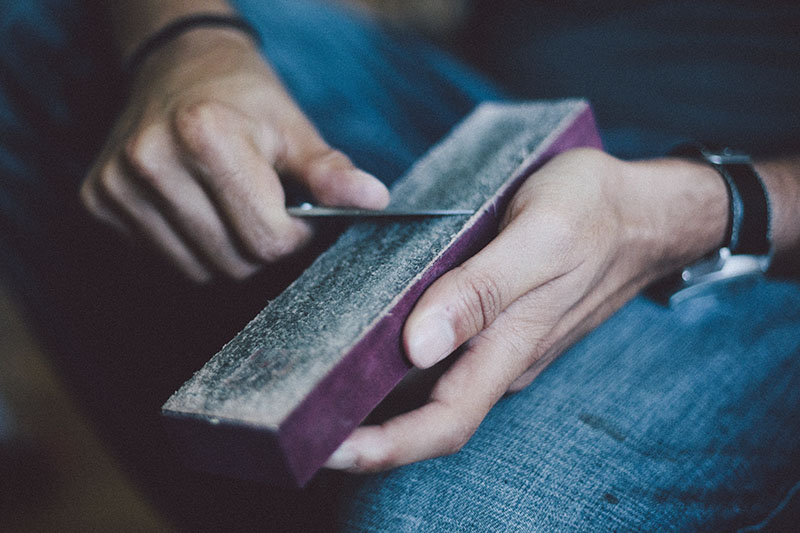 Knife Sharpening Advice
How to Use a Japanese Water Stone (Whetstone) to Sharpen a Knife
Not quite sure how to sharpen a knife using traditional Japanese Waterstones? Check out this article for a full rundown. From cleaning your water stones, to what type of water to use, what kind of strokes to make, and how exactly to tell if your edge is ready for a higher grit, if you were thinking about learning how to use whetstones, this is the article for you.
What's the Best Way to Sharpen Stainless Steel Knives?
This is one of those articles I have to refer to a lot because we keep getting asked about sharpening on social media. Sharpening stainless steels, and super steels for that matter, can be quite difficult. As Thomas mentions in the article, the trick to sharpening stainless steels is actually not in the technique used, but rather which abrasive is used to sharpen. Figure out if you have the right tool for the job by skimming through this article.
How to Sharpen Ceramic Blade Knives
We're not huge fans of ceramic knives in this household (by that I mean, we're not fans of them at all), but in case you are a fan of them, and you need a tutorial on how to sharpen the ceramic knives you've got, take a look at this article for the run around.
6 Reasons Not to Get an Electric Knife Sharpener
Short and long of it: you're not doing yourself any favours by getting yourself an electric knife sharpener if you're a knife aficionado. In fact, you could be destroying the edges on your knives if you run 'em through one of these. Don't be caught off guard: read this article before you buy one of these for yourself or get one for someone as a gift.
Knife Facts & Lessons
5 Popular Knife Myths and Why They're Not True
Some of these knife myths have been embedded so far into knife-obsessed culture that people will argue on their behalf even with quite a bit of experience with knives in general. Do yourself a favour and separate the facts from the fiction by reading this article. If you know of any other knife myths that are perpetuated in this industry, be sure to leave a comment in the article's comments' section!
Knife Forging: How Forged Knives Are Made & Are They Stronger?
All about the process of forging knives, where it fits in the overall knife making process, and discusses whether they are stronger than production knives or not. If you've heard before that forged knives are stronger, this article is for you.
Are Knife Super Steels Worth It?
If it's a yes or no question, the answer is a resounding no. For the in-depth why, and whether they're sometimes worth it, be sure to read through this article.
Knife Blade Steels – A Comprehensive Guide
Clean and simple – if you want a summary of knife blade steels and an overview of steel composition, you can get that here.
Pros and Cons of Ceramic Blade Knives
If you're wondering why we don't like ceramic blade knives very much (/at all), do yourself a favour and read this article. Thomas gives an in-depth overview of the pros and cons of ceramic knives, along with an explanation of why the pros definitely go nowhere near touching the weighty cons.
That's it for now! Though if you know us well, you know that this list will increase in size substantially over the next few years.
If there's a knife-related topic you'd like discussed on this blog, please don't hesitate to let us know by contacting us, or leaving a comment down below. We love answering reader questions, and always do our best to make full-fledged articles when we get requests for discussing any given topic from our readers.
---
To take a look through other topics you might be interested in, click here.