If you got here by typing something like "best EDC knife" into Google, you probably already have a little history with knives. Likely, you already have at least some indication of what you do and do not like in a knife, owning at least a few yourself already. But chances are, you are also looking to see what others think on the topic of the best EDC knife as well. In all probability, you're looking to see:
What production knives are the most popular,
What other knife users would recommend, and
If you've missed noticing any knives you really would've liked if you only known about them to begin with.
Well if that's why you're here, you're in luck. We're here to remedy all three of these problems in this one (admittedly quite long) article!
Frankly, I've seen so many spammy articles on the "Best Everyday Carry Knife"/"Best Pocket Knife" topic around the net that I thought I'd throw my own experience into the mix to set the story straight at least a little.
While I haven't reviewed every single item on this list, I have reviewed the vast majority of these knives. And unlike those spammy sites where the author just regurgitates Amazon reviews into one copy written review piece that they publish on their blog, I've actually handled each and every one of the knives I've reviewed on More Than Just Surviving (and have the original photography taken by Elise to prove it).
Not trying to toot my own horn here – realistically, I'm just trying to get you to think about where you're getting your information from. We're certainly not the only ones on the net to use every knife we review before we write up a review, and there actually are plenty of great EDC/general knife reviewers & sites out there that do some kickass knife reviews. Just want you to think about where you're getting your advice from, as there are knife people, and then there are niche site creators just trying to earn a quick buck from an industry they know very little to nothing about.
My recommendation: get your knife advice from boss knife guys like,
Hell, as much bad rap as Nutnfancy gets at times for some of the things he says on his YouTube Channel (politics mostly) – at least no one could ever deny the fact he uses each and every product he makes a review about. He's not everyone's cup of tea, but he's at least genuinely reviewing. Nutnfancy does his best to test each product he uses well enough to give you his own informed opinion – you absolutely have to give him that.
Now, before you start looking through this massive list (sorted into categories so it's much easier to browse – if you'd prefer an article that sorts the best EDC knives by price point, take a look at our best bang-for-buck folders article), I'd like you to first get it into your head that the best everyday carry knife on the market will be different for each and every person. Don't think that because the knives on this list are deemed some of the best in the market that you'll find the very best one for you on this list.
Yes, if a knife is popular enough and highly recommended by other knife users, it does typically indicate that knife is probably going to at least strike your fancy as well – after all there's typically very good reason that a knife is a hit, especially when it comes to a market as saturated with new and high-quality products as the knife market. If there's a hit it's usually a hit for good reason (I say and mean usually; some knives truly do not deserve the praise they get – but that's pretty rare).
Finding what works best for you is no minor feat. It's not an exact science either – sometimes knives that look great on paper just don't feel right in the hand, which is why we've not only taken the time to make this list, but to direct you to the product reviews we've written up on the individual knives as well. That way, in case you'd like to take a look at some in-hand shots or figure out what there is to like and dislike about a knife before you make a purchase – you can do that. There are some knives that I really recommend trying in person before you buy, like the Manix 2 FRN for instance. Others – well really the majority of knives – you can get away with watching a video or reading a review to learn about how they feel and that's typically enough to let you know how they'll be for you in person.
The Single Best EDC Knife
Now before I start breaking things down, in case you're new to the knife world, I did want to let you in on a well-known fact within the knife community. There's one everyday carry knife that pretty much has remained consistently at the very top of the list for so many knife users from the date it first came to production until now.
This knife is almost always sold out. It could be in stock one day and gone completely off Amazon the next. And it's not even a new knife. In fact, the knife was released way back in July of 2010, and it's still so incredibly popular that it can be really difficult to snag.
What is this knife?
I'm sure you seasoned knife guys reading this already guessed at even seeing the "single best EDC knife" title. There was absolutely no surprise here for you.
Time for the explanation. Why's this thing always at the top of the "best EDC" list? Well for starters, it's pretty much the single most inoffensive technically tactical option currently available on the market (in my opinion). Does it look like a tactical EDC? Not really, no. Could it be used as such? Hell yes! It's one of the stabbiest knives on the market that still happens to be an everyday carry option. It punches way above its class – both in terms of price and in terms of the fact that it's supposedly a mere EDC knife. Everything about its design and construction is geared towards being above average with no real points of failure. It's tough, but not a beater; it's a good cutter, but not a light-saber; it's not expensive, nor is it a cheap knife – I could go on for days, but you get the idea. It's just a great all-round, all-purpose knife. Arguably better than any other knife on the market for this (not just by me – by everyone; just check the forums if you're unconvinced).
In the cutlery industry, manufacturers tend to have to cater to a specific demographic in order to stand out. Spyderco, with the Para-military 2, opted for producing something that is truly mainstream in the purist of ways – no catering to "I want a super ninja folding pry bar milspec warrior soldier knife!"
Remember how I said that just because there seems to be universal consensus and love for a specific knife, and that on paper it could be absolutely perfect, but it just doesn't work out or happen to be the right knife for you? If you have read my review on the Para-military 2, you will likely have remembered the fact that I clearly state this is definitely not my favourite knife. I'm not in love with the Spyderco Paramilitary 2 like so many are, and yet I really do have to firmly recommend it as the best EDC option. It's just not for me (not getting into details here as if you're interested, you can always take a glance over the review!).
As someone who owns literally hundreds of EDC knives, I can think of many knives that I do love and yet cannot possibly recommend on a list of the best EDC knives (the Kershaw Blur and the Buck 110 to name a few). These are knives that, while I do adore them for what they are, have inherent compromises or flaws that force me to remove them off any "best EDC knife" pedestal.
So there you have it, if you want an EDC knife that can do more or less everything at an acceptable (average – not too pricey not overly cheap) price with no real flaws to speak of, I give you the Spyderco Para-Military 2.
Now take a look at the best EDC knives by category, starting with the absolute best EDC knives across the board.
Best Across the Board EDC Knives
It's the easiest recommendation by far. Nothing I can say about it hasn't been said already – reliable and a little something for everyone with no real flaws to speak of.
Availability: Amazon • Blade HQ • eBay
Read our review of the Spyderco Paramilitary 2
---
My only true gentleman folder; puts a smile on my face. Even though in terms of sheer performance it's not exactly optimal, I just can't help but recommend it. It rocks.
Read our review of the Case Sway Back Gent
---
Inexpensive & sturdy with a very nice steel framelock & flat head adjustable pivot, all with a relatively stout blade. I loved it when I reviewed it, and I don't see my opinion changing anytime soon!
Availability: Amazon • Blade HQ • eBay
Read our review of the Kershaw Emerson CQC-6K
---
There's something to be said about having a gargantuan super tough folder, and now with upgraded American CTS-XHP steel, there really is no reason not to pick one up.
Availability: Amazon • Blade HQ • eBay
Read our review of the Cold Steel Recon 1
---
Cuts far beyond its price class, super simple in all the right ways its definitely one of my favourite options for slipping into my pockets.
Availability: Amazon • Blade HQ • eBay
Read our review of the Kershaw Chill
Best Budget EDC Knives
This might surprise some of you, but in hindsight it's a pretty obvious choice. Whilst it's not the sexiest knife around, bang for buck the Vantage Select Large is pretty incredible. USA-made with a great utilitarian blade (with shockingly good grinds) and one of the best pocket clips on any knife. It's a clear winner with all things considered.
Availability: Amazon • Blade HQ • eBay
Read our review of the Buck Vantage Pro
---
I resisted this knife for many years, but after a while, all of you guys telling me to pick one up wore me down. I cracked, and you know what? You were right, I was wrong. This is a fantastic beastly folder/folding boat anchor that is well made with above average ergonomics (and weight) with a build quality that is remarkable for its price point.
Availability: Amazon • Blade HQ • eBay
Read our review of the Schrade SCH304
---
By far my favourite SAK. Elise is not a fan of them, but I feel I *had* to include one in this top list. If you like small, utilitarian folders without any of the modern features like locks or one-hand opening, then this is a solid option. Some of you just outright dislike them, and that's fine too. Very divisive, but never forgotten.
Availability: Amazon • Blade HQ • eBay
---
3 options not enough? Want to see a lot more options in the budget everyday carry knives category?
> View more budget pocket knife recommendations.
Best Bushcraft/Outdoor EDC Knives
Enzo has been around for quite a few years now. Very scandinavian in both origin and design, excellent performer in the field in terms of bushcraft tasks, and all for a very reasonable price point. Never reached mainstream adoption in the States though, and I think that's a damned shame. The spartan lines of Enzo knives are very distinct, and with the premium materials used, I am sure you would get quite a few appreciative questions directed at it.
Availability: Amazon • Blade HQ • eBay
---
Hands down my favourite knife from 2015. Unbelievable performance, balance, weight and price point. I can't say much more about it without sounding like (even more of) a fanboy.
Availability: Amazon • Blade HQ • eBay
Read our review of the Cold Steel Finn Wolf
---
I reckon out of all the knives on this list, this Helle probably has the best in hand feel. Sculpted wood handles with generous proportions and no tactical scoops or scallops, this is a traditional, all business work-knife, and performs as such.
Availability: Amazon • Blade HQ • eBay
---
Never owned it, but I have handled it in the past. My hesitation towards a CPM S30V blade that's ground to a zero edge with no relief bezel did put me off somewhat. Early reviews had mentions of chipping, but when it comes to sheer cutting performance (especially for soft wood), can it be beat? I doubt it. When I finally snag this knife up (price is a little high for me) I will convex the edge and really see how deep this little sucker bites – I have a feeling it will exceed all expectations.
Availability: Amazon • Blade HQ • eBay
---
Out of all the bigger brother Opinels, I think the No. 10 offers the most cutting performance relative to cost. It's a surprisingly large knife, which I think many people don't expect. I recently bought two Opinel No. 9's (got a great price on them) and was surprised at the difference in hand when compared to the 8. We are talking a substantial increase and for the money I think Opinels are the best outdoor performing folders around. Sadly, the usual caveats of being careful around water (wood swells with moisture) apply. Makes me wish Cold Steel still made the ringmaster.
Availability: Amazon • Blade HQ • eBay
Best Lightweight EDC Knives
If you're interested in seeing more lightweight knife recommendations than are listed in this section, take a look at our article on the best lightweight folding knives for hikers.
Much like the Spyderco Military, it's a nested liner which aids with weight reduction. Couple that with extensive skeletonization and you have what is (imo) the king of the featherweights. IKBS flipper deployment too!
Availability: Amazon • Blade HQ • eBay
Read our review of the CRKT Ripple
---
One of my favourite EDCs (maybe even the favourite). It's one hell of a folder with a featherweight impact in your pocket.
Availability: Amazon • Blade HQ • eBay
Read our review of the Spyderco Delica 4
---
I know this will get a few raised eyebrows as it's a 4 inch tactical folder, but with its nested liner lock & G-10 construction, it really punches above its weight taking into account how much cutting power is packed in.
Availability: Amazon • Blade HQ • eBay
Read our review of the Spyderco Military
---
Interested in seeing more lightweight folding knife options than the 3 listed here?
> View more lightweight pocket knife recommendations.
Best Heavy-Duty Beater EDC Knives
In my opinion Cold Steel makes the toughest folders around. Yes, they have goofy marketing gimmicks, but if you ignore Lynn Thompson's antics I think you will find they are quite excellent, especially taking into account the price!
Availability: Amazon • Blade HQ • eBay
Read our review of the Cold Steel Recon 1
---
Ridiculously overbuilt in every way possible including weight. It's literally a boat anchor that could be used to pry or chop pretty much anything without fearing that the blade or the lock would fail.
Availability: Amazon • Blade HQ • eBay
Read our review of the Benchmade Adamas
---
Clunkly lock, questionable ergonomics, but it's a veritable folding fixed blade. I own it (review coming) and I am beyond impressed with its toughness.
Availability: Amazon • Blade HQ • eBay
---
One of the toughest knives for the money that you can buy. It's like an inexpensive tactical beater with a very stout blade and strong stainless steel framelock. And an R.J. Martin Design to boot!
Availability: Amazon • Blade HQ • eBay
Read our review of the Kershaw Volt
---
A stalwart of the best bang for buck arena, it's a solid well made knife with a tough full flat ground blade and well implemented stainless steel liner lock.
Availability: Amazon • Blade HQ • eBay
Read our review of the Ontario RAT-1
Best Tactical EDC Knives
Aesthetically, it's my favourite, which makes me more than a little biased, but its neutral handle, great penetration, & aggressive tanto design means I feel quite happy should I need to carry this for defensive purposes.
Availability: Amazon • Blade HQ • eBay
Read our review of the CRKT Hissatsu
---
This may be a surprise, but if I had to pick one knife I didn't want to be stabbed with, it's this one. It's a needlepoint. Literally. If you drop this, there's is a good chance it will go through your foot.
Availability: Amazon • Blade HQ • eBay
Read our review of the Kershaw Leek
---
Probably one of the best looking models new out in 2017. Very unique mechanism (screwless deconstruction) with a beautiful wide blade and great flipper action.
Availability: Amazon • Blade HQ • eBay
---
I have handled it and it (honestly) scared me. Was literally designed from the ground up to rip, tear, and cut people to pieces. I don't think I need to add anything more to that description.
Availability: Amazon • Blade HQ • eBay
---
For the slightly less scary (but horrifying nonetheless!) version of the Civilian, the Matriarch is your best bet. As a bonus it's significantly cheaper!
Availability: Amazon • Blade HQ • eBay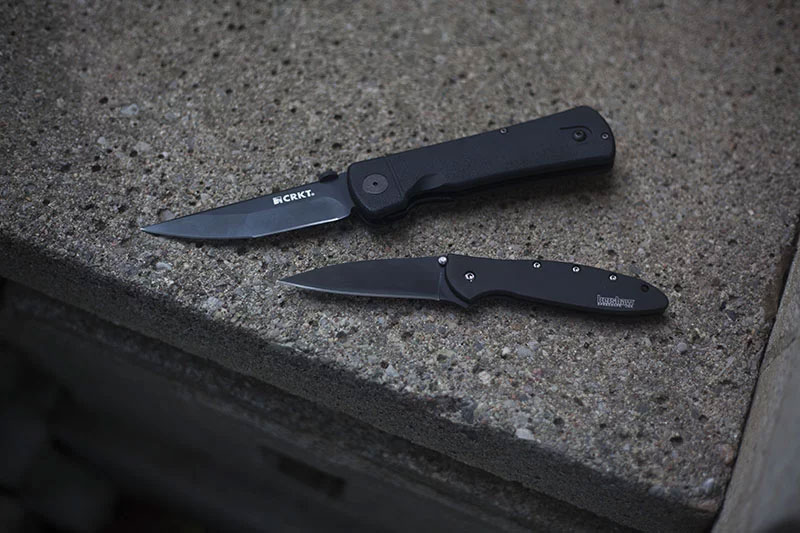 Best Extra Large/Oversized EDC Knives
I bought this knife expecting to hate it, then ended up falling it love with it. It's not the most elegant knife around (although it does have a quirky sort of beauty in my opinion), but its sheer size is pretty awe inspiring. When you are fed up with political correctness or just want to be a contrarian – this is the perfect EDC. Its not really a knife, more of a folding machete.
Availability: Amazon • Blade HQ • eBay
Read our review of the Cold Steel Rajah II
---
Never owned it, again though, I did handle it, and considered buying it if not for the price. Strongest lock without going to the Cold Steel TRIAD lock (you know how I feel about the Tri-Ad Lock; I shan't regurgitate my praises), but sadly, it's very pricy. In terms of size and strength, however, the Spyderco Tatanka is one of the toughest knives around and most definetly the toughest Spyderco. Some may argue that the Spyderco Tuff is tougher, but having handled both, I would say the nod goes to the Tatanka.
Availability: Amazon • Blade HQ • eBay
---
Cold Steel oversized knives are scary because they are oversized; the Szabo is scary because its scary. End of. I think if you shrunk it to a keychain size blade it would still look like it just wants to stab you. By far the most tactical knife I can think of (at least aesthetically) and the compression lock and its generous size makes it a solid contender for the best oversized EDC knife. As a sidenote, this knife never reached commercial success (as is common with the quirkier Spydies) so when it becomes discontinued, I am almost certain its value will skyrocket. I bought a Spyderco Dodo Sprint run for 120 bucks, I could sell it tomorrow for 300. Interesting/odd duck Spydies are some of the best investments you can make in my opinion.
Availability: Amazon • Blade HQ • eBay
---
The lightest, biggest knife around. I can think of no knife that is so absurd to pull out of your pocket (please don't do this in public unless you are in a free state – this thing is the textbook definition of an offensive weapon). I once pulled it out around my in-laws and they just stopped talking and stared – and these are people used to me flinging around knives. The Voyager XL is huge, and yet due to its lightweight nature, is remarkably pocketable. I actually EDCed this for quite a long time, and I wouldn't hesitate to recommend doing so if you're interested. It's the most EDC-friendly oversized knife you can buy by a significant margin.
Availability: Amazon • Blade HQ • eBay
Read our review of the Cold Steel Voyager Tanto XL
---
I don't own it, I wish I did. This is the sort of blade you own "just because you can." In terms of real world use… I don't know what you would use it for. The blade is as wide as it is long – we are talking a folding sharpened shovel here people. I can definitely understand the lust around this monster, but sadly, until the price becomes affordable (for me), I shan't be reviewing it.
Availability: Amazon • Blade HQ • eBay
Best Titanium Framelock EDC Knives
I have waxed poetics over the Sage 2 for many years. It's a kickass blade with a kickass framelock from one of the best factories in the world. I love it.
Availability: Amazon • Blade HQ • eBay
Read our review of the Spyderco Sage 2
---
I have been meaning to get this slab of titanium for a while. Great Rexford design at a very attractive price point. Historically, it had fit and finish issues, but it seems all problems have since been fixed.
Availability: Amazon • Blade HQ • eBay
---
Basically, the cheapest introduction to an almost Shirogorov without getting into crazy pricing, though if I had the money, a custom Shiro would be one of my first buys. Super nice deployment, fit and finish, and style.
Availability: Amazon • Blade HQ • eBay
---
Looks amazing and with Benchmade's quality control, I expect it will perform just as well as it looks. Ranks very high on my wishlist.
Availability: Amazon • Blade HQ • eBay
---
I think it's the least expensive option (correct me if I am wrong) on the market, and from all reviews I have read it looks to be a solid contender for the poor man's Sebenza.
Availability: Amazon • Blade HQ • eBay
Best Little EDC Knives
Absolutely tiny tyke. It's for all intents and purposes a keychain knife, but interestingly enough, the ergonomics are top notch for its size. The design of the Cinder is very interesting. It's technically (only just barely) a multitool and it's completely adorable when closed. I own slipjoints that are way more intimidating than this lil' blade. Sadly, the steel is subpar. In terms of real world use, I haven't had any disastruous experiences (then again, I haven't used it enough to tell – wait until the review for my final judgement) which tells me it's not a butter knife, but I do wish Kershaw went with the higher carbon 8Cr13MoV; a few pennies more, but a significantly harder steel.
Availability: Amazon • Blade HQ • eBay
---
I knew I would love the Spyderco Roadie the moment I saw it. Bought it along with the Spyderco Pingo (which I do not like in the slightest) and found it remarkably useful from an EDC perspective. Legal pretty much everywhere with great neutral ergonomics and excellent grinds and steel choice. An absolute winner that I see myself starting a collection of in the future. Please Spyderco, release the Roadie with carbon fiber scales?
Availability: Amazon • Blade HQ • eBay
Read our review of the Spyderco Roadie
---
While I've never owned it, I do have the Spyderco Tenacious (3 of them in fact) and the Resilience and frankly, that's enough for me. I did handle the Spyderco Ambitious in store and it's basically what you would expect – a shrunk down Spyderco Persistence, which in turn is a shrunk down Tenacious. The Ambitious is a solid knife with a solid, dependable design. Not the most exciting or unique knife out there, but it will do its job – no questions asked.
Availability: Amazon • Blade HQ • eBay
---
Ah Case. I have a love affair with traditional American knives. Maybe it was my diet of Stallone movies as a kid or maybe I am nostalgic over a bygone era of uncharted trails and cowboys, but there is definitely something special about these classic slipjoints. This Case knife is legendary in its own right, and beyond being a decent small EDC, it's probably the classiest option on this list. One of my first choices for a formal knife – thinking church or weddings here!
Availability: Amazon • Blade HQ • eBay
---
The biscuit knife has been the default suggestion on the forums for small(er) knives for many years now and finally we have a Titanium version with premium steel. Top marks Chad Los Banos- you designed a very cool knife with above average performance. I really love how this one disappears in your pocket.
Availability: Amazon • Blade HQ • eBay
Best Left-Handed EDC Knives
Some of you might be surprised that I didn't pick the Spyderco Para-Military 2 for the #1 spot on this list. After all, it's always topped my lists for the best EDC knives on the market. The reality is, however, whilst the Paramilitary 2 is indeed viable for wrong handed folks, it's not as neutral as the 940 as a consequence of the PM2's compression lock. The actuation is different from left hand to right hand, and thus the Benchmade 940 Osborne is my top recommendation for a lefty EDC. It is a 100% neutral platform that works identically regardless of hand bias and is ultimately one of the best folding knives ever created. As the years go on, I find myself picking it over the Paramilitary 2 more and more- the only thing the Paramilitary does better is (in my opinion) cutting performance. Even then, the Benchmade ain't no slouch!
Availability: Amazon • Blade HQ • eBay
Read our review of the Benchmade 940 Osborne
---
Impressively (like a lot of Cold Steel knives) the Recon 1 comes with a special clip designed to mirror the right side carry. On this particular knife, as with pretty near well all Cold Steels, this isn't an afterthought, but a conscious decision to support all handed people and at an extremely reasonable price-point. I still prefer the Benchmade for EDC-ing but the lock strength and toughness of the Recon 1 is legendary. For rougher tasks – regardless of left or right hand carry, it's bang for buck one of the best knives ever made.
Availability: Amazon • Blade HQ • eBay
Read our review of the Cold Steel Recon 1
---
In my opinion, while the Paramilitary 2 will never be my favourite Spyderco, it is still the ultimate introduction to Spyderco and can hold its head up high as a pretty perfect figurehead. I will always love my Military more, but every time I say this I have to follow up with the acknowledgement that the Para-military is objectively a better knife when looking at raw performance relative to size. The compression lock operates nicely when using it in the "wrong" hand, but due to the liner design as opposed to the TRI-AD lock or the AXIS lock, it is still biased somewhat. Not because it is harder (or easier), but because it is different. The Spyderhole, though, is (in my opinion) the best deployment system ever created and obviously doesn't care what finger or thumb you happen to use. And this I do have personal experience with, since my thumb is pretty busted and I often use my middle finger to deploy with a Spydie hole.
Availability: Amazon • Blade HQ • eBay
Read our review of the Spyderco Paramilitary 2
---
If you're a lefty who wants more recommendations in this category, we've got your back.
> View more left-handed EDC knife recommendations.
Best EDC Fixed Blade Neck Knives
ARK stands for "Always Ready Knife." This blade came about as a self defence option for deployed soldiers, particularly in the case of sexual assault. Spyderco has a long history of creating tools to defend the most likely to be aggressed, and I commend them wholeheartedly for this. Look at the Civilian as a good example of a knife company dealing with a problem head on. The ARK is designed to always be with you. With this function in mind, Spyderco designed the ARK using synthetic scales that are super grippy even when wet, and the steel used is H1, a nitrogen based alloy that is rust-proof. Not stainless – it's literally rust-proof.
I have yet to handle an H1 knife (it's on the list, I promise), but based on years of testing by thousands of people, it does what it says on the tin. I think this is possibly the best option for a 24/7 carry blade with superb in-hand retention and no real downsides. If I had to absolutely only have 1 neck knife – this would be it.
Availability: Amazon • Blade HQ • eBay
---
My most discreet neck knife. For when you really, really don't want to be noticed wearing a knife, this is an excellent option. Remove the scales & flatten the sheath and it will literally disappear under your shirt.
Availability: Amazon • Blade HQ • eBay
Read our review of the CRKT Minimalist
---
Absolutely love this little tyke. Great ergonomics with the optional scales & plenty of oomph behind the edge to do whatever is required of it in the field.
Availability: Amazon • Blade HQ • eBay
Read our review of the ESEE Candiru
---
A neck knife fan? Want to browse through more recommended options than just these three?
> View more everyday carry neck knife recommendations here.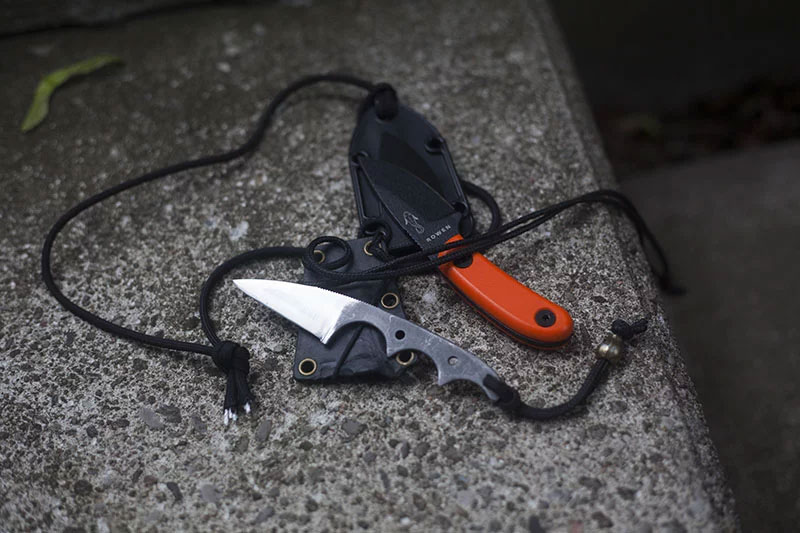 More Knife Recommendations
If you liked this list, but haven't yet found what you were looking for, check out what I believe to be the best bang-for-buck folding knives by price point.
And if you're interested in brand new knives that have just hit the market, check out my take on the new knife releases from 2017 (specifically those showcased at SHOT Show).
Sales, Discounts, & Clearance on Knives
Find current sales on knives and other camping & outdoor gear offered by knife retailers like Knife Center, Blade HQ, and GP Knives, as well as outdoor retailers like Cabella's, REI, and Patagonia on our massive list of knife & outdoor retailers' sale, deal, & clearance pages. We've added as many discount pages to the list as we could so that deals around the net are easy to find from this one page.
What Do You Think Are the Best EDC Knives?
Well that's a mega-post if I've ever saw one! Hopefully you've found what you were looking for – or at least something you liked – and if not, no worries! Keep an eye on our reviews as there'll be plenty more EDC knives featured over time.
Let us know your experience with any of the knives listed above in the comments section. If you feel like a few knives that didn't make it to this mega-list should've made it up there, let us know which knives and why – as well as which section you feel they belong in.
And of course, if you have a favourite EDC, be sure to share that with us as well!