When I went to South East Asia in 2008, I quickly realized that not all countries function as smoothly as those in the West. Sometimes trains and planes get delayed for hours, or outdoor toilets really end up being holes in the ground. The reality is, when you're out and about in a new place, you never really know what you will need with you, and while I try to not go overboard and carry half my possessions with me, I do make an effort to be prepared for those little annoyances that tend to crop up when I least expect them.
Condor's Escape and Evade Bag has been my only everyday carry bag for about 3 years. You can tell by all the embarrassing stains (I don't even know how the bleached white ones got there), that I've worn this thing pretty much as long and hard as any.
Condor Tactical E&E Escape and Evasion Bag Olive Drab – Amazon
Condor is now selling an updated version of it's Escape & Evade bag, one with a nifty map flap that mine did not come with. The updated version is what I link to on Amazon, and it comes in three colours, of which I have OD/Olive Drab colour choice. For all intents and purposes, this new version and the one that I own are more or less the same, with the only exception being the additional map flap on the updated version. And now onto the review…
For me personally, if a bag is too large or becomes cumbersome to carry it might as well be useless for EDC. I consider the classic messenger bag to be an ideal compromise between a bag that's too large and too small. It's large enough to carry the basics, but small and uncomfortable enough that I will make a concerted effort to keep the number of items I have in it down.
Essentially, if I carried a backpack around with me everyday, the relative comfort would allow me to become a glorified hoarder – why not carry all those extra items, the backpack stays comfortable after all! Messenger bags rein me in, reinforcing the mentality that whatever I put in my bag, it has to truly count and be useful, meaning I won't be carrying anything I feel I won't ever really need.
I bought the Condor E&E bag because it looked badass, and also seemed relatively tough & well constructed. The bag does have a number of features that I'll never use, such as the radio antenna output that you can see below, but for the most part, all the pockets and zips, for example, I've worn this thing to it's fullest.
Condor's Escape & Evade bag also features a nifty hidden compartment in the back. It was originally conceived to pack a concealed sidearm discreetly, as the interior is lined in velcro, but I find it perfect for storing small knickknacks when travelling. Makes things easier, as I don't have to open the main compartment. It would also be the perfect place to carry a map.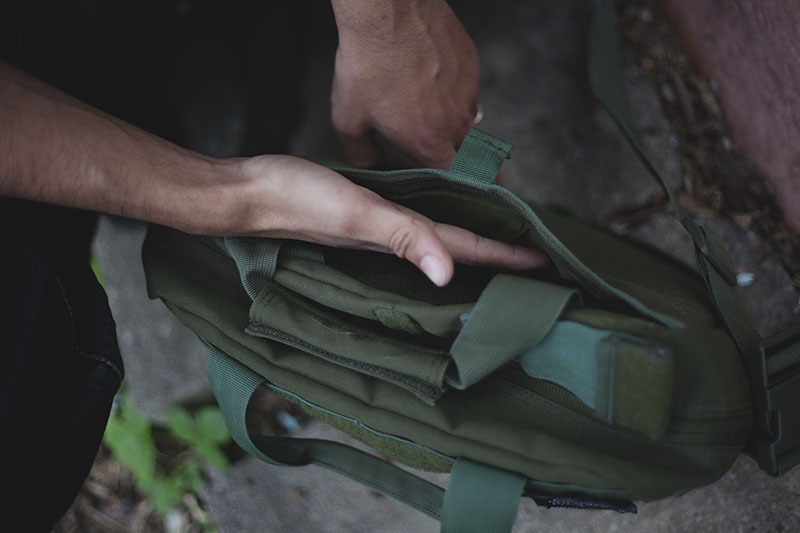 As you can see, this compartment is actually pretty discreet when worn, and it's very easily accessed. Excellent feature!
The E&E bag also boasts a lot of molle straps should you want to attach any pouches. I use the straps to hold my Spyderco Endura and a paracord bracelet. You might also notice there's a velcro layer on the top half of the bag, really handy for adding cool patches.
Spyderco Endura 4 FFG Folding Plain Edge Knife – Amazon
Condor Outdoor's Escape & Evade bag does looks pretty damn tactical, but it definitely doesn't look aggressive. There's definitely a lifestyle associated with bags such as these, but I find that personality and how you present yourself makes more of an impact than how mil spec your gear is. Keep that smile handy for those inquisitive stares – you never know, you might even convert someone to becoming a lifehacker/prepper!
Another feature that I will pretty much never use is the E&E bag's waist strap. I find the strap actually defies the the purpose of carrying a messenger bag, which is how easy it is to get on and off, but it's a nice feature, and I guess I like knowing it's there in case I ever want it. I used some paper clips (useful in day to day life as well as survival) to tuck the extension away to the side so that it's never in the way. I believe Condor refers to this part of the bag as the "slick clip." It's just a buckle as far as I am concerned.
The buckle for the waist extender strap is super solid. If the bag could handle 50 kg of gear, I feel like the strap would still be ok (no promises, but it really does seem it would take a horrifying amount of weight to cause any kind of tearing).
There's a velcro overlay for the carrying handle which is stitched into one of the handles. This makes it elementary to simply fasten the two handles together, making it much easier to hold and adding one extra safety precaution that will keep the bag closed. This feature is a great defense against pickpockets in metropolitan areas.
The E&E bag has 3 inner layers/compartments inside, besides the one concealed on the outside which I showed you earlier. There are plenty of little pockets and elastic loops to hold those small items that always seem to get lost in less endowed bags.
The main compartment is really quite reasonably sized. Using the highly accurate metric of delicious footlong subs, I would estimate the main compartment could comfortably hold 10 foot long submarine sandwiches (not overly stuffed, just about the average amount of toppings).
There is also a removable divider that has a bottle holder. I must admit, I've never used it for anything other than holding a box of pills (Aspirin, Advil, Claritin, you know, the basics), but again, it's nice to know it's there if I want to use it.
The elastic loops are big enough to carry your everyday items, and not just pens. I have mine carrying  chapstick, a flashlight and a Bic lighter.
And the final little compartment is mil radio-sized but for more mundane uses, it will comfortably fit a notepad, cellphone and a few pens over the lip.
The last compartment is relatively small in terms of thickness. It's clearly designed for notepads, a passport, documents, or any other sort of paper-based objects that are slim and long. The back is slightly padded and I'd feel completely comfortable travelling with my chromebook in there.
The zippers are super overbuilt and are actually water resistant. I don't want to say they're waterproof, as I doubt if submerged they'd keep the water out, but I have walked with it in horribly wet conditions, with rain pouring down, and the insides have never gotten wet, so take that for what it is. No promises, but in my three years carrying it, it's never been overcome by Canadian weather.
Speaking of overbuilt things, the material of the bag is a type of Nylon reminiscent of the stuff Maxpedition and Camelbak use. If I had to, I would guess 600D Nylon, but I don't have the exact specs so no promises on that. Just trust me this bag is tough.
In many of these photograph, the bag looks bigger than it is, mostly because of the angle the pictures were taken at. For the record, the dimensions of the bag are as follows: 12″W x 10.5″H x 4″D. In the flesh, the bag is the perfect size, at least for my EDC needs.
The picture on the left below gives a slightly more true example of size. It's definitely not too big for an EDC, although if you wanted to stuff it you could definitely manage to carry a hell of a lot. I cannot emphasize how well this bag hangs taking into account how simple and traditional the design is. I would wager the sheer width and overbuilt construction has a lot to do with that.
The shoulder strap is extremely comfortable and well padded with a nice non-slip coating on the inside. In all my years of owning the bag, I'd have to say it looks pretty near brand new, besides those stains of course. Although the bag is technically washable, I'd advise just going over dirty spots with a soapy rag. Should work just as well.
This fantastic everyday carry messenger bag is perfect for people who want a good storage option at an insanely low price. Considering the amount of use I've put into my own, I'd strongly recommend getting one.
The Condor E&E bag is perfect for travel, as a get home bag, or for everyday carry in your home city/town. My favourite feature is definitely the sheer number of compartments, pockets, pouches, and elastic loops that make it easy to organize and make sure your small objects don't sink straight to the bottom of the bag never to be found again.