Ken Onion is undoubtedly a behemoth in the knife world. His unique sense of aesthetics and function, coupled with his willingness to collaborate with production companies to create valuable, yet inexpensive knives, has left quite a mark in the knife industry. Although the knives he works on are production knives, they have a custom vibe to them, and he has quite a signature look and feel to his work. I can't personally think of another designer that has contributed more to bringing a unique sense of style to a utilitarian hobby. His CRKT Ripple is, in my opinion, the perfect example of this.
Columbia River Knife & Tool (CRKT) Ripple Folding Knife – Amazon / Blade HQ
CRKT's Ripple is a very diminutive, yet surprisingly large pocket knife. It is a light everyday carry folder, whose sleek appearance and exciting two-tone ripple scale pattern really makes it stand out from its competition. In a lot of ways, I would say the Ripple has no true contest amongst other knives, as I can't think of a single knife it can really be compared to.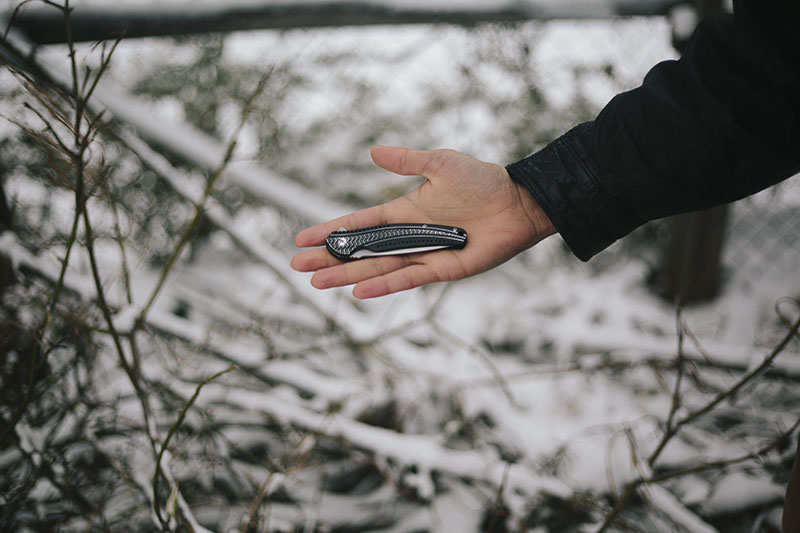 The CRKT Ripple's overall length is 19cm (7.5 inches). As I've said, this is quite a bit larger than it looks, and while specifications don't lie, those numbers mean this knife should be categorized as a medium-sized everyday carry, though it looks and feels like a much smaller knife. The Ripple is comparable in size to the Spyderco Delica.
The reason the Ripple feels almost too small to be this big is due to the 2.5 mm (0.1 inch) thick blade. This thinness, combined with its contoured spine, makes it look sleek as hell. It is one of the few knives in my list I can really think of as a "gentleman's knife," as it's both pretty in design, as well as rather understated and unthreatening as a knife.
Its needle nose 80 mm (3.125 inch) hollow-ground blade is truly a vicious slicer. Be warned that CRKT's Ripple is sharp and just loves to bite into anything you point it at, including your hands (I'm not exaggerating here – it cut me within the first 2 minutes of owning it).
The blade locks solidly using a nested stainless steel liner lock. The CRKT Ripple is most certainly not a heavy user/beater knife, but I would wager the super skinny blade would snap long before the lock would fail on this knife.
The flipper on the Ripple does act as a guard should the lock fail: one of the benefits of the flipper deployment system.
Unfortunately, the CRKT Ripple comes with a hideous (sorry Ken) clip, that while functions great, is just so ugly I reluctantly EDC this knife without a clip. Thankfully, the Ripple does have a lanyard hole, so I can thread some paracord and fashion myself a decent lanyard to aid with deployment.
I really cannot emphasize how stabby this knife is. If you have the misfortune of dropping this knife whilst its open, pray to whatever god you believe in that it doesn't land on your foot. It may not look vicious, but if your skin is on the other end of it, you'll quickly learn that it is.
With that said, the Ripple is pretty much a superb slicer, with its 8Cr13MoV blade that keeps a nice edge for quite a decent amount of time, taking into account this knife is extraordinarily low priced. Would I have preferred a super steel? Yes, I always do, but the cost of this knife would've gone way up.
The aluminium scales, as I've mentioned before, are drop dead gorgeous, with machined ripples and a fantastic two-tone finish. I can't get over this extraordinarily good looking effect. I daresay it even looks better in person than it does in the pictures.
All those tiny holes all over, while they obviously look good, also do the job of helping keep the knife at a ridiculously light 2.5 ounces. Remember this is a 19 cm (7.5 inch) knife! For it to be 2.5 ounces is impressive as hell.
Centering wasn't quite perfect due to the IKBS system. I could have centered it perfectly myself, by tightening the pivot just a smidgen more, but if I did that, deployment would have become a little sluggish, so I chose not to.
One nice touch is that the spine of the blade is fully rounded. I really wish more manufacturers would do this, as it makes the design of the knife look and feel much more elegant and streamlined.
Deployment with the IKBS system is lightning fast. The flipper is generously sized, and I have never had to give it a wrist flick for it to deploy firmly: very good job here, CRKT.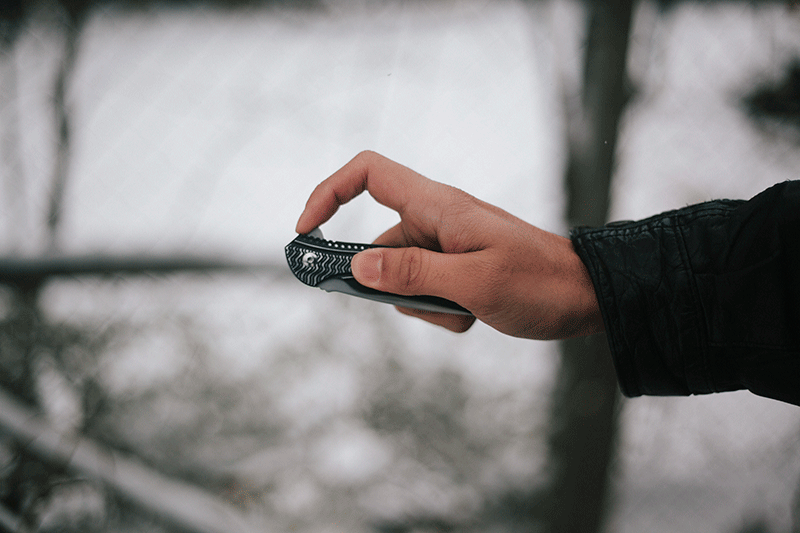 Balance point is perfect: right behind the pivot. The relative thinness of the blade and the lack of contouring on the handles (more on that later) also suggests that this really isn't a heavy use knife. I treat my Ripple as a light cutter, and it's a really nice EDC blade for formal occasions.
In terms of ergonomics, the Ripple is in the middle of the pack. The handle shape is well designed, but the edge of the scales are left a touch too blocky for my taste. The knife is so thin that if you were to grip it hard, the hot spots would become apparent, but in the grand scheme of things, and practically speaking, this is a non-issue. Its hard to have a truly ergonomic knife that is also diminutive and sleek, so I wasn't expecting excellent ergos here. It's certainly not the best, but it's good enough for what it is.
Reverse grip is perfectly acceptable, and whilst the Ripple is not marketed as a tactical knife, as I have mentioned it is very stabby, and the guard would protect your digits under almost any situation. Not my first choice for self defense, but certainly not my last.
I have very little experience with the IKBS systems, and I have never taken this knife apart (I'm terrified of losing all those little bearings that go around the pivot). That being said, I would wager that cleaning the Ripple would be a giant pain in the ass. The ergonomics are not designed for prolonged use, and thus would not advise this for use in the field as a folding hunter.
It's main strengths definitely lie in the field of general/formal light use EDC, and while this may seem limiting, I'd argue that there's no way someone could look at this knife and think "hard use." It's just too good looking.
I do wish the scales of the CRKT Ripple were made of titanium, that the edges were all smoothed out, and that the steel was something much sexier, like ZDP-189, but there's no way this knife could be all that at such a low price point.
In a lot of ways this knife really emphasizes the compromises one has to make when choosing an EDC knife – typically you get one that's light and pocketable or one that's heavy and tough. You don't get both, and this knife is certainly not both. You'll often have to choose between sleek and gentleman-like, or full of thick contours for an ergonomic hand feel. This knife makes obvious that contrast. For a light, pocketable, sleek gentleman's knife, the Ripple certainly fits the bill. If you wanted to get away with only having two pocket knives in your collection, you could, having just this and one other heavy-duty, ergonomically sound blade like the CRKT Ken Onion Foresight. With those two folding knives, you could easily be ready for any situation, choosing which knife to carry depending on the situation, or what you'll be having to be doing the rest of the day.
This knife is the perfect lightweight, pocketable and sleek gentleman's knife, and considering it can go from casual to formal with no modification or adjustment whatsoever, I'd definitely advise adding the Ripple to any collection.