I've touched on what are, in my opinion, the top (folding) lightweight knives on the market before when I published my list of the best EDC pocket knives. There are quite frankly some great featherweight folders out there that would be truly ideal for hikers to have on them when they're out and about. Yet I find that even with a top list in the lightweight knives section of that article, I still do get a lot of questions about what I think hikers should get with regards to EDC knives.
In case, like for some of those who've asked me on social media, the folders I found weren't quite enough in terms of options for you, I'm going to flesh things out here. There are plenty of lightweight knives on the market, some much more lightweight than others. And while I'm going to start off with showing you the very same knives I listed in the best EDC knife article I wrote up (after all, I still do believe those are the top lightweight EDCs), I'm also going to present you with a slew of other options in case those folders aren't up your alley.
Obviously, there is a huge amount of variance in my choices, but I went with a sole, folding blade option. Fixed blades are a different kettle of fish altogether and I don't think they should be compared side by side with folders.
Let's begin.
Top 5 Best Lightweight EDC Folding Knives for Hikers
This folder has a nested liner that aids with weight reduction. Extensive skeletonization on top of that nestled liner means that you end up with what's, in my personal opinion, the king of the featherweight folders. The CRKT Ripple also features IKBS flipper deployment, too, which is amazing. One heck of a lightweight knife.
Availability: Amazon • Blade HQ • eBay
Read our review of the CRKT Ripple
This knife is one of my favourite EDCs of all time, maybe even my actual single favourite. It's one hell of a folder and yet has very little impact on the scale – you'll barely feel it in your pocket. Maybe not the most exciting option but its a steadfast friend that has been by my side for many, many years.
Availability: Amazon • Blade HQ • eBay
Read our review of the Spyderco Delica 4
It's a 4 inch tactical folder, but with its nested liner lock and with its G-10 construction, it punches very high above its weight when you take into account how much cutting power is packed in. Would never hesitate to recommend this as a light weight option – especially for those who are interested in more punch from their EDC knives. Obviously the lock isn't up to par vs a Cold Steel TRIAD option but for general use, its perfectly adequate. Never had one fail on me- perfect example of a lightweight liner lock done right.
Availability: Amazon • Blade HQ • eBay
Read our review of the Spyderco Military
If you ask around for the best lightweight EDC or best folding knife for hikers on the net, this is probably one of the most frequently recommended options you'll hear. The Skyline is one of those knives that would make a list like this incomplete without having mentioned it.
The Drifter has absolutely impeccable fit and finish, and it comes in such a small lightweight package that it becomes pretty shocking when you take into account the price point of the knife. The Drifter features nested liners with one of the nicest feeling lock engagements around. It's not a heavy duty knife. If you're looking for a above average cutting performance in a light weight package, like I said, you need to go for a Military. But balance is close to perfect for a light EDC option, and again, the price point is amazing. If you're looking for a budget friendly folder, this is where it's at.
Availability: Amazon • Blade HQ • eBay
Read our review of the CRKT Drifter
CRKT Drifter G-10 Everyday Carry Pocket Knife – Amazon / Blade HQ
Other Excellent Lightweight Folding EDC Knives for Hikers
The following knives, all excellent for hikers in their own way, are not in any particular order and are not meant to be. Each have advantages and disadvantages when used as lightweight folders for hikers to carry.
I've taken the time to break down exactly why each knife is good for hikers – what it would excel at and what it isn't the greatest at.
This is a knife that underwhelmed me when I first bought it, but the action is so slick that I can't help but EDC it on a regular basis. Mine has custom G-10 scales (aftermarket), but out of the box with its FRN scales its very comfortable and punches way above its weight class. The price is a smidgen too high in my opinion, but its performance can't be debated.
Availability: Amazon • Blade HQ • eBay
Read our review of the Benchmade Griptilian
Probably my favourite knife for the whole of this year. One hell of a folder and I would argue probably the best bang-for-buck folding knife for those of us who dig the outdoors. Amazing toughness and cutting performance (especially on wood) for its weight. I am comfortable saying I would feel okay having this as my only knife in the woods. Amazing, and a future classic.
Availability: Amazon • Blade HQ • eBay
Read our review of the Cold Steel Finn Wolf
Looks like a well balanced tool. The Rove is certainly not the prettiest knife Kershaw has ever made, but its blade is straight up utility biased, and its weight to cutting power ratio is impressive. The blade has a lot of belly, which could be put to heavier uses than its light weight would suggest.
My review of this knife was pretty negative based on my personal experience with the ergonomics (lego scale syndrome), but others swear by it. I would suggest you give it a fondle in a store and see if it works for you. My only gripe was the square edges on the scales and general lack of contouring – it's not comfortable to me at all. But if it doesn't bother you, then it's a pretty excellent option with that versatile Spyderco leaf blade.
Availability: Amazon • Blade HQ • eBay
Read our review of the Spyderco Manix 2
If you want optimal cutting performance relative to weight, this is it. I don't see any competition for it on the market. If you can suggest an alternative, I am all ears! Downside is the lack of one hand deployment and expected issues with the wood construction swelling when wet or in high humidity. There is a synthetic version out now, but as I have not handled it, I hesitate in recommending it.
Availability: Amazon • Blade HQ • eBay
Read our review of the Opinel No. 8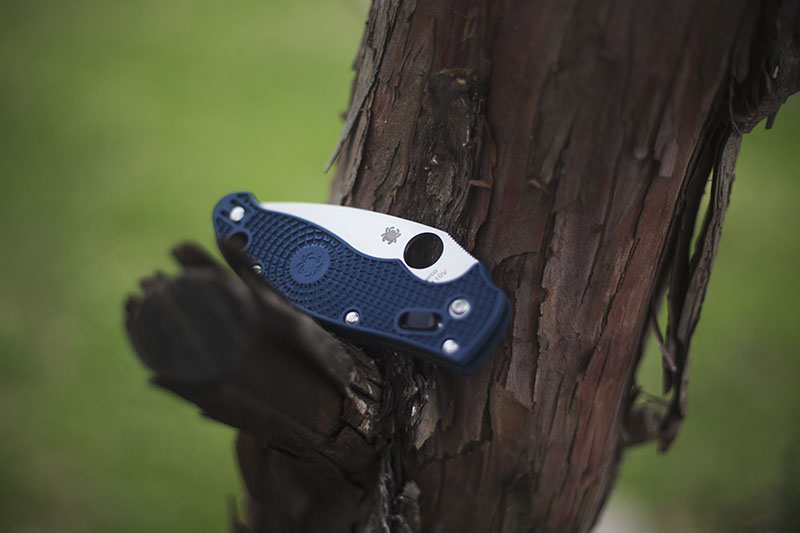 Spyderco Manix 2 Folding Knife – Amazon / Blade HQ
For its toughness, its weight is shocking. Check out the Cold Steel lock strength demos on YouTube! You could pit a titanium framelock against it that weighs twice as much and it won't perform anything close to as well under duress. Yes, it could be argued that its strength isn't required for its purpose but if you want a folding knife that will give you the "fixed blade" feeling- this is it. Obviously, this is still a folding knife, so don't go too crazy, but then again, after owning it for a few years I just don't see how I could get it to fail even if I wanted to. Shoot it maybe?

Availability: Amazon • Blade HQ • eBay
Read our review of the Cold Steel Voyager Tanto XL
Availability: Amazon • Blade HQ • eBay
Read our review of the Cold Steel Voyager Vaquero XL
USA made for $20, and it's a solid knife at that! I have always had a soft spot for Buck, and as a child lusted after a 110, I absolutely love them, and whilst they don't really break new boundaries with steels or locks, they are very dependable, down to earth tools.
This is a knife I haven't reviewed and yet gets brought up almost fanatically by those who own it. Gotta be honest, the aesthetics underwhelm me, but the sheer passion people have for this folder means it will definitely get reviewed. With that said, it has an excellent reputation as a solid, inexpensive folding knife designed by a knife maker of impeccable reputation. I include it in the list to preemptively shut down the "What about the ka-bar dozier?" crowd. I get; it's good. It's getting reviewed eventually, please put the pitchforks away.
Gotta give credit where credit is due. When it comes to doing things out of the box – SOG doesn't disappoint. Is this the thinnest full sized locking folder around? Probably, and if not please share whatever else is so my jaw can hit the ground. Obviously, with its lack of meat, ergonomics are going to be a problem. But if you really really lack space, but want cutting power, I think this is a good option. It will slip into pretty much any pouch or pocket discreetly.
A true modern classic. A lot of reach for the weight thanks to its more anemic profile. I have been itching to review this knife for quite a few years. Available in most stores if you want to get a feel for the ergonomics. In my experience, it's superbly constructed (better be at that price!) with the wonderful axis lock and a surprisingly versatile blade. You may think it's too biased for tactical use due to its almost dagger like profile, but I assure you it can cut and cut and cut.
Availability: Amazon • Blade HQ • eBay
Read our review of the Benchmade 940 Osborne
Columbia River Knife & Tool (CRKT) Ripple Folding Knife – Amazon / Blade HQ
Which Lightweight Knives Do You Prefer for Hikes?
Have I missed anything that really should've been on this list?
Grabbed one or more of these folders already and can vouch for them as excellent lightweight hiking knives?
Sound off in the comments!