In July last year, I asked everyone on Survival Threads whether they preferred to rotate their food stockpile or not:
When it comes to food storage, I've noticed that people typically fall into one of two types of camps: either they are all for rotating their food stockpile, or they prefer to just build it up, leave it alone and let it sit for whenever an emergency strikes.

I'm on the side of those who believe rotating through a food stockpile is a good idea. Foods that don't expire will still often lose flavour over time, and if you're stockpiling food that has a long-term expiry date, you stand a lot less of a chance of reaching that long-term expiry date if you're eating through your older foods and replacing them with newer ones. I don't like the idea of waste, and foods would certainly be wasted if I didn't eat them in time before they expired (of course here I mean really expired, not just going by what the date on the packaging says!).

I certainly see validity in the reasoning from the other camp, however. It's true that sometimes you just forget to replace the items you've used up – and if you don't replace them and end up in a situation where you need them, you're in a lot less of a good spot. That being said, I'm all for staying organized and having lists, which should solve this problem by preventing completely forgetting about replacing the food items that have been consumed.

What do you guys think about the topic? Do you rotate through your food stockpile yourself? Why or why not?
I had always been the type of person who was completely on the side of those who rotated through their entire food stockpile. I'm still more or less in that category of things – I still am a firm believer in rotating through food, but because of another food storage discussion that came up on Survival Threads a few months later, in December of 2015, my perspective has changed a touch with regards to the camp that believes its best to leave your food stockpile alone and let it sit for an emergency. But more on that in a bit.
First and foremost, I'd like to address what I see are the benefits to rotating through food stockpiles.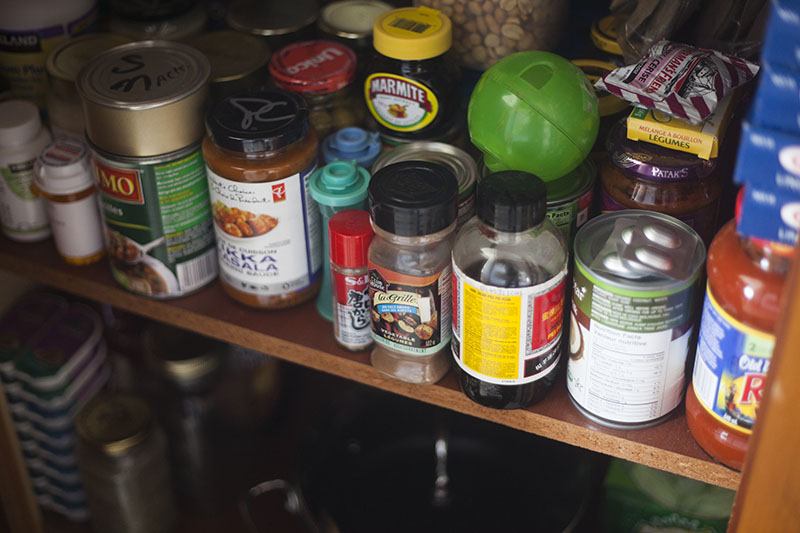 Benefits to Rotating a Food Stockpile
1. Your food has less of a chance of expiring.
Obvious, of course, but if you're eating through older food and replacing it with new food, it's much less likely you'll get to the point where you have food that expires on you, because you'll hopefully have rotated through all your food before you hit any expiry dates.
2. Since it stands less of a chance of expiring, you'll not be wasting as much food.
There's just something in me that hates throwing out food. It's not that I'm against throwing any food away, but throwing food away that I would've pretty much liked eating anyway if it only wasn't for that expiry date cropping up doesn't sit well with me. Especially when I know in my head I could've rotated through my food stockpile to be able to use the food I had to throw out. Doesn't sit well with me at all.
3. Not only will you not be wasting as much food, but you'll be saving money on buying replacement food.
Money is valuable. Many of the preps that we preppers would like to work on revolve around money; whether it's in the form of increasing emergency funds you have saved up, buffing up a stockpile of survival gear, investing in courses that teach us important prepper skills, investing in a bug out location that's off the grid, buffing up our home security system, or really anything. That money you could have saved by eating through your food stockpile instead of buying replacement food could be used so many places elsewhere; ultimately helping you to be able to work on other preps, instead of continuously having huge financial resources being dumped into food that is never eaten and only saved for an emergency.
4. Since you're eating through the food you're saving for an emergency, you'll be able to figure out what you like and what you don't like of your stockpile.
It's not the worst problem to have, but if you've never eaten the food you've saved up for an emergency and you realize a few days into an emergency that you just hate the stuff you've stockpiled, well that's not likely going to be the greatest feeling in the world, especially if it's all you got. If you're constantly eating through your food stockpile, you'll be able to assess whether the foods you buy are the best you can get for the job. Not a fan of that particular chili you bought? Get another kind or scratch chili off of the emergency stockpile food list completely. You don't have to eat what you don't like, and you can always stock less of what you feel would become redundant or boring to eat after a while. Rotating through your food stockpile will really help you to figure this bit out.
How My Perspective on Food Stockpile Rotation Changed
The food storage thread that changed my perspective on stocking up without rotating can be found here. Tfire1163 was telling us about a friend of his who asked for help with food storage organization. What he found was a complete and total mess – including a lack of air tight containers that led to food going bad, mice feces around the area where she kept her food, freezer burned frozen food, and basically a slew of food that could no longer be used because of the condition it was stored in. (Proper storage is a topic for another day, but until then, let Tfire1163's friend's food stockpile act as a reason to check up on your own food stockpile and make sure everything is okay and – you know, not overrun by a colony of mice!)
Within the context of his post, Tfire1163 mentioned that he was a firm believer in the first in, first out (FIFO) method of dealing with food stockpiles, and that he strongly felt that you should store only what you eat and eat what you store.
A few comments in, Mike Ash brought up a point that really made me think; and this is exactly what made me change my perspective on stocking up without rotating:
I don't totally agree with the "store what you eat, eat what you store" philosophy guys. It sounds nice, succinct and rolls off the tongue pretty. But a survival food storage goes further than that. It is a good basis yet not overall strategy IMO.

Don't get me wrong, not saying that you should go out and buy a shit ton of canned spinach and yams if your family hates them. Things that you can rotate is a great goal, but sometimes you will need to store a lot of something that you could never rotate totally with normal eating habits. But if you are thinking survival nutrition then you will just have to store them anyways. And if you think they are going bad, but not bad yet, give them away to families on an eat soon basis or add to compost. It would suck but it may be necessary to be truly prepared.

FIFO is definitely the best way to go but in some cases FI is far as it goes because you barely ever eat that product, but due to nutritional value or supplimental meal filler you should be storing for extended survival situation even of you never get to rotate.

A few examples: dry beans, rice, milk, ramen. I store more of this than anyone (other than an Asian food aficionado) would or could ever rotate or eat in a non survival situation. Im might store powered milk but i ain't drinking that shit. I'll get used to it and be happy with the change from smoky water if shtf happens. Although it breaks the rules on store what can eat, it is a nice source of protein, calories, and it is  culinarily quite versatile. So I store it. Being dry foods, I'm guessing in my dark, semi-dry, stockpile they will safely last for over a decade with little or no deterioration.

I very rarely eat any of these items but I still store them and here's why. Not to be preachy but in an extended bugout/bug in situation I receive per serving:

Dry milk: 80 cal, 8g protein, and vitamins and minerals. Not to mention ability to make bugout butter and cheese.

Beans: 70 cal, 8g protein, 22g carb, vitamins and minerals.

Rice: 160 cal, 3g protein,  35g carb, vitamins and minerals.

Ramen: 190 cal, 70 cal from fat, sodium 790mg, 26g carb, 4G protein, vitamins and minerals.

So I hope everyone sees that we can't prep by just following a pretty statement. I personally feel that "store what you eat; eat what you store" is a great and the most efficient theory for stockpiling, it should be your core philosophy but not not a steadfast rule/law of stockpiling food. Other items should be in consideration to have a well-rounded overall diet and plan for survival.

If shtf happens we could end up eating a lot of things we aren't used to or even comfortable eating, but that's why it called surviving not camping. Otherwise I'd be eating steak, shrimp, hamburgers, and hot dogs on a daily basis.
Mike Ash (who by the way has a survival YouTube Channel you can check out!) is 100% on point with his comment. And even now – I couldn't have said what he did better myself.
Main points he covered;
While you shouldn't go out and buy tonnes of things you hate eating, for nutrition purposes in SHTF emergencies, you will sometimes need to stockpile things you wouldn't in a regular situation want to eat (ex: dry beans, rice, powdered milk, ramen noodles, etc.)
Rotating through your entire food stockpile is a great goal, but sometimes you will need to store a lot of something to increase the amount of calories you have on hand in an emergency – a quantity that you could never rotate through totally with normal eating habits.
You can always give away food items just before they expire to families that could use them or add them to compost heaps. It's not ideal, but may be necessary to be truly prepared.
"Store what you eat; eat what you store" should be your core philosophy but not a steadfast rule/law of stockpiling food. Other food items should be in consideration for your stockpile so that you will have a well-rounded overall diet and plan for survival & SHTF situations.
I mentioned later in the thread that I definitely agreed, and that I certainly think "first in, first out" should be the heart of the rule, and not the rule itself that's important;
Definitely the objective is to have so much food stockpiled (eventually) that you couldn't consume it all before it expired, but when you're first starting, and especially if you're tight on funds and can't afford to see a lot go to waste, I definitely believe it's wise to stick to "rotate your stock"/"store what you eat, eat what you store" and FIFO philosophies.
But when you do have the extra funds and the capacity to bulk up your food stockpile, don't be afraid to buy things that, as Mike Ash pointed out, you really wouldn't want to eat outside an emergency or disaster. Yes, you should have plenty of food you like eating and that you stockpiled because you actually eat, but if your food stockpile gets big enough to last you a long time, there will no doubt be items in it that stockpile you will not want to eat, but that are great to have on hand just because of their extended expiry date and nutritional value.
And, again, as Mike Ash said, if you can't eat some of the food you've stockpiled yourself because you've gotten to the point where you have a lot more food stockpiled than you're able to eat, and like me, you don't like wasting – just give it away to someone else who will use it, compost it, or hell, even donate it a short while before it expires.
Your desire to rotate your food stockpile completely, however, should not impede you from growing your food stockpile to be as large as you can have it, so that you can withstand prolonged emergency situations.
So my perspective on things now has changed. I will definitely, to the best of my ability, still rotate my food stockpile to a great extent, sticking to the first in, first out principle as much as possible – but once I am able to grow my food stockpile past the extent to which I am able to eat through all the food that needs to be rotated, I won't fear having food that I will never be able to get to, or food I don't particularly like, because depending on how long an emergency situation ends up lasting, as we as preppers already know – I really might need it.