For those of you new to the scene, a little catch-up: Thomas and I moved to the U.K. from Canada a little under a month ago. This cross-continental move put us in a bit of an odd position from a prepping point of view. Quite obviously – it left us in the weird position of not having a stockpile at all for the first time in years.
Even while we were gearing up for our move, we did have a good amount of emergency supplies. Why would we bother to keep supplies up when we knew we were moving? Easy – whatever we didn't use before we left we could just give away to family, which is exactly what we did. Nothing needed to go to waste. But now that we're in a new country and are a bit tight on cash considering our recent purchase of a flat to live in, while I wouldn't say it's exactly like starting to prep from the very beginning, it is prepping from the ground up, from scratch in terms of physical supplies, even though we have our knowledge to help us restart the stockpile.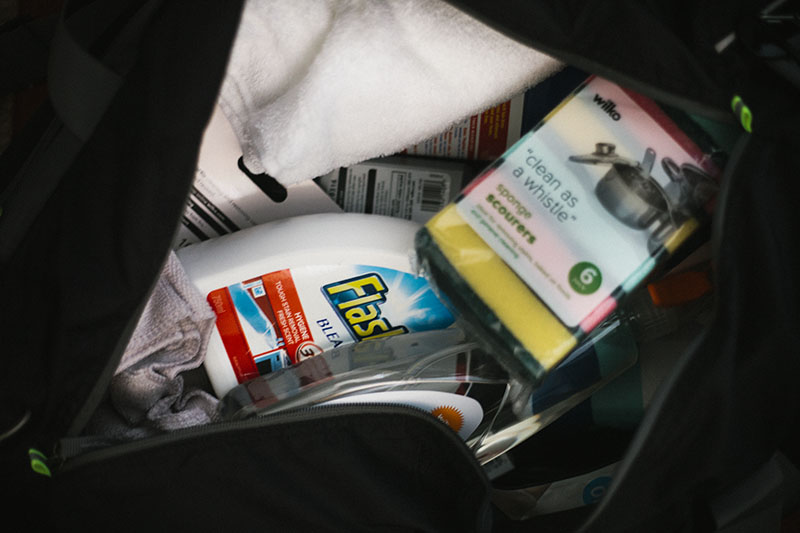 The most valuable thing right now that I feel I can stockpile is household supplies. I know this may sound counter intuitive, especially since in a real emergency situation, a food stockpile is much more valuable (here in the U.K. it rains enough, not exactly worried about water), but here's why I'm not starting with stockpiling food: the food here is different and I don't quite know what we will and won't eat a lot of. This is a really important thing to know before building up your supplies if you're the kind of prepper who rotates through your food stockpile.
Why I'm Not Rushing Into Food Stockpiling
The first time Thomas and I ever began stockpiling was a few months after we'd met. We started with food and first aid supplies, as well as some household goods, but we concentrated our efforts on the food side of things, especially considering how appealing the discounts were at grocery stores. We bought way too much of specific kinds of things (sauces, canned food, bars, etc.) and that ended up being a real waste of resources. What we learned from this experience: make sure even if you really like a specific kind of thing and honestly do think you'll finish it before the expiry dates rolls around that you invest the bulk of your funds in foods that have really long-term expiry dates for your stockpile, because good intentions and "I seriously thought we'd finish that in time" do not help when you look back on a slew of items a year or two past their expiry date and sadly have to throw them out.
So until I know better which particular food items I'll even want to build my stockpile up around, I'm not going to invest much of my money in a food stockpile.
What will I be waiting for?
Trying out a great deal of the inexpensive long-term expiry foods available to me.
Having made a decision with regards to which we prefer, waiting for sales to roll in on those items.
Only then will I really begin to build my emergency food stockpile. Because right now that's the only way that makes sense to me. And again, I'm not going to be pouring much money into things that expire in a year or two. Yes, I'll probably have some of these on hand, but I will be careful not to overdo things this time, because I know what happened when I did overdo it in the past.
As I mentioned in this thread, eventually in Canada I tended toward sticking in particular to these kinds of things for stockpiling;
Basics
Rice: wild, jasmine, and basmati
Honey
Dried lentils
Dried beans
Dried pasta
Noodles
Instant/freeze-dried coffee
Alcohol
Seasonings
Salt
Sugar
Pepper
Spices
Dried herbs
Obviously this is not all I had stockpiled, but these items were the bones of the stockpile I did build up. These days I think I'll have to cross dried lentils off the list, especially since we rarely ate them, and invest a lot heavier into dried beans, trying new ones so that we have a better idea of the variety we can achieve with these kinds of foods. I will also likely cross instant/freeze dried coffee off the list since Thomas isn't drinking very much coffee anymore, and since what coffee we do have we drink for free anyway (yay for Waitrose cards – with which you can get a free coffee, cappuccino, or latte a day).
Why Start With Household Supplies for Stockpiling?
So this brings us back to household supplies. As I said I'll be starting my stockpiling there. Why? I already know exactly which items I'll be needing, a result of Thomas knowing a great deal about the products having lived here before already and of his grandmother Sue's recommendations. If and when those items go on sale for good prices, nothing is holding me back from building up my stockpile of those items. And since many of them never expire (toilet paper, wash cloths, sponges, etc.), while other things take ages to expire (soap, shampoo, toothpaste, mouthwash, etc.), and since I know approximately how long it takes us to go through household items that do expire, I can calculate what I need for the year and stalk the store shelves to be able to optimize my household supply stockpile at home.
What's Next on the List?
After stocking up on household supplies, I think my next move will have to be first aid supplies. Again, this is the kind of thing I'll really have a good sense of what we'll be wanting/needing, but I don't want to rush into building up a first aid supply until I write up a list and can then, as with everything else, stalk store shelves for sales and discounts on the products I want.
What Would You Stockpile First?
If you had to restart your stockpile from the ground up today, where would you start?
Would you do things differently if you were moving to a new house, VS moving to a new city, a new country, or even to a new continent?
Share your thoughts in the comments!