It was pretty damp this past Saturday. It rained a few times off and on, and when we finally decided to practice starting a fire in such wet conditions, it was about 85% humidity out. Just in case anyone's curious about the weather conditions at the time we tried this, the current temperature was 26°C/79°F with little to no wind, so pretty reasonable conditions other than the fact that it had rained multiple times. The fire pit we regularly use wasn't flooded in any way, but it was certainly drenched wet.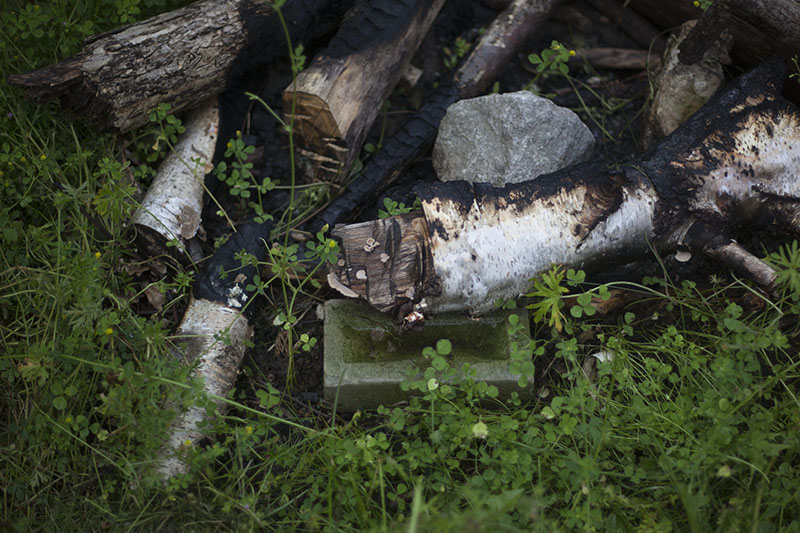 We were determined to start the fire with only the very cheap and simple tools that Thomas EDC'd in his pocket, along with a knife of course. Altogether, we used a waterproof capsule, some lint, firesteel, a bowie, and a pocket knife.
First, of course, Thomas got the lint out of his waterproof capsule.
Waterpoof Capsule – Amazon
Once we had the lint, Thomas grabbed one piece out of our large pile of semi-rotted logs, and placed it straight up. He then went to make some dry wood shavings with his knife.
In order to determine which branches were dry enough on the inside to use, he flexed a few. The ones that bent he put back since they were too wet. The ones that cracked or snapped, he used for tinder.
Ontario SP10 Marine Raider Bowie – Amazon
In order to get bigger pieces of dry tinder, he found some thicker branches, and through batoning, managed to cut the tree branches into quarters and then again into even smaller pieces. Once he got to the inside of these branches, he used the dry insides to make large shavings for tinder.
After making enough tinder, he piled it up, placing the lint in the center of the pile, and took out his firesteel to start generating sparks. In order to make sparks with firesteel, you'll need to use the back of a knife in combination with it. If you're not sure how, we'll discuss this in a later post. Although Thomas could have used the bowie again, he decided to use his pocket knife instead, as it's easier to use a smaller knife to generate sparks.
Light My Fire Swedish Firesteel Mini – Amazon
Opinel No8 Carbon Pocket Knife – Amazon
Once the sparks caught, we realized that the ember had actually been blown into the center of the log and was glowing. Going with it, we began to blow on the center.
After a few minutes of blowing off and on, and adding more tinder to the core, we managed to get a heck of a lot of smoke.
And then finally, a beautiful flame.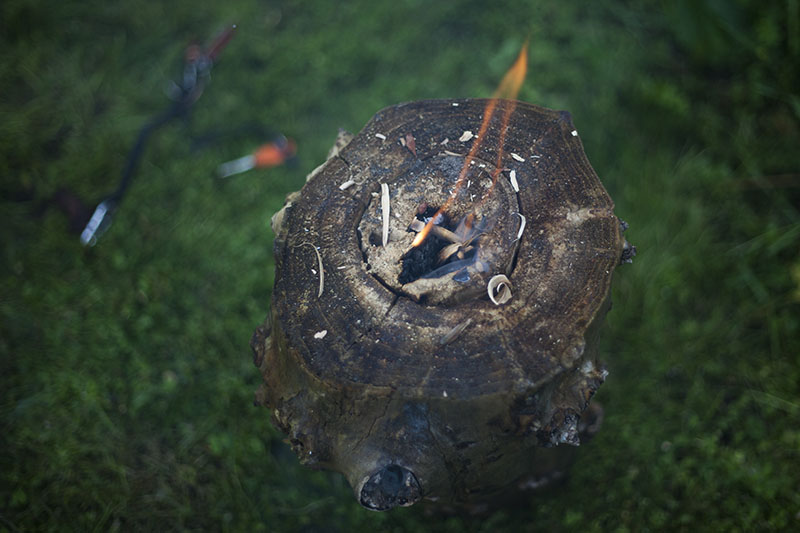 Although it takes a bit of effort, making a fire out of wood that's been wet due to a recent rainfall is definitely possible. Just remember to be patient and make sure you use only the dry parts of wood for shavings, especially until the fire gets started.