Opinel has been producing knives much longer than the majority of present-day knife manufacturers: they started in 1890 with a distinctive sense of style and function and haven't stopped since. The Opinel No. 8 is by far their most popular knife design & size, and while it's most commonly seen sporting beechwood handles and a carbon steel blade, it's also available in a wide array of different handle materials and steel types. The one featured in this review, for example, has Bubinga wood handles and a stainless steel blade.
The Opinel No. 8 was the first folding knife that I ever purchased for myself. Now that I am older, I decided to kick back some nostalgia and get myself the upgraded/luxury version of the classic Opinel No. 8 that I can't help but love.
Opinel No. 8 Traditional Folding Knife – Amazon / Blade HQ
Besides the different wood and blade steel/finish, there really isn't any difference between my knife and the classic Opinel No. 8 in Beechwood. I do have the classic Opinel No. 8 as well, but I have to say I love the overall appearance of this Opinel just a little more. In all cases, however, the Opinel No. 8 has a refined, clean and quite beautiful look to it. It's minimal in the aesthetics department, but I think therein lies the charm of it.
On my version of the Opinel No. 8, the 8.26 cm (3.25 inch) long blade is perfectly finished, which is a nice change from the standard industrial finish of the regular classic Opinel. Be advised that if you get the version I have, the blade is a huge fingerprint magnet.
The Opinel design is as basic as you can get, which means no clip of any kind. I sometimes carry it as a glorified neck knife in an Opinel leather sheath I purchased separately. I got the inspiration to carry it this way from the way Cody Lundin wears his Mora Classic as a neck knife.
The sheath is well made with nice contrasting stitching and clean branding. I couldn't find the exact one on Amazon, but this one here is very close, and looks to be exactly same except for that slit at the front that mine has.
Regardless, my sheath is definitely looks over function, as it has zero attachment points of any kind. It's actually more of a pouch than a sheath to be honest (which is advertised), but it functions adequately for its intended purpose. At the end of the day, if you everyday carry an Opinel, it's certainly not for quick deployment! So no bother with the sheath making it slightly harder to deploy.
On the forums, whenever someone asks for a recommendation of an inexpensive folding knife that cuts very well, the replies are usually flooded with suggestions of Opinels. It's not hard to see why! The Opinel No. 8 is a super slicer, and honestly outcuts everything. It's probably one of the most anorexic blades I own. At 2 mm (0.08 inches) thick, I can't think of a single other folding knife that comes this thin out of the box.
Not only that, but their unbelievably low price tag make them an easy entry into the knife market. When it comes to the most affordable bang-for-buck survival/bushcraft knives, you go Mora. When it comes to the most affordable bang-for-buck folding EDC super slicers, you go Opinel.
The Sandvik 12C27 blade is full flat ground and crazy lean. In terms of aesthetics and performance, Opinel really hit the jackpot. It's basically a folding light saber and will slice through pretty much anything with insane levels of ease. Between the two steel options, carbon steel (XC90) and stainless steel (12C27), in my experience both hold a great edge. Although if you are located in a humid environment where rusting is a possibility, I would suggest going with the stainless option.
It should be noted that out of the box the blade might not be at its full potential of screaming sharpness, and of course it may need to be resharpened to get to that point. At the sub $15 price point, however, this should come as no surprise. You're in luck, though, as Opinels, even if they're stainless steel, are almost trivial to sharpen (if you're curious you can find out exactly how to here), and the results of the new edge will be awe inspiring to say the least.
The tip is pretty acute, so I really do not recommend prying with it. If you do manage to snap the tip off, you can simply regrind the blade. Of course you'd be forced to join the club of Opinel owners who have treated their knives badly, but don't worry, it's a popular club, due in part to how inexpensive the Opinel really is.
The construction of the Opinel No. 8 is one piece with a single pivot and no way to adjust anything beyond the lock engagement. It's truly the perfect example of keeping things simple.
Opinel #8 handles are very nicely contoured, with no visible defects and a superb ergonomic palm swell. The lathed construction means that the ergonomics are as neutral as you can get. We're rivaling a Mora Classic here.
Balance on the Opinel #8 is likewise perfect at right behind the pivot. The Opinel weighs in at 1.6 ounces (45 grams) so it's basically weightless in your hands and a pleasure to use all day long.
It's easy to spot where the single pivot is located. This single pivot holds the metal sheath where the rotating lock of the Opinel sits. The lock will never fail under normal use, although with excessive torsion and lateral pressure (again, just don't pry+twist), it has been said that the steel ring can pop off. That said, this has never happened to me in over a decade of owning and using Opinels pretty damn hard, so I can't really comment on that.
Back to the aesthetics of the Opinel No. 8, in my opinion, I can think of very few knives that are as minimally rugged as this one.
There is a nail nick to open the Opinel No. 8 on the blade of the knife. Due to the knife's lack of washers and also because of its wood construction, environmental factors like humidity and temperature can at times cause the scales of the Opinel No. 8 to expand, which can almost lock the blade in closed position. I personally have never experienced this, but it's a common criticism made of the Opinel No. 8. Some take steps to combat this issue. For example, they'll try boiling the handles in linseed oil or submerging them in anti-freeze. No promises with regards to how well these methods work, as I've never tested them out myself.
If you happen to have tried any methods of combatting scale expansion on the Opinel No. 8, let us know in the comments: 1. What methods you have used, and 2. If they have or haven't worked. It's quite interesting information to learn, and would definitely be useful for those who have experienced the issue personally.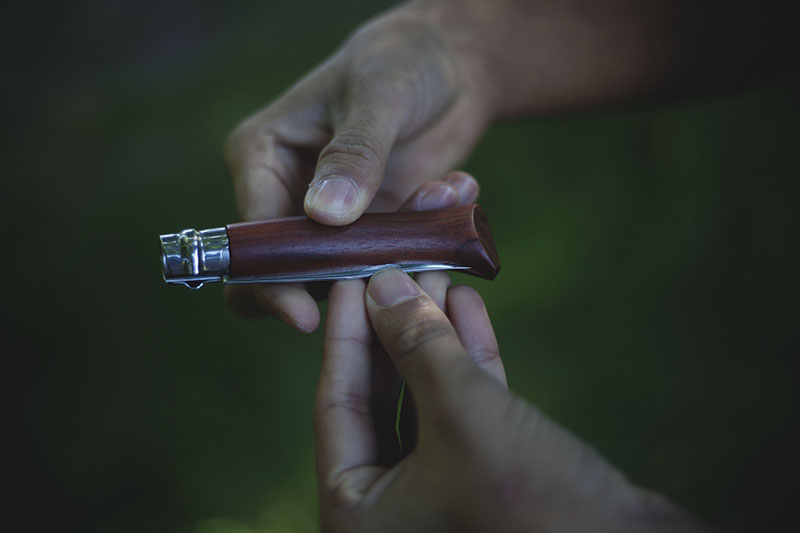 Once the knife has been deployed and is fully open, simply twist the ring to engage the lock. As simple a concept as you can get, really. I'm sure any 10 year old would have this knife figured out in moments. In our day and age of over-complicated super modern locks, it's actually nice to own a knife with just two moving parts.
The Opinel Number 8 has absolutely zero choil to speak of. It's essentially a folding guillotine, so I would suggest being careful and (yes, I'll say it again) not prying using the knife, as should the ring pop off and the blade come down on your digits, you will have a very up close and personal understanding of how well Opinels can really cut.
In saber grip, the Opinel Number 8 is extremely comfortable with absolute neutrality. Kinda feels like holding a giant sharpie, but better because of its palm swells. The wood handle is warm and pleasing to the touch. It's probably my second favorite knife handle of my entire collection, second to only the Mora Classic, and its handles are definitely my favorite for a folding everyday carry knife.
Choking up on the Opinel Number 8 is also comfortable within reason. The gap in the ringlock can get wedged in the fat of one's fingers, so in this grip, I prefer to not grip too hard.
Reverse gripping the Opinel Number 8 is equally neutral, however it's definitely not a tactical knife, and the lack of a guard reflects that. I would advise against stabbing with it. You don't want your hands to slip, as using the knife will then backfire on you.
Pinch grip, by contrast, is excellent. The Opinel Number 8 is definitely of the better knives to pinch grip with. The wooden handles might be problematic when it comes to field dressing, as blood and guts might get lodged inside the knife, so keep that in mind. It's not a flow through/open frame construction, and as such there is no real way to take the knife apart for maintenance and cleaning.
But stunning and very efficient as an EDC nonetheless. It's a classic for a reason, and like I said, at that price point, perfect entry knife into the market.  If you're a collector, the sheer number of different variations of this knife also makes it an excellent collecting piece. Don't want the standard Beech Wood handles? You want walnut handles? They're available. So are Oak, Olive wood, and of course Bubinga. You can even get it in blue. Prefer an outdoor version without wooden handles? They've got that, too!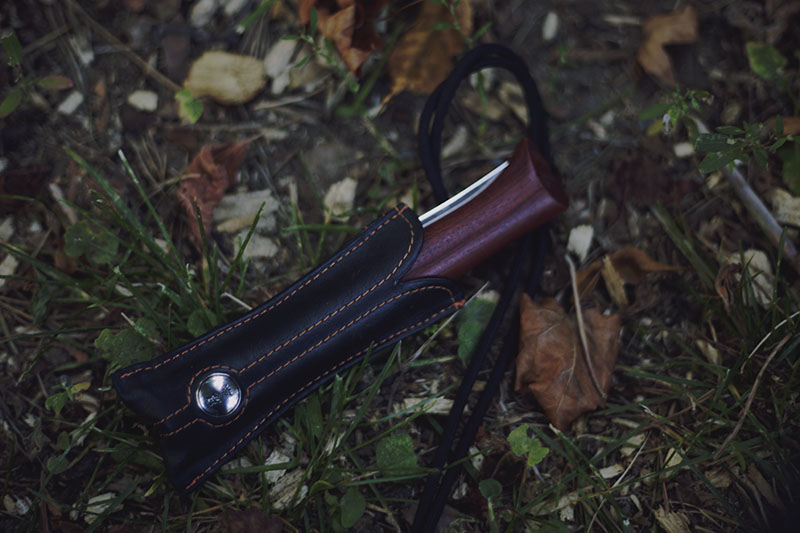 To me, the Opinel No. 8 is an interesting knife to discuss and review, as it's almost ubiquitous in the knife world. For the money, no knife on the market cuts as well. Period. The superb grinds and ergonomics ultimately mean the Opinel No. 8 has no rival in its price range. If you want a performance knife, and haven't got a huge budget, for less than $15, pick one of these up and you'll never regret it. If you want the same performance, but with better materials and cleaner aesthetics, spend some extra money and go for the Bubinga one I've got. Hell, you can even splurge and buy both for under $50.
There are some downfalls to this knife, but objectively speaking, if we were to address them it would change the knife irreparably. If you made the scales synthetic and allowed faster deployment it wouldn't even be the same knife. Part of the charm of an Opinel is that this classic has been made in Savoie, France for well over a century with little changes having ever been made, and with no regards to modern design and material trends. Much like the Buck 110 or the Mora Classic, this knife is tradition and history all wrapped into one sleek, age-defying package, and needs to be appreciated as that.
Pick one up, if nothing else, to experience one of the most acute edges on the market at one of the most ridiculously low price points.