The Spyderco Bob Lum Chinese folding knife design has been a staple in the Spyderco lineup over many years. The knife comes in a variety of different materials and finishes, though these are now for the most part discontinued. As of 2013, only the Nishijin Glass Fiber version is still produced in its original format, although a super sized G-10 version is in production as well.
Spyderco Bob Lum Chinese Folder Nishijin Pocket Knife – Amazon / Blade HQ
The defining feature of this knife is its luxurious glass fiber scales. Its earlier incarnation came in more common aluminium scales, and it is truly incredible how a simple material change turned a standard knife into a functional work of art. Again, the handles on this knife are made of glass fiber, not carbon fiber, which is a common mistake to make. The key difference is that strands of glass, and not carbon, are used in the process of making these handles.
Every aspect of this knife has been designed beautifully, from its sleek lines to its aesthetically pleasing shape. I'd also like to note that while the knife handles are actually black and silver/grey, under certain lighting and from certain angles, they do appear to be blue at times.
The pocket clip is certainly not deep carry, but the knife in pocket, while obvious, is not obnoxious in the least. The coating helps in that regard, even if it is prone to wearing around the edges as you can see in the picture below.
The glass fiber scales are extremely smooth to the touch and the woven nature of the material, which is of course similar to the aesthetic of carbon fiber, adds a nice touch when viewed from the side. There's actually quite a mesmerizing 3D effect when it's rotated that is really visually appealing.
The full flat ground 80 mm (approximately 3 inch) blade has a very thin grind, making the Spyderco Lum Chinese Folder a vicious cutter straight out of box.
Deployment using your middle finger is not the easiest thing in the world as the Spydie hole is partially obstructed, however it is still possible. That being said, opening and closing with one hand is always a breeze with this knife.
The liner lock, whilst thin, is plenty sturdy and engages securely. Clearly this knife was not designed for hard use, but after owning it for well over a year, I don't see any glaring weaknesses. The lock has also not travelled significantly.
The skeletonized liners help in keeping the weight down to a modest 86 grams (3 oz), which is particularly impressive when you realize that despite its charming looks, it is still a full sized folder with a total deployed length of 183 mm, or around 7 inches.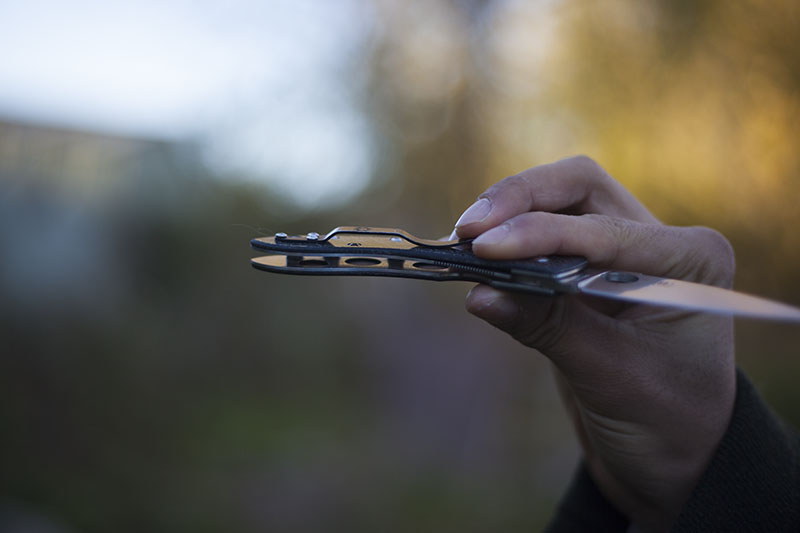 Centering was perfect out of the box, but if you don't keep it nice and tight, it will travel towards the liners, though this is typical of most liner locks.
No real choil to speak of, but the blade design does provide some protection from losing your digits should the lock fail. Of course it is also very unlikely that the lock will fail.
The VG-10 blade features a very pronounced swedge, making this an excellent penetrator and lean cutter.
Balance point, as with the majority of Spydercos, is right behind the pivot.
The Lum Chinese Folder with Nishijin glass fiber handles was definitely designed with aesthetics in mind, but even then it's still reasonably comfortable in use. The knife also has a relatively neutral grip profile, making it good for many different hand sizes.
You can pinch grip with it, but the lack of guard and choil does make pinch gripping a bit unsafe.
And of course, using a reverse grip on this knife is completely possible (although why you would want to reverse grip with this kind of knife is beyond me).
The knife looks just as good open as it does closed, and the attractiveness does not in any way hinder its ability to perform.
All in all this is the perfect everyday carry knife for anyone who may want something that looks distinctive and more aesthetically appealing than the norm.
The unique scale material and blade profile make this one heck of a memorable knife, and for what I believe to be a surprisingly reasonable cost. The Spyderco Lum Chinese Folder with Nishijin glass fiber handles is definitely one of the most photogenic knives I own, even for a Spyderco, which are typically photogenic to begin with.
On the December 4, 2007, the renowned knife maker Bob Lum, who had collaborated with Spyderco for years, passed away. I honestly can't think of a better living memorial to his life's work than this stunning piece.