When the Spyderco Tenacious was first announced, I remember how divided the knife community was at the announcement of a China made and branded Spyderco. Some years later, we can see that Spyderco hedged its bets well, as there have been nearly nothing but exceptionally positive reviews on the Tenacious from the knife community since.
Spyderco Tenacious G-10 PlainEdge Folding Knife – Amazon / Blade HQ
Spyderco Tenacious Black Handle Black Blade Knife – Amazon / Blade HQ
I personally own two Tenacious knives, at least for now. They're so cheap that if a nice sprint run comes up, it's hard to resist grabbing another one. The two I own include a regular, non-sprint run Tenacious, the one with a satin blade and black G-10 handles, and a Frankensteined sprint run of the Tenacious with blue G-10 handles, which is no longer available. I modified the two knives by switching the handles so that I could have a black-blade, blue-handle Spyderco Tenacious that you see in the pictures.
I modified my standard Tenacious to have a clip point blade, as I was curious as to how it would perform with a finer tip. I gotta say I was quite happy with the performance.
The Spyderco Tenacious is not a small knife. It is 197 mm (7.8 inches) when fully open and 113 mm (4.5 inches) when closed. Personally, I think it's the perfect size for general EDC.
The completely exposed Spyderhole and smoothness of the knife make the Tenacious one of the fastest deploying knives I own. It shoots out with intent, even though it uses simple Bronze washers and has no assists or bearings of any kind.
Converting the blade to a clip point has allowed this knife to be a brutal slicer and penetrator. On par with a stock Endura.
The stainless steel liner lock engages with authority. I have never had my Tenacious fail on me, and at its low price point, I have really used this knife hard.
There is a generous cut out to disengage the liner lock. I wish all knives had this design choice.
It's so easy to close one handed, and I can safely do it using my fingers instead of my thumb.
Here you can see the difference in terms of blade taper between my modified Tenacious (the black-handle knife) and a stock Tenacious (the blue-handle knife).
Removing so much blade steel at the tip has really given it a needle point.
As with 90% of Spydercos, the balance point is behind the pivot.
Can't say that I'm the biggest fan of the pocket clip, as I have always preferred the more discreet clips on the Sage series knives, but the hourglass clip functions as intended.
The 8Cr13MoV steel is clearly not a super steel, but holds its edge decently through most EDC tasks. It's also very easy to touch up and get back to to hair shaving sharp.
The total weight of the knife, at 117 g (4 oz), is about average. Spyderco skeletonized the liners, which really helps with the weight, as stainless steel is not particularly light. I wish it had integral liners like the Spyderco Military, but of course, at this price point, it would be pretty much impossible.
The blade is interesting, as it does not feature a choil of any kind. This is pretty unique for Spyderco. It has a total blade length of 86 mm (3.4 inches), which has a total edge of, again, 86 mm (3.4 inches)! This is a refreshing change from the regular line up, and the full flat grind is pretty lean, making the Tenacious an incredible slicer.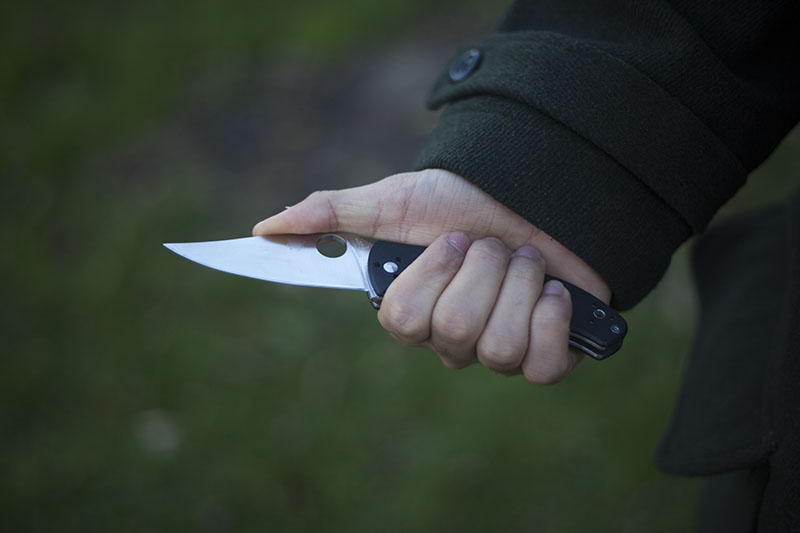 The ergonomics are very well thought out with a strong, neutral sweet spot. No matter your hand size, you will find it comfortable to hold.
The Tenacious is a must have knife both for collectors and users. It has countless times proven to exceed expectations based on price point, both in terms of fit and finish and in terms of performance.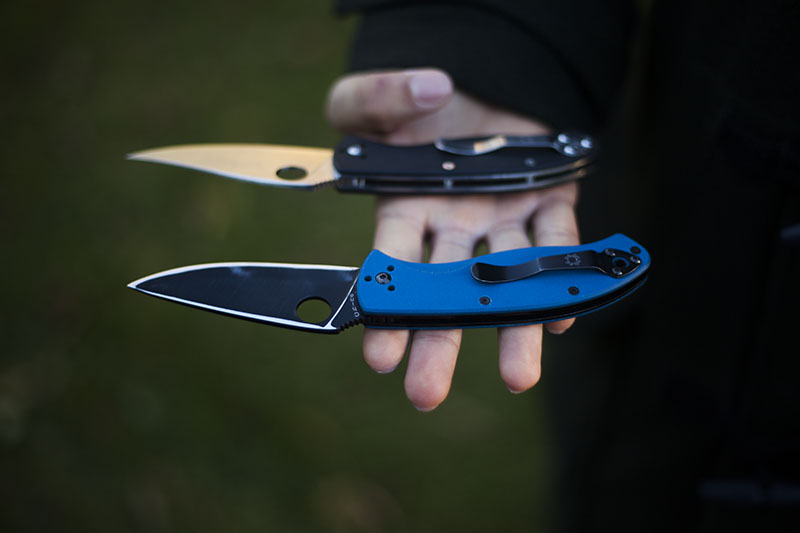 Spyderco deserves some accolades for creating a China-made product that is so well-produced.
The Spyderco Tenacious is a very high performing EDC folder of high quality fit and finish and all at an incredible price point.
It's almost unbelievable how great a product this knife is for it's cost, and Spyderco should definitely be applauded for significantly lowering the entry cost into the Spyderco fan club so substantially. There's just no excuse for not having a Spyderco at this point – as they've made their products accessible to those in all walks of life and economic status.
Kudos to you Spyderco, Kudos to you.