Out of all of Spyderco's Sage series knives, this particular one is hands down my absolute favourite. The Sage 2, with its titanium scales and frame lock, is perfection, and there's very little anyone could say against it. In terms of the Sage 2, simply put, if you like titanium and you like Spydercos, there's almost no way you're going to dislike this knife.
Spyderco Sage 2 Titanium Plain Edge Knife – Amazon / Blade HQ
It's really unusual for me to praise a knife this way. I've even gone so far as to slam the Sage 3 for a relatively small problem – its fully enclosed/non-open design leads to the development of rust on the bolt, an issue both small and manageable, but something you just shouldn't have to worry about. All this to say, don't take my appraisal of the Sage 2 lightly.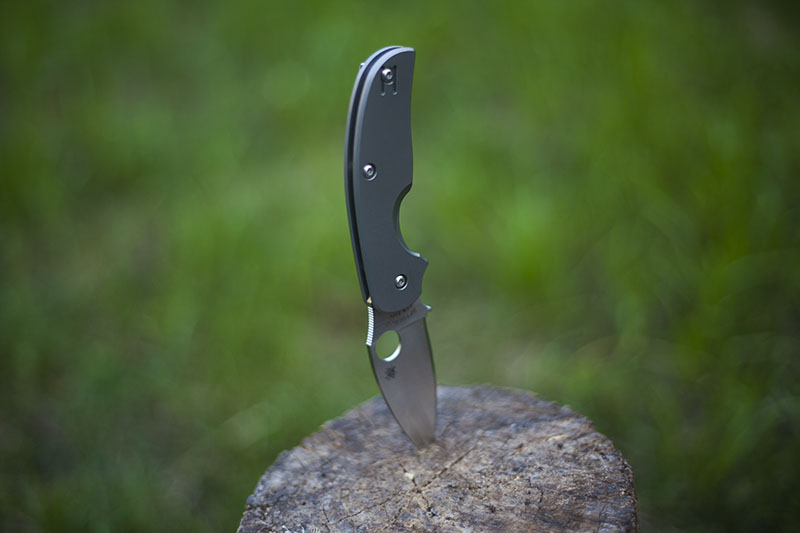 Like the other knives in the Sage series, the Sage 2 comes with a discreet wire clip that carries deep and doesn't attract very much attention to itself. It still does peer over the top of the pocket, so it's not completely concealed, but it is still relatively subtle when placed in your pocket with the clip.
The knife has an overall subtle, minimalistic design. It is assembled with only 3 T8 screws, just like the Sage 1. The uniformity of the screws is especially helpful, as in case you want to take it apart for any particular reason, you won't have to worry about which screws go where: they'll all fit perfectly into any space. It also minimizes the amount of tools you'll need to take the knife apart and put back together. The uniformity of screws is therefore always appreciated in my books. I really wish all knives were like this.
The overall length of the Sage 2 is a practical 7 inches with a utilitarian 3 inch blade, convenient because of its acceptability in terms of size in many jurisdictions.
Closed, it is a hair above 4 inches in length. At 100 grams, it will disappear and be easily forgotten inside most pockets.
The frame lock engages with extreme robustness: it's a solid thwack and it doesn't budge. After 2 years of regular use the integral frame lock has not travelled or changed in the slightest. I have never had it fail or accidentally disengage. Honestly, Spyderco scored a home run with the execution of this lock interface on the Sage 2.
The balance of the knife is also flawless. When you hold the knife normally, without choking up on the choil, it essentially becomes weightless.
The bead blasted titanium scales wear in beautifully, besides a couple of scratches which give a knife character. Scratches are really only seen when looking at the knife closely, and as you can tell, they don't really show up in pictures, even with an extremely high quality camera.
The sabre grip is the default grip for the Sage 2, and my personal favourite grip when cutting in a downward motion. I use it when cutting cardboard or opening boxes, for example. The choil, like the choil on all the other Sage knives, will protect your fingers should the lock fail. Again, the lock failing is incredibly highly unlikely, and has never once happened to me, but it's nice to have the choil there just in case.
The depth of the choil allows you to choke up comfortably on the knife blade for enhanced precision in detail cuts.
The relative thinness of the blade allows you to pinch grip the knife reasonably comfortably, although it's clear the ergonomics were not designed for a pinch grip.
The Sage 2 allows for decent comfort when holding it in a reverse grip. I definitely wouldn't want to do any serious work like this, though.
The full flat ground CPM S30V blade is very thin at the edge and thus performs admirably as a slicer. Having personally tested and used many other everyday carry knives, I'd say the Sage 2 has above average performance as an EDC knife.
The only jimping that exists is the little bit on the spine of the blade. The Sage 2 has a good compromise between sharpness and resistance, and although I can't say I've ever liked jimping on a knife, with the Sage 2, it just doesn't bother me.
It's a terribly gorgeous knife at an excellent price point, especially for titanium. Hell, it's so tasty not even bees can resist.
When addressing the value of a knife in terms of cost, many immediately bring up inexpensive knives like Moras or Opinels, but when you break down what you get for the price, I firmly believe the Sage 2 is on par with the aforementioned knives.
It's not $10-20, but it's worth every penny. Where else can you get a titanium frame lock, an S30V full flat ground blade, and incredible fit and finish all from a manufacturer with a great reputation and warranty for $160?!
I don't believe that at this present time any other knife comes close to offering a better bang for buck.