The Mora 740 MG has been one of the most popular low cost bushcraft knives of the past three decades. Having been endorsed by Ray Mears, 740 MGs were considered a staple of the bushcraft community for many years. With the knife's simplistic design, rugged construction, and great performance to cost ratio, it's very easy to see why this was so.
Mora 740 MG Bushcraft Knife – eBay
An appropriate term to describe the sheath would be "spartan," I think, as it is both basic and sturdy in design. I've wrapped the sheath with some gorilla tape myself, just in case I need the tape in the field. Strong tape is very useful to have on hand.
The sheath retention is decent, though obviously not the best. There is, however, a nice little click when you sheathe the blade as the knife snaps into place.
The balance point is ideal for a knife this size. The tang does not go down the length of the handle, but I have never had any sort of problem with the blade, and I've never seen any reports of failure on the forums either.
The drainage hole works, but it's not quite where I'd want it to be. I would prefer it to be placed at the bottom of the sheath, where the Mora Outdoor 2000 and the Mora Bushcraft Forest 2010 sheaths have theirs. Regardless, the drainage hole is still perfectly functional.
All in all, it is a very diminutive package, weighing in at around 100 grams. Unbelievably light – there should be absolutely no issues wearing it as a neck knife should you want to.
The stock thickness is super thin at 2.5 mm. Yet even at 2.5 mm, the blade has more than enough heft for all outdoor tasks one could wish to perform with a blade this size.
The Mora 740 MG has a scandi grind, as all Mora knives do.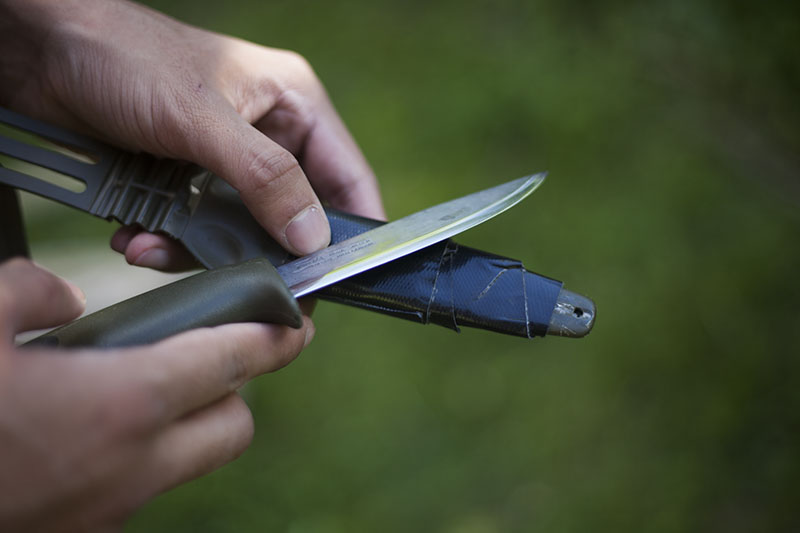 It also has a giant lanyard hole at the base of the handle, one that is very well conceived and implemented.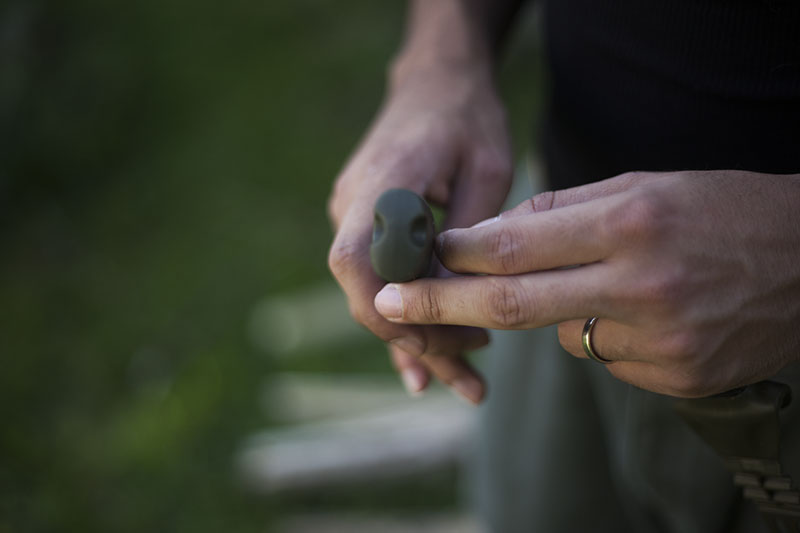 The knife is unbelievably comfortable. I would go so far as to say that its baseline grip comfort is superior to all other Moras.
There are absolutely no issues with hotspots on this knife.
You can pinch with it, but it would prove better as a dedicated hunting knife, for which it would offer superior performance.
Wood cutting ability is superb. It most certainly does what it was designed to do very well.
Hell, I'd say the blade bites through wood like a hot knife through butter!
The reverse grip on the Mora 740 MG is pretty comfortable. The guard does not interfere, and rather, it actually provides a bit of extra safety.
Detailed work is easy enough. The spine is unfinished, but it's not sharp, so you can put some oomph behind your thumb without risking a cut.
Batoning with this knife is perfectly doable. Obviously, it's not a particularly great chopper (it's pretty terrible chopper as a matter of fact), but in a pinch you could definitely make do with this knife, and so overall, it wouldn't be too shabby in a survival situation.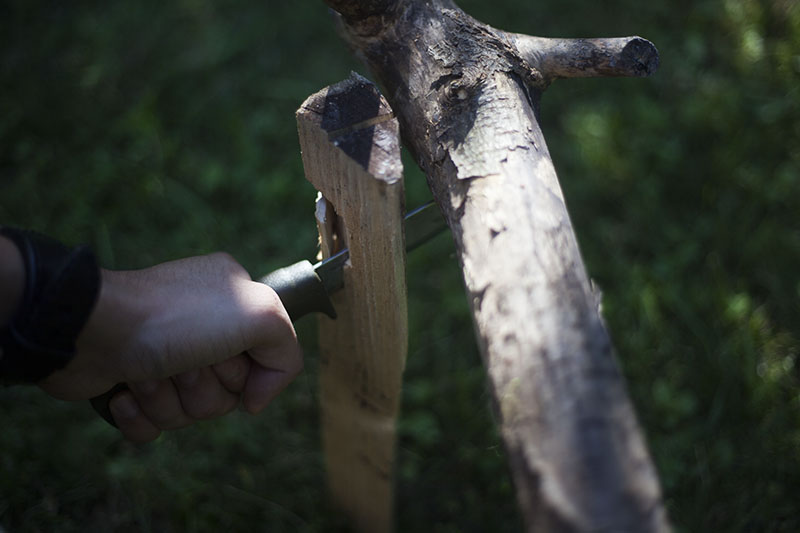 Before I became an avid knife collector I carried this particular blade for 3 years. It served me as a general outdoors cutting tool, and though I didn't use it very hard, it was quite a solid companion. I was then "informed" that in order to have a "true" survival knife, I needed to have a 7 inch+ fixed blade knife that was at least 3/16th of an inch thick, or else whatever I carried just wasn't cutting it. I still don't believe this, as throughout those three years, the Mora 740 MG was perfectly acceptable in its role as my only cutting tool.
It's somewhat ironic that the very knife seen as a staple by Ray Mears and so many other bushcraft experts in their heyday has now been classified by so many as not a "true" survival knife. I believe this is nonsense.
Though the Mora 740 MG may fall short at chopping and batoning, it is still an excellent camping and survival knife, especially when considering its extremely light weight, it's perfect size and comfort, the ability to wear it around your neck, and how well it performs at detail work. Unfortunately, they're discontinued and relatively hard to find, but don't be afraid to snag one if given the opportunity. You won't regret it.