The Boker Plus Nopal is an oddly shaped, small folding knife meant for everyday carry use. Albeit its small size, the knife functions particularly well at hard and rough use tasks, as it is very sturdy and has extremely high edge stability.
Boker Nopal Folding Knife – Amazon / Blade HQ
This knife is somewhat out of place in my collection of small EDC knives. I typically go for EDC blades that have the highest performance in as many domains as possible. The Nopal, by contrast, has unique characteristics that make it extremely efficient, but only for very specific tasks.
As a quick disclaimer, please note that I have modified the knife slightly. I'll explain what I did and why I chose to do this below.
Boker's Nopal is rather diminutive in the hand. It has a very unusual handle and blade profile that I think is very attractive. The profile is incredibly clean, with a ridged crescent profile on both the spine and back of the scales.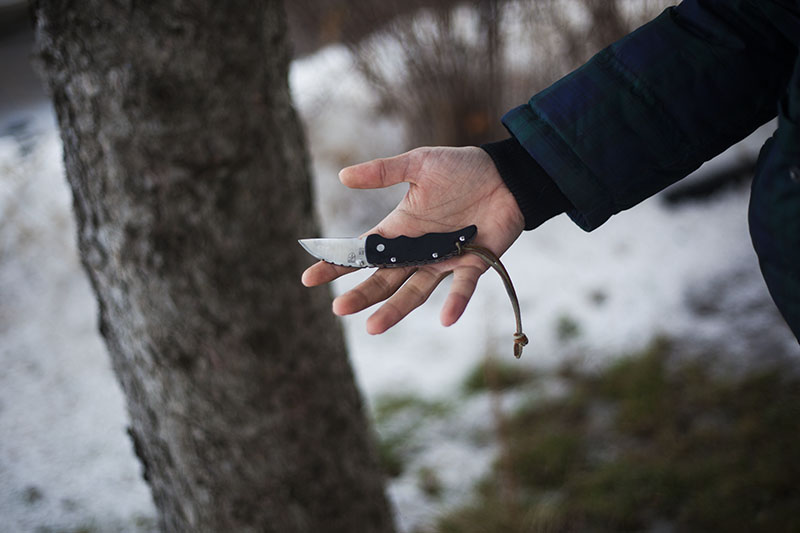 The Nopal's overall length stands at 140 mm (5½ inches). It's a decent size for a folding EDC blade, on the small side of course but not too small to be useful or comfortable.
The balance point on the Nopal is industry standard at a comfortable 1 finger behind the pivot. No complaints.
The jimping is pretty aggressive and covers the entire back of the knife. Out of box, the Boker Nopal has scales that are pretty sharp. I modified this, however, by simply contouring/rounding off the scales with some sandpaper. An easy fix and now the knife feels much nicer in hand. I'd advise anyone who has or gets this knife to do the same, as the G-10 scales really are quite sharp and uncomfortable otherwise.
In some photographs I've seen around the net, such as the pictures on the Amazon product page I link to, the Boker Plus Nopal appears to have a frame lock rather than a liner lock. I have a feeling these images were of a prototype because I've never actually heard of a Boker Nopal that's been a framelock. All this to say, if you order a Boker Nopal, assume you're going to receive one with a liner lock, just like the one I have.
The liner lock is definitely sturdy enough for everyday use, though in my experience, the lock does need to be broken in. My Nopal arrived with a very early lock up, so be sure to check that the your lock engages fully before using the knife too hard.
Out of box, the Boker Plus Nopal came with a cheap, stamped-steel pocket clip that I promptly threw away. I now use a lanyard exclusively. Personally, I find the lanyard to be more practical and better suited to this knife.
With a lanyard, the Boker Plus Nopal is both discreet and easy to remove from one's pocket. Since the knife is not tactical in nature, I have no need to optimize deployment speed, so this system works out perfectly.
The knife also looks a lot better with a lanyard instead of a pocket clip, in my opinion. Since the knife is so small, it's incredibly comfortable in pocket no matter what.
Although there's no real choil to speak of, there is some space between the tang and the edge. Should the lock fail for some reason, you could stand a chance of getting a pretty bad cut, especially if your fingers are large. That being said, the lock really shouldn't fail, especially under regular EDC use, so unless you're planning on using the Nopal to pry the doors off of tanks, I wouldn't worry too much about the lack of a choil.
The 440C blade is chisel ground and extremely overbuilt at 3 mm (1/8th of an inch) thick.
I can't say that I'm a huge fan of of chisel grinds, and since this is a pretty thick and stubby knife, I've got to say I'm confused about the grind choice here. In real world use, the knife does take a decent (albeit very thick) edge, so I would definitely suggest using the Boker Nopal exclusively for rough work – the kind of work where edge stability is paramount. Destroying drywall or plywood comes to mind as an example of excellent use of this knife.
Again in terms of modification, in order to make disengaging the lock on the Nopal easier, I used a file to increase the lock access cut out. This is a modification I would strongly recommend doing to your own Boker Nopal if you have or get one, as it makes the knife so much more comfortable to disengage.
The blade of the Boker Plus Nopal has a generous sharpening choil. This is incredibly useful if you happen to use bench or water stones in order to sharpen your knives.
The Nopal is ridiculously comfortable in a standard saber grip. The crescent profile follows the curvature of your hand perfectly, and the jimping locks the knife in securely.
The thumb stud is also well designed. It's easy to use for deployment, partly because of the very crisp and clean detent. I will never be a huge fan of thumbstuds myself, but it's fully functional regardless of my personal taste.
Reverse grip is reasonably comfortable, but also a really stupid idea. Honestly, this knife would make a piss poor tactical knife – think of it exclusively as a very stout box cutter.
The curvature allows you to choke up to extreme levels: a nifty feature. I haven't had a reason to use this grip in everyday carry, but it's good to know that you can get a full 4 finger grip on the knife, should you ever want to of course.
I purchased the Boker Plus Nopal because it's pretty odd and abnormal, and I really enjoy trying out knives that superficially appear to be different, going against the mainstream understanding of what a folding knife looks like and should be.
At 3 mm (1/8th inch) thick, and with a 4.5 cm (2 inch) long chisel ground blade, I normally would have dismissed this knife right off the bat as an absurdity. Luckily, however, I didn't leave it at that, and I'm truly glad I gave this knife a shot. In everyday use, I found this knife actually excels in rough usage, which I never really would have expected. It would be the perfect tool to deal with abrasive and tough materials, like drywall. The Boker Nopal can handle light prying very well, and I simply can't imagine how anyone could damage the blade with regular use, or even damage the edge for that matter.
The Boker Plus Nopal doesn't work as a slicer. In fact, it's actually sub par as a cutting tool. That being said, I'm a firm believer that as long as your expectations for this knife line up with its intended use as a folding, rough-use, heavy-duty construction tool, you certainly won't be disappointed.