Very few knives have been requested to be reviewed on this blog quite as much as the Cold Steel XL series of Voyager knives. I was always apprehensive with regards to reviewing them as they can be perceived (whether justly or unjustly, I will leave that up to you) as more of a gimmick or party piece rather than a real bona fide oversized knife that could be wielded as an everyday carry tool.
Whilst I am by no means convinced as to the viability of the Cold Steel Voyager Tanto XL as an everyday tool, I can't fault Cold Steel when it comes to the quality of the knife or its performance as a folding sword. If nothing else, we should applaud them for bringing something so interesting to the market. Now onward with the review!
Cold Steel Voyager Tanto XL Oversized Folding Knife – Amazon / Blade HQ
The Cold Steel Voyager XL Tanto ain't your grandpa's old timer', but you already knew that taking one look at it. We are talking a serious slab of cutting power here with a total length – closed – of  6.75 inches. That's not only impressive, it's frankly mind boggling. It's almost as long closed as the Delica is open!
The real eye opener is when you deploy this bad boy. Hot damn, will you look at that 5.5 inch blade? The craziest thing is that thanks to you (kind) readers who love to torture me, this is not even the largest folding knife I own. I think it's fair to mention that I do take your suggestions to heart when picking up knives to review, and this folder on me is living proof! Certainly not something I'd opt to buy myself just for myself.
All that being said, I'm not going to lie, the odd thing about this knife is that after carrying the it around, other knives seem to be so much smaller, and I no longer view the Voyager XL as "enormous." I think I may be suffering from a case of oversized knife Stockholm syndrome!
Before we get into the nitty gritty, I should mention that I purchased my Voyager last year before the new CTS-XHP versions/updates were released. The only difference is the steel, and a justifiable price increase, but other than that it's the same knife, grind, and everything else – so no need to worry about ending up with a knife completely different from mine. Not gonna happen.
Like almost all folding Cold Steel knives, the Voyager XL features the most excellent TRI-AD lock, by far and large my favourite heavy-duty lock. As extreme testing by Andrew Demko and others have demonstrated time and time again – there is no competition if what you seek is the ultimate in lock up strength and resilience under duress.
It's one hell of a lock, and with a blade this big that will happily take all your digits (and then some!) you really want the TRI-AD lock on the Voyager XL.
The tanto blade is hollow ground on the primary edge and full flat on the reinforced tanto tip. Beautiful stonewashed with no grind marks or flaws of any kind. Very impressive taking into account how much steel is at play here and the price point it's offered at.
The cutting performance is… interesting. The Voyager came razor sharp out of the box (like all the Cold Steels I own save the Latin Machete), and I think the grinds are a good compromise between toughness and slicing performance. At 4 mm thick, the Voyager XL is hardly a folding light saber, but I had no issues with the cutting performance for everyday tasks based on my experiences.
With that said, any problems I'll have with this knife will not be with how lean the grind is, but rather the style of the blade. Tanto's are not exactly renown for their utility in the kitchen, and the Voyager is no exception. It's a brute that is ground aggressively enough at the edge to leave some serious lacerations and bite marks.
Looking at it from the spine down, I think it's fair to assume that it wasn't designed to cleanly slice tomatoes.
The tanto tip is, in my opinion, perfectly ground with the right amount of stabbiness whilst retaining the reinforced/super tough aspect that a tanto blade can bring to the table. I don't like to pry with my folding knives, as lateral stress on pivots is never a great idea, but if I had to dig out some nails from some thick slabs of wood – this would be my folding knife of choice.
I did get the Cold Steel XL Vaquero as well (once again, I do listen!) and the difference between these two knives was drastic enough that I decided to review the Vaquero separately. With that said, look at the grind difference between the two.
The Voyager XL Tanto (on the right in the pictures below) is clearly designed for rougher use. No doubt about it.
I never expected the different to be so drastic. I think the tanto really morphs the knife from a vicious slicer to a tougher, more resilient tactical option.
The quality of the Cold Steel Voyager XL is top notch. No flaws or manufacturing defects and centering is dead center. Good job with this, Cold Steel.
Nested liners, hell yes! With a knife this large, weight is obviously a primary concern. As shocking as it may sound, the Voyager XL Tanto weighs in at only 7.7 ounces, which is freaking amazingly light taking into account that you get a 4 mm thick 5.5 inch blade. Practically unreal.
Deployment is almost humorous. After a few minutes of practice, I could quite happily whip it out like a hound out of hell, but realistically speaking it's such a humongous knife that I would caution restraint, especially in public.
With that said, if you ever wanted a knife because screw society and their butter knives, then this is it.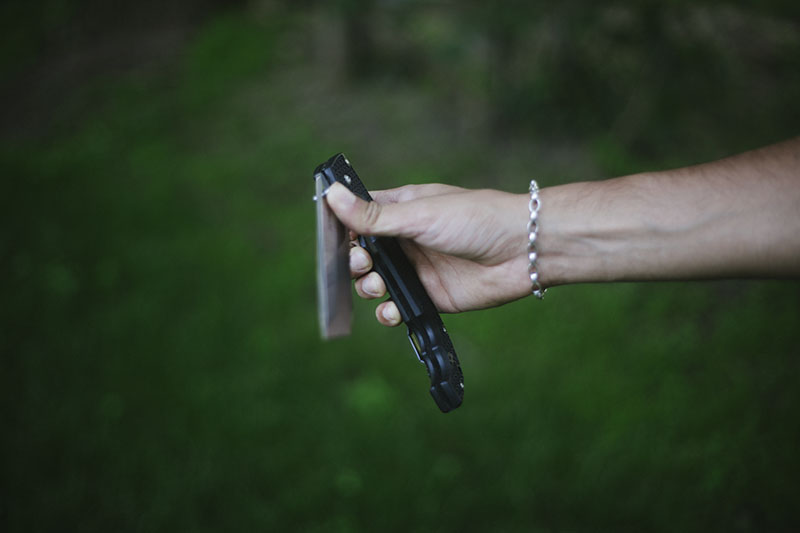 In pocket the Voyager XL is…interesting. I expected it to be almost impossible to EDC, and in practice it was surprisingly viable. The reversible (left, right) tip up only pocket clip is nicely designed with obviously a lot of thought going into how this knife was going to be carried and deployed. It's big, but it works.
Frankly, if you are considering a 5.5 inch folder as an EDC, then you already have the pocket space allocated or some other way of carrying it. This ain't exactly subtle, but as far as a huge slab of steel in your pocket goes, I think Cold Steel did very well.
To touch on the TRI-AD lock again, if it fails (it won't) your fingers are probably gone. Like, all of them.
I mean… look at the damn thing.
I made note in the title, though I'll make note again here – I did pick up the combo version of this knife. I have nothing to add about the combo edge besides the fact that it's sharp (although it is very difficult to sharpen yourself if it gets dull), and the only thing it does better than a plain edge is cutting rope and other fibrous materials.
I've said it many a time before, but I don't personally like combo edges. You guys keep asking why I don't give them a try so I gave in to peer pressure fully with this knife and thought, hell why not. Just keep this moment in mind – I gave the suckers a try and I still don't like them! Not many more combo edge knives for me in the future. Of course I 100% get that some love 'em and live by 'em, and that's a-ok with me. What knife to carry is a personal choice after all, and the best pocket knife for you will depend greatly on the tasks you use your knife for regularly, your environment, as well as a slew of other preferences. But guys. I'm really not a combo edge kind of guy. Just not gonna be able to convert me.
In a traditional saber grip, this knife is very comfortable. The Grivory (basically a glass reinforced nylon) scales are grippy; full of choils and ergonomic curves designed to lock your hand into place. This is one hell of an option for tactical applications by virtue of its in-hand retention. It's really not going anywhere!
Choking up isn't ideal as there is no choil to speak of. However, the Cold Steel Voyager XL is definitely not uncomfortable as you might assume simply by looking at it. You will look ridiculous, though, doing detail work with a blade that unwieldy. Not that I'd expect you'd care about social perception if you're carrying this anyway.
Now this is interesting – having such a humongous handle means you can choke back quite nicely. In practice, Cold Steel makes allowances for this by adding two finger choils near the butt of the knife (as you can see in the photograph above), which gives you a great grip. Couple that with a lanyard and I do believe you have the best (secure) reach of any folding knife for chopping or tactical applications. Very cool.
Reverse grip is also comfortable. Penetrating power is extremely high thanks to that mean tanto point and the TRI-AD lock's legendary safety means you can stab away (into wood, recreationally of course) to your heart's content.
And for the sake of review consistency – here's the Cold Steel Voyger XL in the pinch grip. It's silly, don't do it. Far better options around for these sorts of cutting tasks.
Balance is (as you would expect) pretty perfect. With the nested liners and choice of lightweight scale material, it's clear that the Cold Steel Voyager XL is purpose driven. It handles like a knife half it's size with no issues what so ever.
At the end of the day, the sorts of people that would consider this knife already know what to expect. Its huge. Its tough. It's an oversized Cold Steel. If this is what you want then you will go with this, the Rajah II or Vaquero. You simply don't have a choice with regards to brand, as Cold Steel basically dominates this niche market which is something you knew already if you're even remotely interested in these types of knives.
It's a damn shame, in my honest opinion, as I find myself applauding Cold Steel over and over again for taking risks that other knife companies simply won't. They won't dare to risk suffering the scorn of the forumites (not our forum; we are awesome, totally open minded people!) who dismiss what is an extremely capable knife (taking into account it's size) as being a glorified toy or mall ninja accessory whilst promoting over-priced slabs of titanium that don't offer close to the performance of the cheapest Cold Steel TRI-AD lock option. I could go on for a while, but I will leave my rant at that, and I'm sure pick back up another day, for brevity's sake.
In a brutish sort of manner, the Cold Steel Voyager XL is quite appealing. I don't think it will ever win any beauty awards, but it's definitely not as unrefined as one might assume a 5.5 inch folding tanto would be. Colour me impressed.
I try hard to give every knife a shot when it comes to scribbling down my reviews and for the most part (as I think you will agree) I have done that. Handling as much steel as I do puts me in a privileged position, as I can get a good glimpse of the full breadth of what the industry has to offer. So when Cold Steel (or anyone else for that matter) introduces something so outlandish as the Voyager XL Tanto – I can't help but be curious! Even if it is completely out of my realm of normal and "ideal" for an EDC.
Yes, it's a pretty ridiculous knife, and if you are budgeting for only owning one EDC – this would not even come close to being my first choice. I've said it time and time again, but if you've got the bank, the best chance you're going to have at the perfect EDC knife is the Paramilitary 2 (I know you are groaning, but I recommend it so often for a reason). Even if you haven't got that kind of money, there are plenty of better EDC knives when it comes to pure bang-for-buck that would fit your price point or desired application better than this one.
If, however, what you want is an enormous blade that will terrify pretty much everyone as you deploy it, and yet can handle it's business when it comes to cutting and slicing – then you're gonna want either this sucker, the Vaquero XL, or the Rajah II. Not many options for oversized folder fanatics, but at least Cold Steel's got your back – they took the plunge and risked the scorn just for you folks!