Those of you who have visited this site before can tell fairly easily how much real estate Spydercos take up in my collection. The vast majority of the knives I review on this site are Spydercos, and of those, I already have multiples (different sprint run versions) of the Delica, the Tenacious, and the Endura, as well as nearly every edition of the Sage series (Sage 1, Sage 2, & Sage 3).
Yet even with such huge appreciation for Spydercos, it took me a good few years to finally pick up a Paramilitary 2. I knew it was a good knife, and I sure as hell knew it was popular (frequently coming out as the #1 in forum threads that request recommendations for the best Spyderco EDC knife), but in my mind, I thought the Paramilitary 2 would be nothing more than a small-scale version of the Spyderco Military, a knife I already had and adored, and didn't really care to replace so to speak. I was wrong about the Paramilitary 2.
Spyderco ParaMilitary2 Plain Edge Folding Knife – Amazon / Blade HQ
Right off the bat, you would definitely be forgiven for making the same mistake as I did: the ParaMilitary 2 honestly looks like a shrunken Spyderco Military with the addition of a funky lock. In-hand however, it's immediately apparent that the knife is very different from the Military, so although by looks you can definitely make the comparison, holding each of them, it's obvious that they're not alike.
Although the Paramilitary-2 looks somewhat handle-biased from a distance, in-hand the length distribution makes perfect sense. Yes, the total cutting length of the knife is around 78 mm (3 inches), whilst the overall length of the knife opened is 210 mm (8.3 inches), but trust me: it works. As a matter of fact, I seldom hold a knife where the distribution of handle-to-length ratio makes as much sense as here. Kudos to Sal & Eric on this.
The version of the Spyderco Para Military 2 that I own has camouflage G-10 scales. Despite these pictures making them appear opaque, the scales are slightly translucent in-hand. The handles almost appear to be jade green G-10 with a printed pattern overtop.
The 87 mm (3.5 inch) S30V full flat ground blade has been ground perfectly with no angle deviation or visible defects. Superficially, the knife is almost perfect, and in use it's a delight. But this is not unique to the Paramilitary 2, it's the norm for Spyderco blades. This knife is nothing like a pry bar, although for regular EDC use, the Paramilitary 2 is plenty tough and holds up exceedingly well.
The pocket clip is not particularly my style. I don't really understand why Spyderco didn't go with a deep carry version of this knife, but it's fine regardless. Functionally, the clip works perfectly. There are no hot spots created by the pocket clip when gripping the knife tightly, even though the clip is extremely visible and almost bordering on obnoxious (- just my opinion! Please put the pitchforks away!).
Since I personally prefer my knives to be subtle when they go into my pocket, this has got to be one of my least favourite clips in my collection. That shiny stainless steel construction may look pretty nice to some, but one thing it does not do is hide the fact that you've got a knife on you. It practically demands to be seen. Bare that in mind when purchasing – especially if you live in a country that isn't very tolerant when it comes to carrying cutting tools. If you want to use the pocket clip, you're not going to be able to hide this one.
The knife also has a super large lanyard hole – I'm pretty sure it's the largest out of all the knives I own. I have no real use for it, but for those who like to bling out their knives with skull beads, paracord lanyards, or tritium vials, this knife would be absolutely perfect.
The significant bias in handle length does make the balance point slightly too handle-heavy, but all in all, the balance point is bearable. I wish it was neutral, but honestly, I haven't  noticed significant fatigue during extended use, even without the balance point being neutral.
The liners on the Para Military 2 are somewhat skeletonized.  If a bit more material had been removed, it would have allowed the balance point to be more neutral, but I'm sure Spyderco has their reasons (I'm guessing structural integrity) for keeping the liners so heavy duty. The Spyderco Military liners are in my opinion a perfect compromise between strength and weight, but while the Para Military 2's liners bother me a bit, I can't say much against them, as they still function perfectly.
The centering on the Paramilitary-2 is, as is usual with Spydercos, dead on center. The blade stock is 3.5 mm (0.141 inches), which would usually be a bit too much for me on a 3.5 inch knife, but Spyderco did a great job with the tapering and the full flat grind angles. Obviously, it's not a true needle point like my (reground/modified) Spyderco Delica, but it was never intended to be a super slicer. The Paramilitary-2 is dead in the middle between being a slicer and a beater knife, making it very well-rounded in its potential uses.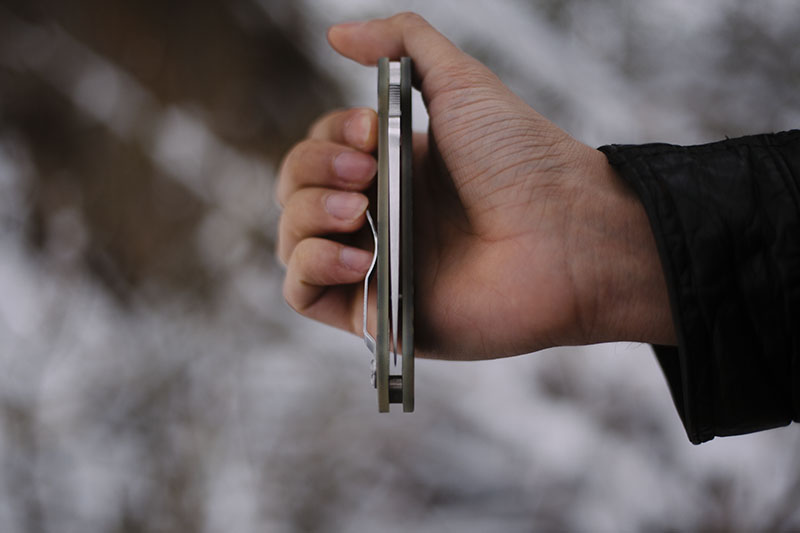 There's a little bit of jimping towards the front of the liners, as well as on the blade (top & choil section). I've never needed jimping in my life, but functionally it works great, locking the knife in your hands securely even when things get messy.
The compression lock is ridiculously strong and rated for martial blade craft use by Spyderco. I will add that from my limited experiences (since Spyderco's Paramilitary 2 is the only compression lock I own), the locking mechanism has proved both sturdy and easy to deploy, with no hints of travel or lock bar slip.
The original Spyderco Paramilitary (now discontinued to make way for the Paramilitary 2 of course) had some complaints with regard to its compression lock "pinching" the fat  in your fingers when deploying the knife. Although I've never held or used the original Paramilitary, I've not experienced this even once with my Paramilitary 2. The knife engages and disengages smoothly with absolutely no issues for me.
In the almost impossible chance that the lock fails there is a significant choil. Your digits are safe with this knife.
Spydercos usually deploy very well, but even for a Spyderco, the ParaMilitary-2 is above par in this regard. Deployment is a complete breeze. I'm not sure if this is due to the new, improved bushing pivot system or because Spyderco lubricated the washers with unicorn tears, but besides a handful of customs folders, I can't think of a knife as smooth as this. Labelling the deployment as "fast" would be an understatement.
In a hammer grip, I've gotta say that I wish the scales were contoured just a bit more. Obviously, the sharpness of the G-10 has been sanded off, but this is for sure not a sculpted handle, and it shows when you're gripping hard.
Pinched, the Spyderco Paramilitary 2 handles great. Not my first choice for prepping game or skinning due to all the places blood and bits can hide (cleaning would be a gigantic pain), but it's for sure usable in that regard.
Reverse grip is somewhat comfortable. Again, the G-10 is a little bit sharp in my opinion, and this makes the resting point for your thumb less than ideal.
Saber grip is awesome. It's clear that the Paramilitary 2 was designed for this grip. The previously mentioned lack of contouring magically ceases to matter when you hold the knife this way.
Choking up is not as great as the saber grip, but also perfectly usable. For an extended cutting session, though, I would wear gloves.
If I'm being frank, I have to say I love Spyderco's Military and Sage better than I love the Paramilitary 2. That being said, objectively I'd have to admit that the Paramilitary is actually the better knife between the three. Spyderco's Paramilitary 2 has tighter tolerances, a better lock, and even a superior pivot. It has a host of other improvements over both Spyderco's Military and Sage knives.
Logically, I should love the Paramilitary 2 the most of the three, but it's too much of a perfect tool for me; it has no little quirks or flaws that I can obsess over, and so in a way I tend to not fondle it as much or take it out to play with. Yet in the grand scale of things, this doesn't matter in the slightest, as it's apparent by just how popular the Paramilitary 2 is that it's getting the recognition it deserves.
Objectively, the Spyderco Paramilitary 2, with its advanced technology and its well-rounded, multi-function use, is one of the best EDC knives in the world. I can say with some confidence that when you take into account the technology, tolerances, and materials, the Paramilitary 2 is in the top 10 amongst all competing everyday carry knives in its price point (sub $200).
The Paramilitary 2 is quite honestly, as a tool, much more trustworthy than 99% of the knives that I own. I would never sell it, and though I may favour other knives over it, it would never be truthful of me to say that objectively speaking, this isn't one of the very best Spydercos I own.