The Gerber Bear Grylls Ultimate Pro Fixed Blade Survival Knife attempts to be a well-rounded, good for all situations type of survival knife that features additional survival gear necessities such as firesteel, rescue whistle, hammer, and basic survival guide, all in one. Essentially, it's like a survival knife and basic survival kit wrapped into one sleek package, which is what makes it incredibly appealing as a multi-purpose survival product.
Gerber Bear Grylls Ultimate Survival Knife with Sheath – Amazon / Blade HQ
When Bear Grylls announced that he was going to be partnering up with Gerber to produce a range of outdoor survival knives and tools, it sent a shockwave of curiosity and controversy through the knife community. Everyone was wondering how this collaboration would pan out, whether the heavily publicized "Ultimate Survival Knife" would be gimmicky, or whether it would truly end up being a high quality multi-use survival knife.
Just taking a look at the sheer number of products that Gerber and Bear Grylls have teamed up to produce, and how well they've sold on websites like Amazon, it's pretty easy to see why this knife makes for an interesting case study. There's no short of discussion on these survival products, that's for sure. In this review, I'll cast away my personal preconceptions about celebrity branded items, both good and bad, in order to review as impartially as possible the flagship offering from the Gerber and Grylls survival collection.
This knife is actually Gerber's second try at the Bear Grylls Ultimate Survival Knife. The first version was a best seller, but was also plagued with issues of product failure, and thus stemmed controversy. There was catastrophic failure of the hammer at the butt of the knife, for example. That being said, it seems that in this second try at the Bear Grylls Ultimate Pro Survival Knife, Gerber has done a much better job at delivering on this knife's special features.
Based purely on my first impression of this knife, I have to say, Gerber did do a bang up job on styling and general packaging. The knife is sleek, and appears to be very well thought out. It's not particularly heavy at 388 grams (13.7 ounces), taking into account all of the add on survival gear features. Aesthetically speaking everything blends into the knife quite well, and nothing sticks out or makes holding the knife and sheath tedious or uncomfortable.
The belt loop is generous, and carrying the knife to the side, whilst a little bulky, was not actually unpleasant.
The drain hole on the knife's sheath is very nicely placed; ideal for maximum drainage.
I was actually quite impressed by its styling in the flesh. It looks reasonably good in Gerber's product pictures, but in my opinion, it actually looks better in the flesh. Impressive for a survival knife that attempts to maximize function.
The balance is fairly decent. I would have preferred for the balance to be slightly more neutral at the hilt, but of course changing this would have meant losing the hammer. Keeping the hammer is definitely a worthy reason for the balance being somewhat handle-heavy.
The nylon and Zytel sheath features a built in knife sharpener. It actually works surprisingly well. Of course, it wont make your edge razor sharp, but it will definitely maintain a working, aggressive edge. Perfect for any sort of survival situation.
The grind is a pretty lean hollow taking into account that this is a reasonably heavy duty survival blade. I always prefer full flat ground blades, but after testing, I was sufficiently impressed by the toughness of this hollow grind.
The steel used on the Gerber Bear Grylls Ultimate Pro Survival Knife blade is 9cr13MoV steel, though this is not written anywhere on the blade itself. To be honest, this is a great choice of steel for this class of knife – it has decent edge-holding ability, is pretty tough, and has top notch corrosion resistance. Unlike the Boker Rold, which has a "semi-stainless" D2 blade, the chrome content of Gerber's Ultimate Survival Knife makes the knife truly stainless. The coating on Gerber's Ultimate Survival Knife also helps with corrosion resistance, making this an excellent survival knife in even the most humid of locations. It's highly unlikely to rust (marine environment notwithstanding).
There are also two holes in the handle at the hilt, which in theory can be used to convert the knife into a spear in a survival situation. Truly, I'm not sure why anyone would want to convert their primary cutting tool into a spear when one can simply use the knife to sharpen a stick into a spear. That being said, it's an added feature at no loss to the overall usability of the knife.
The full tang 12 cm blade (4.8 inches) is pretty thick at around 4 mm (3/16th inch). Gerber wisely chose to grind off a section of the spine at a clean 90 degree angle, removing a layer of the blade coating, to aid in firesteel striking.
Removing the included firesteel from the Zytel sheath was a giant pain the first time I tried it. Calling the firesteel "tightly fitted" would be a severe understatement. After taking it in and out a few times, however, removing it has become reasonably easy. Of course it's much better tight than loose, and at least you'll be assured that it won't accidentally fall out!
Purely for aesthetic purposes of course, I actually really love how Gerber put clean, graphic iconography on all the little details of the knife. Looks damn good.
Using the firesteel provided proved quite easy. The steel light up very fine tinder on its first try, just as expected. No complaints from me.
Of course I had to try the Light My Fire Swedish Firesteel Mini immediately after testing the provided firesteel on the Gerber Bear Grylls Ultimate Fixed Blade Surival Knife: just for the sake of comparison. Once I'd tested both firesteels directly after each other, I found myself very happy with the quality of the Bear Grylls Survival Knife's povided firesteel. It truly does hold up against the Light My Fire Firesteel Mini, which is the industry standard firesteel, and the best firesteel in the market, in my opinion. All that to say, you won't be disappointed with the provided firesteel on this knife; it works damn well.
Light My Fire Swedish Firesteel Mini – Amazon
Cutting ability was acceptable taking into account its heft and toughness. I would rate the Gerber Bear Grylls Ultimate Pro Survival Knife as falling squarely in the middle between toughness and cutting ability.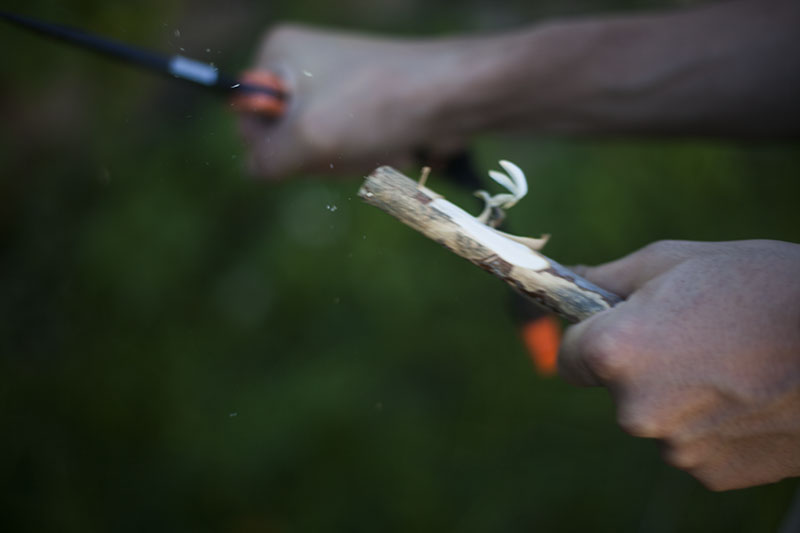 As expected with a 3/16 inch thick blade, batoning is absolutely trivial. The knife goes through wood like it's butter.
The hourglass handle is very ergonomic, and supports the ability to hold the knife by the butt to gain more leverage for chopping. I would, however, suggest wrapping the included lanyard around your wrist when using the knife like this.
The Bear Grylls Ultimate Survival Knife comes with a steel buttplate that is actually a part of the knife – the blade and the hammer section are actually one and the same. Very cool, very tough.
Making a quick tent peg and hammering it into the ground all with the same tool is easy as pie with this knife. The 300 gram (13 oz) knife drives wood into the ground real easy.
The black sections on the handle are a rubber sleeve/coating that provide traction when holding. The orange sections are a hard grivory-like material, essentially ABS plastic. The knife appears to be pretty indestructible, at least based on my experience.
The Gerber Ultimate Fixed Blade Survival Knife is comfortable in pretty much all grips although I would note that its clear it was designed around the class saber grip. In hand retention is excellent.
There is a choil on this knife, and choking up for detailed work is easy enough. Choking up is pretty comfortable for me, although I'm guessing if you have much small hands, the hilt may get in the way.
Another feature of this knife, included on the lanyard, is a bright orange whistle, rust-proof as it's made fully of plastic. The whistle works very well for what it is.
One last interesting feature is that, on the back of the sheath itself, where the belt loop is, there's actually a mini survival guide. All you have to do is pull the orange tab and out falls a mini, incredibly informative, survival reference guide that features some basic information about fire-making, signaling for rescue, how tos for knots and traps, and a number of other things. This survival guide is called the "Priorities of Survival" Bear Grylls Pocket Guide. It's a nice freebie and it appears to be waterproof.
Bear Grylls branded Gerber knives have, in my opinion, been unfairly cast aside as cheap toys for the wannabe outdoors-man. While I can't say I am a huge fan of Man vs Wild, or that I care about Bear Grylls signature on the blade, I will say that this knife is an excellent outdoors tool.
The Gerber Bear Grylls Ultimate Pro is extremely well engineered with regards to both its primary use as a cutting tool, and with regards to the plethora of wisely placed accessories that frankly make this knife a bargain for the price. I of course have better individual survival knives in my collection, but when viewed as a basic, knife-centric survival kit the Gerber Bear Grylls Ultimate Survival Knife is one hell of a package.
This knife is probably the best truck knife ever manufactured, and is truly worthy of being called a survival knife. Gerber's Ultimate Fixed Blade Survival Knife is more than just a gimmic. It's actually quite a decent piece to have on you in the wilderness, whether you're just starting out in survival or have been building up your survival and bushcraft skills all your life.