For under $100, the Boker Plus Vox Rold is one of the best camping and survival knives in its price range. The knife offers features that are not evident when simply browsing through product websites. Although it's definitely not the best survival knife I've used, for the price, it's truly above average, on par with many knives that cost much more.
Boker Plus Vox Rold Knife – Amazon / Blade HQ
The blade is made of 5mm thick D2 steel. That makes it stout enough to withstand rough treatment, and yet thin enough to be a good cutter.
Its Danish designer, Jesper Voxnæs, opted for a full flat ground blade when collaborating with Boker. This is in my opinion was the best possible choice. Full flat ground blades offer excellent cutting performance with better edge stability compared to hollow ground blades.
The large hollow pins are a nice detail. They can easily be used to lash your knife to a stick in order to create a make-shift spear.
The black G-10 handle scales are contoured perfectly with an excellent palm swell. Really fills the hand nicely and allows you to put some serious pressure down without risking hot spots.
The kydex sheath is well thought out and surprisingly light. When the knife is not in, you pretty much feel no weight at your waist. The knife retention is decent but if you're going to be jumping or running, I would suggest using the secondary rubber loop to hold your knife more securely.
D2 steel is known to be a challenging steel to sharpen. At home I personally use my belt grinder, but in the field, should I need a touch up, I use a fine Diamond DMT sharpening stone. I used some strong double sided tape to affix the stone to the back of the sheath, making a discrete, practical addition.
Diamond DMT Sharpening Stone Fine (Red) – Amazon
This knife can chop through 2-3 cm thick wooden limbs in a single pass.
Of course you can also choke up on the generous choil to do more precise cuts.
The blade is coated as D2 is not considered a true stainless steel. Rather it is more stain "resistant" – it won't rust easily but caution should still be used in specific environments. If you're using it in extremely humid weather conditions you may want to clean the blade before re-sheathing it. The same goes for use in maritime environments.
The palm swell of the handle is also excellent as it allows you to comfortably choke back for more leverage.
Chopping with this knife is surprisingly enjoyable. The cutting edge is a mere 13.5 cm with a total blade length of 15 cm, and it's weight is only 300g/10.5oz, which is extremely light, but it chops like a much larger and heavier knife, primarily because of its great handle contouring and perfect balance (right on the hilt).
The D2 kept its edge screaming sharp throughout the day, without me touching it up with the sharpening stone. I cut myself (only a small cut, though) by simply inspecting the edge and not being careful enough.
It can baton through a 10 cm diameter log with absolutely no problems. Only while batoning did I find this knife was beginning to feel uncomfortable, as the vibrations were pretty bad. But taking into account the size and relative lightness of the blade, this is far from surprising.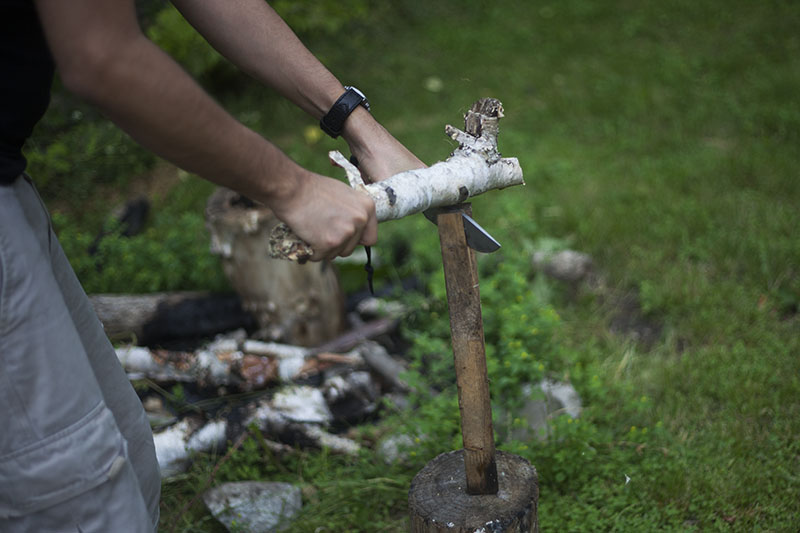 Yet as I've already said, for it's price point, at just under $100 from Amazon, the Boker Plus Rold is one heck of a deal.
Sure it's not perfect, but it's an incredible multi-purpose blade that's cheaper than the vast majority of the knives it is on par with.
It's a knife made excellently by a major manufacturer, with pretty tight tolerances, and backed up by the name of a world famous designer. The steel is excellent as are the ergonomics.