The Hi-Tec Altitude Pro RGS Water Proof hiking boots happen to be the first pair of boots I've reviewed on this blog. I have to admit, while I'm no cobbler or boot expert, that I had a lot of fun testing these out. I'm actually quite happy to report back with some very positive initial impressions.
For the sake of full disclosure, I'll start off by pointing out that most of my experience with hiking boots is not with these heavy-duty type boots, but with much more lightweight alternatives. I fit a EU43 (size 10) shoe, and my feet are definitely biased toward a more narrow fit, though when it comes to these shoes in particular, I doubt you'll have a problem even if you have wider feet.
Hi-Tec Men's Altitude Pro RGS WP Hiking Boot – Amazon
The Hi-Tec Altitude Pros are what I refer to as serious modern hiking boots. By that I mean that Hi-Tec didn't even attempt infusing these with a more traditional styling, and that they instead stuffed these puppies choc full of modern materials and technology with all concerns being directed towards the performance of the boots. That's not to say that these boots are ugly; I actually think they look damn good. Rather, all this means is that most if not all of the attention in designing these went toward the primary objective of function. These are no Timberlands.
Construction is bomb proof with lots of layers, a reinforced heel panel, a super squishy padded ankle section, with a great locking hook. There's also a nice flex point, a couple of toe caps, mid-sole rolling gait technology, and other "features" that manufactures just love to show off/advertise on the box. In this case, the largest panel happens to be 2.2 mm full grain oiled leather uppers, which in my opinion are rather handsome. They've got subtle branding and a nice weather beaten/matte texture that I appreciate.
A nice marriage of technology and high end materials as I am sure you will agree.
The unmistakable bumblebee yellow typography lets you know the outsoles are made by Vibram, which makes me very happy, as I have never had a issue with their products. I would even dare to say that Vibram make the best soles in the business.
Personally, I love it when companies don't try to make absolutely everything in-house; when they do the parts that are their forte, and for the rest, go with the industry standard; much like L.T. Wright outsourcing his sheaths for the Genesis or a Hazard 4 using YKK zippers on the Switchback. Hi-Tec wisely let the experts make their soles, and Vibram by all accounts did a fantastic job.
From the side you can see how overbuilt these soles are, and even though I have only had them for a short while I am already impressed by their toughness and utility.
The thread is not as aggressive as I presumed it would be, but traction was excellent (more on this later). What's interesting is the lack of separation between the heel and the rest of the sole. In my opinion, this is what immediately separates real, serious hiking boots from the lightweight, casual ones. For hardcore hiking, I prefer not having a pronounced heel that runs the risk of digging into the ground, as it'll slow me down considerably. On the Hi-Tec Altitude Pro, the heel is pronounced enough to allow me to stab it in should I need to (when sliding for example), but it's also recessed enough to spread my weight evenly when in motion. I am actually very impressed with this feature, and I look forward to testing these in heavy snow.
The Hi-Tec Altitude Pro has awesome ankle support. That little black oval is padded, and actually protected me during a slide down a small cliff. Weather here in Canada can be unpredictable, and the ground has been treacherous as of late. Never gave much thought to ankle padding until today, but I sure was glad for it being there. It's actually impressive how much thought went into each panel of these boots, both in terms of reinforcement and material selection. From a soft and squishy upper to an abrasive and durable heel, the Hi-Tec Altitude Pros are definitely well engineered.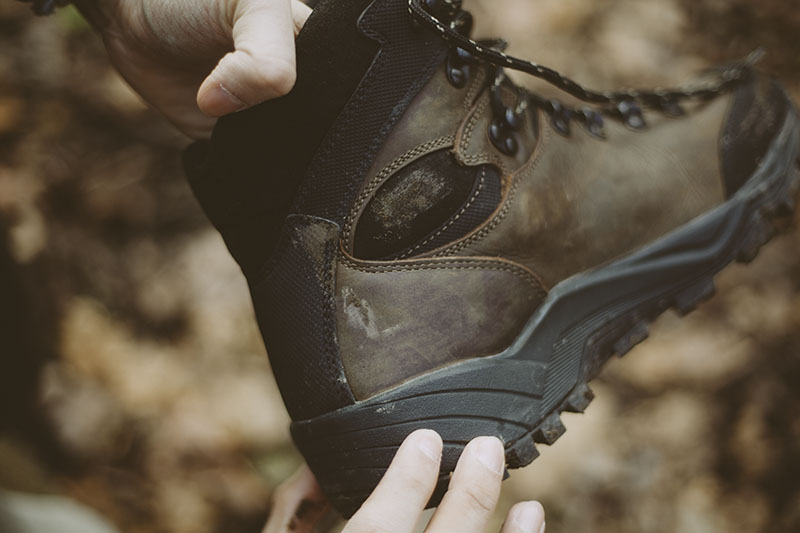 Very traditional lace set up, one that I am very comfortable with and I imagine anyone with any hiking experience will be used to. The hardware is advertised as rustproof. though I am not sure if the material (I presume steel) is a super stainless or if the coating is what makes it rustproof. Either way, it's definitely very sturdy, and I really don't see it getting damaged or rusting.
The tongue was easy to tuck into position around my ankle. I have had problems with that in the past with other boots so I was glad that there was no issue here. For those of you with thinner bone structure, these won't be an issue.
Fit of the Hi-Tec Altitude Pros was secure and very adjustable to my desired level of tightness. A boot is useless if not tightened properly and throughout my testing I never had to adjust them mid-hike. Your mileage may vary, but I was quite happy with their performance.
Vibram included a "Rolling Gait System" into the outsole. It's supposed to reduce muscle fatigue and improve ankle support, apparently when either walking or running. In practice I found the support to be decent, and I don't foresee comfort issues arising. Interestingly, for such a serious hiking boot it barely required any break in time for them to be perfectly comfortable. Pretty surprising and goes against my experiences with other "serious" hiking boots that I've tested in the past.
The toecap (and heel) is made of… well something that's super abrasion resistant. Its texture is a mix between fine sandpaper and a tacky rubbery material. No idea what it is, but I don't doubt it can handle a serious amount of damage. I'm a huge fan, as I hate scuffing the toe on my boots.
You will notice that the Vibram outsoles are glued (very well I might add) to the leather uppers.
Part of me does miss the Goodyear welt-stitched outsoles that used to be so common in the industry. Not that I have anything against the quality or performance of these outsoles or these boots in general, but I become nostalgic simply for the option of being able to replace the soles should I ever wear them out.
With that said, I don't think the sheer amount of technology and toughness interspersed in this boot would have been possible with traditional manufacturing while also keeping the weight down. The Hi-Tec Altitude Pros are remarkably light boots, and to me that's a good trade off for replaceable soles.
While it has snowed many a time in Toronto this year already, the snow has almost completely melted a number of times due to relative warmth of the weeks after snowfall. At the time these pictures were taken, the snow was mostly gone, and what remained was some ice and a lot of mud. With that said, the HI-Tec Altitude Pros had excellent traction, even in this kind of weather. I have no doubt that, come snow time, these boots will be up to the task.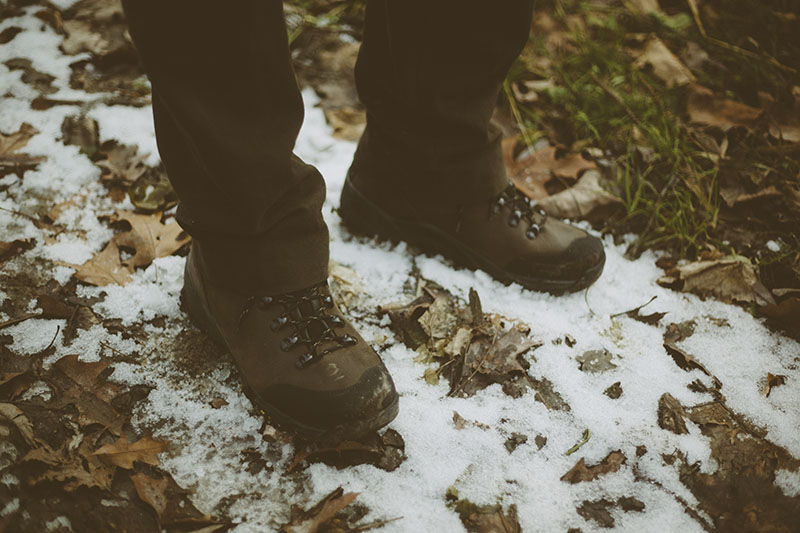 Hi-Tec threw in their own waterproof membrane called the "Dri-Tec" into the mix. For a pair of boots that's supposed to be completely waterproof, they are remarkably breathable. My feet (wrapped in wool socks) did not feel like they were suffocating, and I was quite happy to keep those on for extended periods of time.
For the sake of being thorough on the waterproof aspect, I did locate a pool of (icy) water, and with much sadness, proceeded to dunk the Altitude Pros in.
Let me be the first to note that it's never fun to sink your brand new gear into a pool of freezing muddy water. The Hi-Tec Altitude Pros handled the mess with aplomb, though. No leakage of any kind, and as such my feet remained toasty and warm. Stitching is super tight, so this did not come as a surprise, but all this to say, the advertising says the boots are waterproof, and yes, indeed they are waterproof.
Interestingly enough, after wearing them for quite a few outings, they have managed to remain remarkably pristine. All I had to do once I got home was brush them off and all that mud and gunk dried on just came right off. I know the leather is oiled, but I imagine the synthetic materials may have a coating of sorts that helps with this (just a guess). In any case, whilst the aesthetics should not be your primary concern, I can attest to both their good looks and their ability to maintain those good looks!
In the survival/outdoors community, we typically obsess over gear and amass copious amounts of the stuff, but very rarely do people clamor for boot comparisons or reviews, Maybe we should, though, as they are an almost essential piece of gear for serious outdoor treks. I can live with a bad knife on a hike – I can't say the same about a bad pair of boots.
Thankfully, I can safely say the Hi-Tec Altitude Pros fit the bill. The sheer amount of technology and innovation crammed into the Hi-Tec Altitude Pros is mind boggling, and whilst I don't really understand all the technology used (nor do I care to), I do appreciate it and notice the difference. Our forefathers used heavy, uncomfortable slabs of leather and rubber that dragged their feet down. Thanks to some smart fellows, we no longer have to suffer through this kind of nonsense, and we can finally hike in comfort with the superior safety, durability, and support of a much heftier boot. Sure, they may not have the raw appeal of a traditional heavy duty hiking boot, but that lightweight aspect: certainly an excellent reason to sacrifice the aesthetics.