The L.T. Wright Genesis is the new flagship knife of L.T. Wright Handcrafted Knives. Coming to you from one of the two founders of "Blind Horse Knives," the L.T. Wright Genesis has a lot to live up to. You'd think with that much lineage, it'd be difficult to make a knife that chalked up, but after testing the knife out in the field, I honestly don't think L.T. Wright has anything to worry about concerning the future of his relatively new company.
L.T. Wright Genesis Black Handled Survival Knife
The most important aspect of a bushcraft knife, in my opinion, is its ergonomics. The Genesis has a sizable handle with 100% neutral grip due to a broomstick-style profile (no hourglass shaping of any kind) that will suit pretty much any hand regardless of how big or small. The handle features a deep thumb scallop at the hilt for pinching, which I've gotta say is perfectly executed, along with another small scallop on the ricasso when pinching up for for detail work. I found comfort to be above average in pretty much all grips, as you would expect from a neutral handle of this size. Everything is 100% contoured with no hard lines or angles on the scales. Really good job.
You can see the primary thumb scallop for pinching in the picture below. It works extremely well, and the bead blasted Micarta scales lock my thumb in nicely. The scales are definitely not as grippy as rough g-10, though that makes sense because the texture of the Genesis' scales is so smooth and uniform. However, the way the handles are shaped with that deep scallop means the knife isn't going anywhere, so you get security along with the comfort of the smooth Micarta.
I am a huge fan of using synthetic materials on knives that will see rougher use. Micarta will hold up to water, dampness, and ultimately will be more durable than your average wooden scales.
Pinching just looks and feels really natural. While the Genesis is not my first choice for a hunting blade, it would perform pretty damn well for that kind of purpose, I think. Extremely good control for a knife of this size – 22.8 cm (9 inches) overall, and with a 3 mm (1/8th inch) thick blade stock.
The weight of the L.T. Wright Genesis is pretty significant, roughly coming in at just under 425 grams (15 ounces).
The balance of the knife is definitely handle biased, but in terms of field use I don't consider the knife in any way unwieldy. When carving wood, I didn't find that the extra weight unbalanced the knife. And although I do usually prefer a dead neutral balance, the Genesis has such great performance that I soon forgot about its weight distribution. When picking up the knife for the first time it may be surprising, but use it for a bit and any concerns will pass.
The construction is extremely solid with everything being tight as whistle. L.T. Wright states that they epoxy everything: including the threads of the brass nuts. I've gotta say, it certainly feels extremely sturdy, and I don't think I could get the scales to budge even if I wanted to. With that said, the scales are not removable, so if you have an issue you will have to send the knife back to L.T. Wright Knives. Thankfully they have a lifetime guarantee and an extremely passionate owner, so you shouldn't find a shred of problems there. Much like ESEE knives, you probably won't ever need to use the warranty but its nice to know its there.
Absolutely everything on the Genesis is contoured, including the butt of the knife. The tang does not protrude, but the contouring is aggressive enough so that if you wanted to hammer a wooden peg into the ground, you could do so with no risk to the handles.
The extra weight of the L.T. Wright Genesis aids greatly in chopping. Obviously, it's not designed as a true blood chopper, but it's no slouch either. Definitely better than all my Moras, or even the Condor Bushlore. The handles didn't transfer shock, and I felt no need to put on gloves. That 3 mm (1/8th inch)  thick A2 tool steel scandi ground blade really made chips fly taking into account that it's "only" a 10.7 cm (4.25 inch) blade.
An impressive chopper taking into account its inherent size limitations.
The wood was seasoned, but as expected, zero damage to the edge. Just as sharp as when I first got it (which is to say – extremely sharp).
The thumb scallops on the L.T. Wright Genesis really help in terms of comfort when performing pull cuts. That mirror polished blade cuts seasoned wood like soft pine. Like all high quality tools, this knife was a pleasure to use.
On the whole, the L.T. Wright Genesis is a fantastic wood working blade. Out of the box, it performs better than a Mora due to its superior edge, and for rougher tasks I feel extremely confident with the Genesis in hand. I don't think you could damage the knife if you wanted to.
Speaking of toughness, the tip is extremely overbuilt, perhaps even too much. Thankfully, the blade is so well ground that the tip tapers to an extremely sharp point. I do worry about it becoming perhaps a touch too obtuse, but after drilling some holes into some seasoned wood, I found my concerns assuaged. The blade tip is definitely more overbuilt than what I am used to; however, my own biases aside, its performance cannot be faulted, and I really don't see that changing.
For a 10.7 cm (4.25 inch) blade, the L.T. Wright Genesis batons extremely well. Because the tip is so overbuilt, it can handle any amount of blows without damage, and the 1/8th inch thick scandi blade acts as an excellent wedge. I will say that the handles did not transfer much shock, which is surprising. I will always prefer a large knife when batoning (like the Ontario Marine Raider Bowie for instance), but the Genesis is a more than viable option if you wanted only one knife to take into the woods with you.
Throughout all of my continued testing, the edge of the blade has remained damage-free and screaming sharp. I have yet to sharpen it, nor do I think I'll need to for a long time.
L.T. Wright did a bang up job with the heat treating of the A2 steel. The L.T. Wright website mentions that the blade has been ground to a zero edge and then been hard micro buffed – which from what I understand would cause a micro convex bevel to form, explaining the knife's remarkable resilience. Whatever the reason for its edge toughness, its a welcome addition.
One of the most important (and discussed) prerequisites for a bushcraft knife is its ability to strike a firesteel using its spine. This requires a hard 90-degree angle on the spine for optimal performance – which L.T. Wright delivered. Performance comes in spades here: I don't own a single knife that produces anything close to the amount of sparks the L.T. Wright Genesis does. Based on the advertising, L.T. Wright mentions that they sharpen the spine of the knife like the blade on an ice skate. I quickly compared my own skates (CCM's) to the spine, and yep, pretty comparable in terms of sharpness!
With a blade spine this sharp, you could elicit sparks from even the lowest quality firesteel, as well as scrape up some excellent tinder from bark. Really nicely done L.T. Wright!
And now on to the sheath. L.T. Wright does not make its own sheaths, and frankly that's not a bad thing considering they've got the talented people behind JRE Industries making them instead! When it comes to sheaths, I can't think of anyone more recognized in the industry than JRE.
The sheath JRE Industries supplies for the L.T. Wright Genesis is made from a thick, high quality leather, and offers 2 large belt loops. One dangling from a D-ring for those of you who like that option. There's also an additional loop for your firesteel.
The other belt loop is more traditionally stitched into the sheath, and it's the one I personally use. Never been a fan of sheaths dangling from my belt. It's nice that JRE/L.T. Wright didn't presume on behalf of the user which way they would want to carry the knife. Great to be given options here.
L.T. Wright didn't mention the manufacturer of the sheath on their website. I only knew JRE Industries was the maker after receiving the knife, and even then only due to the extremely recognizable logo. For those of you who have owned a Bark River knife before, like me, you'll probably suddenly remember where you have seen this logo!
Stitching and general construction is superb, as with all JRE sheaths I have handled in the past.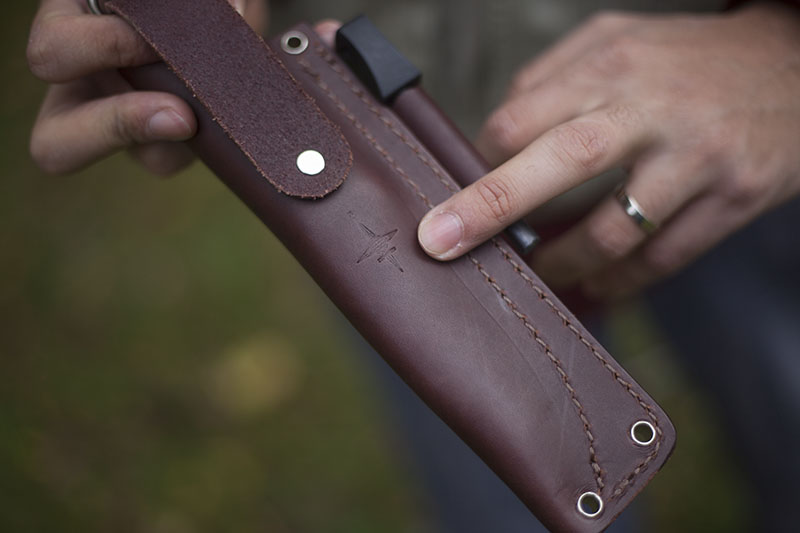 The L.T. Wright Genesis sheath hugs my body nicely, and the two lanyard holes on the bottom are available if you want to strap the sheath in even more securely. Personally, I don't feel the need to, but again, options are always welcome. I did notice that the sheath did not provide a drainage hole, but to be honest, I don't see much water getting in based on how tight the knife fits into the sheath and how snug the sheath is to your body. I will mention that JRE Industries has in the past made sheathes with drainage holes (ESEE sheathes come to mind) so it was omitted on purpose for whatever reason, perhaps a limitation based on the size and design of the sheath. In any case, I don't find myself missing a drainage hole in the slightest.
The L.T. Wright Genesis was not just made, but handcrafted with durability and performance in mind. This is a true heirloom quality knife, and it's quite honestly bombproof. Comparisons between the Genesis and Bark River knives will be made based on similar materials and sheaths, but one glaring difference is L.T. Wrights choice of making the handle scales completely neutral, which is unlike the standard Bark River hourglass style handles. I personally prefer the neutral grip, as it leaves your options open. Those hourglass style handles may or may not fit you, depending on your hand size. The L.T. Wright Genesis will fit absolutely any hand (within reason), and I can't stress enough how important a feature this is to me.
If your in the market for a high end scandi bushcraft blade in a premium steel and with neutral handles, I fully recommend the L.T. Wright Genesis. It comes with superb fit and finish, and well implemented features that really make it stand out from the more inexpensive, mass produced options.
Is $175 a lot of money for a knife that was handcrafted in the U.S.A. and will outlive you and your grandkids? I don't think so!
To be noted, L.T. Wright mentions on the product page that the Genesis is in limited quantities, so if you want one, you may want to snap it up pronto.