Knife forging is a hot topic amongst knife aficionados and collectors. I feel it's safe to say that there isn't a single aficionado or collector in the knife industry who hasn't formed an opinion on "forged knives." There's a reason I'm putting that in quotes – and that's because what people mean when they say "forged knives" and what the actual definition of a forged knife is almost always vary. But we'll get into that. In fact we'll get into everything I can think of related to forged knives. So let's just jump into it.
Definition: What Is Knife Forging?
Knife forging is a step in the knife-making process whereby an ingot, cast, or poured mold of steel, that will eventually become a knife, is beaten into shape, either by hammers or by a machine's rollers, to improve tensile and fatigue strength.
Is this different from what people usually mean when they talk about knife forging?
While all knives are technically forged (and yes, that means the Spyderco or other production EDC knife you've got in your pack is also technically has forged steel), when people refer to "forged knives" they mean knives where a blacksmith has physically beaten the blade into shape with a hammer as opposed to ground away excess materials using abrasives or a CNC machine in a production process. Smithing is basically what people often mean when they say "knife forging." We'll get into this more later.
So wait – all knives are forged?
Yes. All modern knives are forged.
When steel is made, it is forged from the ingot after it is cast.
When steel is poured into a mold, it will need to be formed into shape, after which the end result will be manipulated to create a sense of homogeneity which, as I've already explained, is what forging is (in layman terms). In the process of forging a knife, you redistribute material around to improve the properties. Without going through the specifics of this process, basically, if you take steel, cast it, and don't forge it into shape using rollers or whatever process you'd like to use, then the tensile and fatigue strength will be impacted greatly. You'd end up with a pretty weak knife.
So knives that are not forged are really weak?
Yes. Which is why production knives like Spydercos, Kershaws, Cold Steels, etc. – basically everything you can buy on the market – all feature steel that was forged at the foundry. Again, we'll get into more of this later, after you read over the process of knife making.
Side note; some smart alec will not doubt mention cast knives that promote a dendrite structure but those are a useless advertising gimmick, and are super super rare. I can think of only a couple off the top of my head.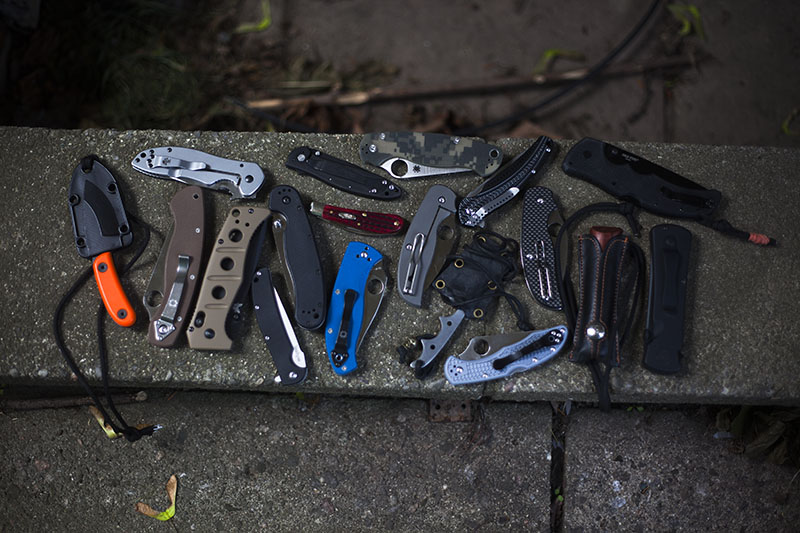 The Process of Knife Making & Why Bother Forging
The interesting thing is, people don't seem to realize that steels as we use them do not naturally occur in nature. For a steel to be considered good for working/tooling application, it has to be as pure of impurities as physically possible, and that's not how steels come out of the ground. As a matter of fact, steel as we know it doesn't come out of the ground at all- its manufactured from iron ore.
To get knife steel to this point before a knife is made out of it, companies will take specific elements and compounds, mined by corporations, then, using the ones they want, mix them altogether.
Sadly, due to certain compounds reacting in predictably negative ways due to being exposed to oxygen and other elements, we have to form the steel using one of only a handful of different processes.
These include:
Vacuum induction melting,
Vacuum arc remelting, and
Electroslag remelting
This steel forming process designed simply to remove what you don't want from the final product, so the totality of the steel is comprised of compounds that are beneficial to your end goal (of creating a good, strong steel with the right attributes for a knife). Some of the compounds you want to stay in your end goal product include: carbon, vanadium, & molybdenum.
Once there's a pure-ish steel to work with, that is taken and formed into something usable – whether that's an ingot, a sheet, or a bar – to make a knife out of.
Simple steels like 10XX series carbon steels are cast using a conventional method and then forged so that the grain (and by grain, I don't mean a literal grain in terms of structure, but rather the directional properties, much like wood) ends up with superior properties for knife-making purposes.
How does forging do this? The process of forging rearranges the atoms in steel so that they're quite literally different from how they were arranged before the forging process. It's the very same atoms, but because of the way they were arranged before they were forged, versus how they've been rearranged during the process of forging and then stayed in this arrangement after, there's no question that after the forging process has taken place, the slab of steel is much more superior for its intended purpose: to be turned into a high performing knife.
If you've ever batoned through wood (I have a point to this I swear), for instance, you know that a couple of things are 100% true of batoning:
It's way easier to do if you go with the grain of the wood,
It's terrible to baton through a piece of wood if there's a knot in it.
Now imagine you could rearrange atoms that form the grain of the wood to make that wood ideal to baton through. You could restructure the atoms in that wood all in one direction, and to be very consistent, so that the new grain makes the wood essentially perfect to baton through. That's sort of like what you're doing in the forging process. You're rearranging the atoms of the steel that make up the grain in the steel so that when the steel is then made into a knife, the knife is ideal for its intended purpose (to be high performing, strong, resilient, etc.).
I could go into ridiculous detail on the science of the matter, but frankly I won't do it justice compared to veterans like Kevin Cashen who have written on the topic quite extensively. Please visit here if you are curious about the science, but be aware that Kevin really doesn't hold back.
So, we've established that all steels found in our knives are forged. Even PM (powder metallurgy steel) is technically forged by taking teensy ingots and mushing them together into one big ingot. This is a ridiculous over-simplification, but without getting too in depth from a scientific standpoint, this is the best I can do.
Just remember that the idea is the end product. Whether the steel is cast conventionally, spray formed, or PM, the general goal is having complete homogeneity in the mix of elements that will form the knife steel, and making the end result of the arrangement of the atoms ideal for their intended purpose of eventually becoming a strong, high-performing knife.
The end result always varies slightly due to the inherent differences, though PM steel will always be superior to conventionally cast steel simply due to having more granular control over the end product. Precision will always rule supreme given all other factors being equal.
When someone who understands metallurgy (and as an aficionado, I like to think I know more than most, but am a mere pupil compared to Cliff Stamp & Kevin Cashen) talks about forging, they are really just talking about a step in the process of manufacturing steel for knife-making purposes.
Smithing: Or Bladesmith "Forging"
When a bladesmith talks about forging, however, what they are doing is spinning the mechanical process of forging (the true definition) into some kind of emotional argument that makes their knives look more desirable than production knives.
Honestly, I get the appeal of smithed knives. Who doesn't want a one-of-a-kind knife that was beaten into shape by the sheer strength of one artisan and his hammer. But when you're talking about performance, facts are facts: this process of beating the knife physically with a hammer really has no impact on the tensile and fatigue strength of a knife. Smithing does not result in higher performance knives.
In fact, the steel that knife bladesmiths buy is already forged, in the true sense of the word. All bladesmiths do is beat the already forged steel they have into shape with frequent trips to the forge.
If you want a knife based on craftsmanship and uniqueness, then by all means go with a "forged"/smithed blade by a proper bladesmith, but from a performance point of view, it's superfluous to requirement and will limit your steel options greatly.
"Forged Knives" (i.e. Bladesmithed knives) VS Production Knives
This following response is going to piss off a lot of people (though I'm sure I've done that already), but frankly, the major difference between "forged"/smithed knives and production knives is that the production blade (assuming it's from a reputable manufacturer) will have tighter tolerances, predictable reactions when dealing with lateral force, and superior properties as a result of a machine deciding when the blade is done as opposed to one man eyeballing it and mulling over the fact that the knife is probably finished.
This is a simple reality and the knife industry is swamped with people who try to sell magic processes regurgitated into some bizzare pseudo-science, but we need to be objective when looking at the issue at hand.
How "Forged"/Smithed Knives Are Made
Take the steel ingot (that was already forged in the true sense of the word when they received it!)
Heat it
Beat it
Repeat until desired shape is achieved
Grind a rough edge
Heat treat
Grind, clean up, and affix the trim (handle, hilt etc.)
Sell for a substantial markup because you beat on it for hours on end and that takes work
How Production/Stock Removal Knives Are Made
Take sheet of steel (stock) which is again, already "forged".
Cut, stamp, or laser the shape of the blade out (depending on the steel- some steels don't like being stamped out).
Grind the bevels out using high powered grinders (wheels or belts)
Heat treat
Grind, clean up, and affix the trim (handle, hilt etc.)
Sell for whatever price the market is willing to bare; dependent on the branding, designer, and where it's made.
As you can see, the difference in the two processes of creating knives isn't substantial.
Smithing knives, or "forging" as a bladesmith would advertise, only adds unpredictable elements into the mix, with no real benefits to knife making.
How We Got Here: The "Forged"/Smithed Knife Superiority Myth
The core issue at hand is that bladesmiths who forge their knives have a vested interest in saying that there is a performance bonus to their knives. Even companies who make kitchen knives babble on endlessly about how their German cold forged knives are better than x because of y. It's all nonsense designed to justify a higher markup due to increased labour, and in the case of those kitchen knives (looking at you Henckels), it's not even a person "forging" the knife, it's a machine that mushes the blade into shape in a dozen or so strikes. Hardly the romantic image we have from their glossy brochures, aye?
No, "forged"/smithed knives are not stronger, sharper, or in any shape or form better than knives made using the stock removal method.
As a matter of fact, custom knives in general are not stronger, sharper, or in any shape or form better than knives made using the stock removal method. Custom knives are simply rarer, and consequently command a higher price. And there is nothing wrong with that.
What's interesting about this whole situation is that we as a society have evolved to respect high quality and precision manufacturing, but when it comes to our hobbies, we do tend to take the emotional route. A blade has no soul, a bloke hammering on it for hours on end will not impart magical properties to a knife, and yet for some reason, so many of us fall for it. I understand the sentiment that there is something very comforting about owning something that was built uniquely, especially in these times of mass manufactured goods from China. But hiding behind thoroughly debunked arguments of superior performance is silly and misses the point entirely.
This is not a situation that is unique to the knife world. I think it impacts all fringe hobbies. A mechanical watch hand assembled in Switzerland will have inferior timekeeping performance to a cheap quartz Timex. That is a fact, but because we can observe this fact by measuring it, the watch industry instead talks about craftsmanship and unique design rather than performance.
When it comes to knives, if I hand you a knife that is forged and say it's better, you kind of have to take my word for it. You can't measure the objective performance in the same way you can with accurate timekeeping, and this is how we get into these tricky myths perpetuated by knife-makers that have a vested (financial) interest in keeping the myth going.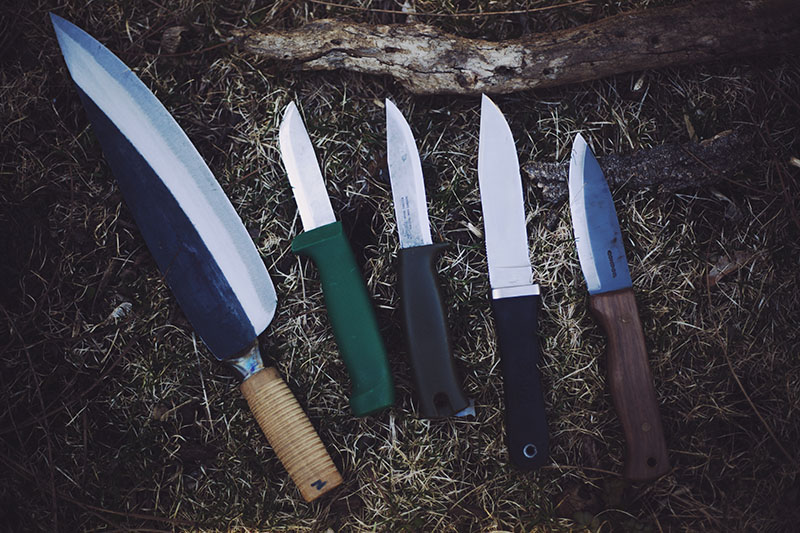 To Conclude
In 2005, CNC machines began to be utilized by all manner of budding knife makers, and people on the forums freaked out. The definition of custom became blurred to the point that arguments broke out, friendships were burned, and new words were created to explain differences in knife creation (midtech, for instance).
It's utterly silly in my opinion. If you want a knife with nostalgic, old world appeal and charm, or hand made craftsmanship, buy a custom knife that has been hammered into shape.
Don't pretend it's for "performance" reasons. That would be patently untrue, and all it does as add more myths to an industry already rife with them.
I hope you found this informative. Thank you to Phillip for asking this question about forging on our knife myths article. It made me realise I needed a full article on the topic, and not just a section in a larger piece on knife myths.
Please do check out Kevin Cashen's article for way more in-depth discussion on the topic, as it's quite exhaustive and will answer all the technical questions you have far better than I ever could.