The SOG Vulcan is my first SOG knife to review, I don't know why it took me so long to get around to it seeing as I have owned this particular knife for nearly 2 years, but better late than never, eh? The Vulcan is one of the better made/higher end SOG folding knives that offers a clear upgrade from their mainstream Flash/Trident series, and it really has impressed me enough to have been a sporadic EDC. This might sound like a back handed compliment, but taking into account how many knives I own and how abrasive the design is in terms of the sort of reactions it elicits in public – it's a pretty positive statement.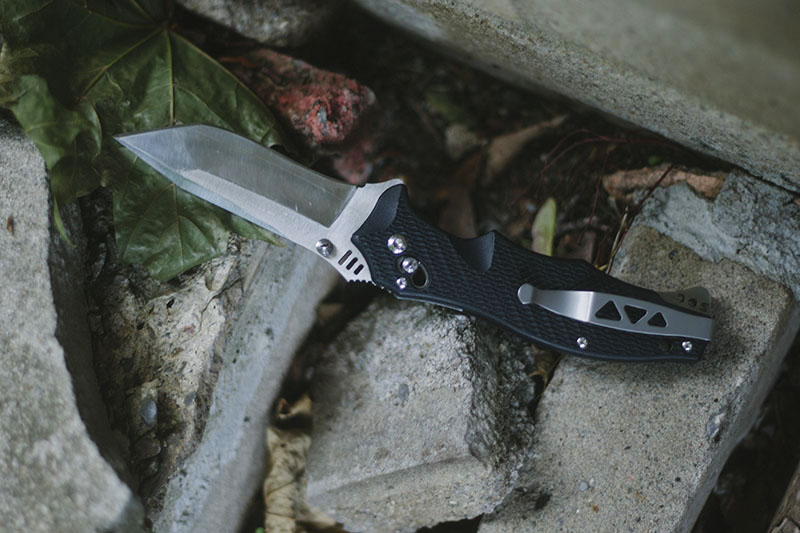 SOG Vulcan Tanto Blade Folding EDC Pocket Knife – Amazon / Blade HQ
Right out of the box, the Vulcan hits you as a very modern (in every sense of the word), tactical offering from SOG. It's dressed in GRN (which is basically Zytel) scales with a lot of contours, cut outs, and all sorts of interesting aesthetic features. If you are looking for a minimalist EDC? Hope you realize this ain't it.
The SOG Vulcan is definitely a very busy design, and even though it's not really within the mainstream in terms of visual cues, I kinda dig how odd it looks.
The Vulcan is a sizable folder, comparable to the Spyderco Endura 4 with its 4.87 inches (12.37 cm) of length closed. Definitely on the larger side for an EDC, although after reviewing the Cold Steel Voyager Tanto XL, I think pretty much any knife in my collection is dainty by comparison (notable exception being the Cold Steel Rajah II).
The sheer amount of angles and contours on this folder make it look significantly larger/beefier than its measurements would suggest. Not a bad thing at all, but if you want a discreet EDC, I wouldn't opt for this.
It strikes me that SOG had no intention of pleasing the mainstream when designing the Vulcan. The knife is almost abrasive in design and people tend to be in either the love it or hate it camp. I don't know anyone that has an ambivalent attitude towards this knife.
I got the tanto blade version of the SOG Vulcan. It also comes in a regular clip point option, but it's positively boring by comparison. A knife with as many interesting quirks as the Vulcan, in my opinion, needs an interesting blade as well. I did formerly have a bias against tanto blades, but after falling in love with my Kershaw Blur, which has a tanto blade, I am now far more open minded, and this tanto checks all the right boxes for me. At 3.5 inches (8.89 cm) of blade, the SOG Vulcan feels very proportionate, and I think the dimensions on this knife are pretty perfect for a heavy-duty EDC option.
Whenever I look at the Vulcan, I am struck by how much detail is in it. Most knives are quite happy with one or two visual queues to distinguish themselves from the herd, but SOG really went all out here with unique cut outs (that serve little to no purpose, but do look cool), and aggressive contouring of the scales.
You can see in the image below how aggressive this knife is with the ergonomics. It tapers in and out like an inverted hourglass and the end result is a very comfortable, almost fixed blade-like feeling.
The palm swell in the middle and the amount of weight the Vulcan brings to the table makes this a very comforting knife to hold. Even if it wasn't a tough knife, it would feel like one.
Speaking of tough, my experience with SOG folders haven't been overly positive. I own the Flash II and found the lock up to be absolute garbage. I know this is going to ruffle some feathers, as it's a very popular knife endorsed by a lot of reviewers, but comparing the ARC lock on the Vulcan to the pale imitation on the Flash II is frankly insulting. As I write this, I have both knives in front of me and can tell you that the Flash II has bucket loads of blade play and a lock that feels like it was made out of wet cardboard.
I could go on and on, but I will keep my vitriol towards the Flash II for it's own review. Needless to say, the Vulcan is a significant improvement. The ARC lock works like a piston lock and operates very similarly to an AXIS lock. I will say that I prefer the smoothness of the AXIS lock in terms of it having far less resistance, but in terms of lockup, both are rock solid and can be disengaged with just a tug of your thumb.
I have used the SOG Vulcan for a while and can tell you it really is a solid, solid heavy-duty knife. I wouldn't compare it to a Cold Steel TRIAD lock option (I wouldn't compare any knife to that beastly lock), but I definitely feel like my digits are safe. If you have held a Flash/Trident before and recognize the complete crap of a lock it comes with, then be reassured that the Vulcan is a completely different design even though it looks and operates very similarly.
The pocket clip is reversible tip up only, which I am more than happy with. I will add that the SOG Vulcan's clip is one of the nicest clips I have used. It's not exactly subtle based on its sheer size, but it is bead blasted to a lovely matte finish. No garish SOG writing on it either, just 3 nice triangular cut outs with the SOG stamped out of the bottom left and right liners. It's a very nice attention to detail, and whilst a bit busy (visually), I do think it fits the knife well.
In the pocket, the SOG Vulcan carries as deep as any knife can. Very nice tension and I really have absolutely zero complaints or even criticisms. Yes, it's quite big, but even when white knuckling the knife, I don't find the clip to be overly bothersome.
The knife comes with a very beautiful tanto blade; probably the prettiest tanto I have ever seen. It's milled out of a slab of San-Mai laminated steel with a 420J clad VG-10 core (that's a mouthful to speak out, I feel sorry for the SOG reps that have to repeat that at knife shows!). It's superbly constructed with no flaws of any kind. This knife is made in Japan, and if nothing else, the Japanese have mastered modern composite blades – I don't even think there is any competition from the West (correct me if I am wrong in the comments!).
VG-10 is a solid stainless steel with decent edge-holding capabilities. San-Mai is pretty much an aesthetic option (contrary to what marketing reps might regurgitate) as the weak spot when treating a folding knife roughly is rarely the stock of the blade, but rather the tip or the pivot (or the scales warping in the case of lateral stress). Should you pry with this knife? Probably not, but I don't think it will break either. The only knives I have really abused are Cold Steels, as they are basically built from the ground up to handle abuse.
This is very much a heavy-duty knife, but it features a very pleasant hollow ground blade that works perfectly in all utility situations that I can think of with no real downsides. I don't often EDC tanto knives, but this specific example is one of the nicest I can think of.
Ascertaining toughness in folders is always tricky. Cold Steel does test lock strength (and controversially makes the results very public, which, as a consumer, I appreciate), but in practical use the tip of the blade will handle the most punishment (in my experiences), and the SOG Vulcan has a wonderful reinforced tanto tip. As you can see below, a beautiful top swedge and a hollow-ground belly with a nice recurve. What a trifecta, I am beyond impressed with the styling (and utility) of this blade. SOG really knocked it out of the park.
I wouldn't be disappointed to see this blade on a $500 custom knife. Seriously, just look at that thing!
The Vulcan (as I already mentioned) goes balls to the wall with contouring and swedges. It's almost as if it was designed by a dozen kids with ADD. It's a never ending stream of cuts and swoops, which might be a turn off to some, but I have come to really appreciate it, especially taking into account how well constructed this folder is.
The stainless steel liners are both quite substantial and yet not skeletonized, which is quite odd. SOG put cutouts in the blade as an aesthetic flourish, but didn't bother to reduce the weight of the scales? An interesting decision to be sure.
But with that said, the in-hand balance is perfectly acceptable and lines up with the primary groove, so I guess this was intended. The bias is definitely towards the handle, and I do prefer the blade to be a touch heavier, but it doesn't feel unwieldy and I had no issues using this as a general EDC.
I do think the heft (5 ounces) adds a considerable psychological aspect to the perception of toughness. Holding the Flash II and the Vulcan side by side is like comparing a tricycle to a Hummer. It's almost embarrassing. The Vulcan just screams tough the moment you pick it up and I really do appreciate that.
In terms of one-hand deployment, the SOG Vulcan features a flipper which in practice is sorta meh, as the knife does not possess a crisp detent as a byproduct of the ARC lock. The flipper is usable, but you will need to fling your wrist so that momentum can propel the sizable 3.5 inch blade out. Without a wrist flick, it opens halfway and then stops and hangs languidly.
The thumb studs on the other hand have pyramid steps and are positioned in the perfect spot with a very deep groove cut outs in the the scales to provide access. I love them and have no issues consistently getting a solid deployment, even with gloves on.
Saber grip is extremely comfortable. The ramp on the blade does have jimping for your thumb, as does that section of the scales, and the sheer amount of curves on the handle means in-hand retention is top notch. It's not going anywhere.
Choking up on the SOG Vulcan, however, is not advisable. No choil for your pointing finger and a very lean recurve grind won't make your finger very happy when you inevitably slip up.
Reverse grip is perfect and befitting of the SOG Vulcan's status as a tactical knife. The aesthetics of this knife offer a refined viciousness that is rarely found in the mainstream.
Interestingly, the Vulcan does have a groove on the top flat of the scales to allow for a solid pinch grip (and aid when deploying the knife with thumbstuds). It would be my last choice to field dress an animal, as cleaning this knife would be the sort of thing one would be forced to do as a punishment. The amount of holes and cut outs means you will spend quite some time with a toothpick should you choose to use this folder as a hunting knife.
So gosh darn pretty. I know I should be objective and talk only about performance, but let's face it, style matters – otherwise we would all be rocking Opinels and Moras on the daily. The SOG Vulcan may have a useless flipper (it does act nicely as a guard though), and superfluous styling "features" like the 3 holes in the blade or the SOG cut out on the butt of the knife, but at the end of the day, it's badass and very unique so I shan't even bother to pretend to be unbiased.
I own 2 SOG folders, one is complete garbage with a lock designed by a drunk mall ninja, the other is this magnificently modern 5 ounce slab of steel that is utterly unapologetic, and I am surprisingly okay with that.
For the price, I think the SOG Vulcan is a solid purchase. The aesthetics are very jarring for a lot of people and some of you are probably looking at me (or, rather, my words) like I am completely insane. To that I say, live a little.
The blade is beautiful and the knife oozes uniqueness and individuality. Yes, there are tougher knives out there and for the money you could buy 3 Cold Steel Finn Wolf folders and they would be superior beater knives to this one. Or, you could buy a single Spyderco Endura in ZDP-189 that could outcut the SOG all day long, but a knife is a personal thing, much like a car, and sometimes logic doesn't really apply. This is not the Toyota Prius of knives, but then again it's not trying to be, so being overly critical of its failings seems disingenuous.
The two issues I have with it (mediocre flipper action and weight) are design and practical considerations, not manufacturing flaws or cost savings, so for whatever it's worth, I don't think it merits a lower grade, at least in my eyes.
If you like it, you will love it. If you don't, you will hate it.
As for me, the Vulcan is staying in my pocket.