A long while back, close to when we originally started penning this blog, I published an article about the most popular/best selling survival books in existence. While I know there will be plenty of overlap (what kind of a survival book list wouldn't make mention of popular bushcraft books?), I now think it's important to break up that post into sub-topics, in case anyone wants to concentrate on studying up on a specific prepper/survivalist skill and master that before moving on to another.
The first article in this whole specialty skill education series is the top first aid books article I wrote up. No survivalist I've ever encountered has ever underestimated the incredible value of being well versed in as many first aid skills as physically possible. This second article concentrates on the most obvious, and likely most important skill a survivalist could ever have: bushcraft/wilderness survival education.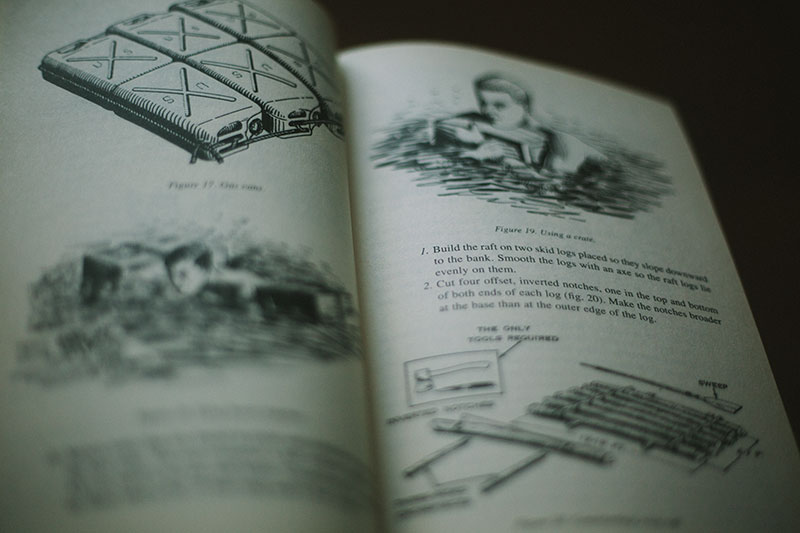 The US Army Survival Manual Survivalist Book – Amazon / eBay
While it may not be the easiest thing to teach yourself out of a book, I do feel like a lot of the basic concepts of wilderness survival and bushcraft are easier understood reading chapters that flesh out the topic. I think Cody Lundin's 98.6 Degrees does a good job of this, but I'm biased because I haven't read every book on this list, and I don't know if some others do an even better job of giving you an overview of bushcraft goals and particulars.
Since they're all on the topic of bushcraft, many of these books do overlap in terms of what they try to teach you, but I think every author has his own unique way of helping you grasp and remember bushcraft concepts, and obviously stresses different aspect of wilderness survival. I've written short synopsis of each book so you can hopefully determine for yourself whose style and concentration will match with what you want to concentrate on and how you prefer to learn.
The following order is the most accurate representation I could manage of bushcraft books by popularity, i.e. what has been sold and reviewed the most online. Obviously, it doesn't matter how popular a book is if it's not good, but it seems to me that eventually good books do rise to the top, especially in a field like this where a skill is being taught through a book, so that's what I stuck with. I've included multiple books by the same author on many occasions, but I don't think this is a bad thing, as if you're comfortable with someone like Dave Canterbury or Mors Kochanski's writing style and if a particular author helps you to learn best, I'd probably take that as a sign that their other books will also be of value to helping you learn. But that's me.
Finally, before I start, if you have any recommendations, whether they're other bushcraft books that didn't make it to this list or whether they're giving a thumbs up to something that did make it to this list, please leave a comment down below detailing it.
15 Most Popular & Bestselling Bushcraft Books
by Dave Canterbury
This book by Dave Canterbury concentrates on the 5 C's of Survivability: 1. Cutting tools, 2. Coverings, 3. Combustion, 4. Containers, and 5. Cordage. It's probably the most popular bushcraft book ever written, and my guess is it's for good reason. While I still haven't gotten my hands on this book, I have gotten my hands on #2; written by Canterbury's TV partner on Dual Survival for two seasons…
---
by Cody Lundin
I was enormously obsessed with Cody Lundin's fire-making abilities when I watched Dual Survival back when it first aired, and not going to lie, I really dug his style of teaching bushcraft tips & tricks while he was on that show as well. Didn't disappoint when it came to the book. Full of oh-so-many illustrations and scatterbrain type of information that bounces from one topic to the next – perfect for someone who hates feeling like they're doing homework while learning bushcraft tips and techniques, as you feel more like you're reading a storybook than a textbook. I daresay it's the most engaging book I know on a sometimes incredibly dry topic to learn out of a book.
---
by Dave Canterbury
Yes, Dave Canterbury makes it on the top 3 of this list twice. I'm not surprised for the reason I outlined before: if you know you like a writer's style, and they're particularly effective at helping you learn, another book on the same topic by the same author is almost certain to help you yet again. How's this book different from Bushcraft 101? It takes you past the basics outlined in that first book into more advanced bushcrafter domain, talking about topics like how to make do in the wilderness without equipment, and use what's in your environment to help you to thrive. Solid recommendation if you happened to buy and enjoy Bushcraft 101.
---
by Mors Kochanski
The top 4 books on this list are all authored by very famous bushcrafters; but that makes sense. You want to take your advice from those in the field you've seen prove themselves. Mors books goes over the basics of bushcrafting, including firemaking, wood chopping, tree felling, shelter creation, knife and axe safety measures, details about finding animals and plants that will help you survive, as well as outdoor cooking techniques, tool, rope, and basket making, and more.
---
by D.C. Beard
A book penned by one of the founders of the Boy Scouts of America, you know this book was penned by someone with years of field experience. Obviously, this book concentrates specifically on shelter-building, so if you're on the lookout for more ideas when it comes to specifically that, this is probably your best bet.
---
by George W. Sears
This book was originally published in 1884, and it truly stands the test of time. Don't care much for modern equipment or bushcraft techniques? This is 100% one for you. Even if you are fond of new technology, it's really fascinating finding out how expert bushcrafters did things over a century ago. Pretty remarkable how relevant this book still is today.
---
by Mors Kochanski
Meant to compliment his original book, if you like Mors Kochanski's teaching style, this educational book is a no-brainer. From what I understand, this book is a compilation of articles about bushcraft and wilderness survival – so it might be even easier to digest and to keep on top of reading than most.
---
by Creek Stewart
This book seems to be the equivalent of a 200+ Pin Pinterest board just on the topic of survival hacks. While it's not the same format as most wilderness survival/bushcraft books, it's definitely got its place since, as we all know, adaptability is likely the #1 most important aspect of survival. It's important to make sure your brain can make the leaps it needs to when the time comes, and there's no better way to get ideas than to have read or seen them before.
---
by Ellsworth Jaeger
Yet another bushcraft book that's withstood the test of time. This one was penned in 1945 and is still incredibly popular today. Apparently it's also an incredibly accurate depiction of what life was like for those in the 1800s who were trying to live their lives in the wild. And so yet another one for those not particularly interested in modern gear, but more dated ways of living in the wilderness that aren't modern gear dependent.
---
by Dave Canterbury
Dave Canterbury strikes again with this book specifically on trapping, gathering, and cooking while outdoors, just barely making it to three different positions in the top 10 bushcraft books. One last time, if you're into his style of teaching, this book is a no-brainer.
---
by Horace Kephart
Originally published in 1906, this book's foreward details it covers, "outfitting, making camps, dressing and keeping game and fish, camp cookery, forest travel, how to avoid getting lost, and what to do if one does get lost, living off the country, what the different species of trees are good for (from a camper s viewpoint), backwoods handicrafts in wood, bark, skins and other raw materials, the treatment of wounds and other injuries, and some other branches of woodcraft that may be of service when one is far from shops and from hired help."
---
by Eustace Hazard Livingston
Because hunting and trapping is a huge part of being able to sustain yourself for prolonged periods of time in the wilderness, this book is an excellent addition to this list. It may not be a difficult concept to grasp ,but it's a topic that deserves to be fleshed out to say the least. This book is full of photos that will help in the learning and reference process considerably, and includes a variety of different hunting and trapping techniques.
---
by Elmer Harry Kreps
Originally published in 1923, this book is another collection of bushcraft and outdoor related articles; so if you're fond of shorter pieces that are put together in a collective whole, this and Mors Kochanski's Basic Safe Travel and Boreal Survival Handbook are two for you.
---
by Bradford Angier
Another book that gives an overview on bushcraft and wilderness survival. Chapters are neatly organized by topic so reference becomes easy, and like so many other bushcraft books on this list, there are many excellent images to aid in understanding of concepts explained.
---
by Richard Graves
A one-stop shop for a bushcraft and wilderness survival overview. Yet again drilling in the concepts every survivalist knows they will need when trying to survive and thrive in the wilderness.
Your Opinion: Best Bushcraft Books?
Have any bushcraft books to recommend? Let me know what they are, whether or not they made it onto this list.
Is there an author on this list you're particularly fond of? Do you find bushcraft books helpful or do you prefer to watch bushcraft related YouTube videos or take classes to learn?
If you're into bushcraft books, do you prefer to have them as hard copies (paperbacks or hardcovers?) or do you prefer them all on an e-reader in one place? Or do you prefer a bit of each, maybe with the reference books in hard copy but the overall concept books on e-reader?
I personally find that anything I buy on e-readers never gets read and can't get over my need for paper copies hang-up. But I know that Kindles and e-readers are so useful to have for being able to throw in a trunk or pack and carry with you if you ever need to reference things in-field. So I'm a bit torn. What do you think is the best option?