I don't need to tell you how important basic first aid is from the perspective of dealing with unexpected emergency situations. Chances are if you ended up here, you already know.
If you're a first aider who just wants to get his or her hands on as many great resources as possible to expand your knowledge in the field: there are so many books online that would do the trick just right for you. Read through the descriptions of each of these books and locate the one that's most accurately delving out the information you need, because each one is approached from a different angle and thus many will teach you different things. There are a number of excellent first aid books that are great from the perspective of the sheer volume of information they cover, others that are excellent for experienced first aiders who want to test themselves, and still yet others that are more specialized by topic (such as the one on wounds). Figure out what you still need to know, then grab books based on that basis.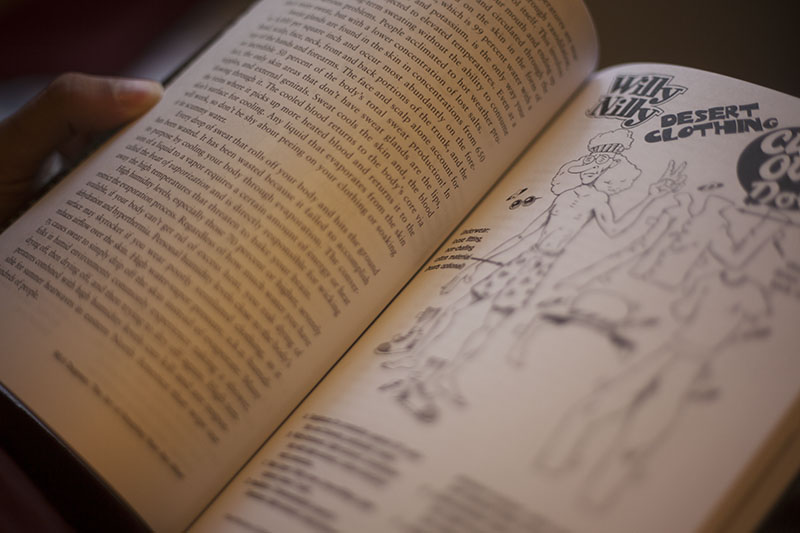 98.6 Degrees: The Art of Keeping Your Ass Alive Survival Book – Amazon
For those outdoorsmen, hikers, mountain climbers, etc. who just want to be prepared in case the worst happens when you're out and about in the wilderness, there are also plenty of books on this list geared specifically toward your needs.
And finally if you're a prepper or survivalist, and so aren't just concerned with helping out in emergencies where emergency medical technicians will take over after they've arrived at the scene, it may be very important to you to learn how to do all that you can in those terrible events where there is just no doctor or paramedic able to come. Many of the books on this list are specifically for you.
PS – if you're looking for general survival books to read through or have on your shelf, you can find a list of the best ones here.
Top 22 First Aid Books for First Aiders, Survivalists, & Outdoorsmen
If you're looking for a first aid book that's so on point students who are getting ready to take the United States Medical Licensing Examination will be using it – this is your book. This book tops the list of best sellers in the field of first aid, not just because of how many positive reviews it has (quite a lot if you take into consideration how many editions of the book there are), but because it's the go-to guide for those who are actually trying to get their medical licence in the United States. Higher accolades needed? I think not.
---
Similar to the first book – if you're looking for a read that's so highly looked upon by EMTs that students actually use it as prep to pass the Emergency Medical Technician Test – this is certainly one for you.
---
The single most popular survival medicine book on Amazon, brought to you by the folks over at DoomandBloom.net. Check this book out if you found your way here because you're a prepper and/or survivalist – definitely hits the first aid in an emergency/when help is not coming theme on the head.
---
Trauma surgery the way a military physician nowhere near home would be likely to perform it. Definitely not your basic first aid book, but for the more advanced, this book is an excellent way to think about more serious medical problems after a TEOTWAWKI situation happens.
---
Another standard EMT training book. Excellent because it meets the CPR and ECC Guidelines of 2010: so you know it's a resource you can trust. The book's goal is to get emergency medical technician students to think like EMTs.
---
This one had to show up on our list. Straight from the Department of Defence, it's a must-have for preppers and survivalists who keep a few hard copies of books on them just in case. Highly recommended to have around for obvious reasons.
---
While this book isn't intended to teach one to be "a lone survivalist who anticipates doing an appendectomy on himself or a loved one on the kitchen table with a steak knife and a few spoons" – it is an excellent book for the more practical first aid and health and medicine considerations when there's no way a doctor is coming, but you're in need of medical attention.
---
An EMS reference guide that many believe is one of the best to have been out on the market for years. Really great format even for those who are not part of emergency medical services.
---
Another disaster and SHTF oriented first aid manual for survivalists who would like to know how to stay as healthy as they can in times that are not easy.
---
If you're planning on bugging out, this is the book for you. The books description gets right to the point when it suggests this book is about "recognition, treatment, and prevention of wilderness emergencies." Just what outdoor/wilderness survivalists need to learn: plain and simple.
---
Vital drug information provided in a quick and easy to understand format. Excellent for fast reference, or for memorisation if you intend on getting to know as many drugs as you can.
---
Again – another book oriented toward the survivalists out there who are planning for TEOTWAWKI situations rather than just small emergency situations. For those who are more interested in surgery in these bad environments, and not just basic first aid and medicine.
---
A guide to identifying different types of wounds, understanding them, and knowing how to treat them. This is an excellent skill to have in my perspective, especially for pretty bad SHTF situations.
---
Another must have from a reputable source. The book boasts that it "shows you how to handle every type of first aid emergency." Definitely a book I want on my shelf.
---
Another American Red Cross book, this time specifically for those participating in the First Aid/CPR/AED programs and trying to pass to get their certification. Again – just another book I'd want to have around to keep handy.
---
The best way to stay prepared is to know in advance what to do in a bad situation. If you're a parent to a young child, injuries and medical problems surfacing are likely to make your heart race. Stay educated. Know what to do. It will help both your stress levels and their health.
---
One of the best books you can take along with you to the outdoors, whether you're a hiker, mountain climber, or survivalist. "Step-by-step instructions, how-to explanations, and practical approaches to outdoor and wilderness emergencies," but that's not all, this edition is also chalked full of information on emerging infectious diseases. Definitely one for the survivalist.
---
Yet another student study book. The reason these types of books are so great? They're reputable. You're learning exactly what real paramedics needed to learn in order to become paramedics. What could be better?
---
A great handbook for helping you spot diseases and disorders, from understanding aging, to heart disease, nutrition problems, and even cancers.
---
For the more advanced first aider who wants to test him or herself, this book is excellent. Skill based and multiple choice questions make this book an easy pick for when you've devoured all the knowledge you can and want to figure out how much of it has stuck.
---
Another American Red Cross book – perfect for those who just want to concentrate on first aid more concretely.
---
This book being up to its 19th edition in 2016 is high accolades enough. The Harrison's Manual of Medicine is an authority mini-textbook in the first aid and medical field.
More First Aid Resources
It's not enough to just have the know-to when it comes to first aid. Having adequate supplies should also be a very high priority on your list. Take a look at our Ultimate First Aid Supplies List to see if there's anything you should be adding to your at-home first aid supplies stockpile, or if there's something you've forgotten to add to one of your first aid kits.
Do you know how to tell if a cut is infected, whether to use Advil, Tylenol, or Aspirin, and how to quickly assess and address emergency situations? Did you know you can superglue cuts and that Imodium is an excellent tool for survival?
If you have some time, quickly browse through all the first aid articles on this blog by clicking here, in case there's something valuable you've yet to learn about the topics we've written on.
Other First Aid Books?
Know of any other first aid books that would be excellent to have lying around the house, use as a refresher of your knowledge, or really help you learn as much as you can about either the basics of first aid or more complicated aspects of health and wellness? Let me know in the comments.
Also, do let me know if you've read any of the books above and what you thought of them. Do you have some you prefer as reference guides while others you prefer to read thoroughly to give you a better grip on first aid before problems happen? Again – leave a comment down below to let me know your thoughts!