Knowledge is the most powerful survival tool you could ever possibly possess. A knife and a fire steel will do wonders in the wilderness, and a hefty stockpile will be a huge asset in case of an emergency situation, but nothing will ever come close to helping you survive like the knowledge and skills you possess.
While we all already know this, we also simultaneously realize how difficult attaining knowledge can be. The learning curve can be steep, mastering skills often happens slowly, and the material we need to learn can feel broad and overwhelming. Sometimes, too, it can be hard to determine whether a source of information is even reliable enough to help us on our quest for valuable knowledge.
That's where this list comes in handy. The survival books below are some of the most read, rated, and reviewed on the web. These books are written by some of the most well respected and knowledgeable industry leaders. It's vitally important to get your information from trustworthy sources – after all, you never want your facts wrong when your life is on the line.
Scrolling through this list, you're likely to find at least 2-3 books that really stand out to you among the rest. I'd suggest starting off reading those. There's plenty to learn – might as well begin with the topics that interest you most!
The Best Survival Books: Top 5
Author: John Wiseman [Kindle Edition/eBook]
By far the top selling survival book on the net. The SAS Survival Handbook concentrates on wilderness survival based on the training techniques of the Special Air Service. Its goal is to explain how to survive outdoors in any part of the world, no matter what climate you're in and whether you're at land or at sea.
---
Author: James Wesley Rawles [Kindle Edition/eBook]
A guide to overall preparedness and general self-reliance. Tips from surviving on your own, to how much food you should stockpile, what to plant in your garden, which animals are best to keep as livestock, and more. From the founder of SurvivalBlog.com.
---
Author: Creek Stewart [Kindle Edition/eBook]
A book all about bugging out and building the ideal bug out bag/72-hour kit. Includes a complete BOB checklist, photos and explanations of each item, a resources list and practice exercises.
---
Author: Laurence Gonzales [Kindle Edition/eBook]
An analysis of different survival stories, both of those who successfully made it through their hardships and those who did not make it out of their survival situations. Laurence Gonzales attempts to show through her work that there are stages of survival and that there is an essence of a survivor that makes these kinds of people able to survive, not only in the wild, but also in the face of life-threatening illnesses and difficult life experiences.
---
Author: Cody Lundin [Kindle Edition/eBook]
Wilderness survival through and through with Cody Ludin, director of the Aboriginal Living Skills School in Prescott, Arizona, well known for his time spent on Discovery Channel's Dual Survival TV show. Cody's book is one of the most entertaining and engaging ways to learn about wilderness survival and bushcraft techniques.
The Best Survival Books: Top 6-10
Author: Fernando "Ferfal" Aguirre [Kindle Edition/eBook]
A book based on firsthand experience of the 2001 economic collapse in Argentina. Discusses topics such as household preparedness, financial prepping, fighting techniques, and a heck of a lot more.
---
Author: Bear Grylls [Kindle Edition/eBook]
Bear Grylls' life story. Advertised as a must-read for adrenaline junkies, as its supposedly extremely action packed and thrilling.
---
Author: Joshua Piven [Kindle Edition/eBook]
A book that details a tonne of different scenarios, from defusing a bomb to delivering a baby in the back of a cab. How-to guides and hands-on, step-by-step instructions included – should be an excellent thought experiment for those of you who feel you're nearly ready to tackle everything life can throw at you.
---
Author: Joseph Alton [Kindle Edition/eBook]
Their description of this book is straight to the point; it's "a guide for those who want to be medically prepared for any disaster where help is NOT on the way." Excellent read from what I've heard.
---
Author: Max Velocity [Kindle Edition/eBook]
What do you do in a post-collapse world? Here's a book that gives you as much information as possible under the umbrella of security so that you'll learn what to do during a SHTF situation after societal collapse.
The Best Survival Books: Top 11-25
Author: Simon & Schuster
This book gives you an overview of what to do in wilderness survival situations, urban survival situations, and emergency/disaster situations.
---
Author: Ellsworth Jaeger
A historical guide that was originally written in 1945! Type of information you can find within it; firecraft advice, canoeing, tips on axes and knives, and on crafting shelters in the wilderness.
---
By the editors of Stackpole Books
An illustrated manual on one heck of a lot of outdoor/wilderness survival topics: from building outdoor shelters, to tracking animals, identifying edible plants and berries, tying knots, orineteering, etc. If you're looking for an outdoor survival manual, this is one for you.
---
Author: Les Stroud
There's a reason Les Stroud is well loved in the community, and it's due to his experience. His book teaches you about wilderness survival in a variety of different climates and geographical locations. Lessons from survival shelters, how to find water and when to drink contaminated water, how to locate and trap animals, and so much more. Check it out if you're a fan.
---
Author: Mykel Hawke
This is another outdoor survival concentrated book, concentrating on helping you learn about shelter and water, food and fire, tools and medicine, navigation and signaling, and survival psychology.
---
Author: Mors Kochanski
Mors Kochanski's book can sell itself with his name on the front cover. He's a legend in the bushcraft industry, and like Les Stroud, for very good reason: all his amazing experience. A wilderness survival/bushcraft manual you can't skip if you're a fan.
---
By the U.S. Department of Defense [Kindle Edition/eBook]
This had to be included, and chances are, you knew it would be on here before you even popped in to take a peek at the top most popular list.
---
Author: Joe Nobody [Kindle Edition/eBook]
If you're looking for survival books that stress personal and home defence, this is where it's at.
---
Author: Scott B. Williams [Kindle Edition/eBook]
A SHTF book that concentrates on what to do if natural disasters or social collapse where to happen. Looking for ideas when it comes to bugging out and escape plans? This is a good one for that.
---
Author: D. C. Beard [Kindle Edition/eBook]
A hands-on guide by one of the founders of the Boy Scouts of America. Can't get more practical with outdoor/wilderness survival instructions than this.
---
Author: Frank Miniter
Not your typical survival guide, and may not be for most of you. Contains a bunch of how to guides, from how to fight off a bear, how to set a dislocated joint, how to pick the perfect cigar and bottle of wine. Not that I've read it but I'm not sure I would – though it is popular, so who knows!
---
Author: Gregory J. Davenport [Kindle Edition/eBook]
Another wilderness survival guide, concentrating on personal protection, signaling, finding food and water, travel, and health.
---
Author: Bradford Angier [Kindle Edition/eBook]
Detailed explanations and illustrated instructions on wilderness survival split into four sections: sustenance, warmth, orientation, and safety.
---
Author: Joseph Alton [Kindle Edition/eBook]
A book for non-medical professionals who want to be able to help themselves, friends, and family with bad medical situations when help is not on the way.
---
Author: John McPherson
An in-depth how-to book that describes outdoor primitive skills and techniques.
Extra: *Bonus Survival Book
Author: Gavin de Becker [Kindle Edition/eBook]
Again, not your regular survival book, but it's highly relevant to survivalists. This book is for those interested in personal security, and has been said to show you how to spot the signs of danger before it's too late.
*Thomas' personal favourite survival book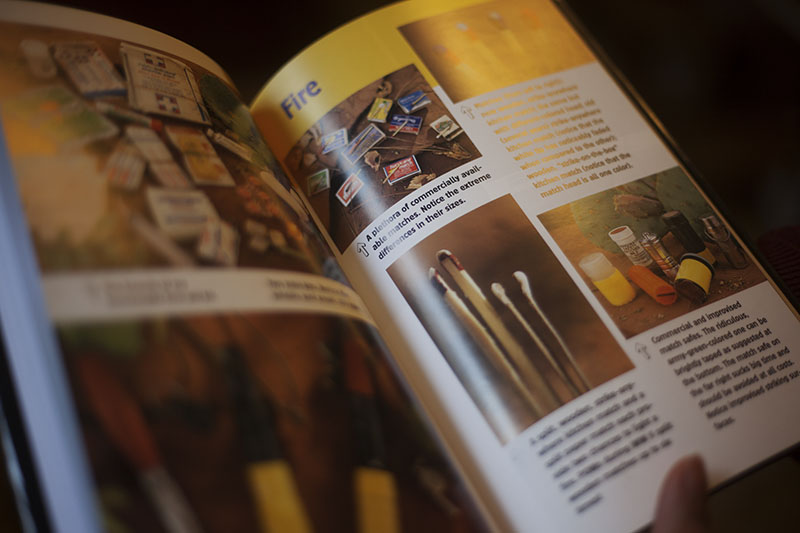 Looking for more survival book recommendations?
Take a look at our list of the top 22 emergency & survival first aid books if you're getting serious about learning as much as you can about first aid.
Have any survival book advice for us?
What would you say is the best survival book of all time? Have you read any of the survival books listed above? We'd love to know what you thought of them.
If you have any other books you'd either recommend, or even some that you think absolutely no one should waste their money buying, share your opinion in the comments section below!