Despite its humble origins as an agricultural tool from Indonesia, the karambit has always elicited visceral reactions in people, which caused the knife design to lend itself easily into into its transition from being used as a tool for agriculture, to its modern use as a tool for self-defence. The Boker Plus Karambit, designed by Chad Los Banos, really brings home how much the karambit has evolved over so many years to become one of the most recognizable tactical knife designs around today.
Boker Plus CLB Karambit Folding Tactical Knife – Blade HQ
Looking at the Boker Plus Karambit, you really don't see much of its agricultural roots. Its full-fledged tactical, with styling really straddling the line between fantasy and practical tool. I can see why some might take one look at this knife and automatically assume it's not a serious knife. It looks damn good, and usually that kind of styling comes at the cost of practicality and use.
Folded the Boker Karambit is strikingly unique for its ringed heel (in this case the ring is split to allow attachment like a carabiner), and oversized handle-to-blade ratio. This is common of folding Karambits, as the sweeping motions, when used correctly, require more handle to maneuver than most other tactical knives.
Boker chose to go with a stainless steel frame lock for the Boker Plus Karambit. The knife does have a few lightening holes; however, at 141 grams (5 ounces) it's certainly not light.
The most unorthodox aspect of this karambit is the double-scalloped 440C blade with its very aggressive swedge on the spine. In terms of practicality I would say that aesthetic considerations won over practical concerns here. That said, this aspect looks badass, so definitely doing it's job!
While I don't have all that much personal experience with karambits, even a relative beginner like me can appreciate the way the shape lends itself to an organic grip. Very few knife patterns/styles flow as well as this one does.
Balance is extremely neutral when held correctly. This is actually quite surprising due to the 19.6 cm (7.7 inches) of total length, out of which only 7.4 cm (2.9 inches) are the actual blade. This was obviously well thought out, as you can tell from the way the pocket clip perfectly matches the balance point. Great job, Boker.
In a lot of ways the Boker Plus Karambit is deceitfully small. This is a knife that's truly very large once deployed, but when looked at from certain angles, and especially when closed, it becomes almost normal-sized. One might even begin to view it as regular everyday carry sized – but it really isn't.
The frame lock on the Boker Karambit engages with extreme authority. I would say that the engagement is around 95%, with most of the tang mating with the lock bar. No way in hell this is going to disengage accidentally. That being said, I do have concerns over long term wear of the lock bar. The lock bar hasn't traveled at all, and is quite happy sitting at 95%, but if it began to travel, there's a good chance there'd be blade play.
Ultimately taking into account its intended application as a martial blade craft and tactical knife, I would err on the side of caution. I'd definitely prefer it to have more rather than less engagement.
The 3 mm (0.12 inch) thick blade has a deep swedge and is scalloped, lending itself a very tool-like industrial design. The double sided thumb studs and deep (fully functional) jimping really bring the whole knife together. If knives were judged purely on style, the Boker Plus Karambit would be a dead sure winner, even for my pretty large collection of knives.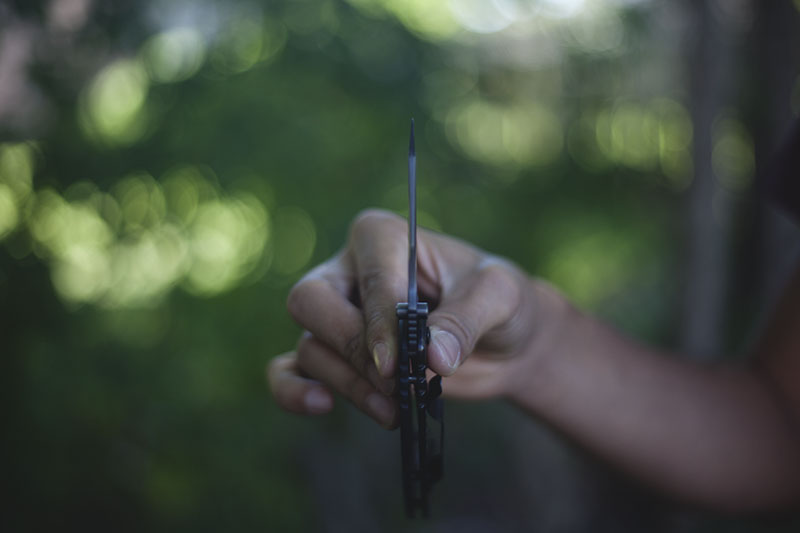 The blade on the Boker Karambit is completely off center, but since the blade doesn't grind against the scales, the issue is purely cosmetic. Adjusting the pivot did not help to center the blade either, I tried.
The Boker Karambit has very minimal construction with no back spacers or decorative aspects. Fully open frame, which means cleaning it is pretty much trivial. Be aware that the pocket clip is needlessly enormous. I'm not sure why it's like that, as it doesn't add anything in terms of ergonomics. Maybe, again, for aesthetic reasons, as it does look pretty good. I'd prefer having a wire clip in the style of the Spyderco Sage 2, however. Considering I always like discretion in my clips, the Boker Karambit's clip just isn't cutting it for me.
Deployment is snappy using my standard middle finger approach. The thumb stud is positioned a solid 1 cm away from the knife scales, so finger placement is paramount. After a little practice it all falls into place, so no complaints.
Trying to open the Boker Plus Karambit in reverse grip was originally far from intuitive, but I'll chalk that up to muscle memory: you definitely don't open Spydercos like this. After a few tries, opening the knife became far more natural for me, so definitely not a steep learning curve.
I have to admit, out of all the knives I've seen, played with, tested, and owned, the Boker Plus Karambit is by far the most obnoxious in pocket. There's simply no competition. I dare say it would raise a lot of eyebrows should you chose to walk around with it. However, that's with the tip-up configuration, which is the way I usually carry my knives. If you wanted to wear it subtly, you could switch the pocket clip location to a tip-down and it would almost disappear in your pocket.
Speaking of pocket clips, the Boker Karambit allows all 4 positions: lefties take note.
After messing around with optimal deployment methods, I settled on the one below. Not the fastest, but definitely the one I found myself having the most success with. In a tactical knife I believe consistency is the most important aspect, and this method of deployment gives me fair consistency.
One of the meanest looking blades in the business: I daresay vicious is its modus operandi.
Pinkie finger in the ring and blade resting across the spine is ridiculously ergonomic. Hell, the blade almost begs to bite into something. Never really gave karambits much thought, but after playing and practicing with this one for about a month or so, I think I'm going to get more into them.
Choking up is weird, and whilst no hotspots made themselves known, I don't see this as a viable utility knife – not at all. The grinds are too aggressive and the cutting angle does not lend itself to everyday tasks. No surprises here.
Reverse is equally as comfortable as the first/standard Karambit grip. Your grip locks in like a vise and gives your hand a formidable amount of slashing power. Nice.
Ultimately this knife is stuck in a pretty awkward situation. This is a thoroughbred tactical knife, much like the CRKT Hissatsu, and yet unlike the CRKT Hissatsu, I'm not experienced enough with this style of blade to really give it what I think is a fair assessment. From my limited use of karambits, I would have to say that it really changed my perspective on them. I originally thought I'd prefer other tactical knives over karambits in almost every instance, but after a few minutes of simulated strikes and slashes, my use of this knife suddenly clicked, and my actions felt completely natural.
Even with my inexperience with the tool, the Boker Karambit swiftly became an extension of my hand, making me finally understand why karambits, besides their undeniably good looks, have stood the test of time.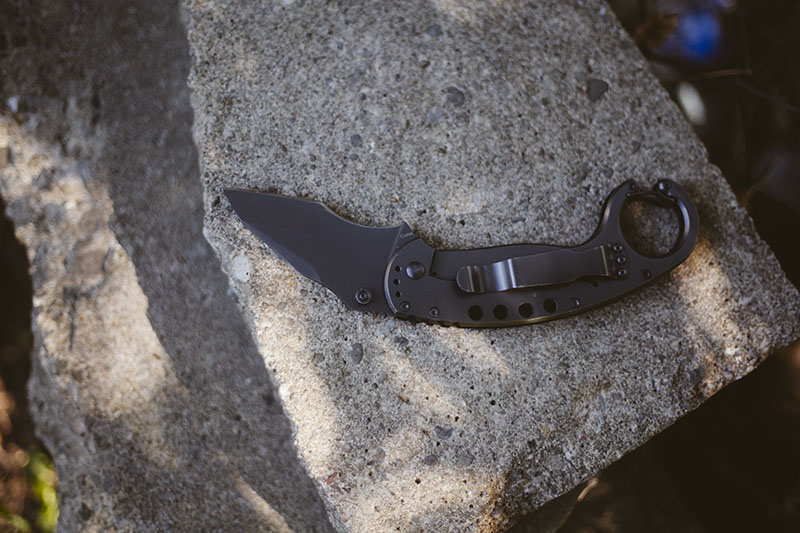 In a high-stress situation, with this knife already deployed and in-hand, I would wager that even a person with absolutely no tactical or MBC experience would become an extremely dangerous enemy to have, and that's due in no small part to how organic karambits like this one feel when slashing.
I originally picked up the Boker Plus Karambit simply because I was curious about karambits in general and their applications. If you're curious like I was, I have to admit it's an excellent introduction to karambits: extremely sturdy, and crazy good-looking; it'll give you the feel for karambits for the price of a few outings to Starbucks.
Do not buy this knife as a badass/tactical-looking everyday carry: you're going to regret it. It's not a utility blade either, keep that in mind. But as a durable, inexpensive self-defence knife: go for it.
For the record, this badass slab of steel now sits neatly on my bedside table at night.