Wrong-handed folks have long being stigmatized in the knife industry. There are a number of pocket knives designed with left-handed support, don't get me wrong, but most of these seem to me to be more of an afterthought, rather than being true ambidextrous folding EDCs. After years of fielding questions about "the best left-hand friendly knives" I am finally getting around to writing the article I've always known I should have – to shed light on the matter, and be able to point to in the future for anyone else curious about my thoughts on the best left-handed knives.
Now, personally, I am a correct-handed user, and thus have been lucky enough to never need to spare much thought to left-handed considerations when buying knives. Of course, I do always mention in my reviews when I feel a knife would be fit for a lefty, as yes, knives that are excellent for left handed users are few and far between. Those of you who are not so fortunate to be a part of the right-handed club have to constantly ponder the viability of a specific lock, deployment, or clip position, which I'm sure is frustrating. And while this list of left handed knives is nowhere near exhaustive, I'm hoping it's a starting point to finding something you lefties are as happy with using as your right-hand user counterparts.
Cold Steel Recon 1 Tanto Blade Folding Knife – Amazon / Blade HQ
To identify knives that meet the left handed criteria, I am looking at neutral platforms that are inherently designed to be ambidextrous, not merely knives that have double sided thumb studs or other quality of life features. In short, a knife has to be able to deploy and unlock naturally with one's left hand as well as being able to be clipped to your left pocket, all whilst allowing easy/natural deployment.
Before I start, if you're a left-hand user yourself, please keep in mind your current favourites while reading through this list. If your favourite pocket knife is not on my list – I would urge you to please leave a comment down below stating what your EDC is and why it's great for left handed users. Why? Honestly, things are hard enough for left-handed knife aficionados, it's about time recommendations got a little easier to find, and what better place than an article like this, dedicated exclusively to left-handed knives. Your comment is much more likely to be read here by other lefties than it is on a review or anywhere else on this site – so it's more likely to help another left handed user out. And now for my 2c…
My Opinion: Best Left-Handed Knives for Lefty EDC-ers
Some of you might be surprised that I didn't pick the Spyderco Para-Military 2 for the #1 spot on this list. After all, it's always topped my lists for the best EDC knives on the market. The reality is, however, whilst the Paramilitary 2 is indeed viable for wrong handed folks, it's not as neutral as the 940 as a consequence of the PM2's compression lock. The actuation is different from left hand to right hand, and thus the Benchmade 940 Osborne is my top recommendation for a lefty EDC. It is a 100% neutral platform that works identically regardless of hand bias and is ultimately one of the best folding knives ever created. As the years go on, I find myself picking it over the Paramilitary 2 more and more- the only thing the Paramilitary does better is (in my opinion) cutting performance. Even then, the Benchmade ain't no slouch!
Availability: Amazon • Blade HQ • eBay
Read our review of the Benchmade 940 Osborne
---
Impressively (like a lot of Cold Steel knives) the Recon 1 comes with a special clip designed to mirror the right side carry. On this particular knife, as with pretty near well all Cold Steels, this isn't an afterthought, but a conscious decision to support all handed people and at an extremely reasonable price-point. I still prefer the Benchmade for EDC-ing but the lock strength and toughness of the Recon 1 is legendary. For rougher tasks – regardless of left or right hand carry, it's bang for buck one of the best knives ever made.
Availability: Amazon • Blade HQ • eBay
Read our review of the Cold Steel Recon 1
---
In my opinion, while the Paramilitary 2 will never be my favourite Spyderco, it is still the ultimate introduction to Spyderco and can hold its head up high as a pretty perfect figurehead. I will always love my Military more, but every time I say this I have to follow up with the acknowledgement that the Para-military is objectively a better knife when looking at raw performance relative to size. The compression lock operates nicely when using it in the "wrong" hand, but due to the liner design as opposed to the TRI-AD lock or the AXIS lock, it is still biased somewhat. Not because it is harder (or easier), but because it is different. The Spyderhole, though, is (in my opinion) the best deployment system ever created and obviously doesn't care what finger or thumb you happen to use. And this I do have personal experience with, since my thumb is pretty busted and I often use my middle finger to deploy with a Spydie hole.
Availability: Amazon • Blade HQ • eBay
Read our review of the Spyderco Paramilitary 2
---
The Griptilian is a ubiquitous knife in this industry. Long held up as the standard Benchmade, I think it's a pretty great platform despite being inferior to the Osborne as an EDC. That said, it is much cheaper, but then again has inferior materials used. I frequently flip-flop on which Benchmade should reign supreme and after EDC-ing the Osborne for the past year, I have to give the crown to it. Your mileage may vary.
Availability: Amazon • Blade HQ • eBay
Read our review of the Benchmade Griptilian
---
No surprise to many of you, I absolutely love this knife. Its size, feel, and performance easily puts it into the top 3 with only the questionable aesthetics nudging it down. I personally don't find the styling off putting, but I know a lot of you do. If you want a folding bushcraft knife with a best-in-class lock, however, this is it.
Availability: Amazon • Blade HQ • eBay
Read our review of the Cold Steel Finn Wolf
Benchmade 940 Osborne Lightweight Pocket EDC Knife – Amazon / Blade HQ
I recently bought my own Matriarch 2 with the Emerson Wave feature and have been smitten ever since. This is most likely the blade with the most bad intent. I also own the CRKT Hisshou, but the Spydie really is one of a kind with its over-the-top aggressive styling. The Wave feature works well and the nature of the Spyderhole + 4 way clip means it doesn't discriminate.
Availability: Amazon • Blade HQ • eBay
---
No clip + one hand deployment or lock means this folder is equally lacklustre in its biases. For a slip joint gents knife, I think the Case Sway Back Gent dominates the competition. I have no idea why this knife is not more popular as its construction is fantastic, it disappears in your pocket, and is so damn pretty that you will instantly become more attractive by merit of carrying it. I keep trying to get the word out, but alas it seems one person cannot easily change the knife world. To this day, I never understand why the Sodbuster from Case or the Old Timer from Schrade outsell this lil' tyke by leaps and bounds. Doesn't make much sense to me. Anyone want to hazard an explanation?
Read our review of the Case Sway Back Gent
Its a Sebbie that's designed for left-handed users. Does anything else really need to be said? If you want a solid framelock from a manufacturer with a long history in the industry – you have no other choice. I would personally go for the Insigno version (whenever it's in stock!) as that blade is absolutely beautiful.
---
The Military Left Hand Edition is a Spyderco Military that's literally built with everything the wrong way around. Never knew this existed, but from what I can see, if you want the Military and happen to be left handed – this is literally designed for you. I know my love on the Spydie Military frequently gets flack from all of you due to the sub-par blade-to-handle ratio and lack of modernization (when are we gonna get a Military 2, Sal?), but honestly, I love this knife regardless of its shortcomings. This is a blade that will put a smile on your face, and whilst the Para-Mil 2 is a modern rendition with a superior lock, etc., I still think the class Military with its nested-liner lock and oversized handle has its place. My 2c.
Availability: Amazon • Blade HQ • eBay
---
Reversible wire clip (best pocket clip ever!) and the ubiquitous Spyderhole coupled with the lack of a lock (it's a strong slip joint) means that this lightweight EDC plays nice, even in the left pocket. Practically, whilst the lack of a lock may disappoint some of you, I stand by my statement that this is a great EDC knife regardless of the laws in your area. I always thought I would *need* a lock until I owned this fantastic knife.
Availability: Amazon • Blade HQ • eBay
Read our review of the Spyderco UKPK
---
I hesitated to place this knife on the list. It's a traditional lock back with no clip, and frankly, my love for it is due to my appreciation for history as well as a bias towards old school Americana, but at the end of the day – those who love with 110 (and we are many!) will understand the appeal. This is a unique folder that punches far above its (considerable) weight, and whilst the fit and finish, grind, lock – hell, everything – has been superseded by modern options, I reckon this knife will be in production 20 years from now. Can we say the same about the latest flipper from the East? I don't think so.
Availability: Amazon • Blade HQ • eBay
Read our review of the Buck 110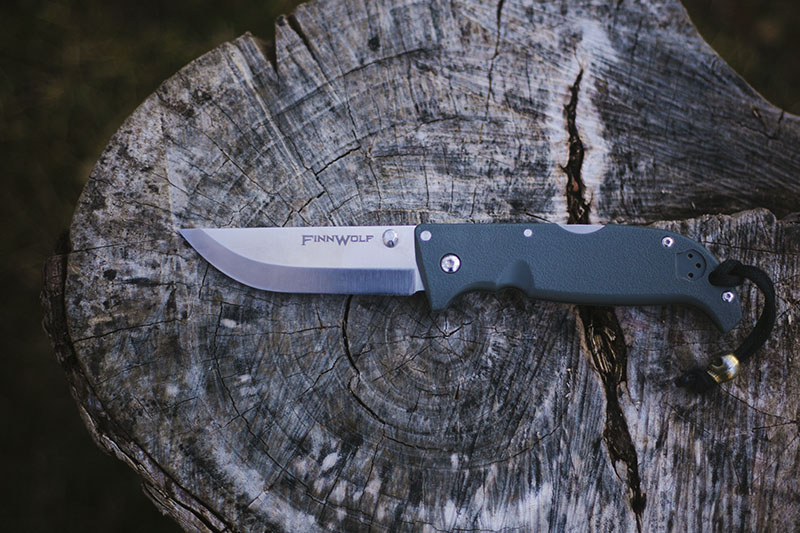 Cold Steel Finn Wolf Scandi EDC Pocket Knife – Amazon / Blade HQ
Your Turn: Top Left Hand Pocket Knife Recommendations
Now it's your turn to list what you think the best knives for left-handed knife users happen to be. If that's one or two I've already listed, let me know why they're better than the others on this list in your opinion. If there's something that should've made it to this list, again, please leave a comment down below so that other left-handed users can discover these knife recommendations.
Have any terrible experiences with knives that are recommended for lefties, but are in-practice honestly not too great? Also good to know – don't forget to tell us about your negative experiences as well down below.