The goTenna is thin, sleek, and lightweight device designed to circumvent our dependence on the grid for communication in times when there is no signal. Spawning out of Brooklyn, New York, this is the an extremely cool sliver of tech that benefits not just the survivalists and outdoor enthusiasts amongst us, but really, society at large, by offering us all an option where once there was none.
This potentially revolutionary device spawned out of the need that became obvious during the crisis of Hurricane Katrina and the difficulty survivors had in reaching out and checking in on loved ones. A lot of the wider goals of goTenna depends on mass adoption (citizen-driven crisis responses tend not to have unified communication protocols), but regardless of its wider social implications, it is a very cool tool that actually works out of the box, and offers smaller groups an excellent, working option for private communication without any extra charges and with only a cell phone necessary.
goTenna Off-Grid Communication Device for Cell Phones – Amazon / eBay
Out of the box, you get two lightweight (1.8 ounces/52 g) nylon and aluminium sticks, similar to those over-sized "wifi" sticks your local cell phone provider may provide. It's small enough that you can carry it pretty much anywhere, and as per the advertising it's designed with ruggedness in mind. The listed dimensions are 5.8 inches x 1 inch x 0.5 inch, which is pretty remarkable considering this packs in enough oomph to power communications up to 4 miles in radius (in the outdoors) for up to 24 hours of continuous use. Mighty impressive.
The goTenna hooks up to your smartphone (any modern Android or iPhone will do) using Bluetooth and has a built-in (non-replaceable) battery that is charged using micro-USB. The port is hidden away with a weatherproofed door.
In terms of aesthetics, the goTenna is nicely conceived, but beyond my initial impressions of its sturdiness, I don't have much to add. I didn't torture test the device, but I see no reason to doubt its durability – no inherent weak points cropped up beyond my initial worry over the slide out antenna (more on this later), but it's obvious that a lot of time was spent refining this product to what is now most assuredly a good-looking, well-streamlined finished product.
I mention this because I am a bit of a Kickstarter addict (yes, I am that guy who buys 3D printing pens & Bluetooth buttons months in advance of their production date), and often the end result falls short of what is promised in terms of finish and usability. This is most definitely not a beta or first iteration – If the branding said Garmin I wouldn't be surprised, as this slab of tech unabashedly delivers on all fronts with no issues or even quirks. Kudos to goTenna for that.
My only worry about the hardware side of things was when I deployed the antenna. It's a plastic stick that slides out and locks into place with a reassuring click. Initially, I was concerned that doing this a few too many times might wear out the tracks or that I might cause unintended damage by twisting it too far one way, but I am happy to say – it's solid.
When it comes to rugged survival gear, I dislike tools that are designed with a single mechanical point of failure. The goTenna is turned on by pulling the antenna out, and if the antenna breaks, the goTenna breaks. The (excellently detailed) goTenna FAQ mentions this, but the general caveat of "don't be stupid" applies (as with all tech), and I see no reason to be concerned if you're being careful. Materials are top notch and construction is weatherproof, water resistant (not waterproof – do not go swimming with it!), dust resistant, and for all intents and purposes, impact resistant as well.
Not sure if it was designed as such, but the dimensions make the goTenna a perfect fit for M.O.L.L.E. webbing. Strapping the device onto my Condor E&E messenger bag was trivial and secure with the goTenna's versatile strap.
Condor Tactical E&E Escape and Evasion MOLLE Bag – Amazon
I feel all futuristic already! Have gotta say, it's rare that I get all excited over testing gear these days, but this was a lot of fun.
Now, in terms of getting the goTennas to work with your phone, it's safe to say that it's pretty damn easy to do, and you should have no problems with the process if you're already using a smartphone.
The first step is to connect the two goTennas to two cellphones. Installation is absolutely trivial,  just download app, install, launch, and then follow the simple instructions. Everything connected super smoothly for me with absolutely no hiccups whatsoever. It was an absolute pleasure to play around with a gadget that's so unique without having to go through a convoluted installation procedure or troubleshoot every step through an inch thick manual. Hats off to you, goTenna team, now if only all tech was like this…
I wanted to test things out locally before I took the time to do this kind of thing in the wilderness. I started off testing by putting one of the phones in my mailbox and hung the paired up goTenna right underneath, then went for a walk.
To connect to another goTenna user, you need either their phone number (not a fan of this – would prefer it not be an option so that only those who you give your code to can connect to you), or a randomly generated string of numbers (a GID) that can be changed whenever you want. I much prefer the GID, as I like the ability to reset my presence at will without needing to block people (an option that goTenna does offer within the app, so at the very least there's that).
In practice, it works damn well. I went to add a contact, inputted the GID and honestly that's it. Once that's done, I could start texting away with the second phone immediately. No hangups or delays. No waiting. Fantastic.
The inherent limitations that lie with deploying your own hardware means range and other points of failure will always be a worry. When it comes to sending a message (especially in a crisis) I really want to know if the recipient received this and thankfully goTenna does give you a visual cue (a green check mark) when the other device has received the message successfully. If the message hasn't been received, you'll see a red "!" to notify you. Very helpful, and in a lot of ways, it reminds me of WhatsApp, though it won't tell you whether the message has been read, just whether it's been received.
Just sending myself text messages back and forth between the two phones was seamless and very easy. When you think that all you need are two smartphones that have Bluetooth for this to work, it's pretty mind blowing. Cell towers can crash and burn, the internet can go on strike, and yet even still, with this device, Elise would be able to remind me that I haven't taken out the trash – alas, no more excuses.
The biggest concern people tend to have with accessories like this is the inherent flaw of needing to carry two devices on you at all times. In my opinion, however, the goTenna is pretty unobtrusive, and since you only need your phone to be within 20 feet of the device, it's not too bad to be carrying both devices (your phone and your goTenna) on you at all times. It'd be different if you had to have them side by side, but considering you can just strap it to a pack or someplace else that's convenient and forget about it – no fuss from me here.
I actually forgot that the goTenna was attached to my pack, and as I write this review it's still strapped onto my Condor E&E. The goTenna's lightness and lack of presence (in a good way) means you will probably see no need to remove the goTenna.
I would never want to go hiking, put a device like this on a makeshift bench, and then forget when it comes time to make my way home. The fact that the goTenna is so lightweight and has that convenient strap makes it so that this is a really unlikely story. Chances are it'll stay strapped onto your backpack until the next trip, even. And with a handy power bank in your bag, you technically don't even have to bother removing the goTenna after every use to charge it.
Besides the standard one on one messaging, you can also send your location, request another goTenna user's location, and talk in a public channel to all other goTenna devices in the area. I bring this up because for preppers and survivalists, this provides a very interesting opportunity – you can easily create a system where a team that's gotten separated bugging out can regroup and easily come to find each other again without needing anything besides your goTennas and your cellphones. Since you don't automatically know another goTenna user's location, and you have to request in order to receive it, it also benefits preppers and survivalists in that it never gives away information you don't want given out. Feel the cell phone might be compromised and so don't want to disclose your current location? You don't have to meet the request for a GPS location. You can decline and only share your position when you want to.
It should be noted that the public channel that goTenna calls "Shout" is obviously not private; one on one chat is fully encrypted using a 384-bit elliptic curve cypher, but it's good to remember that any goTenna user can drop into the public channel (not the private one between you and your team) to eavesdrop. This is great to create a pseudo mesh network for situations like public dissent (Hong Kong protests come to mind) or for natural disasters and emergency situations where you're trying to reach out to anyone and everyone who might be around for help, but for discussing private plans? Do yourself a favour and stick to one on one chats.
goTenna assures us that they operate a secure service, and I believe them; not because I blindly trust them, but rather because the technology makes this inherently true. They don't provide a service – you do. You are your own operator (end to end), no central server or back doors, and that's a fantastic selling point me and like-minded privacy-oriented people.
Of course, this is not to say there's any reason to doubt the goTenna team; Daniela Perdomo and her team have been very upfront with how the goTenna is made and what its security is like, and I see no reason to doubt her. That being said, for those a little more on the cautious side when it comes to privacy concerns and the potential of spying, for peace of mind, it is good to note that the technology and the way the goTenna works means your data is inherently safe so long as you stick to conversing within your team privately and not on the public channel.
Sending location requests is very cool and actually something I would like to see implemented on all messaging service. It's very slick, and I was floored by how perfect the deployment was.
Street names blurred out for obvious reasons, but I just wanted to show the GPS location feature. In practice – it's sublime. In my opinion, WhatsApp should take note and introduce such a nifty feature pronto! So convenient in case your friends get lost and can't seem to find the restaurant you've ventured into. I love it and I see myself using it often. Instead of giving long, tedious directions or mixing up while reciting them, I can just send you my location using one click and bam, you get a map to follow. It's pretty perfect.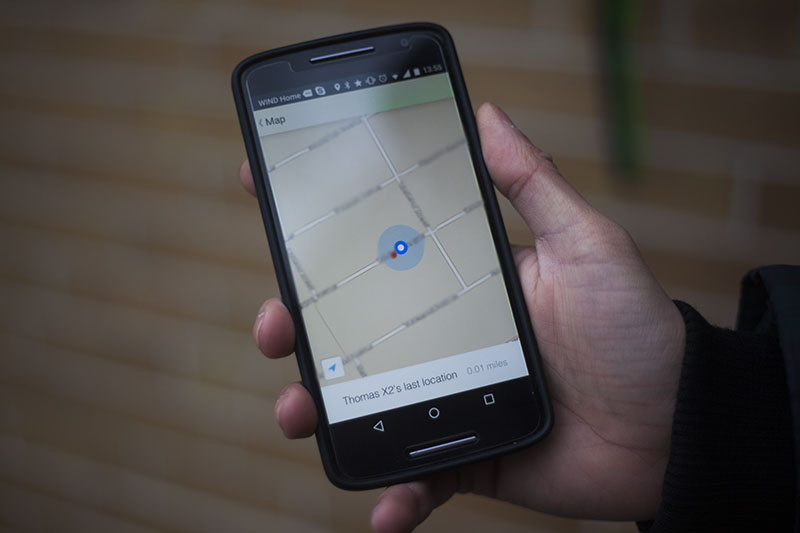 As a side note, goTenna does offer full map downloads (they are sizable) of pretty much everywhere, and thus you are not dependent on the grid even for things like downloading maps. A nice afterthought, and again a perfect feature for preppers and survivalists who may be interested.
Not much to complain about overall. I'm overwhelmingly happy with this product; one of the best small startup products I've come across yet.
In a lot of ways, the goTenna is still too far ahead of its time. My biggest problem with the goTenna has absolutely nothing to do with any failures to deliver, but rather its lack of ubiquity.
Think about it: How awesome would it be if everyone had one of these things? The platform is solid and because it's app based, it can be updated to provide new features in the future! Maybe we will have voice eventually, too! Video? An intranet? Who knows.
Imagine going hiking by yourself and twisting your ankle, turning to your phone and realizing that there's no signal, but then connecting your goTenna and finding that there are a number of other goTenna users in your particular location who you can easily reach out to to ask for help. I'm not saying it was a good idea to put yourself in a situation where you might need help and couldn't get it to begin with, but this device opens up more possibilities to reach out if/when you need to, and this possibility to reach out increases the more this device is adopted. The more ubiquitous the goTenna is, the more chance you have to use it as that potentially life-saving device. The world would be a safer place.
Worried about phone networks, governments, or any other entity spying on your conversations and storing your personal data? Concerned about security and privacy and how that would be possible and easily accessible and implementable for the public in the future? The goTenna offers a completely viable technological solution to these social issues as well.
Viva la revolución, I'm a convert.
Sadly, I do doubt this tool will ever reach ubiquity. I think its adopters will primarily be hikers, people in disaster-prone environments, survivalists, preppers, and outdoorsmen. It's a damn shame, as I feel citizen owned and deployed communication is a very powerful tool that would be amazing to have as a mainstream option, not merely a device to serve limited uses in hard times of no signal. In terms of privacy and freedom, this is quite honestly a great solution.
But at least as it stands, without ubiquity, it's still such a useful tool anyway.
Like most kids, when I was young I had a pair of walkie-talkies I used to play with for hours upon hours with friends; Thomas the Tank Engine ones in my case. I do believe that most kids grow up fascinated with the idea of walkie-talkies: the ability to talk to another person or a group of people without needing to be connected to something. While cellphones have gotten our connection to each other to be wireless, devices like the goTenna are taking this a step up by helping us become able to converse without needing to be connected to the grid at all. A solar battery charger, an electricity power bank, your goTenna and your smartphone and you're good to go in terms of communication for literally indefinite periods of time. No more need to rely on any phone networks to stay online – you can be fully off-grid in terms of communications. And that's freeing.
The goTenna is a solution to a problem we scarcely think about until its too late (unless we're preppers, of course!). What happens if another Katrina hits? What if there's a huge power outage and the grid goes down? How will we be able to reach our family and friends, or even just simply reach out for help, in case of an emergency; especially if we've only got our cellphones on us?
The goTenna is the perfect solution.
The potential is literally limitless, and the more I think about it the more I feel I would lose something without this in my arsenal. It's a device you end up feeling you need in your life, even when you originally viewed the goTenna as a curiosity.