The Condor Bushlore is one of the most popular fixed blade survival/bushcraft knives on the market, and after owning it for about 6 months or so, I have to admit, I really do understand why. Before I get into the nitty gritty of the specifics of this knife, I preemptively want to state that the Condor Bushlore is actually one of the best bang-for-buck bona fide bushcraft blades you could get for under 50-bucks.
I wanted to address the pricing of the Bushlore before I got fully into the review particularly because I feel this low price point is such an integral reference point, especially once all the aspects of the knife are considered. It's astonishing how much you get from this blade for a mere $40! Now that this acknowledgement is out of the way, on with the review!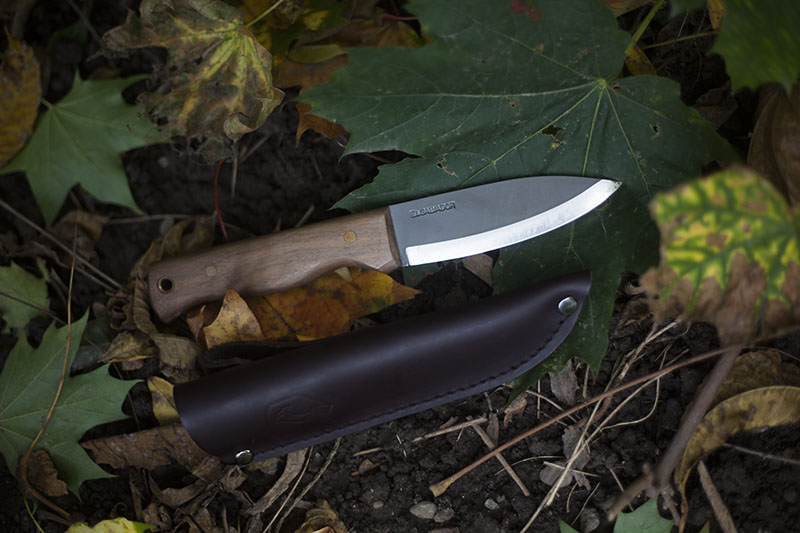 Condor Bushlore Walnut Handle Bushcraft Knife – Amazon / Blade HQ
Bushcraft-centric blades, for me, are always interesting to review. More overbuilt than a slicer, but without the reach of a chopper like the Ontario Marine Raider Bowie or a parang like the Gerber Bear Grylls Parang, the Condor Bushlore falls in an odd quagmire. It's able to be utilized for pretty much any outdoor task, though of course its performance varies from task to task.
The caveat may seem obvious, but for the sake of redundancy – no it won't chop like a chopper or slice like a slicer, but it will be okay at everything, and that's really the value and purpose of a tool like this. The Condor Bushlore is a perfectly functional woodsman/explorer/bushcrafter blade with around 4.5 inches (11.43 cm) of cutting power in a 9.5 inch (24.13 cm) package, and frankly, that's good enough for most outdoor use!
I will mention that whilst the Condor Bushlore is relatively neutral in terms of balance, you can choke back onto the butt of the knife if you want, as you can see in the picture below. This will deliver pretty decent (for its size!) chopping ability. I recommend using a lanyard in the brass ring reinforced lanyard hole provided so that you can better secure your grip. You don't want this knife to fly out of your hand for reasons that are pretty obvious (it's sharp; really sharp).
The Condor Bushlore is perfectly usable for light (and maybe even medium) chopping. Just be careful – make sure you have a firm grip. The scandi grind in 1075 carbon steel is very tough and I don't foresee any issues with edge damage. Worst case scenario is some light rolling, but in my experience, this has yet to happen.
In terms of cutting and whittling, the Condor Bushlore's performance is wedged perfectly between the Mora Classic and L.T. Wright Genesis. At 0.125 inches (3 mm) thick, it slices keenly, and using it for carving was a pleasure. I would say it's one of the better bushcraft blades I've handled thus far, and the extra weight (it comes in at 0.77 pounds/12 ounces) made controlled cuts easier compared to the Mora Classic, which can sometimes feel a little bit too light in the hand.
Obviously, these are just my own impressions and your mileage may vary. Everyone has different taste when it comes to bushcraft blades, but a 1/8th inch thick carbon steel scandi is my personal sweet spot.
Out of the box, the Condor Bushlore came very sharp (not quite Spyderco sharp but sharp enough). The 1075 steel is very easy to touch up, and after 30 seconds of stropping, it cleanly shaved hair. Very impressive – especially at this price point. The edge geometry is surprisingly acute and as you can see it features a very gentle curvature which aids in slicing. Extra belly is always appreciated, especially when it's done as nicely as in this Condor.
Joe Flowers, the designer of the Condor Bushlore, did a great job and I think the amount of performance relative to its size tells you how much serious thought went into designing the knife. Definitely designed by a real outdoorsman and not just a desk jockey trying to capitalize on the bushcraft trend!
Notching and other "standard" bushcraft tasks were effortless. I will say that the handle is very nicely contoured with no evident hot spots, but even if it doesn't match your hand perfectly, I wouldn't write this one off. Simply sand the scales to a more pleasing shape, and you should be good to go in no time. That's one of the major advantages of inexpensive wood-handled knives – you can mod them without incurring a significant loss of value should you one day want to resell your knife.
The Condor Bushlore is manufactured in El Salvador. I judge a product based on its own merits as opposed to judging it based on its place of origin, so the fact that it's manufactured in El Salvador matters not to me. Actually, I think El Salvadorians can feel a great deal of pride with what Condor has managed to accomplish with the Bushlore, especially for the price.
The tip of the knife is quite perfect, and I find myself preferring it to the less acute L.T. Wright Genesis. It retains the perfect amount of toughness, while still being able to score and drill into wood effortlessly – an important consideration when choosing a bushcraft blade, in my opinion.
The spine of the Condor Bushlore is a dead flat 90 degree, so using it with a firesteel is trivial. Mucho sparks were spat out, and lighting a tinder bundle is easy as pie with the Bushlore.
I will mention that the flat of the blade appears to have some kind of coating. Advertising does not mention this, and only states that the knife is bead blasted, so I could be wrong. With that said, aesthetically it's not my thing, but it doesn't affect performance in any way. If it is coated, then it aids in corrosion resistance, so good job. I would imagine some light sanding would remove the coating and significantly "prettify" the knife. In the future, I can see myself adding a nice satin finish to the flats.
Batoning ability is excellent taking into account stock thickness and size. Obviously inferior to the L.T. Wright Genesis, but I think its superior slicing ability makes up for that. The tip received zero damage and the pinned (and epoxied) hardwood scales did not generate any looseness or play, so as far as I am concerned, it passed with flying colours.
I don't think you could damage this knife even if you wanted to, to be honest.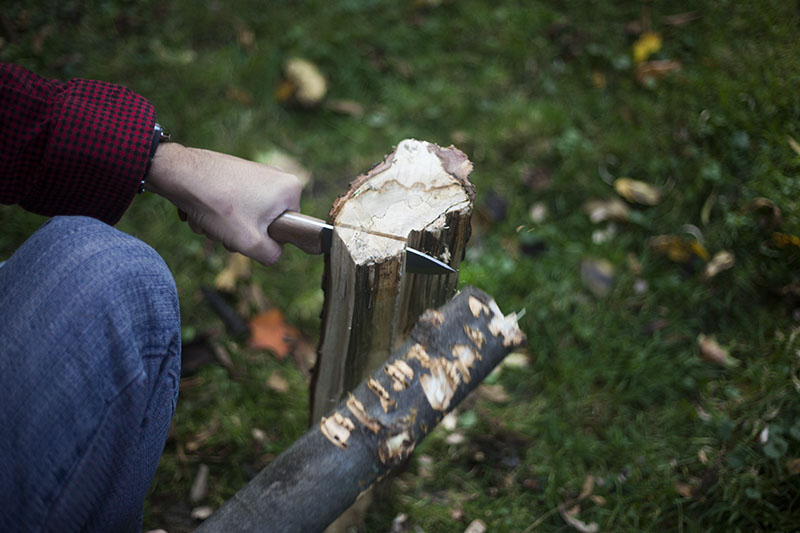 I didn't notice any discomfort or unexpected vibrations. I wouldn't want to spend the whole day batoning with it without gloves on, but it's definitely ergonomic enough. Condor did a bang up job contouring the hardwood scales.
The sheath is fantastic and I would be happy to have it with a $300 custom knife. Very thick welted leather with two reinforced rivets and solid stitching. Much better than the standard plastic fare a Mora provides.
The belt loop is very securely stitched onto the leather sheath. Its size will fit all belts, including the 2 inch "tactical" ones. The Bushlore stayed in the sheath securely, even when upside down. I wouldn't parachute with this knife, but it was never intended for tactical applications, so for its given purpose I think it's a home run.
I wouldn't change anything except maybe add a drainage hole. But then again, the fit is so nice that I don't see water being able to get in anyway, so a drainage hole might prove redundant!
I didn't bother demonstrating all grip styles, as I think it's fairly evident with this type of knife what its intended applications are. Yes, you can choke up slightly at the guard (there is a slight mini choil), but just by looking at the sculpted handles it's clearly biased towards more traditional grip and that's fine by me!
Reviewing a knife that offers as much as the Condor Bushlore at the 40 buck price point is always a little tricky for me because I often find myself able to gloss over a lot of little faults due to the staggeringly low price.
You really do have to take price into consideration when discussing the fit and finish of knives, and while no, the fit and finish isn't 100% perfect (there are a few grind marks on the spine and maybe the scales are 99.9% flush instead of 100%), to me that's all very easily forgiven. Any defect is purely aesthetic in nature and can be worked out with a few sheets of sandpaper and about half an hour of your time.
For the money, this knife is a no-brainer. Its excellent performance and best-in-its-class sheath set it apart from pretty much any other knife in its price point. I would pick it over the Mora Classic for general bushcrafting, and realistically, I would be quite happy to have this as my only fixed blade. Judging by the sheer quantity of the knives I own, I think that statement speaks volumes!