A couple years ago, we shared 10 self-sufficiency skills with you, that over time, would save you a bundle if you used them regularly. Well we're back with some more of these, as of course there are plenty of great self-sufficiency skills that you can learn to help reduce your monthly outgoings. Chances are, even if you've only learned 3-4 items on this list, if you put them to good use, you'll be saving yourself a considerable amount of cash in any given year. Learn all of them and you're well on your way to slashing your expenses.
Self-Sufficiency Skills That Can Save You a Lot Over Time
1. Basic First Aid
You could end up saving yourself, your family, and your friends a lot more than the cost of a hospital visit having taught yourself how to do basic first aid: you may even end up saving them a lot of pain and preventing infections from taking place in cases where you happen to be in remote locations that are difficult for emergency services to get to quickly. Be sure to keep out of legal trouble by only helping those that really want your help and only helping in cases where you're confident you can succeed, but with family and friends who are confident in your abilities, you really can save a bundle with first aid skills: whether it's from knowing how to pop back in a dislocated shoulder, or something as simple as knowing which medication to give and in which doses, or whether you should be staying at home from the hospital because stitches aren't needed and instead using a bandage or super glue to seal the cut.
2. Hunting
It's clear why this self-sufficiency skill is a huge money saver: if you can hunt for your food, chances are you won't need to buy any. Of course, you can always buy whatever you'd like from a grocery store, but if you're a huge fan of eating meat, and don't really care for extra carbs besides potatoes, you could do quite well getting your grocery store bill down to zero just hunting and growing food in your own garden.
3. Fishing
Same with hunting. As a matter of fact, if you're happy eating fish as your main protein, you could replace hunting with teaching yourself to fish, and alongside gardening, be fine without spending any money on food altogether.
4. Soap Making
Hygiene is important. Very important. And while soaps aren't that difficult to make, they are the kind of thing that not many people like to delve into and do themselves these days.
That being said, handmade soaps sell for a considerable amount of money these days, so start up an Etsy store for your craft and you could probably reel in a good profit from this self-sufficiency skill. Even if you don't want to sell your soaps online, chances are your family and friends would be happy to trade you babysitting hours or other goods & services for some of your handmade soap! Makes for great gifts and presents, too, meaning you can cut down Christmas and birthday present gifts year-round as well!
5. Knitting
Of course if you've got a knack for knitting, you can save a large family a bundle making quality winter-warm sweaters, scarves, mitts, hats, and blankets for everyone that will last years to come.
Cheap way to create warm weather clothing for the whole family? That's a very pretty penny saved, as those are some of the most expensive clothes you'd have to buy in a store.
6. Natural Remedy Gardener
I mentioned gardening in the last article, but only really with relation to gardening your own food. Gardening plants that work as natural remedies can also save you a killing, and some plants with natural remedies are actually so easy to keep as well (I'm looking at you, aloe!).
While you likely will still buy medicine for more serious colds and illnesses, growing ginger, mint, and other medicinal herbs for things like stomach aches and the starts of the common cold will really help you and your family come cold & flu season.
7. Bread Making
Save yourself the cost of bread by making it yourself, and have the added reward of always eating the best tasting bread around on top of it! Learning how to make your own bread can save you a serious killing over time – especially if you share the wealth by trading that freshly baked bread with friends and family for items they themselves make (like soaps or some meat from a hunt).
8. Knife Sharpening
Sharp knives are important. So very important that chances are you're going to want to pay those exorbitant fees for a knife sharpener to sharpen your knives at least every few years. But the cost of getting your knives sharpened for you once is pretty steep when you consider how easy it is for you to sharpen yourself: and the fact that if you do sharpen them yourself, they're likely to stay sharp a heck of a lot longer.
There are many ways to sharpen even stainless steel knives (some of the hardest knives to sharpen yourself), so that even if you aren't a fan of sharpening one way, chances are there's at least one method of sharpening that you'll be happy to learn to do yourself.
9. Aquaponics
Combine fishing and farming and what do you get? Aquaponics. Grow your own protein-filled food source in your backyard – hell even in some cases indoors, so that you'll have plenty of fish to eat even when you haven't got a place to fish around you.
Just like fishing, aquaponics can save you a killing on grocery bills over the years. If you're happy eating fish as your only protein – again this can save you so much in the long run!
10. Butchering & Cleaning Meat
I list this as separate from fishing and hunting because you can still both fish and hunt without knowing how to properly clean that meat and prepare it to be cooked and eaten. Teaching yourself how to butcher and clean meat is an important skill if you're planning on using hunting and fishing to keep your monthly food bills down. Otherwise, you'll have to pay someone else to do this for you, which won't be as expensive as getting all your meat from a grocery store, but it will take a chunk out of your savings for sure.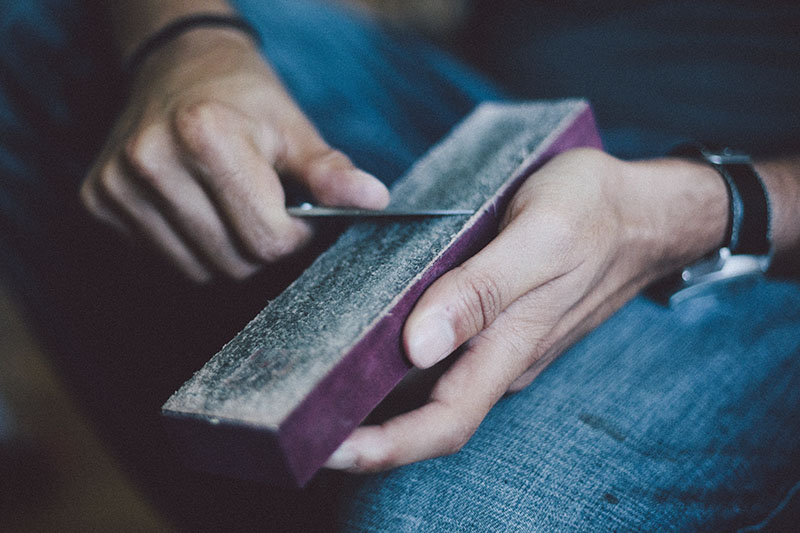 More Self-Sufficiency Skills That Save?
What other self-sufficiency skills can you think of that would do wonders for your bank account over time? Know how to do any or all of the skills on this list? Let me know in the comments!