We've thought about doing a bug out bag guide so many times before it'd be impossible to count, but somehow in 4 years, still haven't actually published one.
The why comes down to the fact that, unlike comprehensive lists – like of all the survival gear you might or might not want to have, or of all the first aid supplies you might entertain stashing in your at-home stockpile, bug out bags are a delicate balance and you really can have too much. It's actually probably easier to have too much than too little, considering your goal with creating a B.O.B. is to be as prepared as possible, and thus the practicality of not having a lightweight enough pack may not set in until it's essentially too late, and you end up in an emergency situation where you need to lug a heavy pack around as planned.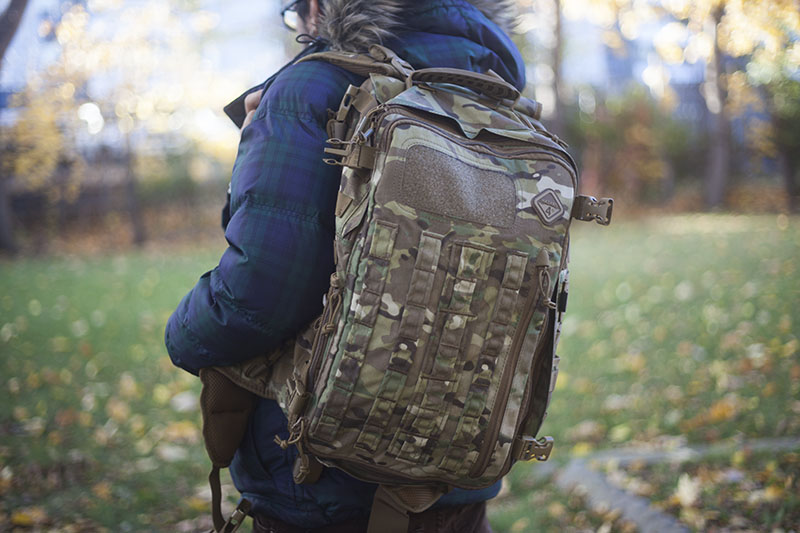 Hazard 4 Officer Tactical Molle Backpack – Amazon / eBay
So I'm, oddly enough, going to ask you guys first what you have in your bug out bag before we even publish a bug out bag article of our own. Oddly because, well we're a survival blog that doesn't have a fleshed out article on bug out bags yet, 4 years in – yes, super weird, I know.
I'm going to be making an article compiling your responses in one way or another, because I loved the resulting compilation posts I made recently, putting your discussion topic responses together into something that's a lot faster to skim through than the comments.
So far only three exist: 1. A compilation of what knives you guys currently carry, 2. A list of your prepper gear recommendations, 3. A list of high-value knives you guys recommend. Though they're not at all the easiest posts to create (I have to figure out the best way to format the post, read through all the comments, make sure I didn't leave any amazing information you guys left me out, then live with the guilt of potentially having left out something really fascinating in the final resulting post!), I do love re-reading these posts and I think they're some of the most fascinating articles on this blog. I've always thought it was interesting to read through overviews of what other people are thinking, doing, and (let's be honest in this case) carrying and using. It gives me great ideas for what I should be changing about my own set up to optimize, and the diversity makes me feel like my own little bubble of bias is cool, but there are obviously plenty of other ways to fry the same fish. Also, as is obviously the case, two heads are better than one, and this is like having 20-50 heads on the job. Our collective community's opinions make for some amazing advice – the likes of which I could never have come up with on my own.
Enough of a pre-amble, though! You get the picture. I want your bug out bag item lists, tips, and advice because I'd love to put together in some way or another a compilation of your comments – and benefit from learning from what you have to say myself.
Bug Out Bag Chat
Where do you live (country/state?); what kind of environment do you have to prep for?
What specific items are in your bug out bag (copy and paste a list if you have one).
Which items do you think are most important to have in a bug out bag?
Do you find your bug out bag to be well optimized for weight?
Is there anything you think should never be in a but out bag (because of weight, because it can be replaced with other, better items, etc.). Why?
And of course, anything else you can think of!
Let's take this conversation to the comments if you're willing to share!