There's something very worrying about the current state of financial affairs, both within America and internationally (such as up here in Canada).
I'm talking primarily about the economic bubble we seem to be in, the attitude that individuals have toward money, and the fact that this way of spending without saving has got to be bad news for us – if not soon, then at least within our lifetimes.
Don't believe me? Take a look at these figures here. If you're not worried by the time you get to the bottom of the article, it's probably because you already feel secure in the amount you've gotten prepared for some kind of financial crisis.
Economic problems don't have to be rampant and widespread for us to be affected by them. If you lose your job due to cutbacks, you're out of luck – doesn't matter how the rest of the nation is doing.
Same if your company goes under, which we should all realize by now does frequently happen; it's nowhere near impossible.
So if you're one of those individuals who's just barely scraping by, living paycheque to paycheque with more debts than emergency savings and whose emergency savings don't even amount to a total of three, let alone six, months worth of of expenses – please take a moment to consider your current financial situation. If you don't already have a plan in place for change, you should start working on one now.
If you're in this kind of financial situation and yet think, "Well, I don't have enough money to start prepping at the moment – I'll start later, when I have more. I don't have enough funds to save." Unfortunately, you need a slight reality check. You're part of the group of people who needs to be prepping the most.
Because what happens if something happens to your job? "I'll get a new one," you think. "Part time. It's no problem. I know a few other places that were hiring and needed some help." But what if those positions are filled, or worse, aren't being offered any more due to economically hard times, by the time you roll around to needing them.
No, you shouldn't be taking that chance. You should be prepping now. Saving money; just in case.
In your head you might still be thinking, "Well, I have family, friends. Someone will help me out." Yes, that may be the case, but what happens if the person you were hoping to borrow from loses their job as well? What if they themselves can't afford to lend to you? Not only that, but why would you bank on borrowing money tomorrow when you can prevent yourself from needing to borrow that money today? And, honestly, you can do something now to prevent yourself from needing to borrow money in the future. No matter how little you think you have.
Very important prepper products: a water purifier, a firestarter, a water stockpile, a stockpile of long-lasting food – these things really don't cost very much. I'm not exaggerating here – you can prep off of $20-40 a month.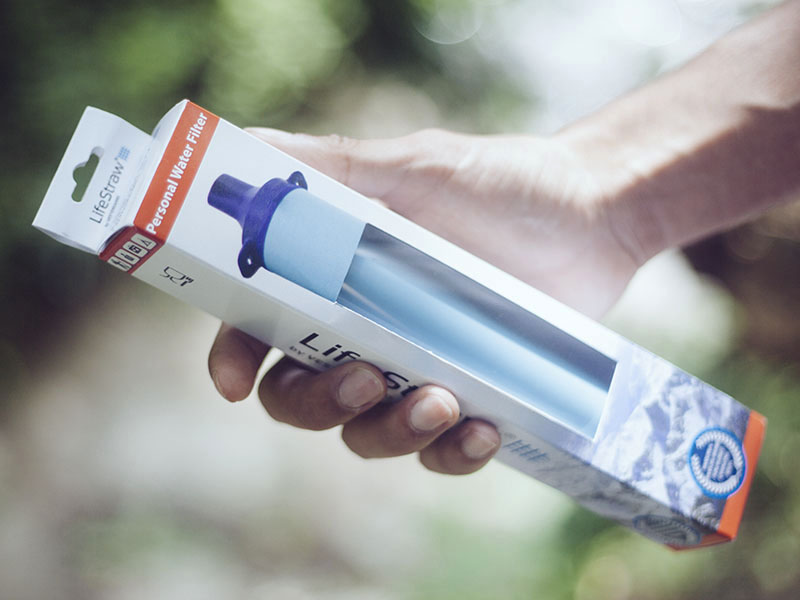 Yes, you'll get further faster if you have more money, but that doesn't mean you can't do anything meaningful with $20-40 a month.
Think you can't spare $20-40? Unless you're already unemployed, I'm calling bullshit. At minimum wage, you'll make that amount in less than 3 hours.
And if you absolutely cannot save $20-40 in an entire month: you need to drastically reduce the amount you spend – or if that's impossible, pick up a secondary job. Can't get one due to your hours? Start a side hustle baby sitting for neighbors or tutoring English or math. You can also mow the lawn for cash, or do some yard work if people are interested. If you're scoffing at the idea that you can make some extra money this way – don't knock it until you try it! You'll probably enjoy the work much more than you'd enjoy a regular job and, hell, you might eventually even make enough to quit your "real" job.
Now, once you've saved up that $20-40 or month, quite honestly, besides some very basic prepper gear (the purifier and the firestarter I mentioned, an emergency mylar blanket, some bleach, soap, other household supplies, and maybe a rocket stove), you should be spending the rest of your money on extra groceries for your emergency food stockpile.
When it comes to an emergency food stockpile, don't just buy any food. The last thing you'll want is to invest your hard earned money on a food stockpile that's smaller than it should be because you bought some expensive survival food options. Worse yet, you could have a food stockpile that expires long before you could ever hope to use it. You've got to shop smart, but that $20-40 a month can go a long way food-wise, especially if you keep at building your stockpile and don't just stop a few months in.
Instead of starting with MREs and dehydrated foods (yes, those are GREAT survival food solutions, but not when you're on a really tight budget), start by checking weekly fliers at grocery stores and trying to get at least a few of the survival foods on this list when they're dirt cheap. They will quite literally last for years without expiring and are incredibly affordable. Just keep your food in a dry, dark place, and your food stockpile is set to go.
Other than that, every single extra penny you have should go toward saving up for that emergency cash stockpile we talked about at the beginning of this article. If you have debts to pay off, pay them off – quickly – and then get started on your cash stockpile without stopping. You're really going to regret not having that cash stockpile if you lose your job, or if the car you need to get to work breaks down all of a sudden. Money being tight is tough. Really tough. Not having a job; not being able to get to work to make money from your job: that's a whole other ball game.
Really and truly, if you're a prepper on a budget, you're a lot like the rest of us. I'd say the vast majority, if not pretty much all, individuals in the prepper community are everyday people who have quite limited funds themselves. It's reasonably safe for me to say that none of us have anywhere near the amount of cash flow in that we'd love to have to make all of our prepper dreams come true (My own fully solar-powered home in the middle of a personal island? Yes please!). But we scrimp and save and make do with what we have, concentrating on the small things that'll add up over the years toward being very strong preps. We do this because we realize that our future, and not just our present, is important and is something we need to be protective of. We understand that the security of our future is always at risk due to one possibility or another – so we need to make the most of what we have now in order to have the best possible life later, especially in case we get dealt an unlucky hand.
You Can Do This
If you have serious credit card debt, don't have much income; if you're living paycheque to paycheque right now – don't just sit on the fence hoping to become a prepper one day. You're already reading articles like this – you're taking an initiative. Now all you have to do is jump on the bandwagon and join us.
Take your first small step – save a tiny bit of cash and put it toward your future. You might have to pinch your pennies, but we're all doing the same. We're doing it for our futures, and we'll have a better life later because of it.
Remember, prepping is a marathon, not a race.
You can do this. Really you can. It will take time, but your first step needs to start today.
Recommended Resources
If you're serious about wanting to start prepping while on an incredibly tight budget, take a look at the following articles for some tips:
And if you're having trouble saving any money at all, do yourself a favour and learn from this article right here how to save without spending a second of your life budgeting.
Stockpile Survival Gear Cheaply & Affordably
One of the best ways to keep costs down when you're prepping is to make sure what you're buying is the best value you can get for how much you're spending.
There's plenty of survival gear that's cheap and affordable, and yet high enough quality that it'll be valuable to you in case of an emergency. This type of gear is not hard to find if you do a little digging. Check out what we think the best bang-for-buck survival gear products are at the $5, $10, $15, $20, & $25 price points. At these prices, you won't be breaking the bank to buff up your stockpile.
You can also watch for sales, clearance items, and overall deals to affordably increase your prepper stockpile. Keep an eye on our list of knife & outdoor retailers' sale, discount, & clearance pages if you're interested in doing this – do it regularly enough and you'll never have to pay full price again.