Hey guys, Elise here! Thomas and I have been working at this blog for quite some time now, and as a result, have gained a lot more knowledge with regards to the survival industry and what we feel qualify as some excellent online survival resources.
This page was once an incoherent mishmash – a mere compilation of different survival-related websites and resources that we found online and thought might be useful for those who come across this blog to check out. It was organized similarly, but without much input from us. I decided I'd take the time to reorganize the page, add some commentary, and make it a much better overall survival resource for those who may be interested in a particular aspect of survival.
Xavier Survival
This blog isn't our only website in the survival and preparedness niche! Far from it, actually! While we did start off having only this site, within the years that we've grown our blog, and as our passion for survival and preparedness increased, so too have the number of projects we've taken on in this industry.
We sometimes label these other websites the "More Than Just Surviving Family of Sites," cause, you know, we first kicked things off in this awesome industry by growing our knowledge and posting over here. If you happen to be interested in taking a look at any of the other websites we own and operate in the survival niche, you can gloss over the descriptions of the individual websites below to see if anything strikes your fancy. Hopefully you'll find something you'd like to keep an eye on!
Xavier Survival: This website is nothing more than a comprehensive list of all the survival and preparedness sites run by us. Not much to see here, but it's a way for those interested in what we do to gloss over and get a good gist of what every website we run is like.
Survival Threads: Thomas and I began Survival Threads, a survival, preparedness, and gear forum, in order to have a way to better connect with the community at More Than Just Surviving. Survival Threads is definitely for you if you're interested in having some fascinating discussion about survival with individuals from around the world.
Survival Pulse: A survival and preparedness email newsletter chalked full of curated links hand-picked by us! We take a look at the top 50 survival sites on the net and hand pick the best alternative news articles and survival and preparedness blog posts, then send them out in our email newsletter.
That's it for now, but keep an eye on this page, and/or on Xavier Survival for any future projects we may begin to work on. If you have any suggestions for types of websites you think would be awesome to have us run, do let us know by contacting us. While we can't promise to pick up every idea we get pitched (after all, our hands are already pretty full with the projects we've already got up and running!), we'll definitely consider every idea that hits our inbox.
Survival Gear Deals: Budget Buys, Sales, Clearance, & Discounts
If you're interested in snagging survival gear at a great price, take a look at the following articles we've put together on the matter:
And here are some products we've gotten coupon codes for.
Valley Food Storage
Coupon Code: morethanjustsurviving10
Code Discount: 10% off absolutely everything except for Berkey water purifiers.
iDrive Online Backup
Discount Link: Click here.
Code Discount: 75% off 1TB of cloud backup + 1TB of cloud sync space for the first year.
Ontario SP10 Marine Raider Bowie – Amazon
Survival Gear Retailers: Knives, Tools, Apparel, Food, & More
If you're anything like us, you probably make the vast majority of your survival-related purchases online. I've said it time and time again, we're absolutely enormous fans of using Amazon for purchasing our survival gear, but there have been cases where we just couldn't find what we're looking for at the price point we wanted on Amazon (primarily because we usually have to use Amazon.ca, and Amazon.ca kinda sucks). In these cases, we typically drift off to eBay to find some savings, but if even that doesn't pan out, we've had some luck buying off of specialty stores. Here are our favourites!
Knives
GP Knives: We actually use these guys quite a bit, largely because their shipping to Canada is really affordable. Love their sales and they're priced very reasonably; no joke.
Blade HQ: If we lived in the United States, we'd be using these guys a heck of a lot. They're huge, though not the absolute biggest, online knife retailers, and they're damn good ones at that. Their knife blog is also a killer source for knife news, and their Youtube Channel is one to follow. Check 'em out if you haven't already.
Knife Center: Pretty sure these guys are the absolute biggest in the industry, and there's good reason for that. Again, if we were located in the United States, we'd be buying knives from these guys a lot more.
Tools
Suunto: The. Best. Compasses. Like ever.
Nite Ize: We carry Nite Ize gear, specifically their multi-tools, quite a bit. Excellent flashlights as well.
Apparel
Under Armour: Highly breathable, tight-fitting yet comfortable clothing. Wicks sweat away from your body. Pretty awesome stuff.
Patagonia: They make really nice clamshell jackets. Check 'em out.
Food
Legacy Food Storage: These guys have become our favourite in terms of taste when it comes to dehydrated survival foods. So good! Read our review of one of their buckets here if you're interested.
Valley Food Storage: Tried out their Mango Habanero Chili, actually, and it was damn good! If you're looking into buying some long-term food, they get our seal of approval. If you buy through their site, remember to use our coupon code morethanjustsurviving10 for a 10% discount off everything in your cart (use coupon code at checkout).
Wise Food Storage: We've heard amazing things about these guys. Definitely a popular option in the survival industry.
Misc
Cabela's: Not gonna lie, these guys aren't cheap; they're more than a little on the pricey side, but you can trust them to carry quality.
Goal Zero: Chargers, solar panels, survival electronics: this is the place to get 'em.
REI: Mountain gear and stuff like that. Very popular.
Survival Gear Education: Blogs & Sites
We do a lot of gear reviews on More Than Just Surviving, but no matter how many items we review there are always going to be a plethora of other items that you'll likely be interested in hearing about! The following websites are some of our most highly recommended in the field of product reviews and general gear education. Take a peek at them if you just can't get enough gear-talk!
Other Gear Websites: Specialty Sites, Custom Knife Makers, & More
Knives and other gear specialty sites, custom maker pages, and more.
Sunrise River Custom Knives: Offering a complete line of fixed blade, full tang, handmade custom cutlery. Built one at a time, to be strong and functional, and with reasonable care, will last a lifetime of hard use.
Survival & Prepper Education: Blogs, Topsites, Curators, & More
From here on out, you're going to be getting lists of survival and preparedness websites organized alphabetically. There are just way too many awesome resources online for us to list, which is why this section may feel a little out-of-hand, but we don't want to narrow our lists down because we don't want to leave any goodies out.
We hope, however, that by having included descriptions next to the link titles, you'll be able to much better identify whether a certain website is one that you'd be interested in. You know, so that if you're looking for more survival blogs and sites to follow, you'll be able to simply read through the descriptions here to judge, rather than being forced to browse around the websites to determine whether or not a specific resource will be a good fit.
If you have any suggestions for sites that you think should be up here for one reason or another, let us know by contacting us. We're pretty selective about the types of links that go up on this page, but while we can't guarantee your link will make the cut, it never hurts to ask!
And if there just aren't enough sites listed here for you, take a look at Survival Pulse's top 50 survival and prepper blogs list. It's one of the most exhaustive you'll find on the net.
Survival Blog Topsites
Best Prepper Websites: Best Prepper Website brings you the internet's top ranked sites for preparedness-related content. This content is voted on by the preparedness community. It's a central location for organizing the best prepper, homesteading, survival, gardening, bushcraft, and hunting websites on the net.
Survival Link Curators
Prepper Website: Prepper Website is a preparedness news aggregator that links daily to the most recent survival and preparedness articles published on the internet. Prepper Website's mission is to provide quality links to articles and websites that focus on topics such as: prepping for emergencies, homesteading, living a simple lifestyle, wilderness survival, and alternative news.

Survival Pulse: Survival Pulse is an email newsletter for up-to-date survival news. Subscribe for regular alternative news updates as well as survivalist, prepper, and homesteading links from the best survival and preparedness sites around the web.
Free Survival Book/PDF Collections
Free Survival Ebooks: A regularly updated page on this blog featuring free survival and preparedness e-books available for download from Amazon through the Kindle App.
Survival Books
Other Related Blogs & Sites: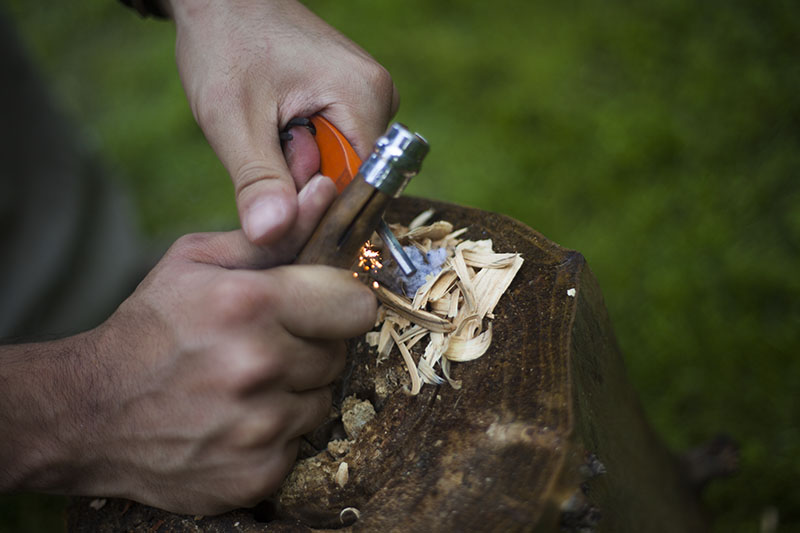 Light My Fire Swedish Firesteel Mini – Amazon
Opinel No8 Carbon Pocket Knife – Amazon
Survival Blogs Blogroll
A
Armageddon Online: Preparedness and survival. Armageddon online also features disaster news, future Scenarios, and more.
AZ Weaponcraft Prepper: Practical information about prepping. The blog of Arizona Weaponcraft Solutions.
B
Bushwalking Blog: Neil is an Aussie hiking blogger who shares his hiking adventures as well as gear reviews, photography, and thoughts on hiking, nature, and conservation. Bushwalking Blog is an excellent resource for locals or visitors to Australia looking for hiking trails, or anyone who wants to live vicariously through Neil's adventures.
C
Canadian Preppers Network: The Canadian Preppers Network is a group of volunteer authors dedicated to raising awareness to the importance of being prepared for any emergency through preparedness and self reliance. With an emphasis on issues, threats, and resources specific to Canadians, we aim to bring the preparedness mindset to the forefront of mainstream thinking.
D
Doom and Bloom:  Your source for articles and supplies for first aid preparedness, survival medicine, homesteading, and disaster medicine.
F
Flashlight Blog: Information about the flashlight industry as well as flashlight reviews.
Freedom Preppers: Because you never when the day before … is the day before. Prepare for tomorrow.
H
Home Ready Home: Home Ready Home is a blog to help modern families be everyday disaster ready and build a more self-reliant life through tips, tricks, and the lessons learned by a coach, purse-carrying, bug out bag-packing wife and mother of two.
I
iSurvivalSkills: From bushcraft to survival to prepping and back again, isurvivalskills keeps you up to date on the survivalist information you need most. Follow them on Twitter to stay even more up to date!
K
Knife Blog: Your source for information about the knife industry and for knife reviews.
L
LED Flashlights:  Up to date information and reviews about LED flashlights.
M
ModernSurvivalOnline.com: Modern Survival Online is a survival and preparedness blog with regular, daily posts. The blog covers, not only all aspects of preparedness, but site owner John Rourke also discusses current events, politics, and all things that could possibly threaten our current way of life – as well as detailing how to prepare for them. Rourke's site also provides glimpses into his personal life every so often.
My Daily Informer: My Daily Informer is a news site that covers many topics in under the survival and preparedness umbrella. Upon entering our website, you'll get stories about news and politics, economic collapse, as well as survival and preparedness.
O
Offgrid Survival: An online resource for survival information; from wilderness and urban survival to emergency preparedness, and off grid living, Offgrid Survival provides you with the knowledge you need to survive in any situation.
P
Patriot Rising: This blog supports the constitution, gun rights, teaching of preparedness and survival, homesteading, and self sustainability/reliance. Stories featured are hand picked to be posted to the main page, and the site serves as a "hub" of sorts for like-minded people and blogs.
Prep-Blog.com: A prepping and survival blog for everyone. We offer a moderate approach to prepping for the types of disasters most likely to affect you and your family. PREP – Prudent Reasonable Emergency Preparedness.
R
Reality Survival: Reality Survival is all about reality-based survival techniques. The blog contains articles on wilderness survival, bushcraft, disaster preparedness techniques as well as a wide range of gun, self-defence tactics and outdoor gear reviews.
S
T
U
Y
Year Zero Survival: Committed to providing you and your family with the best survival knowledge, skills, and equipment.