The Camillus Les Stroud SK Mountain Ultimate Survival Knife (now that's a mouthful!) is a direct competition to the Gerber Bear Grylls Ultimate Survival Knife. These two knives, in concept, are pretty much one in the same. They both have core fixed-blade survival knives that have built in features on both them and their sheaths.
The Camillus Les Stroud SK Mountain boasts a ceramic knife sharpener, paracord, an LED flashlight, a whistle, fire starter, S.O.S. signal mirror, a survival guide, and a storage compartment, while the Gerber Bear Grylls Ultimate Survival Knife boasts a knife sharpener, a whistle, a hammer, a fire steel, and a survival guide. That being said, while it may seem on first glance that the Camillus Ultimate Survival Knife is a bigger steal, considering additional features at around half the price of the Gerber Ultimate Survival Knife, the way those features have been implemented makes the Gerber Bear Grylls Ultimate Pro Survival Knife the clear winner in the competition between the two.
Camillus Les Stroud SK Mountain Ultimate Survival Knife – Amazon / Blade HQ
First things first, it's impossible to talk about this knife without touching first on the name on the blade. Les Stroud is the name behind the Camillus Ultimate Survival Knife in pretty much the same way as Bear Grylls is the name behind Gerber's Ultimate Survival Knife. In practice, I am unsure as to how much influence Les Stroud really had on this knife. Based on how different it appears, both in style and function, to his original collaboration with Helle (the Helle Temagami), it seems to me that while his name is on this blade, his design skills have nothing to do with it. I suspected the same thing of the Gerber Bear Grylls Ultimate Survival Knife; seems these celebrity branded items are just that – and are definitely not celebrity designed as well. Regardless of how much input Les Stroud had on this knife, one thing is for certain; it's definitely meant as a direct comparison to the Bear Grylls Ultimate Survival Knife.
The SK Mountain is a sizable 25.4 cm (10 inches) long, 12 cm (4.75 inches) of which is blade. This makes the knife relatively well balanced as far as those multi-purpose survival knives tend to be. The knife is advertised as having a carbonitride titanium coated 440 stainless steel blade, which doesn't mean much to me. In actual use, I would put it in the same category as all lower tier steels, like 8Cr13MoV for instance.
This is not a bad thing, as I find those steels tend to perform to an acceptable level whilst keeping the cost of manufacture low, and having above average ease of maintenance. The coating is of relatively high quality. I noticed some bubbling and micro pitting so I would assume it's a baked on coating as is common in the knife industry. In any case, it definitely stands up to damage; much better than the Cold Steel black paint finish, mind you. It should also aid greatly in corrosion and general weather resistance.
Chopping performance of the Camillus Les Stroud SK Mountain was average. The lack of a swell at the butt of the knife means that a secure grip isn't as ideal as it would be when choking back, but I was still able to do it for some extra leverage. I will say that the blade came extremely sharp, impressively so actually, which as quite surprising for a knife in this price point. Definitely not my first choice for a chopper, but in a pinch, it would function adequately. After some chopping on seasoned wood, I noticed zero edge damage.
As is evident from the photographs, Camillus elected to offer the SK Mountain knife in a combo edge; unfortunately, that's the only way it comes so unlike the Bear Grylls Ultimate Survival Knife, which comes with the option of a plain edge version, if you're interested in this one, you're stuck with the bottom serrations. Not at all a fan of serrated edges myself. They have their place, but for outdoor knives, they're not at all practical, and so I think it's a damn shame the knife isn't offered in a plain edge version. In terms of cutting with the serrations, I expect they excel with all types of cordage, but as is common with serrations, they just don't perform when making shavings or whittling, which is a pretty big negative for an outdoor knife.
To carve clean cuts, I was forced to use the edge further up on the blade, which creates balance issues and is definitely non-optimal. It's very disappointing as the blade is nicely ground with a very uniform (and decently thin) hollow grind. If I could change just one thing about this knife, it would hands down be to remove the serrations.
The primary features of this knife are pretty much all on the gargantuan sheath it comes with, which is different from the Gerber Bear Grylls Ultimate Knife, which has at least a few main features (a whistle, the hammer) on the knife itself. The sheer size of the Camillus SK Mountain knife sheath cannot be over emphasized, and I was really apprehensive of it from the moment I first handled it. The first feature is the included fire steel that slots in on the side.
As you can see, the blade has a neat little notch designated as the surface for striking the fire steel. I will give points for innovation and doing things a little bit different, but in practice, there's a reason why most outdoor knives have a straight 90 degree angle section of exposed steel rather than something like this. To put it bluntly, the 90 degree exposed steel just works much better for generating sparks, which is after all the objective of the fire steel.
Of course, the notch does manage to generate some sparks upon striking, it's not like this method renders the fire steel completely unusable, but what's generated is nowhere near the extent of sparks to which many other, more traditional bushcraft knives, can generate.
The other side of the sheath has a slot in "flashlight." In practice, the flashlight is mediocre at best, and after a pitiful amount of light produced, it very quickly died on me (roughly 6 hrs of run time in my experience). I would estimate the total output to be a maximum of 10 lumens at its peak – definitely not impressive and the build quality/materials is sourced from the bottom of the barrel. Threading was rough, the emitter was weak and the batteries were almost dead out of the box, not to mention the generally cheap feelings of the plastic used. Not a fan.
Batteries for the flashlight are those tiny ones found in most inexpensive quartz watches. I wouldn't bother wasting batteries on such a sub-par light, however. It's not worth the additional feature.
The flashlight of the Camillus SK Mountain has a molded whistle into its handle. It's complete and utter garbage. I can produce higher decibel output using 2 fingers and my mouth. If your going to offer features, please test to make sure they perform well, Camillus. Might as well not have offered the flashlight, and worked to get a reasonable whistle instead of having forced this odd combo together.
The sheath of the Camillus SK Mountain Ultimate Survival Knife also features a very strange compartment under the signaling mirror, which I presume is for things like tinder or a mini fishing kit. Not an efficient use of space, but it certainly works. Not water tight, though, so be mindful of that.
Wrapped around that compartment is around 10-15 feet of cheap nylon cordage similar in thickness to paracord, except lacking the 7-strand construction consistent with high quality paracord. Not impressed, though I guess if you really like the design you can always replace the cord with real paracord yourself.
At the bottom of the sheath we have a carbide sharpener. The carbide knife sharpener on the Camillus Les Stroud works, but obviously, the final edge is not optimal. Final edge was somewhat toothy – similar to a 200 grit finish.A definite downgrade  to the stock edge that was (as I mentioned before) screaming sharp, but definitely still usable. In a survival situation, I dare say this sharpener would be more than acceptable.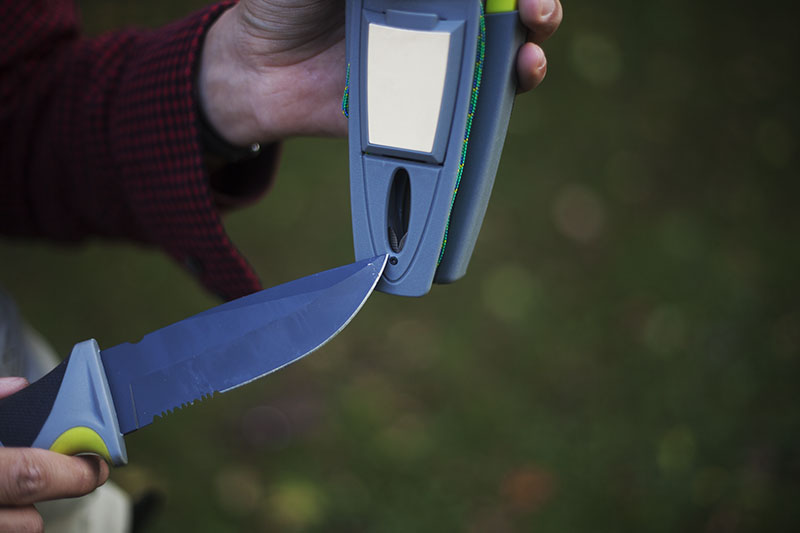 As should be expected, drainage holes are molded into the plastic sheath of the Camillus SK Mountain. Not sure how needed it is taking into account that there happens to be a giant hole in a sheath courtesy of the sharpener design, but it's there and will do it's job.
Last of the features is the Survival Tips page from Les Stroud himself. Pretty basic advise, but information is always valuable. This page fits (badly) into a mesh sleeve at the back of the sheath. Definitely not as secure as the Bear Grylls guide in the Gerber Ultimate Survival, but it'll do.
The grip on the Camillus Les Stroud Knife is very interesting: 1 choil with a rubber insert follows what is generally a pretty neutral design, with a clean taper towards the butt. If the knife had more bulbous handles, I would say that the ergonomics would be spot on. The other downside besides the general thinness is the annoying, and yet for some reason very popular design element for this type of knife, the thumb guard.
Why people insist on adding a thumb guard that is extremely uncomfortable to hold in a traditional saber grip is beyond me. Somehow I get the feeling that the people who design these knives don't even use them… If they do, I have to wonder how they think a protrusion stabbing your thumb can be considered ergonomically acceptable!
Anyway, the guard above the choil is plenty aggressive enough to stop the knife from ever sliding down the palm of your hands. Shouldn't be worried about losing digits here.
Like the Gerber Ultimate Survival Knife, the Camillus SK Mountain has a neat hammer/striking surface built into the butt. In actual use, it performed pretty well. I was quite impressed. The one feature that's on par, if not better than the Gerber Bear Grylls Ultimate.
Gripping the handle of the Camillus Les Stroud Ultimate Survival Knife firmly is pretty comfortable. I wish the scales were thicker but if you have smaller hands, this will fit you perfectly. When baton with this knife, the comfort was decent with very few vibrations. I will add that the coating held up extremely well, even at the tip with the baton striking it.
As mentioned before, choking up on the SK Mountain is not pleasant due to the stupid top guard jabbing into your thumb.
A decent angle of how thin the knife is; its like holding a thin chocolate bar – in Kit-Kat measurements, I would say its around 2 stacked Kit-Kats thick at its thickest point, which is pretty thin indeed.
Interestingly, the ergonomics on the Camillus Les Stroud Knife is fantastic for reverse cuts and pull cutting. As good as a traditional grip in my opinion.
The knife and sheath in all its morbid beauty. A perfect example of what happens when marketing types masquerade as knife designers.
Unfortunately for Camillus (and Les Stroud since he's got his name attached to this), I found the SK Mountain Ultimate Survival Knife to be just another example of a product created solely to lure in gullible knife purveyors who will be easily misled into buying a tool based on how many features it has, not considering the functionality of said features. The sheath is gaudy and serves no purpose beyond inflating the feature count, and is not only over-sized for a knife this small, but only has a couple of features that work as intended. Even then, I would prefer just having a thinner sheath with a firesteel hoop, a sharpening stone stuck on the back, and a reflective strip on the front for a mirror. That would not only be cheaper, but would perform to a higher standard than the tools offered with this knife. Wouldn't ever consider choosing this knife as my one tool if I knew I was going to be stuck in the wilderness, especially considering the better (though more expensive) alternative of the Gerber Bear Grylls Ultimate Pro. The extra $30 is worth it for a package with features that all function well.
The Camillus Les Stroud Knife is unfortunately let down by poor design choices. Aesthetics should always be prioritized after function, and while it's great that Camillus tried to integrate many features into the sheath, the way they did it – it would've been better if they'd only integrated one or two more reliable ones. Design choices like the serrations and the thumb guard adversely impact the performance of the knife as a cutting tool. The firesteel notch, while unique, is inferior to just a flat 90 degree uncoated portion of steel, and in a survival situation, which this knife is supposed to be for, I'd like something that works really well, not something that's unique and nice looking.
In conclusion, even at 30 bucks, I would pass at this knife. A damn shame as the blade itself is nicely ground with a coating that is far nicer than its price point would suggest.
Checking out the rest of the Camillus/Les Stroud offerings, it seems that the Camillus Les Stroud SK Arctic fixes many of my biggest annoyances with the SK Mountain. Notably the same knife with a plain edge blade and a more compact and minimal sheath. If you're still into this knife, I'd strongly suggest it's alternative, the Arctic, over this one.
Thank you Camillus for giving me the opportunity to review this knife; sorry it couldn't be positive.