As the title indicates, today we'll be discussing how to finally have the "prepper talk" with your family. Now, for those of you who have been preppers all or most of your lives, this article won't be particularly relevant. If you're a parent, but were a prepper before you had kids, chances are a true sit down talk won't really be necessary, as you've likely been bringing the little rascals up to be prepared all their lives. But if, like Doug, you happen to have recently gotten serious about prepping, you're probably going to want to let your family in on the importance of what you're thinking and doing to ensure you all have a bright future ahead of you – even if the TEOTWAWKI just so happens to rear its ugly head your way.
We'll start off with Doug's question, then I'll dive in and give answering this mammoth question a shot. If you have any advice for Doug, don't hesitate to leave a comment below – just remember that this is a particularly sensitive topic, so please make sure your suggestions are both polite and considerate. No one wants to cause friction in their family, especially when the objective of having "the talk" with them in the first place is purely out of concern for their own well being.
Doug's Prepper Question:
I'm loving the blog but I haven't read it all just yet. I was wondering if you might have some suggestions for me as a new-ish preper. Sorry, if you have already covered this in the blog.

How do you talk to Family about emergency preparedness for the long term?

I want to prepare for a local disaster such as earthquake, fire, floods or any other localized incident that disrupts or removes infrastructure, food and water shortage, financial collapse or global natural disaster.

In a wider, long term context, I want my family to be prepared for wide scale  infrastructure  breakdown due to the effects of global warning.

Here's how I see the next 20 years playing out: the extreme weather patterns, due to global warming, will cause widespread crop failures which will cause food prices too rise dramatically. The same extreme weather patterns may cause severe drought in which water supplies will be drastically diminished. In my geographical region the largest water source will be annexed by the most powerful military in an effort to maintain control of the critical water supply. This will cause severe water shortages in Canada. Similar global conditions will start a widespread financial collapse leading to mass unemployment and large-scale human population displacement. The lack of food water and stability often breed disease and armed conflict.

In my opinion, these are the most likely events for which to be prepared. Again, in my opinion, these are rational conclusions given past and current events.

My dilemma, as I see it is as follows: my family are typical North Americans who are dependent on the infrastructure they currently take for granted: electricity, mobility, food, clean water, EMS, education and communications. I want to impress upon them how fragile all the systems are without them thinking I've been watching too many apocalypse movies. They seem to have been okay with my 72 hour preparedness kit as they grasp the realities of potential short-term emergencies – like the ice storm in early 2014. I need to have them understand that all these things could go away and not return for an extended period of time.

I just do not know how to have that conversation.
Our Response: Prepper Talk Tips
Right off the bat, I'll start off by saying that no one knows your family better than  you do. If I give you a piece of advice and you think that if you use it, your family is going to take it the wrong way, don't use that piece of advice. Use your knowledge of your family members' personalities and your past experiences with them to dictate how you'll approach this colossal topic.
Now that my disclaimer's out of the way, on to the beef of the advice.
I feel that as preppers, we've been told so many times that what we do is crazy that we start to think everyone but us sees the behavior of preparing as irrational. But that's just not true. Preparation isn't irrational at all, and as human beings, we do it all the time. Hell, it's part of what's made us progress and advance as a species in the first place; without the act of preparing, a lot of us wouldn't be here today. Our ancestors couldn't have gotten very far if they didn't learn to prepare for long, harsh winters. Even today, we all know those who start planning for retirement early usually have a much easier time later in life. Preparing for difficult times is one of the most rational things we as human beings do.
Where non-preppers start to get apprehensive about preppers is when all that talk about the terrible things that could happen in the future get's pulled out of the box. I'm sure this doesn't need to be further elaborated on – mention the possibility of societal collapse to your run of the mill mom and dad and you're going to get some glares shot in your direction.
And while yes, we as preppers have trained ourselves to take these possibilities seriously as threats to our personal and familial existence, to everybody else, you will (unfortunately) sound like a rerun of a zombie movie if you bring it up. I wish there was a way around it, but I'm sorry to say, doesn't look like there is one.
So my advice to you in terms of a potential discussion with your family: don't bring that stuff up.
I know it sounds counter intuitive to sort of have "the talk" with your family without actually discussing what you're worried about with them, but in my opinion, you've got to, or else you risk them ignoring you completely. And once you've opened that can of worms, you can't close it again.
Instead, I'd advise you to sort of continue on the route you've already managed to begin on yourself. You started them off with a 72 hour kit, eased them into short term preps, showed them how rational it was to be prepared in case another short term emergency situation happened: that's an exceptionally good start.
What next? Try simply extending the very same emergency so to speak: "Guys, I'm worried that another ice storm, like the one that happened in early 2014, will take place again, but this time knocking the electricity out for quite a bit longer." Thomas and I went through that very same ice storm last year just south of you, and from having lived through it I can tell you that:
The electricity did not come back on right away everywhere. Our house took roughly 5-6 days to regain connection to the power grid, and I'm sure there were at least a few other places where the disconnect lasted longer. &
There was plenty of reason to believe that emergency might have gone on for longer. Hell, they couldn't even predict how long it was going to take them to fix the downed wires, a fact that was reported repeatedly over the radio during the emergency.
These facts mean that your worry, while unlikely to be realized, is still justified.
Once your family is on the same page as you in terms of imaging this kind of situation could take place, ask them for suggestions – particular things they could do if the electricity didn't come back for two weeks – or even a whole month. While they may still struggle to imagine this kind of situation, if they say that isn't likely, again point out the fact that while the emergency was taking place, no one could say how long the power would be down. That means that maybe further complications meant that, yes some places had their power back up, but not all of them would be up quickly, and maybe not quickly enough in your part of town.
After they suggest a few things they could do after the emergency took place to make things easier (a fire in the backyard, say?) ask them if there are things they could buy now that they think would probably help make living through that kind of a situation easier. Thank them for their suggestions, then go out and fulfill those preps, showing them their input is valuable to you.
Gradually get them to push their ideas for preps further and further off into the future. And furthermore, don't be afraid to prep on your own. You want a backup generator? Buy it. Worried about what your wife will say? Explain how there's plenty of good food in the freezer and if for some reason the electricity goes out in the summer, that expensive food could all be thawed out. Always explain your actions with responses that you know they will consider very rational.
I'll take a side note to add that I'd advise against hiding any prepper purchases from your spouse. It's just not a good idea to be on bad terms. If your wife doesn't like the amount of money you want to pour into preps, dig around for deals. You're sure to find quite a few. A lot of the gear we have isn't expensive at all – but it works phenomenally well. Ask what she thinks a good budget is and work within those constraints – it's entirely possible, and after all, prepping is no good if you're tearing up your family trying to do it, or if you're running yourself into debt.
Eventually, your family will probably catch on that you're really serious about preparing for the worst, and considering each time, if you're on your toes and are vigilant enough, you'll have given them a very good reason why your prep is valuable and important – they'll hopefully begin to feel pretty comfortable with the idea of prepping for bad situations. It'll feel a little like second nature to them, and they'll finally begin to understand why prepping should be seen as a common sense thing to do.
So maybe they won't believe the exact crises you're preparing for will pan out. Does that mean they'll reject all forms of prepping? Probably not.
If you continue to do things slowly, you know, make sure not to go out and buy a massive shipment of food, water, and firearms to stockpile all in one go, your family will probably just begin to think of you as the overly concerned dad. That's certainly not a bad thing (and it's infinitely better than the "crazy prepper" dad). In the back of their minds, they'll probably be thankful… after all if something does happen, they know who to go to – dad's got things covered.
Growing up, my family never called themselves preppers, but that's pretty much spot on what they were. While they've probably never thought twice about EMPs or economic collapse, they have many signature prepper behaviours, including 6-12 months worth of food stockpiled and a desire to always be ready for the worst. Without prompting, my grandmother will tell me every so often that in her life she's learned, "You never know what could happen." And that's enough of a reason for her, and the rest of my family, to stock up and button down. You could lose your job, your health could completely deteriorate, a really bad storm could hit. These are all very possible things that every person from anywhere in the world will admit could happen. So why not prepare for them – just in case.
I cannot stress enough how careful you should be about what you say to your family. It's so very important to get this "conversation" right. Getting it wrong and going too fast could mean a hell of a lot of family tension and frustration, or it could mean you're pegged as the family "nut." You don't want that. You shouldn't want that – nobody should. So break up the conversation. Have a number of little talks about particular things – relevant to their lives – that they might also worry about, and therefore feel that they should prepare for. If you know they're not going to take economic collapse and EMTs well, throw the potential of job loss their way.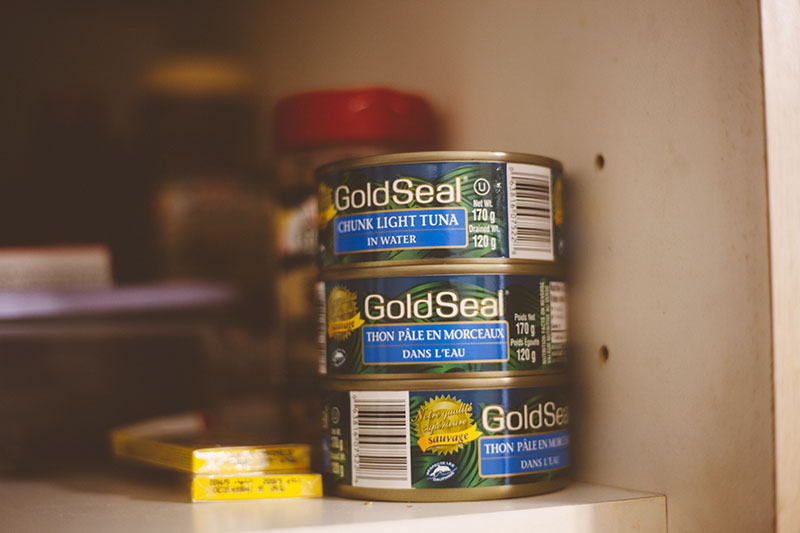 Prepping is a lifestyle, and if you can ease them into that way of living without scaring them off, you've got the game set and match. While it may comfort you if they did share your opinions on the possibility of economic collapse and EMTs, they don't need to share your opinions on those topics in order to believe it's a good idea to have long term preps. You just need to give them reasons, that they will believe are perfectly valid, for why they should be prepping in the first place.
The last thing I'd like to mention is that it's okay for your family members' lifestyles to be dependent on "the system," so to speak, today. Things like electricity, mobility, food, clean water, healthcare, education, and communications still exist, and there's no reason they shouldn't be taking advantage of them while they're still up and running. You'd be surprised how quickly people can switch gears once things really start looking bad – after all, they'll have to at that point. So long as your family is prepared in case of the worst, I see absolutely no reason for them to reject living life with all of the present day luxuries that are available to them now, just because those luxuries may not be around anymore at some point in their lives. Don't put yourself in a box either just because you're a prepper. You can have a lifestyle that's dependent on those luxuries today. So long as you have the means to not be dependent on those luxuries if they happen to disappear tomorrow, that's all that really matters.
---
If you have a survival, preparedness, or gear related question you'd like us to answer, don't hesitate to let us know! Find out how to reach us via the contact page. Although we don't publish every question we're asked on the blog, we try our best to respond to each and every one we receive.
In case you're interested, you can also view our past responses to reader questions here.