The Cold Steel Finn Wolf has, by a considerable margin, been my most requested knife to review. If you've ever checked out this bad boy – this makes perfect sense. I have owned this folder for nearly a year now, and have been mulling what to scribble about it since day one. I'll start by saying this here – the Finn Wolf is a pretty perfect folder at an absurdly low price point (relative to what you get), and to this day I still have no real qualms or criticisms to levy against it. Unlike a lot of Cold Steel's designs, this knife has no gimmicks or shock factor. The Finn Wolf is outdoor utility through and through, which coupled with the solid construction and design by Andrew Demko at an unbelievable price point means the knife is a sure recommendation.
So if you were curious about this tool and don't feel like trawling through my now predictable ravings over the TRI-AD lock and how tough this knife is for its weight, then feel free to just go out and buy it. Seriously.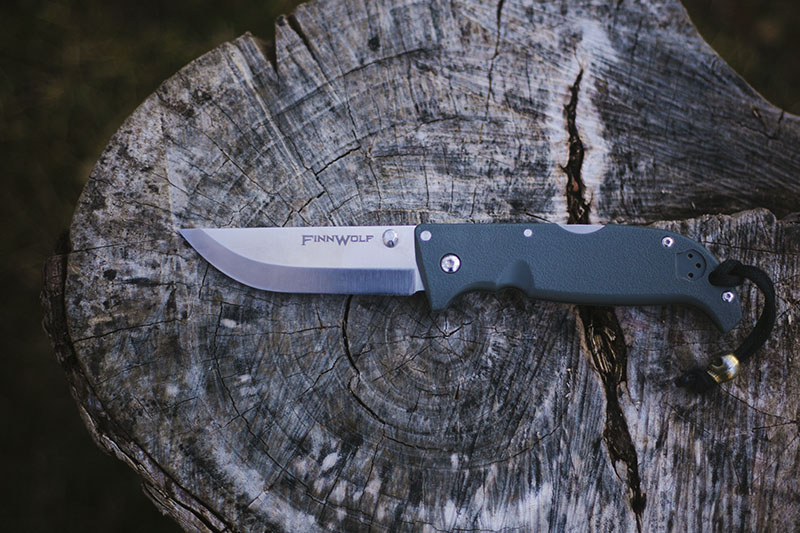 Cold Steel Finn Wolf Scandi EDC Pocket Knife – Amazon / Blade HQ
My one smidgen of a criticism is the description of the handles as "olive drab green." In what world, Cold Steel? This is grey with a slight greenish tint. Please let me know in the comments if you think the knife is OD green, cause I just don't see it.
Beyond that, you have Griv-EX (which is a branded fiberglass reinforced nylon derivative) handles that are 4.38 inches in length, a solid size, and comparable to most full-sized EDC knives. This isn't a folding sword, but unless your name is Brock Lesnar, you wont have an issue getting all four fingers comfortably around this knife.
For illustrative purposes, I have size L glove hands and I had plenty of room to spare. This is an important point because the Cold Steel Finn Wolf is designed as an outdoor knife and thus ergonomics are paramount.
The scales on the Finn Wolf have a nice, subtle texture. I wouldn't describe them as grippy (the ergonomics take care of in-hand retention, not the texture), but they are pleasant to the touch. FRN/Grivory/Griv-X etc. vary in quality and Cold Steel chose a good supplier for this model. Maybe it's the colour or more subtle texture, but I find it higher quality than the Voyager series (Tanto/Vaquero). Maybe it's a placebo, but in the hand, it feels nicer.
Interestingly, absolutely zero jimping on the Cold Steel Finn Wolf. It's refreshing to see and reinforces this knife as an outdoor tool – not a tactical option (not that it wouldn't work in such a scenario).
The main advertising feature of the Cold Steel Finn Wolf is the blade. A 3 mm thick slab of AUS-8A with a total length of 3.5 inches. Very standard, but what makes it stand out is the grind Cold Steel chose to use – a Scandinavian grind. This means it has a single bevel, which in theory is supposed to end in a true zero edge. Sadly, whilst the Finn Wolf is advertised as having a zero ground edge, my example did have a slight secondary (relief) edge. I don't know if it's because I had one of the first models, but I think it bares mentioning.
In practice, this blade is truly wonderful. Cold Steel hit the sweet spot with regards to stock thickness, and this feels like a serious tool. I definitely am comfortable in the woods with the Finn Wolf as my only knife – and this is not something I would say easily. The Finn Wolf carves and slices almost as well as a Mora.
Taking into account it comes in a "folding knife" package, and that you can regrind the blade to be a true zero edge, I think the Finn Wolf comes as close to what we have ever seen be a viable folding outdoor knife. The Benchmade Adamas is very tough – but not optimal or ergonomic for working with wood. The Enzo PK70 does have a great blade, but the lock and weight make it less trustworthy and inferior in terms of balance. The Finn Wolf, however, hits the nail on the head.
Speaking of strength: TRI-AD lock. It's the best. End of.
I am frankly tired of extolling its virtues. It feels like every time I review a Cold Steel folder, I have to think of a new way to lavish praise on this lock and it's becoming redundant. If you have handled a TRI-AD lock, then you get it. If you haven't – do so and you will get it. Demko has (in my opinion) designed the perfect lock and all would-be competitors have paled in comparison. Look at the Spyderco Tuff – very expensive – not as tough. How about the notorious Benchmade Adamas? Once again, much more expensive – not as tough.
I feel this point has to be driven home every single time I review a Cold Steel, because frankly, they deserve the praise. Competitors need to up their game and competition is healthy for the market. We should always strive for the strongest lock up on a folder and whilst some may argue that the TRI-AD is redundantly overbuilt – frankly, I'll take overbuilt over "good enough." Does that even need to be said?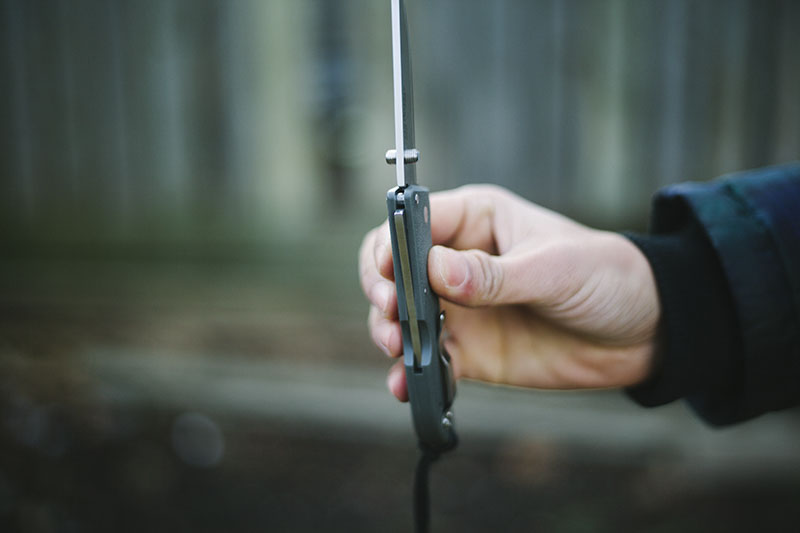 Fit and finish is as I have come to expect from Taiwanese-made Cold Steels: very, very good. Much better than its price tag would suggest. Handling knives that are tougher, higher performance, and have as good as if not better fit and finish than $100 knives is a sobering experience. I get than marketing can take you far, but (this is just my opinion, put the pitchforks away people!) how could I possibly justify a gold class Benchmade? I just don't get it. Then again, clearly I am not the target demographic.
The Cold Steel Finn Wolf has no liners. I view this as a positive, as in my opinion, liners are superfluous to requirement in 99% of cases. In the Finn Wolf's case – show me a failure of the knife with the handles as the weak point, and I will promptly edit this review – but it hasn't happened and I doubt it ever will. Liners add weight and can throw off the balance, so I try to avoid them whenever possible.
The deployment method is the classic thumb stud. Deployment is smooth and easy with the groove cut out into the scales to guide your thumb. Yes, I will always prefer the Spyderhole, but in a blade like this, it's simply not practical. The thumb stud works, is ambidextrous (both sides), and can be removed using a flat head screwdriver when sharpening for a true zero grind.
Which admittedly, is a downside. I personally have no issues with removing the thumb stud for sharpening, but some of you may. I don't often have to sharpen my knives, preferring instead to strop them on a regular basis so I don't find myself obsessing over this detail. Realistically, you have to compromise ease of sharpening when you have this level of size relative to deployment comfort.
Buttery smooth. Never had a single issue with the Finn Wolf.
The pocket clip is utilitarian. No aesthetic flourishes here! You can remove it and have it on the other side of the scales for left handed users, and beyond that I have nothing to add. This ain't a deep carry option, and the butt of the knife does stick out quite a bit, so if you want to go incognito – you may want to consider a different option. Personally, as an outdoor tool, I like how easy it is to access, especially with a lanyard attached.
No choil of any kind, if the lock fails – sorry, you won't have digits for much longer! On the flip side, voice recognition software is getting better every year so maybe your life isn't over! Jokes aside, I have absolute faith in the TRI-AD lock, and wouldn't hesitate to wield the Finn Wolf in rough use/as a beater knife.
Ergonomics are above average. The groove for the thumb stud works well to lock your pointing finger in, and after nearly a year of EDC-ing this knife (quite obsessively, Elise wants me to add), I never noticed significant hot spots. Obviously, it's still a folding knife and compromises are made in that regard – the handle will never fill your hand the same way a fixed blade option would, but realistically – who expects that? As far as folders go, very impressed.
Choking up on the Cold Steel Finn Wolf isn't ideal. The guard gets in the way and I never really bothered using the Finn Wolf in such a grip. The edge of the blade goes so far down that frankly it's not needed.
As I mentioned earlier, this is clearly not a tactical knife. The styling, ergonomics and lack of jimping/tactical stuff screams utilitarian, and I am 100% find with that. With that said, the lock is rock solid, the blade does have a point (not a needle, but a point nonetheless) and the guard will sorta protect your fingers from sliding onto the blade.
Would I recommend this for defensive carry? No way, but if you only had this knife as an option, I wouldn't weep – leave that to the bad guys. It's very sharp out of the box and as far as designs go it's pretty neutral. I view the Finn Wolf as an outdoors knife based on the blade grind, but realistically it can be put to work in most scenarios/situations with no real loss of performance.
Pinch grip was fine by me. I have never field dressed anything with a lock back/TRI-AD lock, but I imagine it's less than optimal when it comes to cleaning afterward. If any of you have any experiences on the matter please chime in below!
At 3.4 oz, the Cold Steel Finn Wolf is pretty light for a good sized EDC knife. Obviously, size is relative, and my perspective has been skewed due to blades like the Tanto Voyager XL, but when it comes to balance, the Finn Wolf is very nice in the hand. I wouldn't say perfect, but it feels very light with no real handle or blade bias, which I believe is only achieved due to the lack of liners. I know people complained about that, but from my perspective, if it had liners the balance would have been worse, or Cold Steel would have had to introduce a longer blade (4 inches+) to make up for it.
I don't think it's worth it personally.
So, a very positive review for a very spartan looking knife! I love that Cold Steel is introducing so much variety in their product line. Enormous folding swords? Check. Non-locking gentlemen slip joints? Check.
And now we have what is currently (my two cents) the best folding wilderness blade on the market. I know I am basically a Cold Steel fanboy now, but I think if you look (objectively) at their products over the past few years, it's really hard not to be.
The Cold Steel Finn Wolf is a fantastic folding knife option for the outdoorsman. It's remarkable that it took this long for a solid, inexpensive scandi grind folding knife to be brought to the market, and in my opinion it's long overdue. As someone who owns hundreds of knives, I can only think of a few that really stand out in either design or utility, and this is one of them. Yes, it's pretty boring looking, but hold it, use it, and you will be a convert, too.