Owning as many knives as I do, it often takes quite a lot for me to get really excited over a slab of steel. Needless to say, the Benchmade Adamas sure did the trick. Thinking back, I can't remember many knives that have peaked my curiosity in the past couple of years quite as much as the Benchmade Adamas has. While it took me a while to finally acquire one, I have to admit I've definitely not been let down by the build up. Designed by Shane Sibert, it's not an understatement to say that the Benchmade Adamas is one of the toughest production folders on the market.
Benchmade Adamas 275BKSN EDC Knife – Amazon / Blade HQ
First things first: the Adamas is one simply badass tactical folder. Its design, aesthetics, and toughness all scream "folding tank of a sharpened prybar" more than any other Benchmade knife that I can personally think of: and that's just plain nice. Diversity is the spice of life, which is why it truly brings me joy to have a folder like this one in my collection. I've never before owned a folder that's so over-the-top tough.
The Benchmade Adamas really lends itself to being considered something special in the knife world. With so many knife companies out there, it's becoming extremely rare to see a design as distinctive as this one, so savor it. You're probably not going to see a knife as unique as this one on the market any time soon.
Now back to a bit more objectivity. The most obvious visual element of the Benchmade Adamas is its heft, and yes, it does feel as hefty as it looks. Notice how I said heft. I own larger knives with longer total lengths, the Spyderco Military for example, the Adamas is pretty incomparable to them. This knife is completely unapologetically chunky, which is why with an overall length of 22.1 cm (8.70 inches) it still weighs in at a gargantuan 7.7 ounces, thanks to its stainless steel liners and general overbuilt construction.
Definitely not a gentleman's folder or a light everyday carry. But no one could've gotten that impression if they took even one look at it.
The D2 blade is  9.7 cm (3.82 inches) with a thickness of 4.06 mm (.160 inches). It really makes me question whether the Adamas is actually a fixed blade knife that just so happens to fold. All that to say, no folder I own reminds me more of an outdoors fixed blade, and side by side the Benchmade Adamas is far more overbuilt than many of my fixed blade knives, including the Boker Rold (which also has a D2 blade) and all of Moras (which so far include the Mora Classic, the Mora 2000, Mora Bushcraft Forest, and the Mora 740 MG). The only Mora-style knife that's actually more overbuilt than the Benchmade Adamas is the Hultafors GK, and there's no way that's even comparable in terms of aesthetics and pure tactical charm.
The pocket clip is oddly subtle and carries pretty deep. Functionally, it's fantastic, but aesthetically, I think it clashes with the look of the knife as a whole.
Balance is pretty much perfect at right behind the pivot. For a knife that weighs close to 8 ounces, it feels remarkably lively in the hand.
You can really see how overbuilt this bad boy is the more you play with it. Notice below how Benchmade contoured the desert tan G-10 scales to have a nice palm swell in the middle: that's some very nice work there. I also like how the scales are not left rough, but are rather cleaned up with 90% of the texturing removed, leaving you with a smooth, non-abrasive surface that feels good to the touch.
Use of jimping is extremely liberal throughout the knife. The jimping strikes the right balance between functional and cheese-grater sharp.
As you might remember from my Benchmade Griptilian review, I really dig the axis lock, and even though the Adamas doesn't deploy quite as smoothly as the Griptilian (a bit stiffer, largely due to it's weight, in my opinion) it's still is a very pleasant and well thought out locking system that's almost impossible to break in ordinary, as well as most extreme, uses.
The thickness of the blade stops the Adamas from being a particularly good slicer or piercer. However, the tip is decently sharp taking into account how tanky the knife is. The Benchmade Adamas will never be a delicate slicer, but for stereotypical outdoor use, it functioned very well, especially on wood.
Speaking of the blade, the choice of D2 tool steel was an interesting one. Objectively speaking, I would have preferred something like M4, but whilst D2 has its detractors in the knife industry, I can't say I've noticed any issues with it myself, and toughness seems very high, especially taking into account the grinds and, again, the overall thickness of the knife.
Centering was dead on perfect. As a matter of fact, in terms of fit and finish, this knife is pretty much perfect overall with absolutely zero visible defects.
As is evident from the 3 holes drilled into the scales, the Benchmade Adamas is pretty heavily skeletonized. I dread to think how heavy it would be without the lightening holes – boat anchor anyone?
Going back to fit and finish, I love how well-cut the serrations are. Completely even and smooth with no gaps between the sandwiched material. Construction is meticulous.
I don't have many practical uses for this folding juggernaut, but its aesthetic qualities were pretty much irresistible, as they're unmatched for a tool knife in my opinion. From the grooved blade to the way the scales are cut and shaped, it embodies a visual ideal and a sense of "togetherness" that I wish more manufacturers would emulate. The only thing that I have an issue with is the pocket clip, and that's an easy fix, as I can always add a custom 3D machined clip to my Benchmade Adamas in the future.
The thumb studs are unique, and taper in a conical fashion to aid deployment when you have gloves on. In practise, the blade deploys quickly and naturally with no evident issues. As mentioned earlier I do find that the Griptilian deployed faster however I am not sure if that is representative of all Griptilian vs Adamas knives or just mine. If you own this knife feel free to chime in!
Note: After writing this paragraph, I took apart my Adamas, lubed up the washers (using ball bearing lubricant), and gave it an open. Now the Griptilian and the Adamas are almost identical in deployment. Easy fix! The smoothness that's so great about the deployment of the Benchmade Griptilian is definitely there, though to be precise, the Adamas isn't quite as smooth, comparing them tit for tat. That's, however, just because the Adamas has a much bigger blade. If they were of comparable/similar size and weight, they would definitely be equals in terms of deployment. Either way, really great deployment on my Adamas now that it's been lubricated.
Benchmade threw in a sheath with the Adamas. The sheath is ugly as a sledgehammer to the face, but construction is top notch and after mounting it on some molle, I did find that it functioned very well.
The strap for the button/stud is very oddly sewn together and frankly looks like a drunk Scotsman designed it. Yet it works, and unfastening the sheath is super fast.
Attaching the sheath to some molle can be pretty annoying due to the 2 straps pinching closely together, but this makes sense after attachment, as you'll notice absolutely zero play or movement.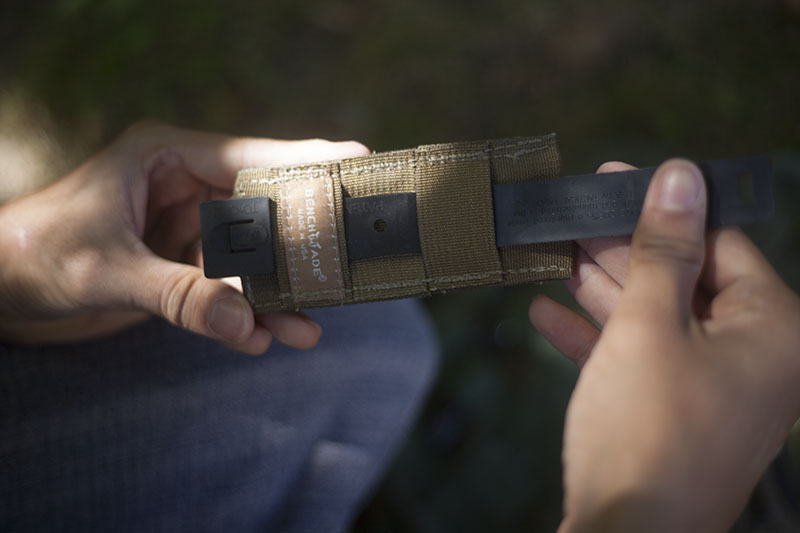 Condor Tactical E&E Escape and Evasion Bag Olive Drab – Amazon
It attaches very securely. I can't say I would ever carry my Adamas like that, but options are always nice to have, and the sheath will definitely match with pretty much any molle bag you could own.
That weird pullstrap has a Velcro'd side to further secure your knife in, so if you were worried you might lose the knife using this sheath, don't worry, that's not happening. Very impressive design that's been quite well thought out.
Surprisingly enough, the Adamas does have a choil of sorts. The ricasso acts as a choil, and would stop the blade from guillotining your fingers off in case the lock fails and you happened to be choking up on the handles when it did fail. That being said, if you were to hold the knife normally, I would imagine that the blade would chew right through you in case of lock failure.
All that said, I believe the axis lock (especially the one on the Benchmade Adamas) is one of the toughest and most dependable locking systems ever implemented, so the chances of lock failure happening are next to nil.
Comfort in a saber grip is reasonable. The handles on the Benchmade Adamas are chunky and a little bit too square for me. Not as bad as the Spyderco FRN Manix 2 (though, what is?), but still I would have preferred more broken lines with nice contouring. When gripping hard, I do feel hot spots forming. In actual use it performed very well, but bare in mind that gloves may be warranted for extended work.
Choking up on the blade of the Adamas is pretty much the same story as the saber grip. Adequate but not ideal.
Interestingly that the reverse grip proved the most comfortable (for me). Very secure hold with deep guard and heavy jimping on the bottom of the knife for your thumb to rest on.
Thanks to the tapered scales, pinching was possible, but once again, less than ideal. This is a folding survival knife/tank/door opener.
If we're being honest, as a survival blade the Benchmade Adamas is a piss poor performer. I would never chose it over a Mora or a Hultafors if I chose what I was stuck in the wilderness with. That's no small part due to the fact that it's a folder. Lots of moving parts, and holes for dirt and grime to get stuck in, make it especially bad for bushcraft and survival-type outdoor use. But don't get me wrong: that's not unexpected, nor should it be held against the Adamas. It's just a reality.
While the Benchmade Adamas is advertised as a very military-focused knife, ultimately it really wouldn't make a good soldier's knife: it weighs a metric tonne and has one single function – to cut. Soldiers should carry multi-tools, like Leathermans, should stick to their MBR for actual combat, and should use a bayonet for an edged weapon; that will always be the superior choice to an 8 ounce, 3.8 inch folding blade.
My advice to you is this: ignore the nonsensical claims on the forums stating the Benchmade Adamas would make a kickass survival or soldier's knife. Recognize this knife for what it truly is and excels at being: an absolutely unique, badass collectors blade that, because of its uniqueness, would fill a gap in pretty much every knife collection. I can't imagine any production knife aficionado turning this one down. In terms of the collectible aspect, the Adamas scores extremely high.
Putting aside its top marks in terms of uniqueness, the Benchmade Adamas also crushes in terms of its top notch design, construction, and finish. Okay, I may not be using it for survival purposes, but would I return it or sell it? Absolutely not. I positively love this knife and if I lost it for some reason, it'd be right back on the to-buy list. Out of all the knives I own, this is one of the very few that will always have a place in my collection because it has no true competition or alternative in the market, especially at its price range.
If you want an overbuilt, sexy, badass folder that will make you grin when EDC'd, this is one of the best options you've got. If you want a knife for your collection that's difficult to replace because it's incomparable to others, especially those offered within its price range, you've struck gold.