It's 2016! Looking for our Cyber Monday 2016 Knife & Gear Deals article? Click here!
So while we were thoroughly disappointed with Amazon's Black Friday deals this year, we're actually finding ourselves reasonably impressed with today's Cyber Monday discounts. I daresay they beat last year's, even though I guess it really depends on the kind of things you were hoping to buy.
There's a lot of ground to cover in this post because Amazon's a bit of a mess to look through, and I'll want to show you what I found not only by listing a bunch of of the great deals we spotted, but also by listing the search pages I found them on as well, in order for you all to have an easier time digging. You know, in case there's something we missed or in case there's something you have actually been wanting to grab, but that we didn't feature up here.
Now, starting from the very beginning… (scroll down a little if you're only here for the knives, but don't skip the "epilogue": "More Amazon Holiday Deals" if that's what you're after, considering pretty much all of that section is about knives!).
Amazon Cyber Monday Camping & Outdoor Gear Deals
I started my search digging through Amazon's pages for about 20 minutes, and here's the first gold nugget I turned up. If you're into camping, hiking, the outdoors, survival (you're here, aren't you?) you'll probably really like this section of Amazon's deals. Gotta admit, it's a good time for buying some high-quality outdoor clothing if you're in need of it. Seems like Amazon has a particularly soft spot for those trying to get a good deal on clothes for this sale. So if you're in need of a closet re-stock, you're definitely in luck.
Now I'll start you off by linking you to the search pages I ended up browsing through because it took me long enough to find them that they're worth sharing in and of themselves. Hopefully this'll save you some time digging for the very same thing.
For Amazon's Cyber Monday deals on camping and outdoor gear that are over 70% off – visit here.
Or, to broaden your search and check out Amazon's Cyber Monday Deals on camping and outdoor gear that's over 50% off – visit here.
Great, now that that's out of the way, let's begin with what we thought to be some of the best sales for these categories.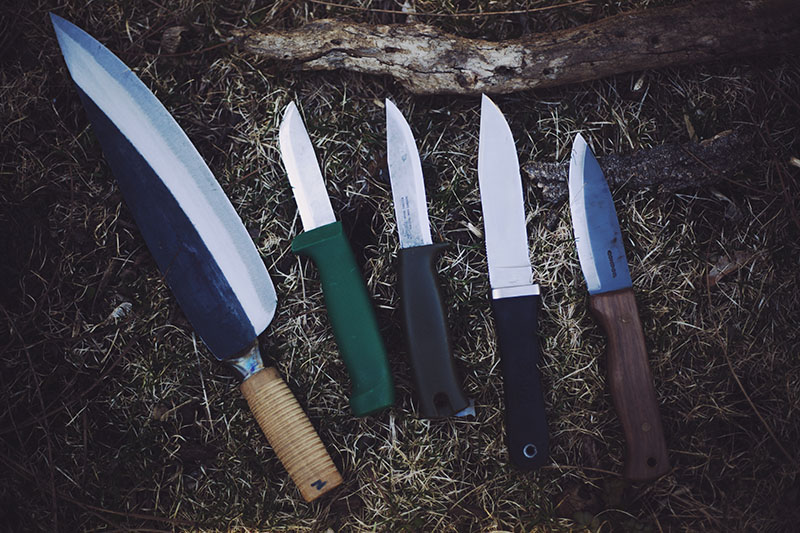 Amazon Cyber Monday Knife Deals
Okay, same drill as before? I'm gonna show you the search pages I used to find the deals first so that you know where to look if you like what you see and want more, and then I'll show you all of our hand-picked/favourite deals. These are actually a lot better than any of the sales we've seen in a long time, so thank you to Amazon for coming through on Cyber Monday at the very least!
And here we go…
For Amazon's Cyber Monday knife deals that are over 70% off – visit here.
Or, to broaden your search and check out Amazon's Cyber Monday knife deals that are over 50% off – visit here.
Now the part so many of you have indubitably been waiting for – our favourite knife sales!
*And I quote, "Sometimes I really wish I was in the States! $10 for that machete..?! It like literally never goes on sale. And that's one of the best machetes you can buy. If people don't take advantage of this, I'm gonna be pissed."
Yes, there were a lot of SOGs in the mix. Sorry, not sorry. There are a lot of good sales on SOG knives right now, what can we say?
More Amazon Holiday Deals
I don't want to make a separate post for these, so I'll make it quick and just include what I found as a sort of epilogue to this already-too-long post on deals.
In Friday's Black Friday post I noted that Amazon was promoting holiday deals on both Victorinox Swiss Army Knife & Kershaw Knife products.
Right now and through to the holidays, you can save $10 off your $50+ purchase of select Victorinox Swiss Army Knives and save $10 off your $50+ purchase of select Kershaw Knives.
Well I missed a couple of other cool holiday promotions, and that's with regards to both Gerber Gear, and SOG Knives.
Basically you can save 15% on select Gerber Gear products as well as 15% off of select SOG Knives on Amazon through until Christmas, I think it'll be.
So all in all, check out Amazon's promotion pages for:
Any Great Cyber Monday Deals We Missed?
Well that was a doozy! Hope you found something you liked in the bunch. If not, well better luck next year; or maybe you'll find something worth grabbing on Boxing Day before the year ends, even!
Let us know if you snapped anything up, and if it was on our list or something else you found rummaging through the pages of Amazon or other sites.
Happy sale hunting!