The Solo Stove Titan is my first introduction to modern, portable wood-burning stoves. I pre-emptively apologize with regards to any lack of technical detail, I did my best, but seeing as how I have no point of reference and that, realistically, this is a (very) fancy steel can, I found myself grasping at straws with regards to suitable metrics. How does one review a wood stove? What scale judges good versus bad? There seem to be very few – all relating to how well it works because of how hot it gets.
To get the obvious out of the way – a Solo Stove is definitely much better than an open fire. The Solo Stove offers practical solutions (I'll get into the nitty gritty of this later) that you may possibly never even have thought of, and by all accounts, it's extremely well made. If it's a durable, portable wood stove that you want – this one is the bees knees; but let's dig in a lil' deeper, shall we?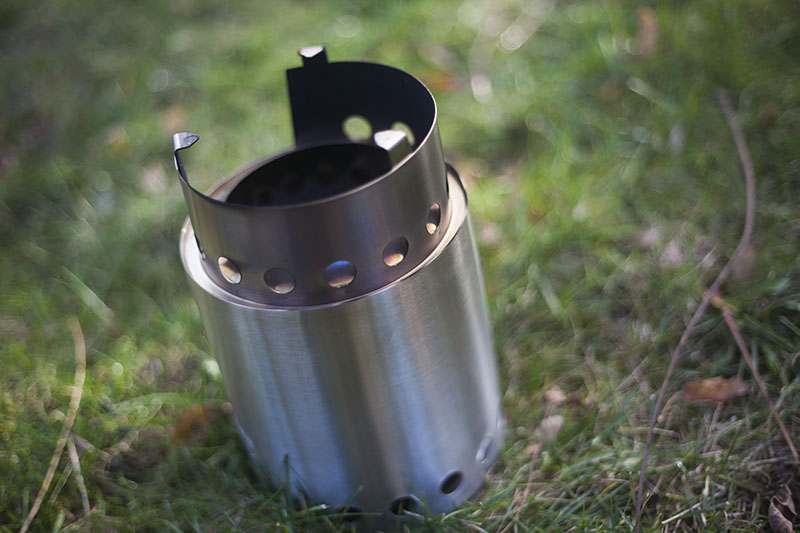 Solo Stove Titan 2-4 Person Wood Burning Camping Stove – Amazon / eBay
The Solo Stove is clearly targeted at the backpackers, campers, and survivalists of the world that take optimization very seriously.
Yes, in a lot of ways it's ridiculously overkill and features over-engineered performance that is likely to leave traditionalists scratching their beards in befuddlement, thinking, "Why do I need portable stove designed for more heat?? Isn't fire hot anyway?" The answer of course is, well… yes, fire is already hot; but because the fire in this stove is hotter – you're frankly going to have a lot easier time getting your food warmed up when you're out and about in the middle of nowhere.
The Solo Stove Titan (well, all the Solo Stoves for that matter) is made out of stainless steel. The Solo Stove happens to be very rugged both in terms of appearance and in feel. You can't baton with a stove, so definite durability tests are limited, but I reckon it will stand the test of time. I say this based on construction and materials alone.
It's very easy to pack away and carry on you in a backpack – they made sure of that. The bag that the Solo Stove comes in is almost certainly the best thing you could use to store it in, considering its perfect size and its lightweight material. You can tell they were paying attention to detail when designing this product, and not just with the Solo Stove itself.
The packaging and general presentation is very pretty. I mention this because frequently pretty stuff tends to be geared toward yuppies that go camping once a year, and this is very much a serious tool. Don't let the Solo Stove's fancy styling trick you into dismissing it. It's very much a serious appliance.
The Solo Stove that I have, the Titan, is meant for 2-4 people. There are other sizes available (namely, the Solo Stove Lite for single-person use, and the Solo Stove Campfire, intended for 4 or more people), and quite frankly they are worth looking into if you've got bigger or smaller needs than our two-person team. I do feel this is a good size for 2 people, but if I were regularly needing to heat up food for 4, I might opt for the bigger Solo Stove, the Campfire, instead.
The construction of the Solo Stove is like a cool dual wall container made of stainless steel which is peppered with breathing holes.
The general gist of the design is to allow air (and thus oxygen) to be fed as best as it can into the fire, making as much firey goodness as possible. If they ever figure out time travel, I will bring this to cavemen and be worshipped as a God.
Below are the specs. I will say it's surprisingly not as lightweight as it looks. As a matter of fact it's positively brutish, and this surprised me as I expected it to be geared towards all the ultralight backpackers, but no – durability and strength was prioritized here, and the end result is a 16.5 ounce (1 pound) steel cylinder that easily severs as a lethal projectile should the need require it.
I wouldn't depend on its ability to maim a bear; I'd definitely prefer a much heavier rock for that, but it's a nice option if you need to silence fellow snoring backpackers. Just make sure it hasn't been recently used to cook with, or your plan will certainly backfire. When I said this thing gets hot, I meant it. And that means it stays hot for quite a while as well.
I had no idea how best to "test" this product, other than firing it up and seeing how quickly it could boil some water. So let's make coffee and time how long it takes, and see firsthand how the damned thing works (- turns out it's a little more complicated than just throwing twigs in).
Fire, of course, requires fuel, so I collected some try kindling and got to work making it manageable. Being a true genius, I forgot to bring a chopper with me, and thus had to make due with the (excellent) Mora Companion. If I had to do the test again – I would bring the Ontario Marine Raider and reduce a log to the desired size.
Mora Companion Outdoor Survival Knife – Amazon
I wasn't sure how easily wood would catch, so I cheated and brought some dryer fluff along with me. I quickly conjured up some feather sticks to add on as well.
I packed the initial "load" (my technical term) up to the lil' holes. No idea if this is optimal, but it worked out just fine, so I figure that's good 'nuff.
Looks like a solid assortment of kindling to me.
Packing the dryer lint last – my favourite kind of tinder to use. This stuff takes a spark like you wouldn't believe.
Almost ready! At this point I am feeling pretty good about all of this – stuff that burns goes in can, then fire, and finally coffee.
Now let's watch this tinder burn, baby burn.
After enough flames started leaking out the top of the can, I added the upper section of the stove, which serves as a pot/receptacle holder with 3 convenient prongs. Nothing special – it just works.
Every section is overbuilt by the way, not just the primary can. The top is very sturdy and can withstand a significant amount of torsion as well as manhandling – much better than using aluminium contraptions which are easily rendered useless by clumsy feet stepping on them.
My original "log-base" was feeling a bit too crooked at this point, which I quickly noticed, so I moved the Solo Stove over to level-ground before it got too hot. I'd obviously recommend starting on something level rather than moving your stove after you've gotten it started up as we did, but hey, what can I say. If you figure out late that what you've got the stove on is not level enough, move it rather than have it topple over mid-cook.
At this point, the fire is easily toasting my fingers (confirming scientifically that fire is indeed hot!), and I place my coffee pot on the prongs.
Get toasty while you're using this in the winter, guys. Can definitely use the Solo Stove for its handy side-job as a hand warmer (pun intended)!
Now of course we've got to time. I whip out my Moto X Play and start the timer – surely this will add some credibility to my otherwise woefully non-technical review, no?
A few minutes in and I was worried about my ability to top up the wood while watching my previously perfect kindling pile slowly but surely being reduced to ash – a worrisome thought as I still hadn't had my coffee.
You will need to top up, you just will. But don't worry, the Solo Stove makers have thought about this. The spacing in that upper section of the stove 100% allows you to continuously feed the fire without getting any fingers burned.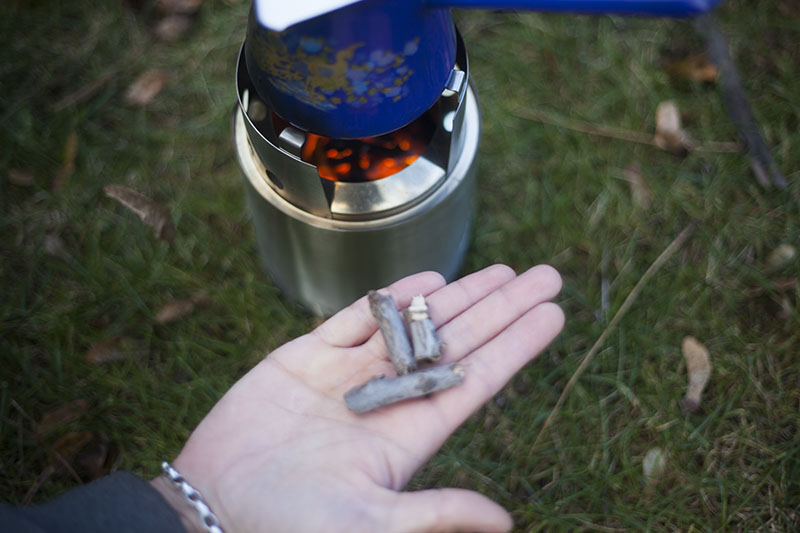 Woosh, restored fire!
Now onto the major flaw with this review:
I would like to apologize to Solo Stove & you, dear readers, because the reason it took 7 minutes+ and not a mere 5 for the Titan to get the water to boil is because, in my excitement, I knocked the damn thing over removing 50% of the water and almost taking out the fire in the process.
Yes, I am a genius. Actually, I think Elise's klutziness has rubbed off on me so we're better off laying the blame there.
Human error is, as always, the primary culprit and threat in all outdoor situations. A word of advice to avoid making my blundering mistake – use a pot significantly larger than the prongs when cooking or boiling water with the Solo Stove – unless of course it's your innermost desire to look like a complete idiot in front of your camp friends or family.
Yes, at this point you look at the picture below of the coffee pot balancing precariously on the prongs and say to yourself, "You didn't see this coming?" No smart ass. I didn't think of the most blatantly obvious worst case scenario because I was fixated on the fact that I hadn't yet had my morning coffee and this, might I add, is quite a cute little coffee pot to be taking pictures of in a review; but now I know and I won't repeat this mistake again.
At least I've made the mistake for you. You now know full well you won't make it yourself having heard of my blunder. There, I saved you some embarrassment. You're welcome.
Delicious caffeine to follow shortly.
Previous errors and human miscalculations forgotten, I enjoyed a cup of Joe by what was now an unbelievably hot steel can (no exaggeration – I couldn't believe it and took it upon myself to touch the sides – BAD IDEA; am full of dubious behaviour in this one).
After using the Solo Stove, step away and let it cool. Trust me (to make the mistakes for you).
Why do you want a fancy steel can for holding fire when you can have a large, manly bonfire?
First of all, it's practical. Like really practical. It's 1/ tiny and 2/ safe to leave unguarded (in my opinion, but I live in Canada, full of snow and wet stuff so rampant fires are not an issue), and like I've mentioned before, 3/ the Solo Stove produces ridiculous amounts of heat for its diminutive size. That's the point of having a fire to cook on, right? And this 4/ gets the job done fast.
Its awesome oxygen hole feeder thingy system means that 5/ all you have left at the end of it is, well, nothing. Just white ash that's trivial to dispose of should you wish to leave no trace – very useful in a survival situation, as I am sure you will agree.
And probably best of all, because of just how optimized this wood-burning stove is, you really 6/ don't have to use much wood and tinder at all. Just have a little pile next to you and it will honestly last ages.
It's easy to see a few extra benefits for any survivalists using the Solo Stove as well.
Because of just how trivial it is to keep the fire going inside the Solo Stove, all those calories you'll desperately need in a survival situation won't be wasted in processing large volumes of wood to make and sustain a campfire. Perfect if the only reason you needed that campfire is for cooking or for producing a small amount of heat.
You can technically also move the Solo Stove even while it's got fire in it – and thus, if necessary, use the Solo Stove to carry fire to a new location. Yes, it's not advisable, but if you desperately need to move a fire (say because your position has been compromised, you'd like to move camp to be closer to water, or you need to move to a location where wild animals are not at your doorstep) and, say, have run out of lighter fluid, matches, or lost your firesteel, if you've got this little bugger on you, you're good.
Obviously, use two branches or some other way of holding the Solo Stove without using your hands unlike I did (I am clearly not smart enough to handle such complex tools), but should you need to relocate the fire somewhere and keeping some kindling smoldering, it's trivial (literally a child could do it) with the Solo Stove.
The advantage for preppers who are bugging in is obvious as well – living in Canada and having dealt with a winter with the power grid going down, I can say tools like this do come in handy. Really wish I had the Solo Stove a few years back. Any option that does not require electricity or gas (in case you run out of butane or propane) is a good option to have at your disposal when it comes to heat and being able to warm up food. When the chips are down – you will want something high performance and durable like this. Trust me (though as preppers, I doubt you need convincing on this front).
Obviously, don't use this sucker indoors, but outside, go wild.
What I originally (falsely) assumed was going to be a flimsy yuppie tool to part suburbanites of their money turned out to be a very well designed and implemented slab of steel.
The Solo Stove Titan is ludicrously overbuilt, and unlike gas stoves, it has no parts for failure. Correct me if I'm wrong, but I don't see how it could break, and when it comes to wilderness survival & preparedness – that's one hell of an advertising point.
I can definitely see the Solo Stove as an option for wanderers and hunters travelling to camp – starting a fire using natural means is hard enough, but in Canada keeping it going the real challenge. A system that is designed to crank out heat with minimal wood being fed into it is frankly worth its weight in gold.
Hell, once you get the Solo Stove going you can throw in green wood and wet kindling even. The strong heat will dry out pretty much anything with no fuss or over-complication.
KISS – "Keep It Simple Stupid" are great words to survive by, and this is the quintessential definition of a simple product that performs admirably.
I dig it, even if my burnt fingers don't.