When Kershaw first announced the Emerson collaboration, I was gobsmacked: I couldn't believe that in a few short months I could purchase a bonafide Emerson design for under $50. Naturally, I was really curious, skeptical even, about what the end result would be. That being said, as soon as the CQC-6K came out of the packaging and into my hands, I've gotta say I've been in awe. I don't say this lightly: this knife is the game changer of 2014, and judging by the quickly fluctuating stock levels at Amazon and other online dealers, it seems I am not the only one who thinks so.
Kershaw Emerson CQC-6K 6034 Clip Point Knife – Amazon / Blade HQ
The Kershaw Emerson CQC-6K, like all of the Emerson/Kershaw line of knives, are designed by Emerson, then manufactured by Kershaw, a fact proudly emphasized on the amazing-looking packaging. The Emerson/Kershaw line of knives is more than a collaboration, it's more like a true partnership, meaning that, in practice, for 30 bucks what you're getting is a legitimate Emerson design in your hands, just as Ernie Emerson intended.
When I first picked up the Kershaw Emerson CQC-6K, I was shocked at its heft. Even though it's an EDC friendly folder, with its blade length scaling in at 8.2 cm (3.25 inches), it weighs in at a not-too-subtle 142 g (5 oz). While this isn't exactly boat anchor heavy, it's by no means as light an EDC as I'd expected. I'll have to admit that pictures make it look deceptively lighter than it really is. That being said, in hand this knife is so well put together that the weight almost makes me feel like quality is behind that heft. Placebo? Maybe, but I still like it.
A good bulk of the weight comes from the solid stainless steel framelock: a worthy sacrifice of lightness, as the lock up is fantastic.
This knife, though I'm sure you've noticed already, is a true and true Emerson. From a distance, you honestly would never know that the CQC-6K was manufactured by Kershaw: the only giveaway being the Kershaw logo on the other side of the blade. Rarely can a knife look utilitarian and yet be so beautiful at the same time. Ernie Emerson is known for his unique sense of aesthetics, and that's certainly been passed down to this Kershaw partnership love child. The CQC-6K is clearly worthy of the Emerson name.
The 8cr13MoV clip point blade features a gorgeous two-tone finish. The hollow-ground section of the blade has a gorgeous heavy stonewash, and the flats are left satin with the grind marks leading away from the tang to the tip. One of the best looking blades in my entire collection, competing with knives at every price range.
Besides the gorgeous blade finish, the knife features a bunch of little quirks that really amp up the appearance and feeling of quality. There's the perfectly contoured G-10 scales, and the scalloped jimping throughout. There's also those little Emerson detail touches, like the Emerson skull on the pocket clip, all really bringing home how much care went into this extremely underpriced folder. Not a detail was spared in making this knife. Emerson went all out with the design; just as though they were manufacturing the knife themselves.
Surprisingly, the balance is not as handle-biased as I would have assumed. No, it isn't neutral, but after using it for a few weeks, I don't really notice that anymore.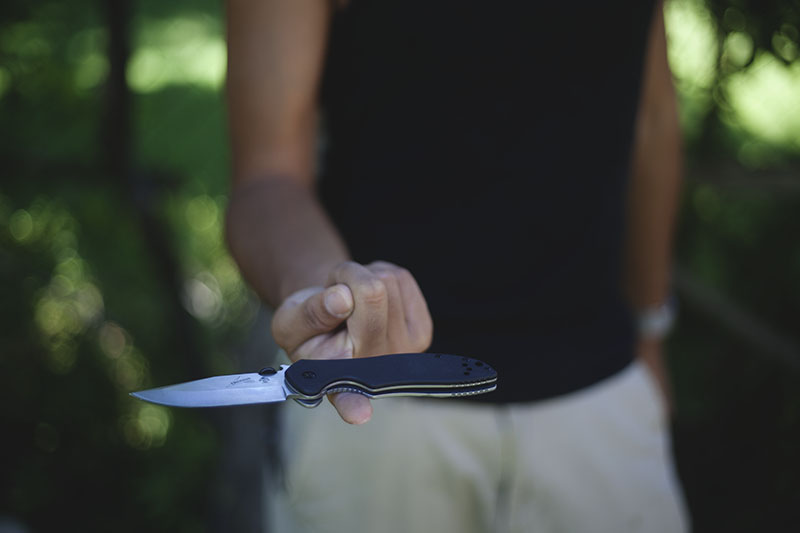 As many of you know, my preferred blade grind has always been a nice, lean full flat grind. That makes the Kershaw Emerson CQC-6K an exception for me. However, its hollow ground 2.7 mm (0.11 inch) thick blade is so nicely tapered, I would say it's more of a saber grind than anything else. It's not a super slicer, but it's no slouch either. Though I wouldn't use it for food preparation, for everyday use? No problem. The 8Cr13MoV blade is holding its edge just fine.
The point is nicely tapered thanks to its swedge. I would say it's possibly one of the most acute on the market taking into account how beefy the overall knife is. I recently reviewed the CRKT Ripple, and while that has a more needle-like point, the Kershaw Emerson CQC-6K, with its combination of toughness and leanness in all the right places, would make a more effective tactical knife in pretty much all aspects.
The pocket clip is the stereotypical Emerson one and does not carry deep. This is necessary for use of the Emerson Wave (more on that later).
Speaking of the hardware, I wouldn't be surprised if it came straight from the Emerson warehouse. It's almost identical in style and function to the few Emersons I have handled. Very much utility-oriented with no magic proprietary screw heads (take note Microtech). I could take this knife apart in the field with my Victorinox Swiss Classic if I wanted. Love it.
When Elise snapped these pictures of the Kershaw Emerson CQC-6K, the centering on the knife was off. After a week of playing with it, it's now dead center and hasn't budged since. Seems this knife is magically self-centering. Fit and finish is extremely nice, and if I handled it without seeing the price tag, I would have said it was in the $100+ price range.
The 4xx series stainless steel frame lock engages with authority. This knife is a 3.25 inch tank. It has zero blade play in either direction. I stabbed it in some 2×6 slabs of wood a few times and checked for lockbar travel or slip, and nothing budged. Kudos Kershaw.
The CQC-6K's steel liner and the steel frame lock have zero skeletonizing. No surprises there taking into account its significant weight.
The thumb disc will never be my favourite method of deployment. I've gotta say that I am spoiled by the Spyderhole, but in terms of pure performance it does function very well. Like all Emerson knives you can always remove the thumb disc if you want to. Just unscrew the single Philips head screw.
The Emerson Wave is truly Ernie Emerson's legacy to the knife world. Its a thoroughly genius, elegant deployment system that has no moving parts or spring, and yet reliably works using the natural motion of withdrawing your knife from your pocket.
Noticed the hook above the thumb stud? Sure it doubles as a handy ramp for your thumb to rest on, but that's actually the key to the Emerson Wave.
As you naturally deploy the knife from its position hanging in your pocket, the hook catches on the pocket lip, opening the blade with lightning speed.
It should be noted that it does take a little bit of practice to withdraw the knife at the right angle, and you will need to pull the knife out relatively aggressively if you want the lock to engage solidly, but in my experience, it only takes a few minutes of practice to have the Emerson Wave withdrawal down to a fine art. Of course, I need not mention, but the Emerson Wave works perfectly on the Kershaw CQC-6K.
The beauty of this deployment system is that the blade is out and ready for action in one fluid movement. It's the ultimate deployment system for tactical purposes if you want to practice with muscle memory in mind whilst not depending on a spring or other mechanical device, like automatic knives, that could fail when you need them most.
The shots above were staged because when trying to capture the Wave deployment "live," our super high performance DSLR was not able to catch those in-between moments where the hook catches on the pocket.
The Emerson Wave really is lightning fast. One second the knife's folded nicely in your pocket, and the next it's locked open in your hands: ready for action. Fantastic!
In the almost impossible event that the lock fails, the Kershaw Emerson CQC-6K has no choil. That being said, I'm not at all concerned over this, as the framelock is very well implemented. With its sturdy grind and beefy framelock, this knife is perfectly suited for hard use – I wouldn't hesitate to push this beauty hard.
The standard saber grip is wonderful. Any Emersons I have handled in the past have always struck me as having perfect ergonomics. The Kershaw Emerson CQC-6K is no exception. It locks into the palm of your hand seamlessly, with the Wave hook serving as a great resting place for your thumb. Again, very well designed and manufactured. Nice contouring and subtle jimping throughout, and so incredibly comfortable.
I will add that the few Emersons I have handled seemed, in my opinion, to have a superior G-10 texture. The CQC-6K G-10 is grippy, but not as much as an Emerson manufactured knife. Preferences will of course vary, but bare that in mind.
Choking up on the blade is not ideal. The CQC-6K has no choil, so it obviously was not designed with this in mind. As if it wasn't evident enough, the hook biting into the flesh of my thumb reinforces that fact.
In reverse grip, comfort is fantastic. The Kershaw Emerson CQC-6K has a plastic backspacer that sits more or less flush with the scales. While I do wish this knife had the same backspacer as the Kershaw Volt, it would clash with the overall Emerson styling, so I'm not all that disappointed.
Pinch grip is not ideal. Much like choking up, the CQC-6K was clearly not designed for this grip. Ernie Emerson is often referred to as the father of tactical knives for a reason: this is not your grandpa's ol' Case knife.
The Kershaw Emerson CQC-6K is as irresistible to ants as the Spyderco Sage 2 was to bees… Take a look at that beautiful satin finish on the flat of the blade.
The Kershaw Emerson CQC-6K is a game changer in the knife industry, not just because of who designed it or the frankly ridiculous low price, but because it really is the whole package as far as EDC knives go. I absolutely love this knife and would argue that, from what I know, this blade beats pretty much every entry- and mid-level knife available in production from absolutely any manufacturer. Period.
If Emerson and Kershaw had decided to price this knife at $100 instead of the $30 it's usually at, I'd still have bought it and thought it was the best priced folder under the sun. At $30, this knife is a legitimate steal. I really cannot emphasize how good of a buy this is more than to say it's almost constantly out of stock these days. This is one of the few Chinese made knives I can see being a collectible in the future, and I know I'm probably going to end up purchasing at least half a dozen more of them myself.
An amazing feat of engineering for its entry level price. 1200% recommended. Great job Ernest Emerson, and great job Kershaw. I can't wait to try more of the Emerson/Kershaw knives out.