Kershaw offers minimalistic looking knives that both function well and come at a very affordable price point. The Kershaw Volt is no exception to the brand's standard.
What attracted me to the Kershaw Volt is its ideal size and proportion for everyday carry use. At 8.9 cm (3.5 inches), the blade is the perfect balance between cutting ability and pocketability. The size of the Spyderco Military, for example, is just too large for most people to comfortably EDC, and while 3.5 inch blade doesn't sound much smaller than a 4 inch blade, in reality, Kershaw's Volt handles more like a large-sized small knife than a small-sized large knife.
Kershaw Volt Stainless Steel Folding Knife – Amazon / Blade HQ
Out of the box, I don't think the Kershaw Volt is the prettiest knife around. I did modify this one slightly by polishing the bead blasted stainless steel scales and satin blade finish, in order to try to make it look a bit more in line with my taste. Yet besides these completely aesthetic modifications, this knife is 100% stock.
It should be noted that while the Volt's stats may lead you to believe it will feel diminutive, its full stainless steel construction makes its presence felt in your pocket, weighing in at a not-so-lithe 122 grams (4.3 oz). It's not a totally unreasonable weight, taking into account the knife does have a stainless steel frame lock and a stout blade, but keep in mind that this knife is certainly not a featherweight EDC either.
The balance on the Volt is, in my opinion, a touch too handle heavy. This is of course also due to its full stainless steel construction, and so the balance couldn't really have been helped.
Looking at the blade from the side, you may get the impression that this knife is a nice lean-hollow grind slicing machine. It's not. The Kershaw Volt has a 3 mm thick blade stock with a relatively thick hollow grind that preserves significant tip strength and rigidity: a folding kitchen knife this blade is not.
The Volt features an almost full length FRN (or similar material) backspacer, with nice recessed jimping. I'm not usually a huge fan of jimping, but on this knife I definitely approve of it. The jimping is pretty functional and looks extremely stylish.
Folded, the Kershaw Volt is a neat 10.8 cm (4.25 inches) long, all in a very minimal package, with no engraving, grooves, or other superficial details. This knife is likely to be very appealing, therefore, to those who are fond of extreme minimalism and simplicity.
You can really see how stout this blade is from the picture below. The thumb ramp also has jimping, though it's not for any functional purpose this time. I would say here it's used primarily for aesthetic reasons.
The steel frame lock engages with authority, and the mating surface (where the lock and the blade tang meet) seems very well engineered. All this is to be expected, considering RJ Martin is its designer. The Kershaw Volt is easy to disengage as well.
There is no choil to speak of, but it's not necessary considering the flipper acts as a guard to keep your fingers safe.
The pocket clip is clean and functional. I actually love it. It's much nicer than the weird Ken Onion designed pocket clips featured on other Kershaw knives.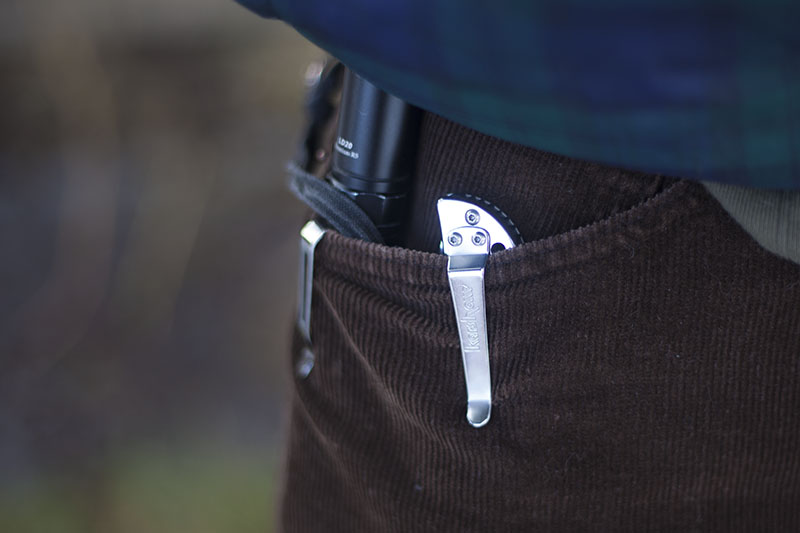 The Volt is clearly designed for a traditional sabre grip, and it functions perfectly in said grip.
Reverse grip is very comfortable, too, due to how neutral the handle is. The linear, minimal design aids in this regard.
You can choke up on the Volt, but it's not a precision cutter, so it's unlikely you would use it in this particular manner.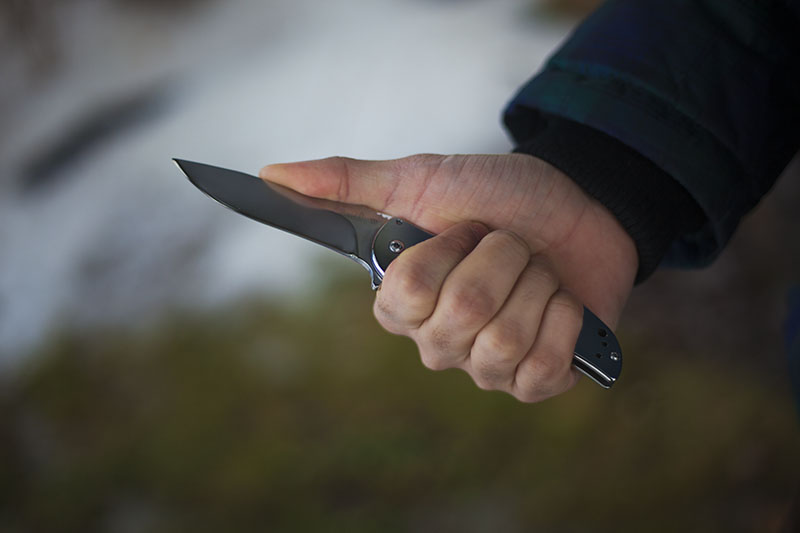 The speedsafe assisted flipper is an interesting beast. It uses a torsion bar to "assist" you to fully open the knife when the flipper is pulled, though the Volt is of course not an automatic assisted opening knife. In practice, the speedsafe works perfectly, and while I can't say I love it as much as I'd love a nice manual flipper, that's just my personal taste considering this flips out just as well. The speedsafe is perfectly functional at what it does.
A note of caution should be added in that while this is not an automatic knife, the fact that there is a spring of sorts can put it in dangerous legal territory when handled by less-knowledgable law enforcement personnel and members of the public. Again, not an automatic knife, but it can easily be misinterpreted as being one. Be forewarned, therefore, just in case.
The Kershaw Volt acts as a super minimal, sleek and clean knife, all at an insanely affordable price point.
Based on first impressions, I'd typically have suggested it would serve solely as a great general EDC, but after using it for a while, I can definitely also see it as being used more practically as a hard-use work knife. It's definitely the type of knife that can handle being carried and used day in and day out by construction workers and anyone else who may require a beater knife, as it can easily handle rough service, even though it's presented in such a sleek, compact package.
The knife's appeal is definitely in its killer minimalism, the fact that it deploys like a demon without even being an automatic knife, and its very stout, unstoppable lock that should honestly never fail (under normal use of course). All for under $30 and this knife is pretty unreal. If you've never experienced assisted flippers, I would say the Kershaw Volt is an excellent introduction to them.