We've all seen it before – the sharp yellow flag featuring a rattlesnake and the words "Don't Tread On Me." Chances are if you're here, it's because you got curious enough to Google the meaning of the flag, and want to know at least a little bit about its historical significance. Chances are you have also seen it quite a few times before Googling, maybe even used it yourself without knowing the full history, bought a T-shirt with the symbol on it, or seen someone walking around with one on.
The flag featuring the defiant rattlesnake and sharp yellow background, is actually called the Gadsden Flag, and it's been around since Benjamin Franklin's time. Franklin actually referred to the imagery of the flag when he suggested sending rattlesnakes to England as a method of repaying England for sending criminals to America way back in his day. But we'll get into the flag's historical significance more in a later section in this article.
Ever since it's creation, the rattlesnake, the flag itself, and the message – "Don't Tread on Me" have been a visible symbol of American individualism and assertiveness over the years. It's a message that has lived on through the ages, and I feel will continue to represent strength in the years to come.
What Does "Don't Tread On Me" Mean? What Does the Rattlesnake Symbolize?
The Gadsden flag is often described as the American equivalent of the Spartan "molon labe" ("come and take [them]") motto. The comparison is apt as they both represent responding with force to perceived threats, but I have always preferred the Gadsden flag as the perfect expression of subtle defiance and resistance. It's not a declaration of war, but rather an implicit threat implying: "We won't take shit from anyone."
This is spelled out, not as a contrarian argument, but more as a fact – a plainly put statement of resistance, which makes it far more applicable to day-to-day life and thus far more frequently used and thus ubiquitous in terms of seeing it used regularly. In my mind, "Don't Tread on Me" is very similar to the Roman, "Si vis pacem, para bellum" (If you want peace, prepare for war). It's a fair warning for all would-be oppressors to back off. Regardless of where you're from, I think this is a sentiment you can relate to on a human level.
The History Behind the Gadsden Flag
The Gadsden Flag was designed in 1775 during the American Revolution by the general and politician Christopher Gadsden. Originally, it was flown by the Continental Marines as a motto flag along with the Moultrie (Liberty Flag).
Its application in history is rooted in its imagery – the infamous snake has been used in the past by Benjamin Franklin's "Join, or Die." – which was actually the first political cartoon – and the rattlesnake as a symbol continued to be used throughout the years as the representation of the American people and their drive for self-determination.
If you're wondering if it's ever been used to promote racist agendas before, yes, it has. Indeed the "Don't Tread on Me" flag has at times in the past been hijacked by less than savoury groups. Frankly, however, I wouldn't put much weight on that. Why? That's not at all what it was created to mean. It was never originally intended to be used this way, and if tomorrow, My Little Pony were randomly hijacked to represent something terrible, degrading, and racist, I'd like to think people wouldn't put any fault on My Little Pony for that – it's just plain not what the intended purpose of the original creation was.
It's very easy for people to claim any symbol "as their own" and twist it for their own ends. Objectively speaking, we can find negative connotations attached to all symbols, so on that note; any mention of racist connotations regarding the Gadsden flag or the phrase "Don't Tread On Me" demonstrates a complete lack of understanding of its history and seems to be pushed by a movement levelled by individuals who have an axe to grind against anything that didn't spawn at a Starbucks. I find it thoroughly disappointing that so much of our relations with our fellow man have dwindled down to petty partisan bullshit, but here we are.
2017 folks. The fact that this is even being debated is tragic, but to settle the matter once and for all; From the New Yorker:
"The origins of 'Don't Tread On Me,' " Leepson summarizes, "were completely, one hundred percent anti-British, and pro-revolution." Indeed, that E.E.O.C. directive agrees, "It is clear that the Gadsden Flag originated in the Revolutionary War in a non-racial context."
[*] I am aware that as a Brit, it is extremely ironic that I am happy to use the Gadsden flag as a symbol of defiance. On that note, if you accept Her Majesty the Queen as your sovereign monarch I am sure all will be forgiven. I'll await for your formal notice. ;)
With regards to the rattlesnake's historical adoption as a symbol of the strength of American independence, Benjamin Franklin phrased it best in his essay published by the Pennsylvania Journal (quote pulled from this source);
I recollected that her eye excelled in brightness, that of any other animal, and that she has no eye-lids. She may therefore be esteemed an emblem of vigilance. She never begins an attack, nor, when once engaged, ever surrenders: She is therefore an emblem of magnanimity and true courage. As if anxious to prevent all pretensions of quarreling with her, the weapons with which nature has furnished her, she conceals in the roof of her mouth, so that, to those who are unacquainted with her, she appears to be a most defenseless animal; and even when those weapons are shown and extended for her defense, they appear weak and contemptible; but their wounds however small, are decisive and fatal. Conscious of this, she never wounds 'till she has generously given notice, even to her enemy, and cautioned him against the danger of treading on her.

Was I wrong, Sir, in thinking this a strong picture of the temper and conduct of America?
All this to say, using the rattlesnake as a symbol of American independence and strength made perfect sense due to the predominance of the timber rattlesnake throughout the Thirteen Colonies and the perception of the rattlesnake as an animal that won't attack until provoked, but will leave a nasty bite once it is.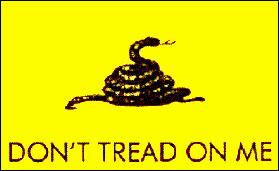 As a side note, the original Gadsden flag shows the snake by itself. Modern versions from the 20th century onwards, sometimes have a grass bed below the rattlesnake. There can also be some debate over the use of an apostrophe over the "Don't," but early versions all (for the most part) use an apostrophe, so as far as I am concerned it is the standard. Similarly, the snake is usually facing left.
Modern Applications: How the Flag is Used Today
The Gadsden flag has carried over as a symbol of defiance against the perception of tyranny. Its significance, I feel, transcends all nationalities and creeds.
In present day, the Gadsden Flag is iconic in its symbolism as a rallying cry for Libertarianism and individual liberty, as far as the modern mainstream political discourse will allow it to be.
I will say that common criminals masquerading as "anarchists" have in the past hijacked this flag, and it's a damn shame that that's happened to such a valuable historical symbol of strength, but broadly speaking the flag still is taken to represent freedom and, more importantly, the willingness to fight for this freedom.
To the best of my knowledge, no single group has ever "claimed" the flag, appropriating it completely for itself. Instead, the flag has been used time and time again as an iconic symbol of rebelliousness.
One example of the flag having been used in an attempt to show a rebellious spirit with no ill-intention meant: the heavy metal band Metallica using the outline of the rattlesnake on the cover of their Black Album back in 1991.
Walk around malls often enough and you're likely to see the rattlesnake featured on band t-shirt reproductions of this popular cover art.
The perception from the media (broadly speaking) is that this flag is a right wing symbol. This is patently false. You also often get the perception, from the media, that this flag is somehow representative of anti-government ways of thought, which I feel is moderately true – only insofar as it's often used to be representative of the oppression of government and the sacrifice of individual liberties.
The Gadsden flag cannot be considered anti-government from a historical perspective, especially considering how Benjamin Franklin used it in the past. Again it remains, in my opinion, a symbol of individual liberty and freedom, and strength in the face of potential oppressors of that liberty. 2nd amendment causes, individual liberty, pro constitution, and anti big government movements have rallied around this symbol, though this doesn't fall out of line with the general message of the flag because they consider big government to be their potential oppressors.
Personal Meaning: What "Don't Tread On Me" Means to Me
As for me?
I take this flag to mean – I'll mind my own business, if you mind yours. If you don't, you will regret it.
This way of thinking is becoming a rarity in mainstream culture. We tiptoe around our individuality promoting this bizarre sense of forced collective cohesion, which I think is incredibly detrimental to society. We have forgotten that it is a-okay to dislike other people, and yet still respect them and their individual right to dislike you in turn.
People are different. That's normal. That's good. We should accept that fact and move on.
Resisting is not a bad word, nor should it be considered one. Why? Because being different is not bad, and it should be celebrated instead of condemned. Resisting other's attempts at forcing you to do things you don't want to do, resisting attempts at taking away your personal liberties – I feel this is an important message that the Gadsden flag still reinforces today. The Gadsden flag is a representation that consequences are on the table should respect not be reciprocal – there's nothing in that sentiment that's negative, in my opinion.
Personally, I don't view the Gadsden flag as abrasive in nature, despite recent media frenzy over it. For me, the flag and the snake represent accountability. Every action has a reaction – a rattlesnake will hold you accountable for provoking it. Again, it doesn't strike first, just reacts defensively to keep itself safe from harm from another entity. It's a tacit acceptance that even with everything that is going on around us, all the rage, anger and accusations being thrown around the media, some of us will hold our ground; our rights are our own and will remain as such – because we will defend them to make it so.
Something to think about.
Your Thoughts on the Gadsden Flag?
How about you? What do you associate with the Gadsden flag? Do you think it spreads an overall positive message or a negative one? What have you in the past taken, "Don't Tread on Me," and the rattle snake to mean?
Did you know about it's history? Learn anything new about its meaning and how it's been used over the years?
What do you feel as though it's come to represent? Do you think its meaning has changed over time?
Leave me a comment to let me know.