Prepping can be incredibly expensive depending on how you go about it. Buying a plot of land to build a bug out location on, building an underground bunker, even having a quality prepper stockpile – none of these things are free to do, let alone cheap.
There's no end to the number of items you could buy that could help you out in an emergency. And while yes, there are cheap, quality items out there, there are also plenty of big-budget items you won't want to cut costs to buy. High dollar investments that will pay off.
But is prepping worth it financially in the long run? In my opinion, yes, and I also believe that there are plenty of ways preparedness can save you money in the long run, even though in the short-term it may feel like you're spending a lot of cash to get your preps up and running.
What are these ways?
14 Ways Prepping Can Help You Save Money in the Long Run
1. No convenience fees.
Have everything you need always on you? You'll never have to go to the convenient store and pay those crazy high convenience prices again.
2. Buying in bulk often means cheaper cost per item.
If you're buying in bulk, chances are good you're saving yourself money by reducing the amount you're paying for each individual item. Of course, you'll have to be sure you actually use what you're buying or you'd be wasting in that regard, but bulk buying really works if it's for staples, or things that don't really expire. Check out a list of the best survival foods to stockpile if you're interested in going the bulk-buy route for things that won't end up expiring on you in only a year or two.
3. You can take advantage of sales and discounts every time you buy.
Having enough in advance means you can afford to wait until a sale swings around to buy again. This is a huge advantage if there are big 25-75% off discounts regularly in places you shop or would consider shopping at. The less you have to pay at full price, the better.
4. You can barter some of the items you've stockpiled.
Bartering items you've stockpiled at a discount for other items you otherwise would've needed to pay full price for is a great way to save money while prepping.
Happened to have stockpiled way too much soap for you and your family to use throughout the time span you'd like to use it in? Think you don't need all that extra? Use swap sites like Freecycle, or regular classified sites like Craigslist or Kijiji to trade the items you have that you no longer want for other items you're missing and need to get your hands on.
5. Home security preps reduce the likelihood of home robberies.
And we all know how expensive home robberies can be. Spend money on securing your home here and there reduces the likelihood that you'll be losing what you've worked hard to get to thieves and robbers.
6. Garden preps can help you reduce grocery store bills.
Obvious – but always true! Growing fruits and veggies in your garden and doing things like canning and jarring can really help you reduce your grocery bills.
7. Same goes for keeping chickens and animal husbandry.
The more you have at home, the less you'll need to buy from a grocery store, and so even keeping chickens for their eggs, or breeding rabbits, both things preppers often strive to do for the sake of being as self-sufficient as possible, can seriously cut the costs of grocery store bills over the years.
8. You can trade home-grown food and meat for other things you may need.
There's nothing like home-grown fruits and veggies. Have too much for yourself? See if you can trade some of what you've got for things your friends & family may no longer want or need, cutting your costs on those items with excess you wouldn't be using anyway.
9. Solar powering your home in part or whole reduces electrical bills.
Yes, solar panels are pretty upfront-cost expensive, and yes, you may not be able to power your entire home on them when there isn't an emergency. But if there happens to be an emergency, they can at least help you power your freezers and refrigerators, and in the meantime, can help you cut the cost of electricity bills. Win, win if you ask me.
10. Rain water collection can help you cut down on water bills.
Using collected rain water to garden with can help you seriously cut down on water bills. Combined with gardening and you've got very, very cheap food on your table. And probably better-tasting, too.
11. Financial preps save you having to pay high credit card interest when emergencies happen.
If you've prepared well enough for financial emergencies that may come your way, you can pay for those emergencies in cash with your savings, and not have to worry about racking up credit card debt and thus expensive interest charges.
12. Teaching yourself how to DIY can help you save on minor household repairs.
If you've prepped well enough, you should be able to deal with minor household repairs yourself: saving you money.
13. Learning other self-sufficiency skills will save you a lot over a lifetime.
Learning how to do things like repair your own car, cook your own food, cut your own hair, sharpen your own knives, and more can really help you save money over a period of years and decades. The more serious you are about prepping, the more of these skills you will be determined to learn, and the less you will spend on others doing them for you.
Want to get an idea of the types of self-sufficiency skills that will help you save money over time? Check out these 10, as well as 10 more.
Bartering your skills & prep items can help you save on things
14. Bartering your skills for other items or skills can help you save money you otherwise would have had to spend.
If you've learned how to do car repairs, cut hair, sharpen knives, or any other self-sufficiency skills, you can then barter these skills with those who have learned how to do other self-sufficiency skills that you haven't yet, or you can trade your expertise for physical goods.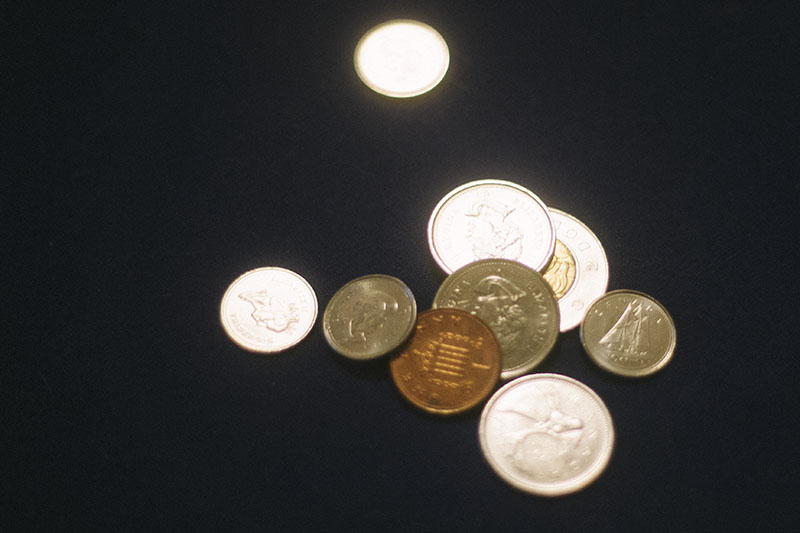 Take It One Step Further
Want to take saving money prepping one step further and actually make money with your preps?
Check out this article right here:
Prepping on a Budget?
If you happen to be prepping on a budget, take a look at the following articles for some tips that will help you keep your bank account happy:
If you think you can't afford to prep, you probably can't afford not to.
Budget & Discount Survival Gear for Your Stockpile
Working on your stockpile and don't mind where you grab products from? Take a look at our massive list of outdoor retailers' sale, deal, & clearance pages; retailers like Cabella's, REI, and Patagonia are included. Check that page often and you'll only ever need to buy your gear when it's on sale or clearance.
There's also plenty of cheap, yet high quality survival gear that's a great price whether or not it's on sale. Take a look at what we think the best bang-for-buck survival gear products are at the $5, $10, $15, $20, & $25 price points.
Other Ways Prepping Can Save You Money?
Can you think of any other ways prepping can save you money in the long-term that I haven't listed here?
I'm sure there are plenty more that I've left out! Leave your suggestions for me in the comments down below!