At around 1:00 AM on December 22, 2013, the power in our house went out and did not return for a total of 5 nights and 4 days. Horrifying, since just looking outside our window reminded us the weather wasn't going to go above freezing any time soon. This article explains how we dealt with the Toronto power outage, with no electricity and of course no working furnace in sub-zero degree temperatures, and how you can take what we learned to be more prepared if your grid happens to go down.
The Story
That first night, Thomas and I waited until 4 AM for the electricity to come back on, after which we hesitantly headed off to bed. We went to bed sure the power would return while we slept, but that obviously didn't happen.
The very next day, my parents, grandparents, and the majority of my extended family, all who lived in different parts of the city, informed us that they had lost their power as well. At this point, we began to realize how much more serious the circumstance was than we had originally anticipated. My grandparents were quickly driven over to an uncle's house, the only person in the family who still had electricity, and the rest of us stayed in our own houses.
If we owned a gas stove, at this point it would already have been on at full blast. We didn't, so we made do by turning our bedroom into a cozy barricade. Surprisingly, the temperature in our house didn't drop very quickly at all. By the end of the four days, though, the house had dropped from 27°C (81°F) to -4°C (25°F).
Our first priority was obviously staying warm, but we didn't want to sweat, so instead of putting on all the clothing we could at the start, we added layers gradually as we became colder. By the end of the outage I was wearing two or three layers of socks, three sweaters, a fleece, three pairs of pants, and two scarves to bed. Thomas could deal with the cold a lot better than I could, but of course he still did have to bundle up, as much as he'd love to tell everyone he made it through the blackout in PJs and with a nice cold beer in hand.
Our basic setup was pretty simple. We took all the candles, flashlights, and breakfast bars we had in the house and stashed them in our bedroom. I also filled a pitcher of water and two glasses, in case we wanted anything later, but did not want to leave the warmth of the bedroom to get it.
I layered the bed with the extra blankets that we had in the house. When it began to get a bit too cold for us to power through on the second morning, Thomas pulled up the butane heater he had in the garage. We used the heater to increase the temperature of the bedroom while we were in it. We never left the butane heater unattended, as that would have been quite dangerous, and we always made sure to check that the heater was not leaking when we used it.
We also have a pet cat, Avery, who we kept in the room with us. We made him a little den of blankets by the door, placed some fresh water and his food bowl by his bed, stuck in a few cat toys, and of course, placed his litter nearby so that he could use it whenever he needed to. Avery had absolutely no problem with the cold. He likely would've been fine walking around the house all day, but we preferred to keep him in the bedroom where it was always at least a few degrees warmer, just in case. We also made sure to keep him well fed and gave him plenty of snacks throughout the day, to make sure he could keep his core body temperature up.
The worst part of the experience was waking up in the morning to a splintering headache from the cold. I definitely should've owned a warmer hat, and actually bothered to put it on while I slept. Thomas and I spent the afternoons with our favourite neighbours, who actually have a wood-burning stove installed in their garage. Afternoons were therefore quite toasty and fun, as they were spent in good company. Once the sun had set, we went back to our bedroom/bunker for the night, lit some candles, and turned on the heater if we needed to, then burned our time chatting until it was time for bed. Right before we slept, we always made sure to turn off the butane heater.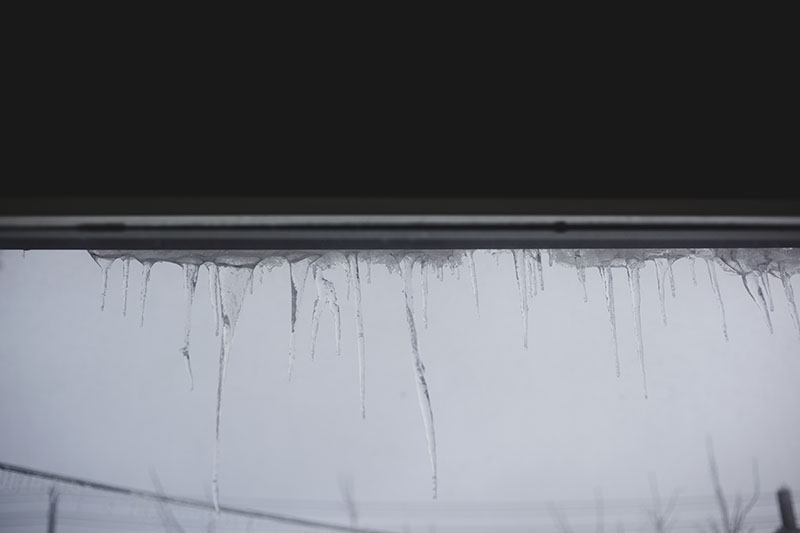 Winter Prep Stockpile List
Although we had quite a large stock of candles, flashlights, and food that is edible without needing to be cooked, and although we also had the butane heater, we still feel as though we should have prepared more for such an event. As a result, we've compiled a list of things we feel we should have purchased beforehand, and that we'll work toward completing in case another outage like this occurs.
The list is certainly not exhaustive, you could definitely have more in your stockpile to make your life more comfortable during a power outage in a below-freezing winter, but if you've got the items on this list, you're definitely at a huge advantage. Make note that the quantities we have approximated here are what we, a young couple with a single pet, would have gotten for ourselves. Adjust the quantities accordingly for your own family if you like the look of this winter prep list:
(Edit: One of our kind readers, Ed, recommended this heater as an excellent back-up heater, due to it being safer, more portable, and more versatile than the one we have. Thanks Ed!)
In terms of clothing we certainly should have had at least a few more on this list:
Wool socks (different sizes for layering) (x6-8)
Wool hat (x2), gloves (x2), scarf (x4)
Leggings/long johns (x2)
Down jacket (x2)
Lined hunting pants (x2)
Warm pants + shirts/sweaters (different sized thickness and tightness for layering purposes)
In terms of food, amongst our stockpile, we'd have made sure we had plenty of these:
Box of breakfast bars (x10)
Flashlight (x3-4)
Soup can (x10-20)
Canned fish/meat (x10-20)
Spreads (peanut butter/jam/nutella) + refrigerated bread
And in terms of our pet cat, we made sure we had these in advance:
Extra bag of dry pet food (x2)
Extra bag of litter
Carrying case (in case we needed to transfer to a warmer location)
Other Things We Learned
Okay, so I'll admit it. I grew up in a little bit of a bubble when I was a kid. My parents dreaded camping, hiking, hunting, and pretty much anything outdoorsy. Furthermore, the information my father did know about cars and maintaining them was just not passed down so well to me. I'm definitely not a car person, so my ability to retain information about car maintenance is pretty near zero. Thomas' scope of expertise is much greater than mine, but is severely limited in the particular field of sub-freezing winter preparation. He's only been in Canada for a few years, and was in Europe and Asia prior to that, in countries that don't get nearly so cold as Canada. As a result there were things he'd never thought to research or even consider in advance, things that I should've known being a Canadian all my life but that I simply had no idea with regards to as I'd never been taught myself or had to go through anything of this nature before.
Luckily, as I said earlier, we had some extremely nice neighbours who were really good at all this type of stuff. They taught us how to get our car out of a layer of inch thick ice. They gave our car battery a boost when we needed it. They explained that if we kept the hot and cold water running in our home for a few minutes every 3 hours, we could keep our pipes from freezing, even if the indoor temperature got below zero. They reminded us that the warm water in the house would likely not run out, considering the water heater was likely running on gas instead of electricity. Essentially, they were just really great neighbours to have in a crisis.
All in all, it was actually a very valuable experience to have gone through, though of course I'm glad that the outage didn't last longer than it did. There are definitely a lot of things we would have done to better prepare, but circumstances being what they were, we were quite lucky with what we had on hand and the help we had from our neighbours. The power outage came just in time for the new year, and so we made some prepper resolutions to remind us of what we needed to work on throughout 2014. I can't say that at this very moment we'd be better prepared if another power outage was to occur, but prepping is a process, and we're hoping that by next year, if there does happen to be another outage, we'll be in a much better place than we were this time.