The Gerber Gator Machete has been on my radar for quite a few years now. Not in a "I want to test it" kind of way, but rather, the reviews I've read of this tool have been so piss poor that with any sort of common sense, I should really avoid this one. Nonetheless, for you, my readers, and realistically for my own twisted sense of wanting to understand whether the hatred revolving this tool is actually warranted, I will be giving a fair shot to this tool, and getting to the meat of the matter.
Essentially, the question I wanted answered at the root of all the poor review madness is this: Is the Gerber Gator Machete a good tool, or is it no more than mass produced garbage conceived by marketers to fill a slot (the machete slot) in the monolithic Gerber product range?
Gerber Gator Machete Fixed Blade Outdoor Knife – Amazon / REI
Right off the bat, you can tell this thing is a Gerber. Its aesthetics are stereotypically over the top, which isn't necessarily a bad thing in my eyes, as diversity is the spice of life and all that. That being said, the Gerber Machete is 100% not your South American "Latin" Machete (they aren't going for the same type of machete that Cold Steel was after with these behemoths). It's definitely from the same ancestor, based on the lines of the blade, but it got drunk along the way, and here we have it, the kooky offspring.
Heavily molded handle with lots of "ergonomic stuff" and a (mediocre) saw back, it is garish, but in my opinion, in a fun kind of way. Much like the Gerber BG Parang that I reviewed 2-3 years ago, this is definitely a love it or hate it aesthetic. I can't say it's my kinda thing, but I own so many "standard knives" that when I handle something off key I automatically pay more attention. Your mileage of course may vary.
From the distance and holding it superficially, have to say, I was quite excited to test this sucker out. The handle appears super comfy and the blade, whilst featuring some rough machining marks, is aesthetically pleasing with its matte-ish, black oxide coating.
So, dimensions are pretty standard for a Latin machete. We have 25.7 inches of overall length, of which 18 inches is the blade. Total weight is 18 ounces. Pretty unassuming stuff, and similar to most machetes in this category.
The oversized molded handle does lend the Gerber Machete the appearance of size beyond its dimensions though. It feels larger than its actual size suggests.
The grip has the now ubiquitous Gerber "Gator" pattern. It's quite pleasant in a tacky, tactile sorta way. A soft rubber over-mold on top of a plastic frame; if I had to guess, I would say it's ABS or something to that effect. If nothing else, it's interesting. I can't think of any other machete with such a unique handle and ergonomics.
You can also notice the 2 hex screws. Their purpose is confusing, as I do not see replacement blades as being available, and for such an inexpensive tool it's not like the bulk of the investment is in the handle. Should you unscrew it, you will find an almost embarrassingly weak construction with regards to the tang. An object is only as strong as its weakest point and, unfortunately, with the Gerber Gator Machete, the lack of foresight with regards to toughness is pretty shocking. The tang only extends 1-2 inches beyond the hex screws, which gives the tang a total length of 2.5 inches. Why they would cheap out like this, I do not know. But if you spend some time Googling or on the Amazon.com product page, you will see that this is (predictably) a common point of failure.
Regardless of any pros it may have, this rules the Gator Machete out completely as a viable survival tool in my opinion.
The stock is suitably thin, like a machete should be. Sadly, the edge is quite obtuse, but at that price point I did not expect a light saber. The serrations are the standard cheapo type (unlike the extremely high performance Bahco Laplander I recently reviewed) that predictably produces a subpar end result (more on this later).
Hole in the blade? I don't think its viable as a fulcrum, so frankly I am flummoxed as to its existence. With that said, I have seen this on other machetes, so perhaps I am missing something. If you understand why it's there, please let me know in the comments.
Saber grip is quite comfortable. As you can see below, the guard forms a nice ramp for your thumb, and prior to swinging it for the first time, I expected that comfort would be second to none as far as machetes go. I wasn't disappointed, as garish as the design may be, the ergonomics are quite pleasant. Sadly, they don't make the machete perform any better.
One of the (many) reasons I don't like saw backs is due to the inherent difficultly in using the knife/chopper/machete as a draw knife. For debarking, I find that technique to be very useful; the serrations, however, get in the way, and, in my opinion, provide very few benefits.
Thankfully, the serrations are of poor quality so they won't pierce skin. Not sure if this is a dismal failure or a marketing feature. At this point, I was becoming more and more skeptical.
So yes, draw knife is a no go, but before I write it off as a negative, let's test out the saw and see if the trade off is worth it!
Nope. Absolute garbage. It's not a saw, it's a notch maker, and that's me being generous. If you think this is a viable saw, please go try a Silky or Bahco, and then come back to me.
Preemptively: you're welcome.
Tiny notch. Not worth the physical exertion it took to create. Not impressed at all.
Now on to chopping. For a relatively thin branch (2.5 inch diameter) it wasn't useless. The edge was obtuse and the blade liked to bounce, but it could make (some) chips fly. No where near as good as the Gerber Bear Grylls Parang, though.
The thickness of the edge meant that I had to really hammer down. It actually wedged itself pretty darn good, as you can see below.
Whittling is never going to be ideal with an 18 inch blade, but sadly the Gerber Gator Machete has a primary hollow grind with a piss poor edge on the secondary bevel. On another note, the guard gets in the way and from a bushcraft perspective, its applications are limited.
In theory you can choke up, but once again that guard just digs into the palm of your hands. This is designed for traditional machete use only.
The ergonomics throughout my little tests were up to par. I find the slight hourglass contour to be comfy and the rubbery tacky overmold to offer plenty of friction for a sure grip. Even if my hands were soaking wet, I think I would be fine.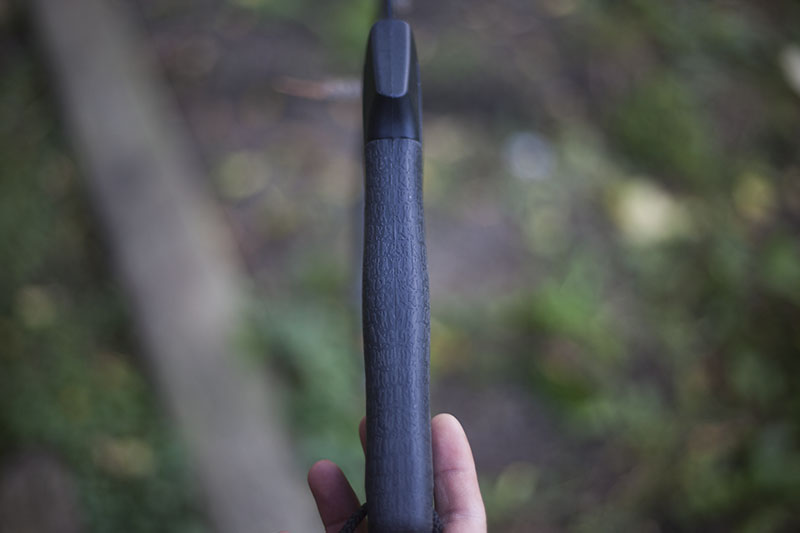 The Gerber Gator Machete does feature a lanyard hole, but I never felt like I needed it. With that said, it's a good option to have.
After being thoroughly annoyed during most of the tasks I performed with it, I decided to step it down a notch and go for super thin branches and kindling. In that scenario, the Gerber machete excels, but then again so does any other knife, as well as my hands (I could snap the teeny branch just as quickly).
Oh wait, I was wrong. Its overly thick edge did not penetrate fully. Congratulations Gerber, you have created a machete that can't compete with my two bare hands.
Not even halfway through. What in the hell?
Now, before you chastise me and say perhaps my technique was poor or that I didn't put enough power behind it to prove a point – I try a lot of different knives, some of which are considered gimmicky, but still fell in love with them… like the Cold Steel XL Voyagers (Tanto & Vaquero), and some knives that are acclaimed, like the Spyderco Urban don't strike my fancy at all (the Urban sadly had such piss poor machining that I had to give it a negative review).
I am not in the business of shilling. If you own this machete and you love it – awesome! I am not here to convince you, I am just sharing my thoughts for free and you can make your own minds up.
Sadly, I have to add this disclaimer because some people get so attached to brands that any attack on a single product is tantamount to blasphemy. Here's the deal people, I have no loyalty to any brand, I simply judge the product at hand and make up my own mind.
The Gerber Bear Grylls Parang is not popular in the survival community, and yet I am smitten by it (and promote it as a great tool – again, my opinion only!). This particular machete, from the same company, is absolute garbage compared to it, and frankly I shan't make excuses for it.
My axe has a thinner edge. I really wish I was exaggerating, but I am not. It's a slab of "forged high carbon steel" (what does that even entail?!) with the most laughable stock to edge transition I have ever seen in a machete thus so far. A comparatively priced $15 Tramontina has superior cutting properties and is far more flexible with its neutral handle.
Speaking of this "forged high carbon steel," it barely feels hardened. If I had to guess, I would say the hardness is in the low 40s on the Rockwell scale.
Weirdly, after a few swings at some wood I noticed a chip on the edge (as you can see below). I don't even know how this happened. High carbon steel? Pot metal more like.
Dry wood that I can snap with my hands, blade can't cut cleanly through. At all. I did 4 chops in a row and nope, no cigar.
I don't even know what to add at this point… Is this a cutting tool or a wall hanger?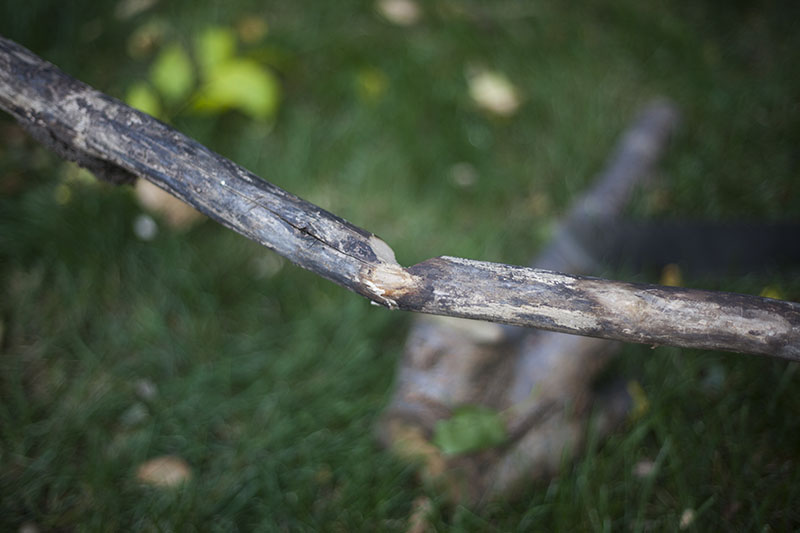 Guys, don't waste your energy and snap the branch manually instead of swinging away with this thing. It's just not worth the effort, and based on other people's experiences with catastrophic failures of the blade, it might even be a safety hazard.
Can it at least cut down super thin green saplings?
Yes, but once again, not cleanly. My Spyderco Military would have gone through that like butter and the Cold Steel Rajah II could have gone through a sapling three times the thickness in one fell swoop.
Utterly dismal performance.
On a positive note, the sheath is excellent and I shall keep it to use for a real machete. It's made out of nylon and features a plastic sleeve to protect it from the crappy serrations on the back.
Surprisingly overbuilt, I think the sheath is better than the machete it holds. Velcro retention strap and generally decent quality aesthetic and construction. Good job there, Gerber.
Big belt loop; will fit pretty much any belt, including those 2 inch tactical webbing belts that are fashionable nowadays.
Completely ridiculous to walk around with due to the constant flapping on your thighs and the general proportions, but it's technically viable.
In conclusion, sometimes when everyone says a tool has a lot of failings, it's not because of brand snobbery or elitism, but rather because a tool actually has a lot of failings.
I do not recommend purchasing the Gerber Gator Machete under any circumstance; I cannot think of a single instance where this would be a viable option compared to a Tramontina, higher end Condor El Salvador (what a lovely machete that is, I shall review it), or even the notorious Gerber Bear Grylls Parang that I personally love.
I know this will be a divisive review. Please keep the comments section civil, as I do not like to moderate (free speech and all that) other peoples opinions.