As far as I know, the Kershaw Chill is one of the most inexpensive flippers currently produced by Kershaw. I threw it into my Amazon shopping cart as an "add-on" item to make it to the free shipping limit, and to be straight with you, I didn't really expect much from it considering its price point.
Once unpacked it, I was pretty impressed with how useable it seemed to be, especially considering it's size. I decided to throw it into my EDC rotation right away, fully expecting to feel let down. But boy was I wrong. It's actually a really great lil' flipper, with a very addictive, crisp deployment, and even though I have many nicer blades (objectively speaking), I am having quite a hard time putting the Chill down.
Kershaw Chill 3410 Slim Folding Flipper – Amazon / Blade HQ
Aesthetically, the Chill is an RJ Martin design through and through: very sleek minimal lines that are quite pleasing to the eye, with absolutely zero extras what so ever. This is a straight up bare-bones blade, with no frills added, and I've gotta say, I do miss knives like this.
It feels like so many manufacturers add extraneous bits and pieces to their knives these days (thumb studs on flippers for example), just to add another check to the marketing list, and frankly I am more than a little tired of it. The Kershaw Chill buckles this trend by being one of the most minimalist flippers one can purchase, and that's its biggest marketing point in my opinion.
Right off the bat, you can see this is a relatively small everyday carry knife. it comes in at just under 4 inches (10.16 cm) closed with a 3.125 inch (7.94 cm) long blade made of the now ubiquitous 8cr13MoV. In my opinion, these proportions are right in line with what I would consider a good, light duty EDC folder, and even though its diminutive stature is very noticeable in the hand, I can't say I "miss" having a longer blade.
Out of curiosity, do any of you require a bigger blade for EDC tasks?
The truly interesting thing about this knife is how crazy thin it is, if you ignore the pocket clip, the Kershaw Chill is only 0.3125 inches (7.94 mm) thick with a sub 1/8th inch thick blade making up the bulk of that. This makes the Chill extremely pocket-able, especially for those formal occasions or those times where you need to be discreet.
I live in Toronto, which isn't the most knife-friendly place in the world, but with the Chill in my pocket, I don't feel like anyone would ever notice the fact that I'm carrying.
My biggest gripe is the width of the blade, which is basically steak-knife in proportion. When I first handled the Kershaw Chill, I expected something "larger" with more standard versatility, but even though it does seem a bit (okay, a lot) like a shank, I have used it throughout the week for all EDC tasks, including light kitchen duty (making tactical sandwiches), and even though it will never win any awards as a folding slicer, it's not strictly a glorified stabber either. The Kershaw Chill's cutting ability was above average when taking into account how much meat is behind the edge.
To clarify: the 1/8th inch stock goes from full thickness to a relatively razor-like hollow grind very quickly – in way under an inch. It's a pretty drastic drop off, and if the Chill was a thin, full flat grind like an Opinel, this wouldn't be an issue. Unfortunately, however, hollow grinds without enough distance to provide a smooth transition tend to feel like glorified wedges when cutting rigid materials like potatoes or apples.
With that said, I didn't notice any immediate issues, but I would keep that in mind that if you were to use this as your only pocket knife, and sharpen it regularly, as you would soon find yourself with a bona fide jailhouse special.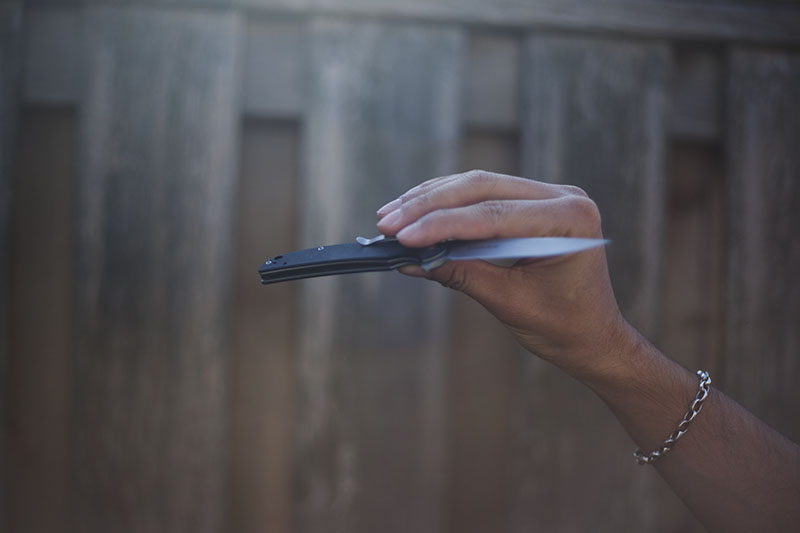 With regards to its pocketability, I am suitably impressed with Kershaw/RJ Martin's choice of a discreet, austere pocket clip. Far too often knife manufacturers have offered very clean knives with extremely gaudy/unorthodox pocket clips as an aesthetic flourish, and frankly it puts me off carrying them. An example of a horrendous pocket clip (in my opinion) would be the skeletonized monstrosity on the CRKT Ripple.
Thankfully, Kershaw avoided this pitfall and the Chill is very discreet, with both tip up and down carry options offered. I will note that its only for right-pocket users. The tip down approach to carrying is what you get out of the box, but I personally prefer a tip up option, so a few hours after those photos were snapped, I promptly switched the clip around. In any case, the clip performs perfectly regardless of position.
The centering and general fit-and-finish on the Kershaw Chill was decent. Obviously, with an inexpensive folder one has to make compromises (the zytel backspacer for example), but its simple design and construction is its biggest asset of the Chill, as I know I've mentioned before. You really can't screw up such a barebones G-10 clad minimalist flipper, and that's certainly not a bad thing!
I much prefer having a well made simple knife as opposed to a badly made complex knife, and I am sure you would too even if you do prefer the aesthetics of more complicated knives, so I considered the package as a whole to be quite excellent within its price-point.
The balance point of the Kershaw Chill is neutral as expected. The knife on the whole is super light (only 2 ounces!) taking into account dual 1/16th inch thick stainless steel liners and lack of skeletonizing. The aforementioned CRKT ripple feels lighter, but then again the materials (and blade grind) do differ.
The liner lock is pretty thin. Initially, that did concern me, but lock up is tight and I noticed zero buckling or warping, even with a decent amount of down force applied on the blade. As far as I am concerned, its a perfectly viable option for the rougher side of everyday carry tasks, and I don't foresee any failures. With that said, the Kershaw Chill's flipper design means that should the lock fail, it won't take our fingers along with it, so I do feel pretty comfortable.
Ergonomics are above average taking into account how anemic the handles are. This is not like holding a bushcraft knife in your hands, and picking it up does not invite you to find things to slice all day. However, the Chill is perfectly serviceable in its niche of light EDC use.
The Kershaw Chill's flipper deployment means that I can whip it out super quickly (and it really does deploy like a bat out of hell), cut what I need to cut, and then quickly disengage the lock with one hand and slip it back into my pocket to sit in discreetly. That's what its best for, in my opinion, so I won't compare it with more "robust" palm-filling options like the Para-Military II or the excellent Kershaw/Emerson CQC-6K.
Apples and oranges, people.
As a side note, I will mention that reverse grip is very natural and I can definitely see RJ Martin considering tactical applications when he conjured up this design. The Kershaw Chill's lean profile and stabby inclination does lend itself to that – at least aesthetically.
For delicate work in a pinch grip, the Chill is less than ideal (like most flippers). Couple with that its lack of blade width, I would personally rule it out for more messy tasks like field dressing, but in a pinch it will do.
I will add that unlike most of Kershaw's flippers, the Chill is not assisted, but it definitely doesn't need to be either. This makes take down for cleaning/maintenance very straight forward considering there's no spring or miscellaneous parts to keep track of.
Interestingly, the Kershaw Chill uses hex screws only, not torx screws. Not a pro or con in my books, as a basic hex key set should be a staple in all toolboxes, but this pretty unusual so I thought it bared mentioning.
Honestly, killer in the looks department, especially for such an inexpensive blade. Gotta love those RJ Martin lines, and whilst its cheaper feel can be a let down, when you take into account the price, it's actually a complete bargain.
The Kershaw Chill has been on my to-review list for quite some time, though it didn't quite make it to my shopping cart until recently. A super inexpensive entry to the world of RJ Martin? Sign me up!
The reality was both better than I expected, and yet made me wish Kershaw would release a premium version of the Chill with maybe a bit more meat in hand and a full flat grind blade instead of this razor-like hollow grind.
As always, cost is the biggest factor when mass producing a knife, but I would honestly consider this the best bang-for-buck flipper I have ever tried. I think it's a perfect introduction to flippers in general, so if you want a back up/discreet light EDC that deploys super quickly, I think the Chill will serve you well. And hell, if it turns out you don't like it, I am sure you know someone who would. It's certainly no hit to your wallet at this price point!