The Svord Peasant knife is a century old design that was brought back to the mainstream by B.W. Baker. This is a knife I have used and owned for a good long while, but have always been on the fence with regards to reviewing it. In practical terms: this is a very, very basic folding knife and the appeal for most people lies in that simplicity.
Reviewing knives that cost the same as a budget Kershaw and yet don't possess the same level of fit and finish nor tolerances always places me in a tricky situation. Do I go with how I feel about it as a user or focus on the specifications and features in a scientific way?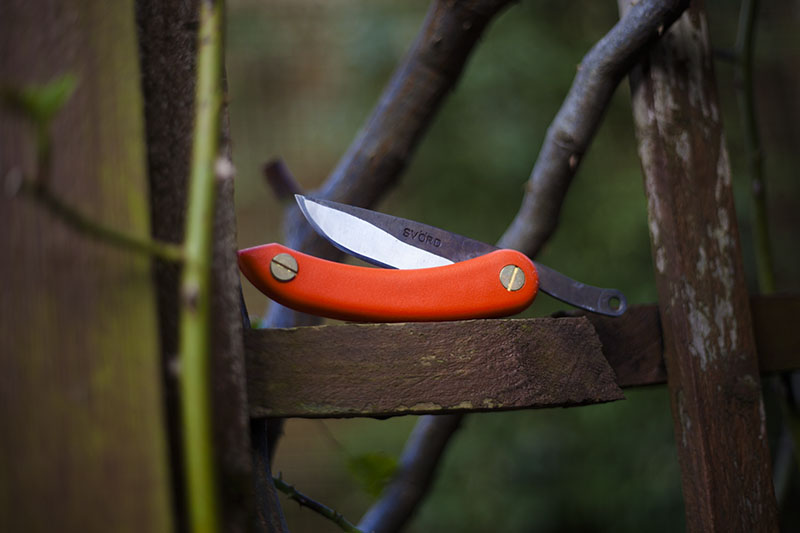 Svord Peasant UK Legal Folding Bushcraft EDC Knife – Amazon / Blade HQ
How you approach this knife will ultimately dictate how you feel about it. On paper it's $20 for a pretty basic rough design with little to no time spent refining it. The blaze orange polypropylene scales appear almost cheap, both aesthetically and when held. As for the blade, the grind, whilst perfectly functional, is clearly not conceived with aesthetics in mind.
Personally, I don't give a damn about these "issues" as this is to me a folding bushcraft knife akin to a Mora Classic. It's not a show piece. But I feel I should mention my bias clearly and openly lest someone points out that I heavily criticized the Spyderco Urban for poor manufacturing whilst seemingly giving a free pass to the Svord Peasant.
In my mind, this is an apple and oranges situation, but you may disagree and that is 100% your right. If you want a performance driven blade that is cheap but with rigorous manufacturing finish – go with an Opinel and skip this knife entirely.
Now that this is out of the way, let's talk about why this is a bushcraft cult classic. Obviously, the biggest appeal is the simplicity. It's held together using 2 Chicago style pivot screws milled out of brass. The scales are easily replaceable, and the blade is old school carbon steel goodness.
No washers, no assisted anything, nothing but 2 scales, 2 pivots, a stop pin and a 3 inch blade, which within the bushcraft community, this adherence to minimalism is a quality that borders on reverence.
Interestingly, I mention two pivots because the screw holding the scales together at the butt of the knife is identical to the pivot screw. I cannot emphasize enough how barebones this folder is and whilst this may seem like a criticism – for me it's more like a feature. Much like the Emerson appeal of using flat head screws for their pivots, in the field and for practical use, simple is often best.
The extent of this bare bones design means that as I type this, it took me less than 20 seconds to fully take the knife apart (I had to check if it had washers!). This ability to maintain the knife in the field if it gets gunked up or in a last ditch scenario turn it into a glorified fixed blade (it does technically have a tang) is incredibly interesting in this day and age of spring loaded assists and ball bearing pivots.
As for comfort and ergonomics, it features a meaty pair of scales, comfortable in a saber grip as with all other conventional grips I can think of. The handles are crescent in shape, which works well with the contour of your palms ,and all in all I have zero complaints. I do prefer the more neutral design of the Opinel or classic Moras, but that preference is slight, and for extended use, I see no issues with this design.
The drop point blade is ground out of a 1.8 mm slab of 15N20 carbon steel. This steel is comparable in practical terms to 1095 in the field, and much like 1095, does require maintenance as it isn't stainless. Super easy to sharpen, takes a killer edge, and its edge-holding ability is above average for its price point.
Interestingly, as you can see below, the grind is slightly uneven and almost saber like (similar to the "normal" Spyderco Enduras & Delicas i.e. before they went FFG). Svord chose to leave the scaling on the un-ground side, which is an interesting choice and makes the grind divergence far more apparent than it would have been otherwise.
No lanyard hole, pocket clip, or sheath (one can be purchased separately). I keep it in the knapsack, but for urban environments (and yes it is a UK legal knife, so I do carry it out sometimes), it slips into one's pocket super easy. I would recommend tightening the pivot down lest it opens in your pocket, as it doesn't have any detent outside of sheer friction.
My one major quibble with regards to manufacturing is that the tip of the blade will strike the back screw/pivot. It's a poor design choice and Svord should have made the handles longer and placed the pivot/screw further back, out of the way.
That said, I over tighten the back pivot/screw so that it can really hold onto the blade when closed. Safety first and all that.
Objectively, it's a nice concept that falls short of the mark when compared to modern offerings. Though practically, it does everything I ask of it and more.
Aesthetically, it grew on me, and financially, I just don't know how to attribute value with a knife like this. I think it's worth the cost but your mileage may vary.
As I mentioned in the beginning, how you feel about the Svord Peasant will say more about you than about the knife itself.
This is a bare bones farm knife – for ranchers, lovers of minimalism, and seemingly every bushcrafter ever.
I personally love it, but I am loathe to push my own bias towards this stripped down outdoor option when knives like the Cold Steel Finn Wolf exist. If you like it, you will love it. If you don't like to compromise on fit and finish or materials, then walk away and save yourself the disappointment.
Let me know what you think about this (or any other bare bone knife). I am extremely interested in reading your perspectives on this!