The Benchmade Griptilian has been a mainstay in the Benchmade catalog for many years, and its reputation as an excellent EDC knife has always been touted. It's an extremely utilitarian knife, both practical and neutral from top to bottom, making it as functional of an everyday carry knife as you're really ever going to get. Available in a wide variety of options, from different sizes to different colours, as well as other slightly varied features, it seems to me that if you're in the market for a Benchmade Griptilian, you'll find at least one that suits you just right.
Benchmade Griptilian Folding Everyday Carry Knife – Amazon / Blade HQ
When I first held the Griptilian, the first thing I noticed is how light it really is. At 3.8 ounces (108 grams), it's truly a remarkable weight, especially taking into account how meaty the blade is for an everyday carry knife.
The overall length of the Benchmade Griptilian is 20.3 cm (8 inches). The blade is a solid 8.8 cm (3.45 inches) of that. It's a nice change to review a knife where more or less all of the blade has an edge. Very little to no space is wasted, and for its size, this knife packs a lot of cutting power.
The handles are the biggest, and really the only, draw back to the Griptilian. The scales are made of a material called Noryl GTX. To be honest I don't care very much for branded names, to me the handles are just plastic, and unfortunately, unlike the Spyderco Endura & Delica, the Griptilian scales really feel like plastic, in that cheap, hollow sorta way.
A lot of this has to do to the way the scales are molded, with arches and nested liners that don't travel across the entire length of the handle. It's a shame, but realistically, this lightweight construction has to have some sort of downside. Luckily, the downside is worth the extremely lightweight end result.
The Griptilian comes in many different flavors. My Griptilian, the 551, features standard thumb studs. They are removable, are attached using torx screws, and function extremely well.
It's worth bearing in mind that if you love the idea of the Griptilian, but not the deployment method, you do have the option of getting one with a hole. The Benchmade Griptilian 550 features a Spyderco-like hole, making deployment much easier if it's what you're used to.  Options are always nice, and with the Griptilian you have many of them: from color, to steel, to size, to handle material, and finally, even the hole as well. Impressive variety; good job on that Benchmade.
The axis lock on the Benchmade Griptilian disengages unbelievably smoothly. If you're even considering purchasing this knife, you should pick it up and give it a shot. It's almost glass smooth and I found myself flicking the knife open and closed so many times that Elise got annoyed and confiscated it from me for the evening.
I also own the Benchmade Adamas, and by comparison, the action on the Griptilian is much much smoother. Actually, I don't think I own another knife that comes close to being as smooth as this. Damn nice.
The clip on the Griptilian is extremely good looking in a very old school sorta way. Reminds me a lot of the Emerson style clips. Functionally, it doesn't carry deep like a Spyderco Sage would, but it's discreet enough for everyday use.
The Benchmade Griptilian's 154CM 8.8 cm (3.45 inch) blade is very well ground, with a very lean saber hollow that's barely noticeable and is actually almost a flat. The knife does have uniform grind marks under the stonewash, but in terms of pure function, I saw absolutely no defects or imperfections. Nice.
The tip is a good compromise between having a needle point and a good all round EDC blade. It's tough enough for everyday tasks, but certainly don't pry with it.
Balance on the Griptilian is, for all intents and purposes, perfect. Another reason why 99% of knives should use nested liners as the Griptilian does.
Centering was terrible, but functionally, honestly that doesn't matter. The knife functions perfectly, and the blade does not drag against the handles. Adjustments with the pivot proved futile, so I left it as is.
As you may remember from the Spyderco Military review I did (yes, if you're new around here, I do have a lot of Spydercos), I have nothing but love for nested liners. The Griptilian is the perfect example of this. It's almost absurdly light at 3.76 ounces (106.6 grams), and that's no small part due to its nested construction.
Interestingly, the jimping on the Noryl GTX (similar to Grivory) handles happen to be sharper and more aggressive than the jimping on the steel liners. Nicely manufactured, I like it.
Deployment of the Benchmade Griptilian is ridiculously fast. The glassy action on the axis lock makes the blade lash out like a demon out of hell. It's a wonderfully smooth mechanism, and I gotta admit I am pretty addicted to it! Hands down, the deployment is one of my favourite things about this knife.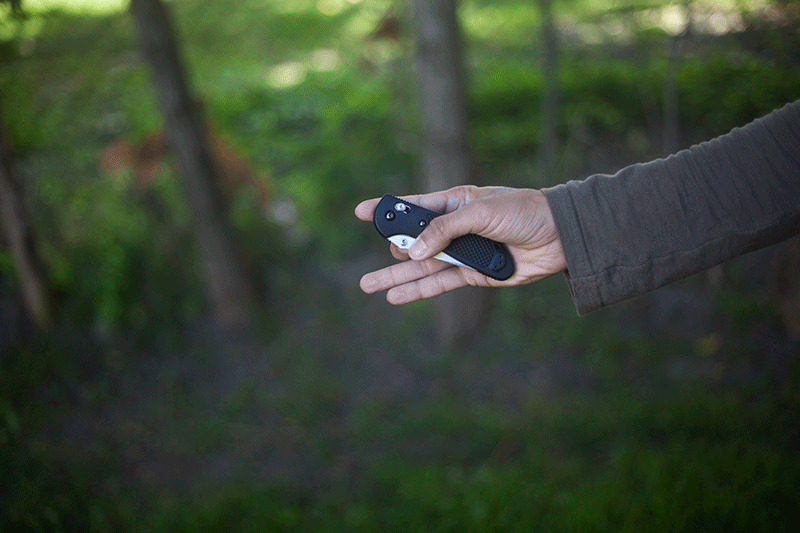 Absolutely no choil to speak of on the Griptilian. The heel of the blade is sharp, and should the lock fail, although it is extremely unlikely, say goodbye to your digits.
In saber grip, the Griptilian is very natural, with extremely strong retention due to the neutral ergonomics of the handle, as well as the generous amount of jimping scattered all over the knife. There's just no way this knife will slip out of your grip. Mel Pardue really thought through the ergonomics when he was designing the Griptilian.
Choking up on the blade is average in comfort. The guard sweeps down relatively aggressively, so the point does tend to bite into your pointer finger. The Griptilian is obviously biased toward a saber grip, and taking into account how comfortable the saber grip was,  I see nothing wrong with that.
Reverse grip is extremely neutral and much like the saber grip: very comfortable.
Pinching up on the blade would have been comfortable were it not for the thumb stud digging into my flesh. That being said, I am not sure you would want to use this knife for field dressing game anyway, as blood and other fluids may find themselves inside the axis lock mechanism. I haven't used this knife for messy tasks so if anyone has used an axis lock around blood and entrails, please let me know how the clean-up was.
If you're thinking of giving the axis lock a try (and I fully recommend that you do), the Benchmade Griptilian is an excellent reference. Its smoothness when disengaging is on another level, so if you're a sucker for that kind of thing, you've gotta test this one out.
Benchmade has been a dominant knife manufacturer from the very beginnings of my interest in knives. The Griptilian is quite likely Benchmade's single most purchased knife, and so, like many others, the very first Benchmade I owned was a Griptilian. It only takes a short amount of use to see why this one is has been a mainstay in the Benchmade line up. From its neutral ergonomics to its glassy smooth action, this knife is an excellent, extremely practical everyday carry folder, and whilst I do wish the price point was a touch lower, I have no regrets purchasing it.