Granite Rocx is a newly founded company in the outdoor arena. The Tahoe Backpack and Cooler combo is the love child of its founder, who wanted a backpack that could be used to carry everything he wanted: including a folding chair.
Granite Rocx Tahoe Backpack and Cooler – Amazon
The Granite Rocx Tahoe Backpack is a medium sized daypack made of 420D ripstop nylon, and kitted out with actually quite a nifty removable cooler, as well as a unique folding chair attachment system.
The construction seems typical of low- to medium-end Chinese manufactured backpacks, with very generic padding and straps, as well as a mesh overlay for ventilation. Functionally it all works adequately, but the poor design choice of this bag (more on this later) makes the comfort pretty mediocre regardless of the quality of the padding.
Straps are of the standard adjustable variety. The snap was nice and firm, but nothing special here.
The real trick that the Granite Rocx Tahoe Backpack brings to the table is its ability to carry folding chairs (of any shape and size, according to the website). This feature works by having an unzippable back sleeve with 3 straps that can expand pretty damn far, as you'll be able to see in the pictures below.
In practice this feature did work pretty well, but the construction of the pack is not altogether reassuring. There's so much weight supported by so little. If you have nothing in the backpack other than your lunch and a blanket, it'll hold up fine, but loading up the backpack to full capacity, then trying this stunt: needless to say, that's a lot of stress being placed on a pretty small area. Especially if you're hiking in rough, bumpy terrain, if using this backpack, you'd definitely want to forgo filling it to full capacity.
The straps on the Granite Rocx Tahoe Backpack are somewhat reinforced, but as you can imagine with its badly engineered placement, I don't expect them to hold up forever. I can already sense them stretching to the point that I would be uncomfortable depending on this backpack for any good length of time.
Now on to the other features of the backpack, which aren't so unique and original as the previous one we looked at, of course.
There's a little sleeve in the main strap of the pack to hold a knife, flashlight, or energy bar – love it when manufacturers add this feature. Pictured filling that spot below is my sexy Spyderco Stretch in super blue.
Spyderco Stretch Folding EDC Knife – Amazon
Besides the chair attachment system addition, the Tahoe Backpack has a main sizable compartment with no organization system. That's not the kind of setup I usually like, but it does manage to fit a 15 inch laptop, a blanket, some spare clothes, med kit and my Ontario Marine Raider Bowie, so not bad in that regard.
You will notice the glaring admission of a hydration bladder compartment. I don't expect them to give me a bladder, but at least have the compartment so I have the option.
Ontario Spec Plus Marine Raider Bowie – Amazon
The front of the backpack (when the cooler is removed) has the second compartment of the backpack. This compartment looks a lot like the common school bag variety: thin nylon with a weak zipper and standard sized mini sleeve/compartments. It's not bad, but nothing special in the least here.
The best part of the Granite Rocx Tahoe is its cooler. One compartment with two outer sleeves, and a rudimentary carry strap: basic and yet actually quite nice to use. Only criticism I had of the cooler, was the lack of padding over the strap, which is not surprising when you take into account that the cooler is designed as an attachment for the main backpack. Not intended to be the main feature, although for me, it was.
As far as coolers go, this thing is really comfortable. The shape hugs the body perfectly, and I found that the weight was nicely distributed.
I really wish Granite Rocx had chosen to incorporate some different attachment methods. If the cooler had molle attachments, even on the sides of the cooler, it would really jack up its potential as a stand alone bag.
Very reasonable size. The cooler fits 12 cans no problem.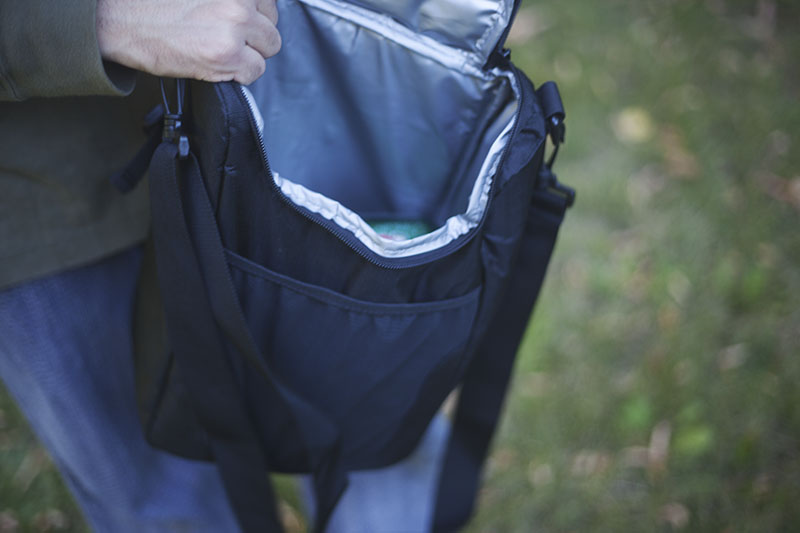 My Canada Dry was cold after 4hrs and as far as I am concerned that's good enough for me.
I have always liked mesh front sleeves for casual day bags; perfect for slipping in a map and other small & light items that should be easily accessible.
The second sleeve is very discreet and located at the back. It reminds me of CCW compartments (pretty sure this was a lucky mistake and not a design choice, but it's nice nonetheless). I imagine it would fit a pancake holster pretty well.
You can also see the three clips that attach to the main backpack (kangaroo style). I do not recommend doing this, as the balance and extra weight is god awful when used as part of a system.
Here is the back fully packed as intended. Lifting the backpack from the top handle means putting all the weight and its associated stress unto a single strap: not good. The stitching is barely reinforced; I can't really emphasize just how much of a terrible idea this is. It's a blatant design flaw, and why they implemented the design like this is beyond me. Bad bad bad.
As a side note, although I did forget to strap in the cooler on two ends in the two shots below, there was no breakage of any sort. Seems that the cooler is pretty well fastened in, though that's not where I'd worry about breakage. It's around the chair holder/end bits that I'd be worried about tearing.
The worst part of this backpack is how horrible it is to wear for prolonged periods of time. Its design means that the light bulky items hug your back near your center of balance, while the heaviest (the cooler, in my case full of cans) is at the very rear. Completely idiotic. If you're going to attach a cooler, at least attach it under the backpack – not on the front of it.
To put it simply I have never worn a backpack as unwieldy as this. Ever.
The zippers are not YKK, and seem definitely inferior. The teeth snagged a few times, and whilst there was no failure of any kind, I can't say I have much faith in their long term durability. So far, no issues, though.
As a side note, I would really love it if Granite Rocx offered the Tahoe Cooler (preferably with the upgrades I talked about previously) as a stand alone bag. Maybe even out of 600D in desert tan – I'd buy that!
To wrap things up, the Granite Rocx Tahoe Backpack, to me, makes absolutely no sense in terms of its terrible weight distribution, badly engineered top strap, and awkward (yet sorta functional) chair carrying capabilities.
The absolute best part of the Granite Rocx Tahoe Backpack is the kickass cooler, which I would definitely recommend buying if it was available separate from the bag. The backpack itself is a no go, in my opinion, and if you do happen to get it/own it, my advice to you is to not load it up to full capacity: that would be a recipe for disaster.
Negative reviews are always difficult for me to write. As a reviewer, I try hard to offer a balanced, objective perspective, and when I see flaws I try to point them out rationally. Unfortunately for Granite Rocx, their Tahoe Backpack has more flaws than assets. Can I objectively recommend spending $65 on it? Nope. Definitely not. Especially with so much competition from other manufacturers at under $100.